8 Age-Old Places To Shop For Lace And Borders In Kinari Bazaar
With an array of shops selling garlands made of gold, embellishments, colourful beads and gleaming sequins, Kinari Bazaar has been breathing life into many wedding wear designs since aeons. So we took a spin and canvassed a list of the best shops for lace shopping in this part of Dilli 6! Read on!
1. Fancy Lace Collection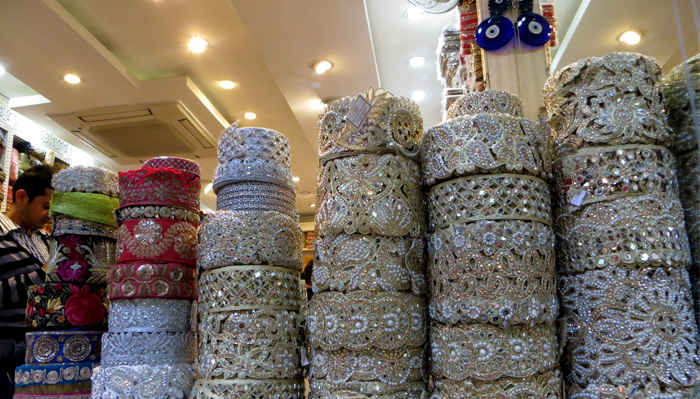 Among the many tiny shops scattered around the area, this one's a pretty significant one. The shop is replete with every bride­-to-­be's favourite colours from hues of golds to pinks and reds. Primarily known for zari borders, Parsi Borders, Zari belutti, fancy ribbon lace and motifs, among many others, the shop is a literal storehouse of fancy embellishments.
Where | 2195­96, Kinari Bazaar
Call Them | +91 11 2326 6688
2. Aggarwal Zari Emporium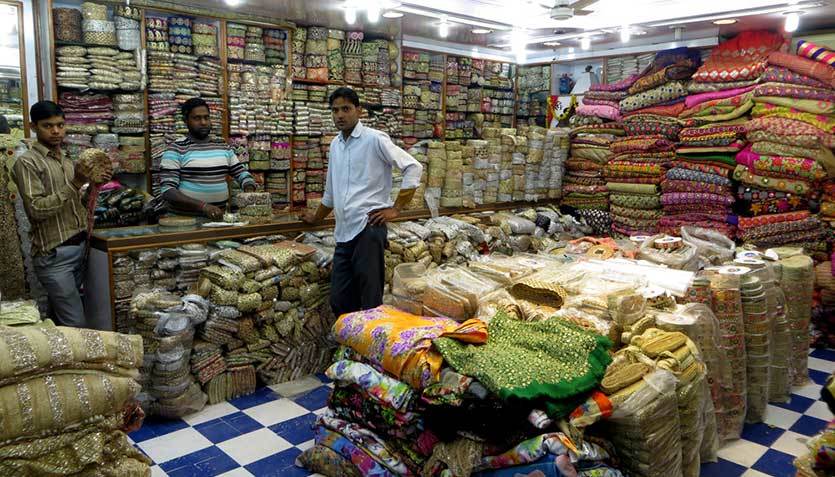 A modest­looking shop from the outside, the Aggarwal Zari Emporium transforms into a megastore as you step in. It's a well-stocked world with zari Borders, Kundan borders, Gujarati borders, fancy laces, cachetta laces, ribbons, motifs & gota patti ­ et al! Wholesalers and manufacturers themselves, the shop is always up to date with the latest styles & designs­ - check it out!
Where | 2900, Kinari Bazaar
Call Them | +91 9717 026 236 & +91 9810 002 982
3. Maharaja Traders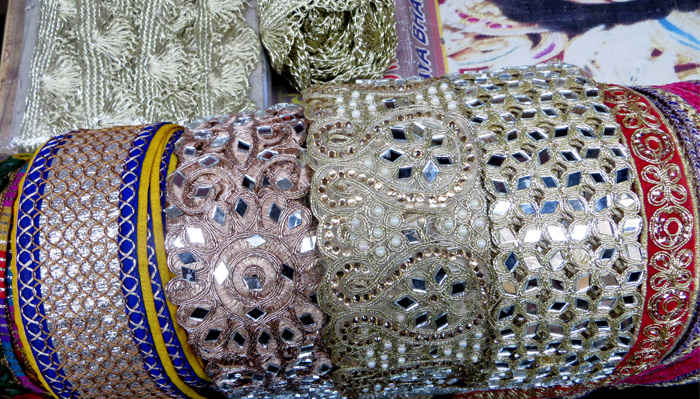 The adage 'All good things come in small sizes', holds true for this store! A small shop squeezed into the walled city offers 'Maharaja' style lace full of golden hues, glass and wooden beads, sequins and stones. So ladies, do drop by this shop if looking for some extravagant options!
Where | 2801, Kinari Bazaar
Call Them | +91 11 2327 8722
4. New Shatabdi Fashion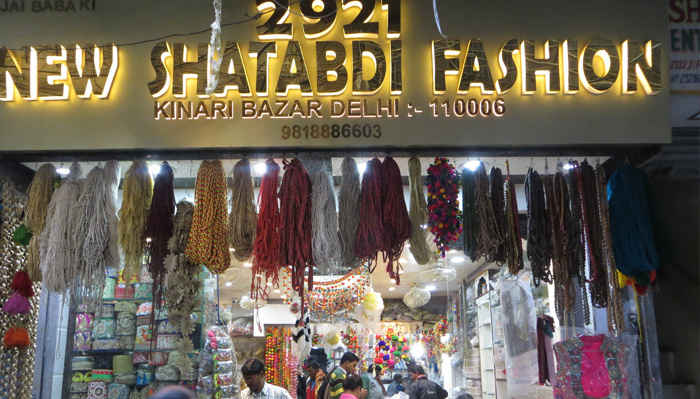 A one­stop­shop for your lace chase, New Shatabdi Fashion is an embellishment hideaway. Among the huge collection are plain, silver and gold textured patterns, gold strings, mirror-work, Kundan, sequin, lace & embroidery embellishments. Showcasing new laces from all over the country, the store indeed acts like a Shatabdi for new fashion.
Where | 2921, Kinari Bazaar
Call Them | +91 9818 886 603
5. R.K.Gupta & Sons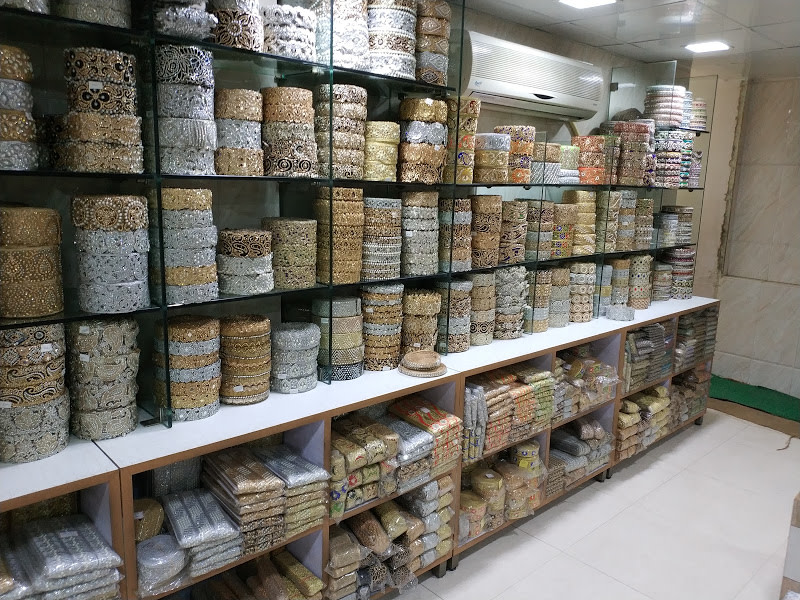 Among many similar-looking enclosed shops, this one is truly unique. With a half-open, half-closed outlet, this shop never ceases to catch the eye. Though they offer good zari and other fancy borders, they have an upper hand in laces with digital prints, something which is difficult to find anywhere else in Kinari Bazaar!
Where | 1985, Kinari Bazaar
Call Them | +91 11 2326 2102
6. Aggarwal Zari House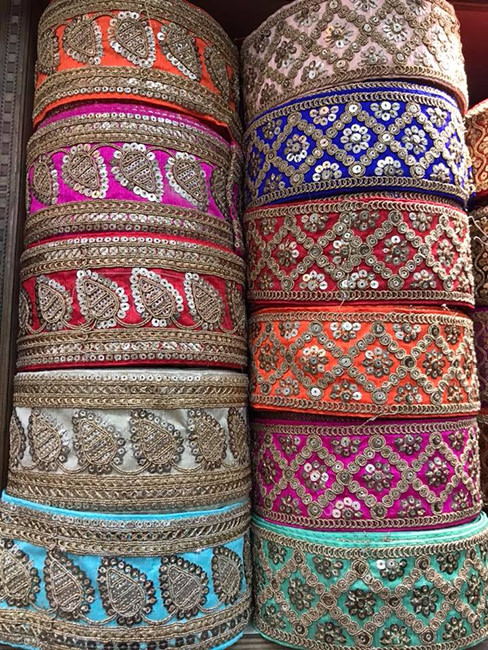 The store is quintessentially a zari warehouse ­ with bundles of borders stacked up in shelves, the whole sight of the shop is bewitching! They've got borders with intricate designs, made to perfection and ready to dazzle up any outfit with their grace.
Where | 2904, Kinari Bazaar
Call Them | +91 11 2715 3203
7. Gupta Zari Emporium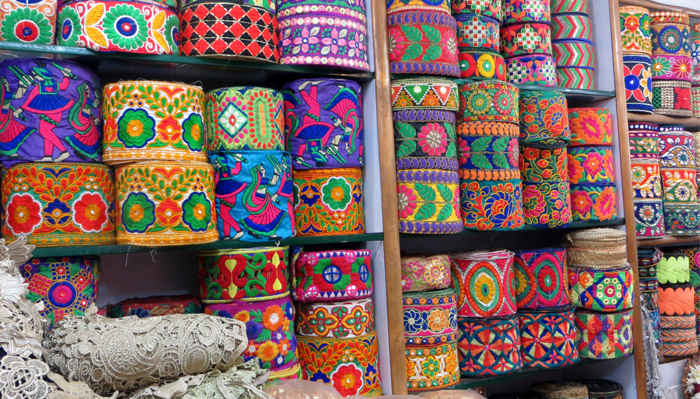 They have the most vibrant range of borders from yellows to greens and purples to reds, they cover the whole palette. With the perfect combination of good quality products and salesmanship, this store turns out to be our favourite shop. After all, who doesn't like a shop where you can sit comfortably and sip tea, for zeroing in on a border that suits your whims and fancies.
Where | 2050, Kinari Bazaar
Call Them | +91 9810 002 982
8. Indian Zari Emporium Pvt. Ltd.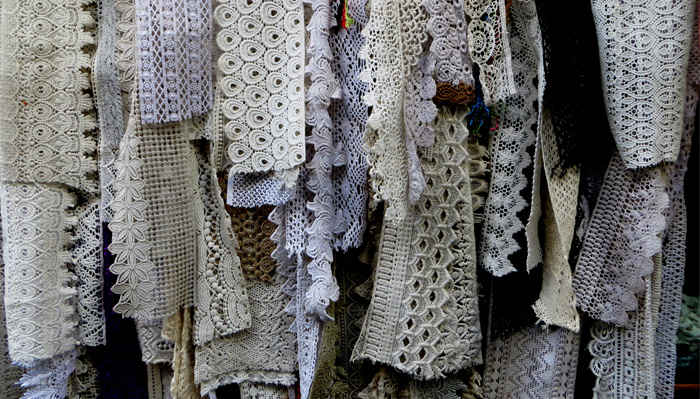 Though the name says 'zari', there are only a handful of zari items, however, what they do have in abundance are exclusive white crochet borders that are hard to find at such affordable prices. Sound good?
Where | 2901, Kinari Bazaar
Call Them | +91 11 2325 2667
So now wear your smile (and sport shoes, of course), dash some hope in your eyes, brush up your bargaining skills, and go lace hunting for your big day!