Delhi
Trendy Bags Upon Bags: Sarojini's Famous Old Tree Shop Has A New Store In Humayunpur Village!
Women are crazy shoppers. We go from bargaining for the jhumkas we like on the street to spending a week's food allowance on the new dress we're obsessed with! With all this and more, our favorite accessory remains the bag which prevents us from turning into a hot mess of sunscreen and mascara. 
What lies in a woman's bag is her whole world and we know how important this one item can be to your wardrobe. Finding the right bag with the perfect colour, style and size option is a treasure hunt in itself. The hunt led us to the Sarojini Nagar market and we stumbled upon everyone's beloved Old Tree store. The management told us about their quirky new store in Humayunpur and we hopped on to find out just what they had in store for us!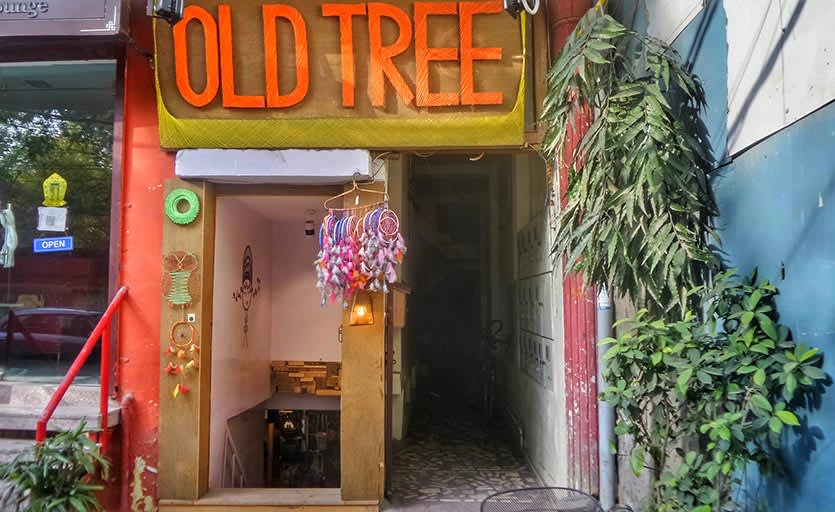 This shop is a lot different from their original Sarojini store. They've spent a lot of time building it, and it clearly is a work of art! The place has an all-wood decor, dream catchers, owlie slings hanging from the ceiling and a swing to make you fall in love. Above all that, they have a huge variety of bags for everyone and every occasion and here's what all you can get from there! 
The Casual Backpacks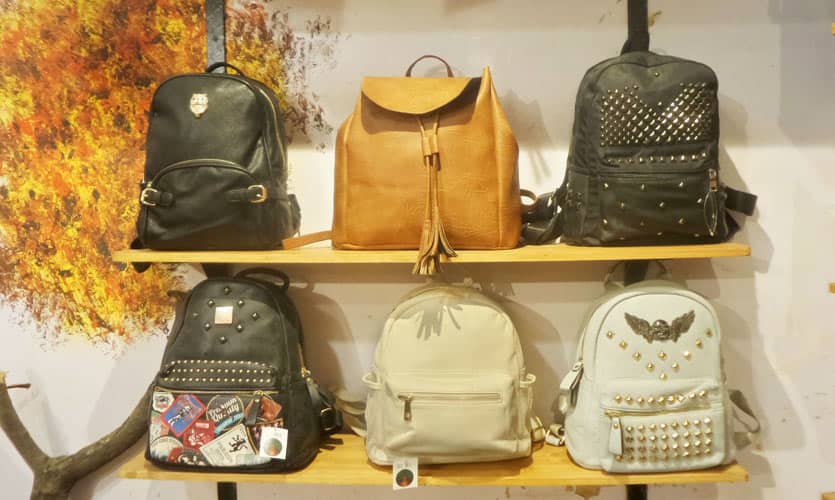 The jump from hefty school backpacks to small shoulder bags can be tricky for most of us, and the problem of not having enough space is constantly the #StoryOfOurLives. These backpacks fuse comfort and style together to present the perfectly-sized backpack that goes with all kinds of outfits. They have medium as well as large-sized backpacks and you can choose from a large variety here!
Style Tip | Go for the Tan Brown Leather backpack if you want to wear it with all sorts of various looks - this color is really trending this season! 
Price | Rs 800 - 1,400
The Essential Sling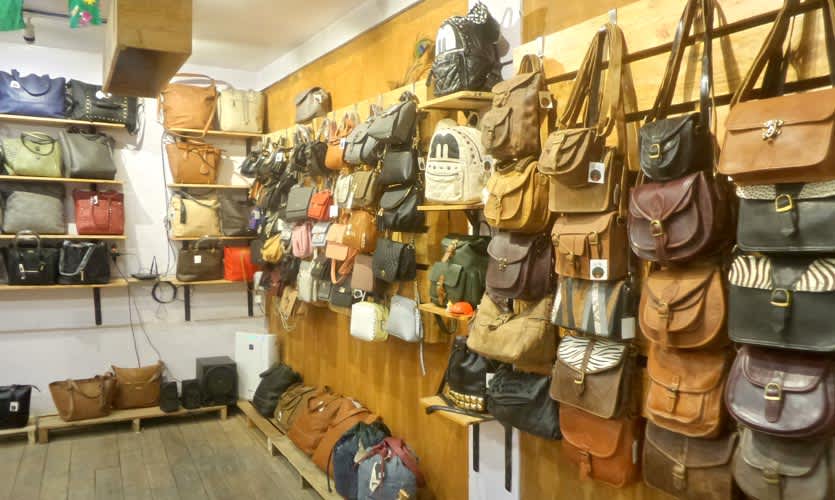 On those nights-out when you only need the bare essentials, carrying a big bag becomes way too cumbersome. At that time, a quirky sling can amp up your casual outfit to classy and chic while keeping all your essentials within easy reach. The collection here was enormous and we loved how they had so many different styles for us to chose from! They have special leatherite bags which they make in-house and which are of superior quality - you basically can't leave the place without buying one! 
Style Tip | Their Owlie Slings are a statement in themselves. They're quirky and classic at the same time. Pair them up with T-shirt dresses this season for the perfect #OOTD!
Price | Rs 500 - 2,200
The Office Arm Candy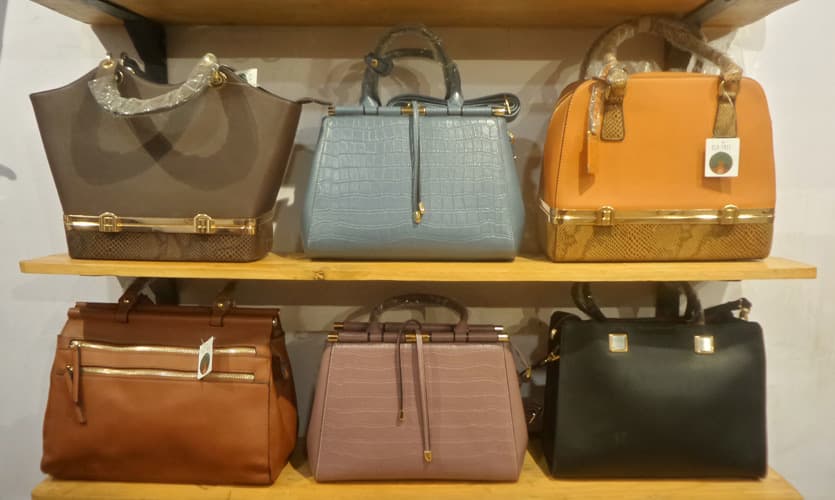 A decently-sized bag with proper structure is something every person going to the office NEEDS. Especially in neutral colors that gel well with all your formal outfits while having enough space for that 9 to 5 hustle. These bags came with an additional sling and we love this transitional feature! They look quite classy and the material is quite sturdy, yet lightweight. 
Style Tip | The blues and blacks can never go wrong when looking for effortless style. All you need is a nice fuzzy keychain to make it your own! 
Price | Rs 1,500 - 2,000
The Colourful Extravaganza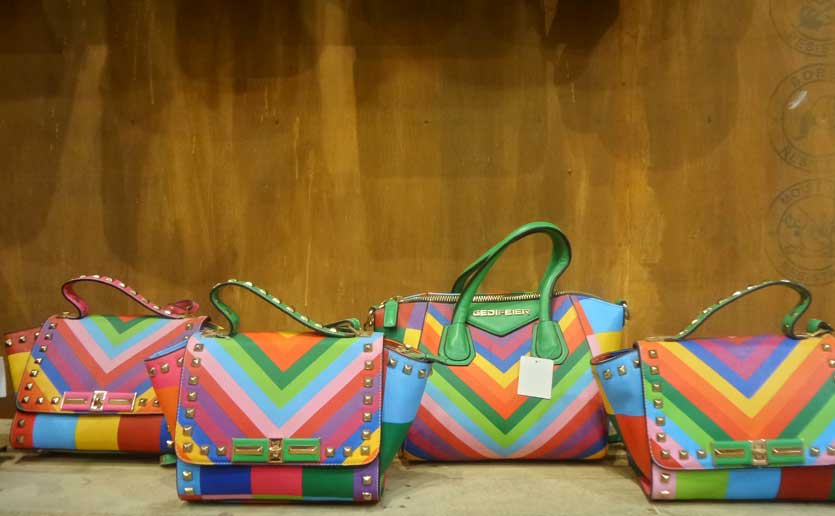 Something that looks very artsy in the store is these bursts of color that grab your attention as soon as you enter. These bags make for the perfect statement piece for that simple outfit. It can't be your everyday bag, but it definitely is a collector's favorite. They look vintage with the stud detailing and we love how symmetrically they use colour without making it overbearing. 
Style Tip | Carry this with a white or black maxi dress without too many accessories and just a simple pair of shades for a Sunday brunch jawdropper ensemble! 
Price | Rs 800 - 1,000
Dream Catchers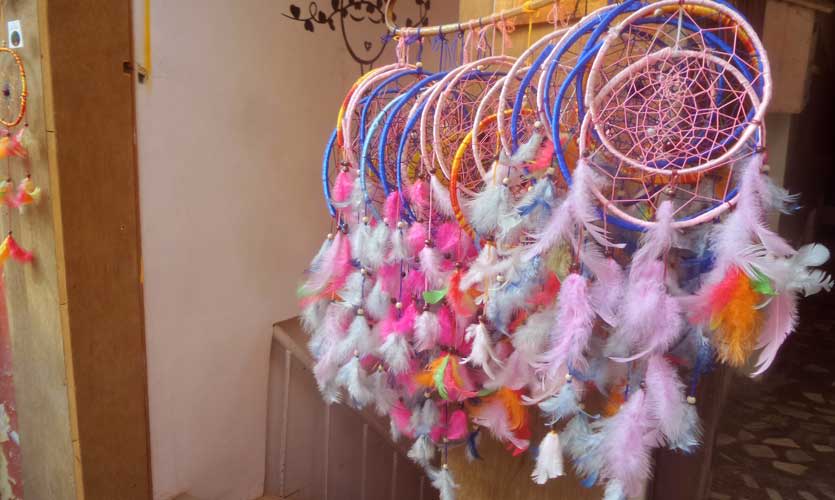 Every girl's ideal room decor inspiration are these thread and feather creations inspired from Native American cultures. It's said to bring good look to you by trapping all the bad vibes in the web. We can't stop dreaming of these pretty things with good energy! Old Tree does some custom-made dream catchers and they also have some ready for you to take home. Available in all shapes and sizes, there's definitely one for your bedroom window in their selection! 
Price | Rs 100 - 300
Collectible Tins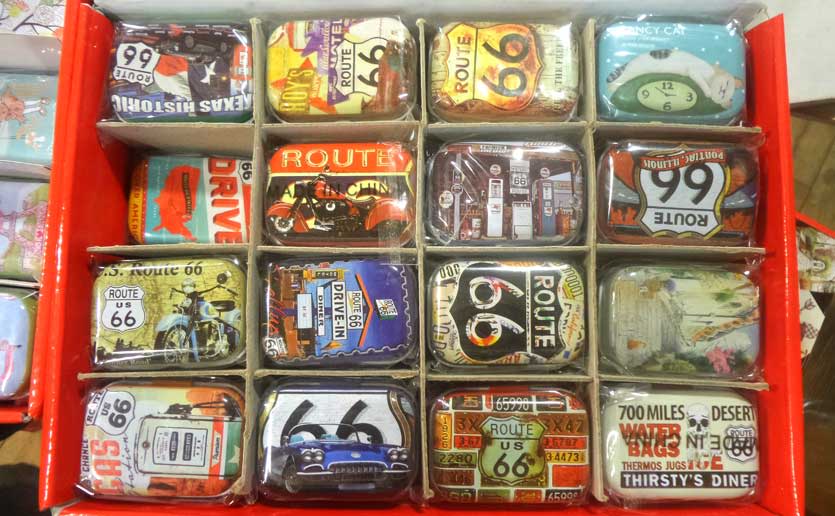 Want something to keep your precious trinkets safe and organized? Here are just the cute little boxes for you! You can place them on your table and store your favorite earrings or those innumerable rings you keep buying losing - in them.These boxes come in pretty prints making them suitable gift boxes too - come check 'em out!
Price | Rs 50-100 
Very rarely do you find a shop that gets you hooked on to their collection and you keep saving money just so you can buy one more bag! The prices are fairly reasonable too and everything is made keeping recent trends in mind. You can't miss this store if you want your style game to be on fleek this season! 
Location | 107/A, Humayunpur Village, NCC Gate, Safdarjung Enclave, Near R.K. Khanna Tennis Stadium 
Store Timings |11:30 AM to 9 PM From Tuesday - Sunday
Browse Through More Images: