Treat Yo Self! We've Hunted Down The Best Street Treats Found Outside DU Colleges
When you want to grab a quick bite in between classes and are unable to go to your favourite cafes, you can always count on the good bhaiyas who put up their small stalls and shops just outside the college and have some yummy grub right outside your own colleges. And here, we've listed out a few of our favourite spots outside your college, where you can eat, drink and have fun with your gang!
Bhagwat Banta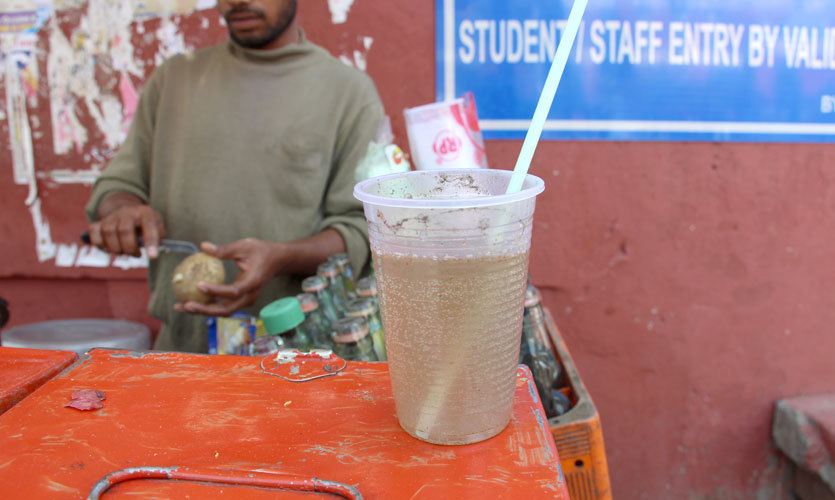 Now this shop has been around since 1995! It's a small stall, just outside Kirori Mal College. The guy sells amazing bantas! The masala hits the throat, so if you can't take the spiciness, ask the bhaiya to keep the quantity of the masala less. The soda is very bubbly and fuzzy and makes for the perfect drink to quench our thirst on a hot day. In the summers, he also sells orange-flavoured banta. Anyone fancy drinking Mirinda or Fanta? Have the orange banta instead! Come on by.
Price | Rs 20
Location | Near Kirori Mal College
Mohan Lal Bhelpuri
This spot, right outside Hindu college, is always surrounded by students and teachers alike. Mr. Mohan Lal has been working for the past 25-26 years, selling yummy Bhelpuris and filling our tummies with pure awesomeness at a very pocket friendly price. His Bhelpuri has peanuts, chickpeas, rice puffs, onions, coriander and crispy papri, which gives it a nice, crunchy taste. The Bhelpuri is very spicy and has sweet chutney in it, which gives it a sweet and spicy taste - go devour!
Price | Rs 20 (Half Plate)
Location | Near Hindu College, Opposite St. Stephen's
Manchand Lal Ness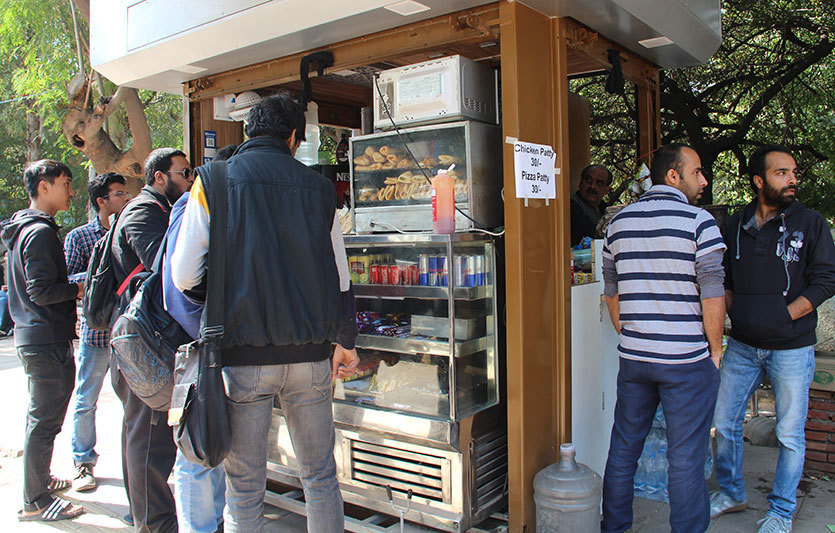 This shop has been sitting pretty outside of Faculty of Law for the past 20 years. They serve a karak cup of Coffee for that caffeine fix most of us need like Gollum's ring and oh boy does it wake you up and how! Plus, to accompany your hot cuppa, they also sell potato patties, sandwiches, pastries and chocolates to set you up for your day.
Price | Rs 10 (Coffee)
Location | Near Faculty of Law
Sudama Ji Ki Tea Stall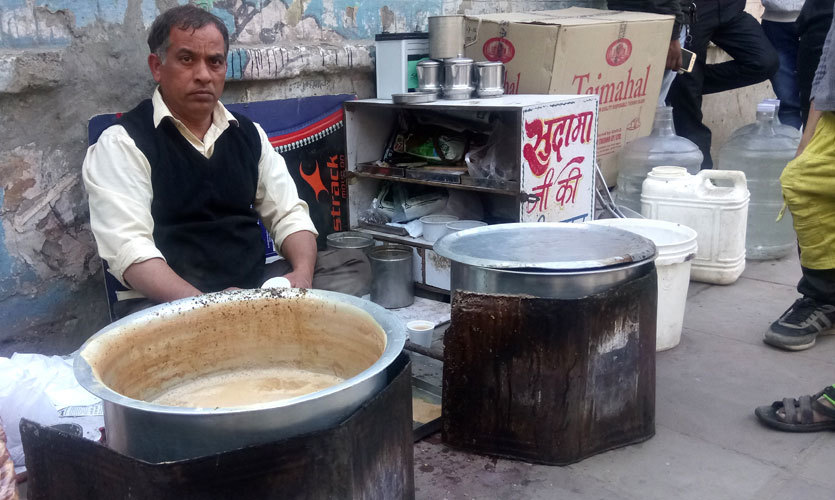 For all those tea lovers who can't start a day without a steaming cup of chai, this one's for you! This tea stall is located opposite Hansraj College, near Kamla Nagar market and has been around for nearly 30 years now. Now, many people sell tea. So, what's so special about him? His tea has liberal quantities of ginger and cardamom, which makes it very flavourful and thankfully, it's not overly sweet. He sits here from morning till late in the evening, so for your next tea fix, give this place a try!
Price | Rs 10
Location | Near Hansraj College
Jai Kalka Mai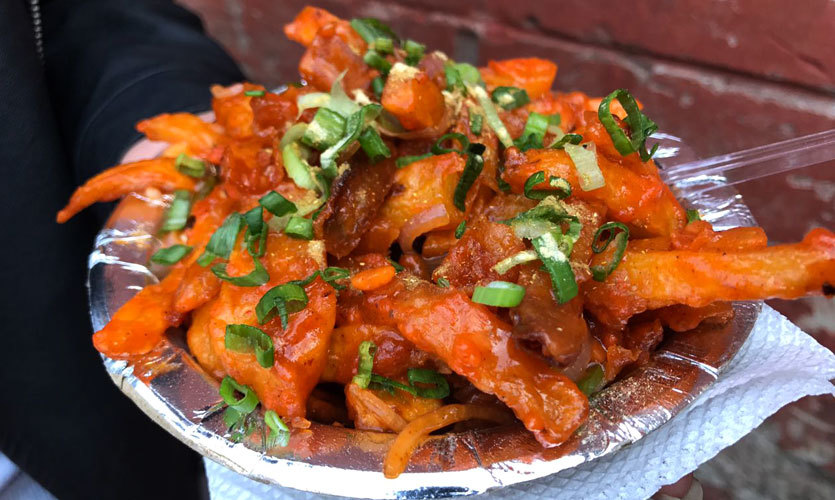 Saving the best for the last, this stall of delicious goodness is right outside Lady Shri Ram College (LSR in Moolchand). This stall makes some yuummiciously crispy Chilli Potatoes, which won't burn a hole in your pocket and will surely fill that hole in your tummy! The potatoes are garnished with spring onion and from our experience, it's better than LSR's canteen. This stall may not be as old as the other stalls, but is very famous among the college-goers.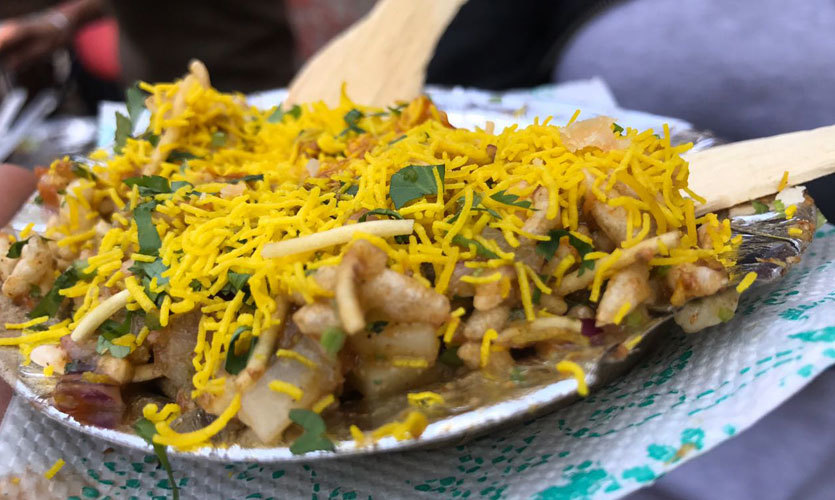 Bonus: We also tried the bhelpuri here at a small stall just outside the back gate and let us tell you - you won't regret it! It's so so good! The boiled potato in it makes all the difference. It's topped with bright yellow sev too, which gives it a nice crunch. The sweetness of the sweet chutney was very noticeable. The Bhelpuri combined with the Chilli Potato can make your day!
Price | Rs 35 (Chilli Potato) & Rs 25 (Bhelpuri)
Location | Right Outside Lady Shri Ram College
So there you go - hunt up these awesome roadside thelas to cure those mid-day munchies at!