Travelogue | Gliding in The Palatial Confines of The Stunning & Magical Fairmont Jaipur
We traipsed our way over to the sumptuous and palatial Fairmont Jaipur, and thereby hangs a tale! Scroll on as we talk about our stay at this magnificent resort and regale you with tidbits of trivia and the elegant graciousness we were greeted with.
Day 1
It's 6 AM, and here we are at the NDLS Railway Station, bleary-eyed, craving coffee, sleep-starved and tightly clutching onto our bulging suitcases (having jammed in one too many LBDs) and clambering onto our ride into the Pink City itself - Jaipur!
Trying valiantly to nudge awake our sleep-fogged brains, and sighing happily at the prospect of 2 glorious nights and 3 sunny days at the famously gorgeous Fairmont property perched in Jaipur. Over cups of steaming coffee (courtesy Shatabdi Express), our motley gang of fellow bloggers shook hands all around and pored over the itinerary and we were off! After much good-natured name-calling, gossip sessions and one rowdy shouting match (all in the space of a meagre 4 hours, you understand), we trudged our way along the alleys of inner Jaipur, threading our way through the rugged, lush green hills in this beautiful royal city to reach our abode for the next three days - Fairmont.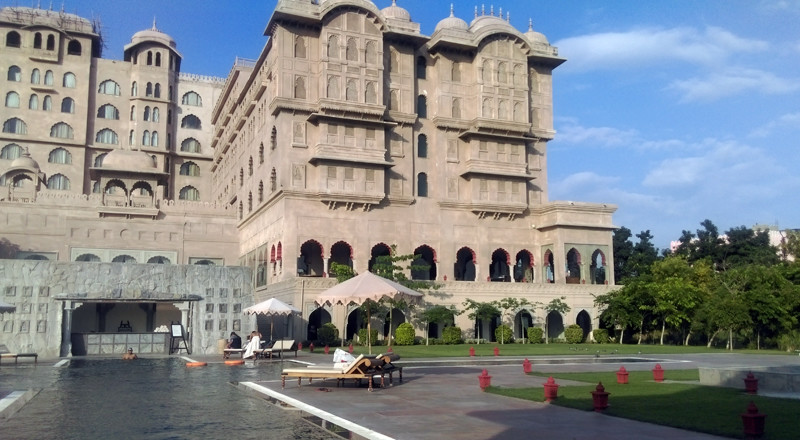 Having been welcomed by the trumpeting of drums and the traditional folk sitar music of yore, we were welcomed into the gracious arms of Fairmont's Jaipur palace. Grand, ornate and welcomingly spacious with deep little grooves comprising perfectly manicured grass squares, flawless marble statuary and mounds of pale limestones. Arches, beautiful net drapes and perfectly curated, antique furniture and low ottomans graced their gargantuan lobby, and even before we set foot in our pretty rooms, we were already halfway in love with and charmed by this modern palace. The place literally begs you to lay down your bundles of stress, allow yourself to be caressed by the fragrance-infused breeze and let the mind wander to a time less-complicated *dreamy sighs*!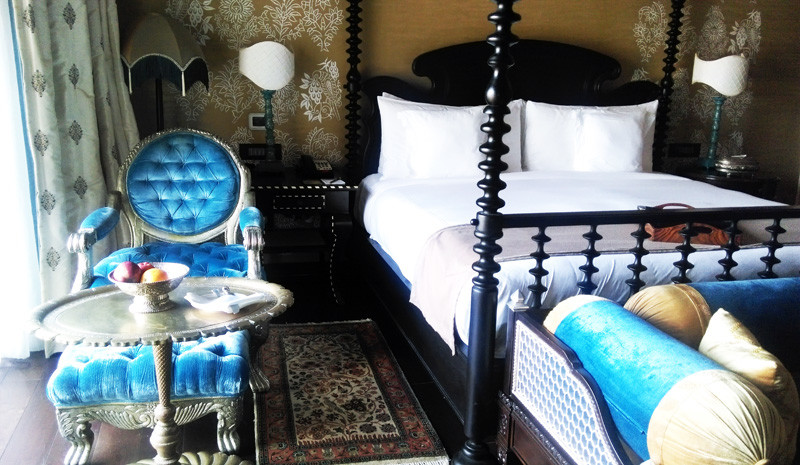 After gulping down some truly refreshing welcome drinks - in carved goblets, no less - we then marched on and were seamlessly led to our rooms. To say that we were staying at just 'rooms' would be a gross understatement. Rather, they were more like mini-palaces in themselves! Beautiful frescoed walls, a vast four-poster bed which had the most snowy, fluffy pillows perched atop, generous carved bay windows letting in floods of light, a comfortable diwan and oh the bathrooms! An enormous, pool-deep carved bathtub that looks like something a Mughal princess would have taken a leisurely dip in, marble double sinks and wicker-baskets containing endless rolls of the fluffiest towels - we were in bliss!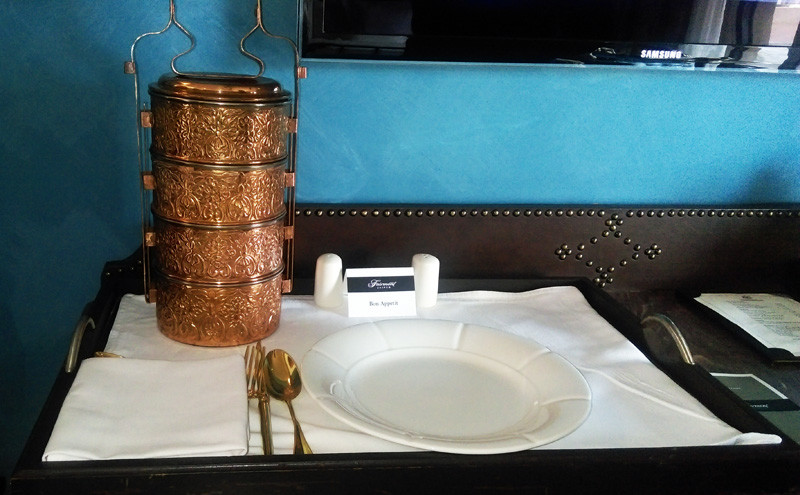 Ravenous by this time, we'd been told that we'd be provided with a little something called the Royal Tiffin Service. Curious and intrigued, we sunk into a heavenly, antique armchair complete with an ottoman and awaited our feast. Spilling some luxury onto the hot-off-the-press and convenient tiffin dabba, they crafted their Royal Tiffin Service!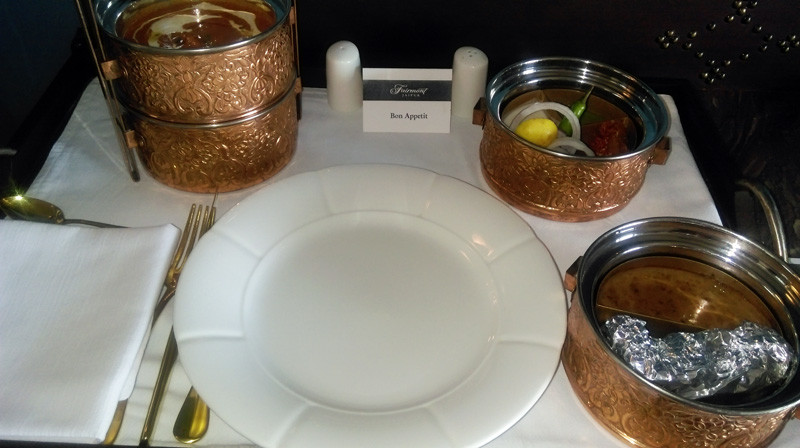 Wanna take a peek inside our tiffin? A long copper (varnished to a flashing shine) ornately carved (of course) and refreshingly elegant tiffin, held within a riot of fresh salad, pickles and chutney, another compartment cleaved open to reveal a wedge-boat-ful of Dal Makhani with heaps of tandoori rotis and yet another compartment cupping the most rich, yummy Butter Chicken! At that point, being famished and a tad travel-weary, we happily pounced on our well-prepared and seasoned tiffin and sighed with well-fed satisfaction!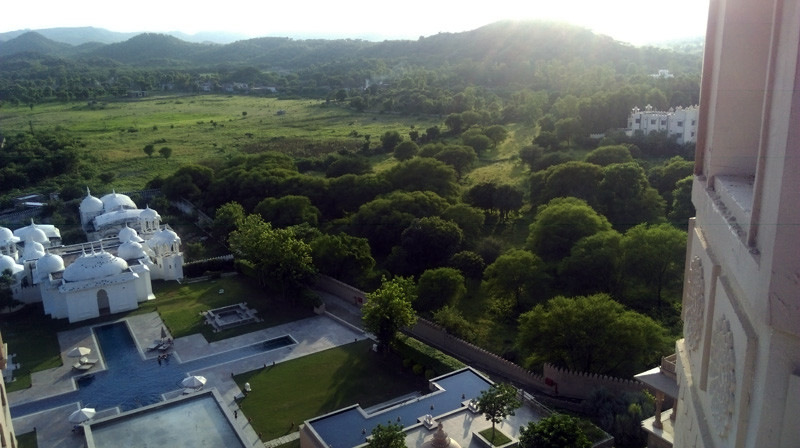 After a short siesta, we then convened back at Anjum (the coffee shop-cum-lobby) to be honored by a guided walk-through of the entire sprawling property. We were taken to gorgeous rooftops that offered 360 degree vistas of the royal city of Jaipur spreading beneath us, a colossal 4-sided swimming pool that swallowed up all our attention, domes and minarets galore, with exquisite little gurgling fountains everywhere the eye could see.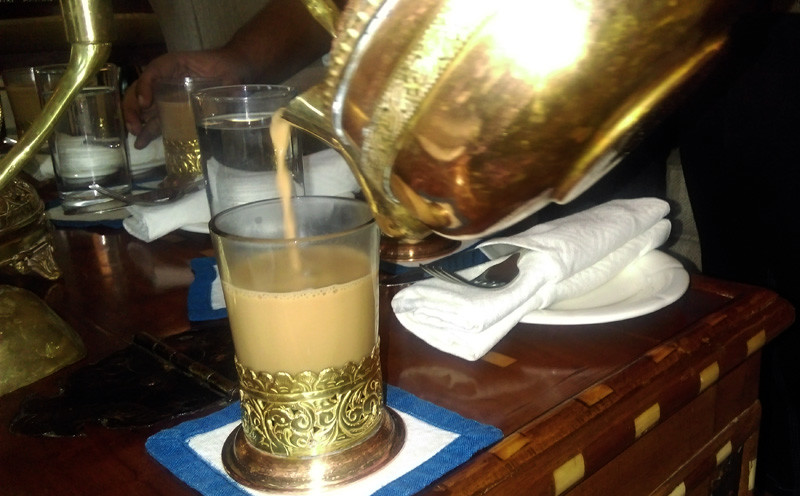 This property is not a converted palace, we were told. Rather, the palace and everything within had been constructed from scratch, all the while lovingly keeping alive the essence of the Rajput and Mughal era. We witnessed 300-year-old vintage teak-wood double doors that Fairmont snatched off a royal auction, and shown around the business wing, which boasts of massive banquet and conference halls, all beautifully frescoed and decorated with the royal theme intact.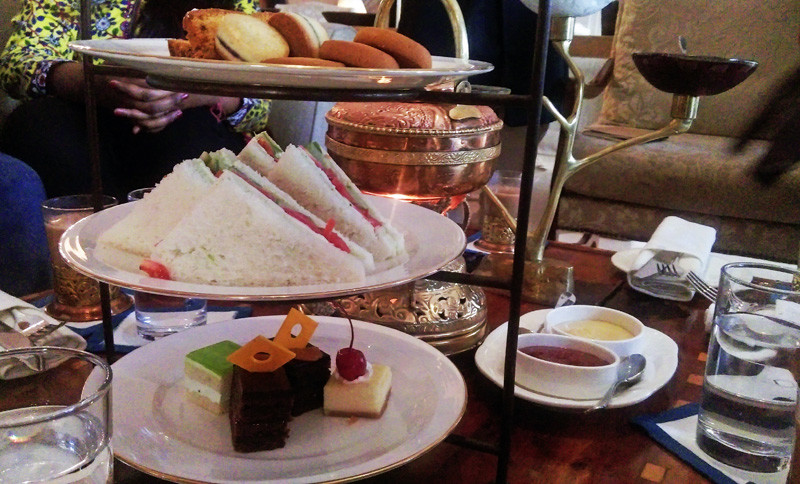 After the bracing long walk along the property, we were then led to an already meticulously planned out and lovingly prepared High Tea. Fair warning: we'll now be penning a sonnet to their amazingly refreshing and 'kadak' Kuntez Tea. So Kuntez Tea is prepared with a mixture of plain-old masala tea to which numerous spices like cardamom, cinnamon, cloves, black pepper, corn, bay leaves and aniseed and liberally dashed in. The result - the most awesome tea we've ever tasted - we kept on refilling our cup long before our High Tea came to an end. Cute little tiered tea trays were brought in laden with freshly-made Dhokhlas, the requisite Cucumber, Tomato and Cheese Sandwiches, yummy Kachodis, dainty cookies, chocolate savouries and petite pastries. Needless to say, we stuffed our faces silly!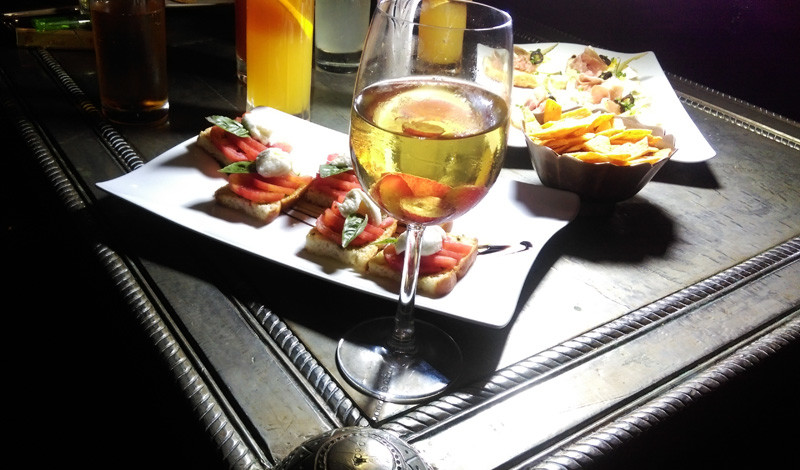 Dusk fell, and we were invited for fancy and frosty cocktails at the lush Aza Library Bar, which included a stupendous little concoction (invented especially for us) called the Sagittarius White Wine Cocktail. Composed of a copious amount of Jacob's Creek Chardonnay (of course!), elderflower and cut grapes, it was simply heavenly! Upon downing numerous glasses of our wine cocktail, we were ready for dinner and led into their sumptuous restaurant called Zoya. Ok now comes the best part - our menus for the evening's supper (all perfectly curated, obviously) were placed at our seats ensconced in little, archaic and carved silver scrolls (omg omg!)!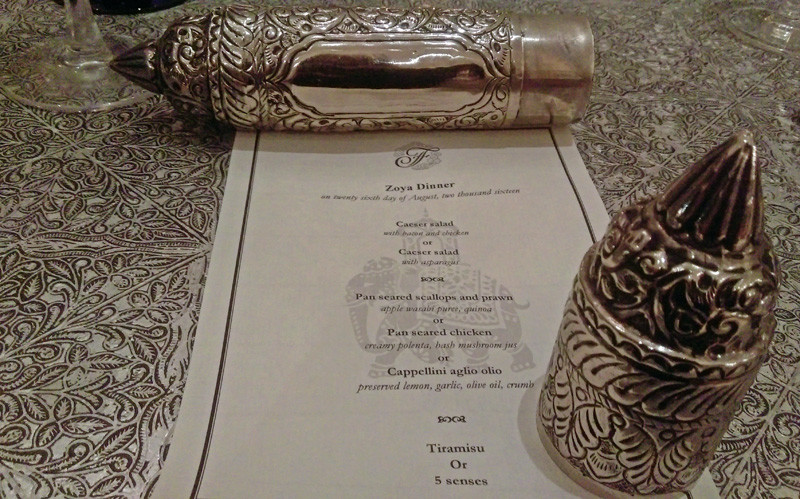 After much gasping in delight and camera-whipping, we chose our entree, which included Chicken Caesar Salad with chicken and bacon strips; which was then followed by Pan-Seared Scallops & Prawns - coming replete with a delectably pretty presentation in tow, the prawns were well-cooked, drizzled with patent Apple Wasabi Puree and incredibly juicy! Pouched with tons of crisped lotus leaves and quinoa, we munched happily away. Wrapping up our absolutely decadent first day over at Fairmont Jaipur, we sat, spoons at the ready, just waiting to devour the chef's piece de resistance, a dessert they call 5 Senses! Composed of 5 layers of - get this - chocolate mousse, chocolate caramel mousse, chocolate cream, a chocolate disc and topped by chocolate sauce!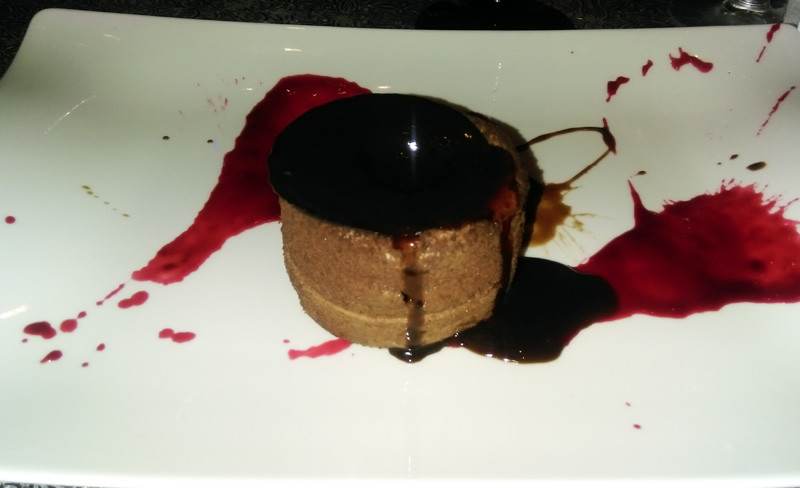 Satiated, thoroughly pampered and bone-weary, we hit the sack, already anticipating Day 2 at this haven!
Day 2
Day 2 of our stay at Fairmont Jaipur dawned drizzly, wet and overcast, but that didn't dim our spirits as we headed down for a palatial breakfast buffet spread at Zoya! Endless counters laden with fresh juice, tempting, freshly-cut fruit, a bonanza of Indian breakfast dishes including the requisite dosas, idlis and vadas, a vast section dedicated entirely to breads (we happily piled on danishes, hot croissants and massive muffins), an eggs counter dishing out fabulous Eggs Benedict, bruschetta and omelettes (think mushroom and cheese fillings here), not to mention fluffy waffles and smooth pancakes doused with maple syrup, whipped cream and chocolate sauce. We dug in and emerged, an hour later, stuffed to the brim and raring to start our day!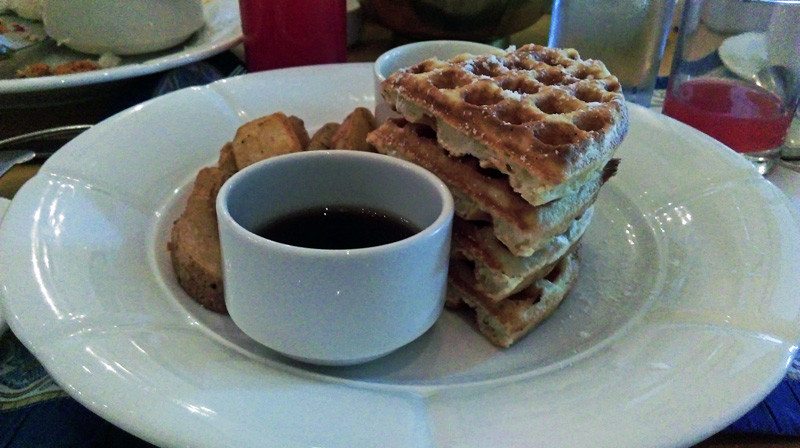 The first half of our day entailed a visit to the famous, aeons-old and spectacular Amber or as the locals call it, Amer Fort. We began by piling onto a small bus to take through the inner city where we got to glimpse amazing views of the breathing, thriving brick-and-mortar core of the Pink City, and ascending our way up to the Fort. We suddenly came to a halt at the edges of the hills and thereon jumped into a Jeep that would then climb up the steep slope where the Fort stood. Thoroughly enjoying the bumpy ride up and whipping out our cameras to capture anything that moved (and many that did not), we arrived at the entrance to our destination - Amer! 
We'll paint a word picture for you here - picture this - lush, craggy hills peppered with tall trees and standing stalwart on the very edges of these hills, the ramparts and fort walls (an astounding 11 km-long) snaking around and spearing up, looking as natural and constant as if placed there by the finger of God Himself! And it was then that we looked up and witnessed the colossal Amer Fort in all its glory! Long entryways, a sprawling outer courtyard studded with alcoves, minarets and rough-hewn domes, gushing fountains, painstaking carvings and glittering temples was what awaited us at this beautiful remnant of a bygone era. Lost in our musings and drinking in every sight, sound and movement that caught our eye, we immersed ourselves in the splendour of this magnificent Fort.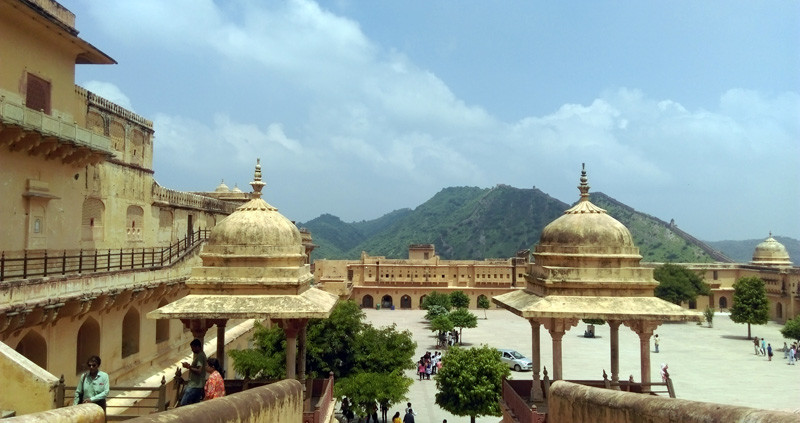 Having traversed every inch of the Fort (including carved Hamams, inner courtyards and splendid carved windows offering glorious vistas), we then travelled on to famous Rawat's for piping hot kachoris and fresh lassi. Hurriedly gobbling up Jaipur's finest, we reached back to Fairmont to meet our spa appointments - oh, did we forget to mention our pampering included a heavenly spa package? Yup! The spa over at Fairmont Jaipur offers all its guests an expansive wet area inclusive of a jacuzzi, steam and sauna. We picked their Intensive Muscle Relaxation Treatment and from the moment they bathed our feet in a copper bowl of warm water to the amazingly intense treatment and massage, we were in paradise-land!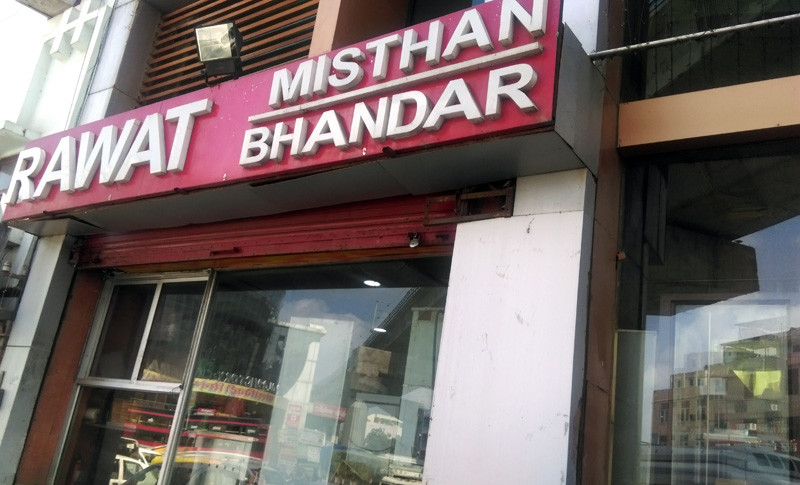 Almost lulled into a relaxed trance by our spa session, we then shook ourselves awake for the last instalment of our amazing stay - dinner! Our last evening at this beautiful sparkling gem of a resort started off with - gasp - a 'Pagdi Bandhe' ceremony - and not just for the guys, mind you, the girls weren't spared either! In-between lapses of giggles and much squirming, our pagdis were proudly draped and occupied place of honour on our person and we were ready for our feast.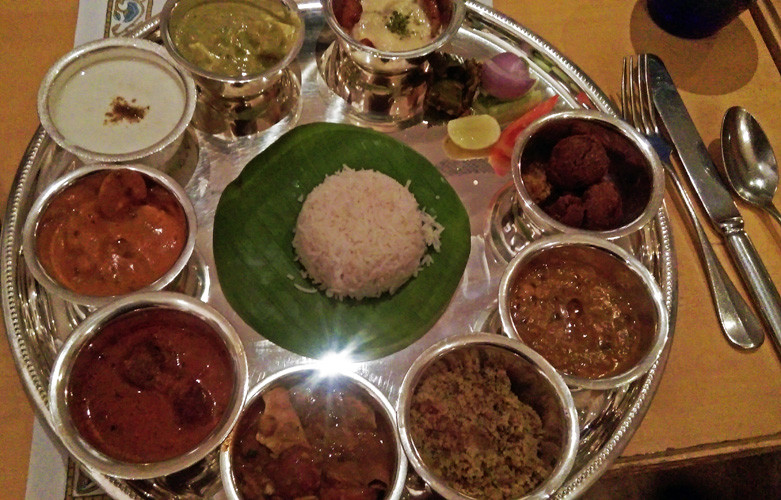 Starting off with bubbling glasses of Sula Brut, we were presented with our very own Rajasthani Thali, consisting of Pista Churma - incredibly yummy and infused with a medley of flavours, Pista Churma adds a dash of sweetness to an otherwise spicy meal, Batli & Dal Panchmel (whole wheat atta balls with a mix of 5 traditional dals), Papad Mangodi Ka Churma (vadis), Sangri Ke Kofte (soft and full of traditional Rajasthani spices), the requisite and delicious Gatte Ki Sabzi, Paneer Chutneywala (basically chunks of paneer in a gravy composed of mint chutney) and the most famous dish in all the land - Laal Maas! Now we come to the much-promised and hyped Rajasthani Laal Maas. 
Originating from the Mughal era, when the royal hunting party brought back game after a hunting trip, and in order to get rid of the foul smell, lots and lots of red chili was added to the meat, and Laal Maas was born. The bowlful that came our way though, was fresh and odour-free *wink wink*! The meat was ,as promised, supremely spicy and thoroughly yummy - full marks to Fairmont on this! We ended our dinner with some delectable Malpua & Rabri.
Au revoir Fairmont Jaipur!
Location | 2, Riico, Kukas, Jaipur, Rajasthan 
Book Your Stay Here | http://www.fairmont.com/jaipur/
Browse Through More Pictures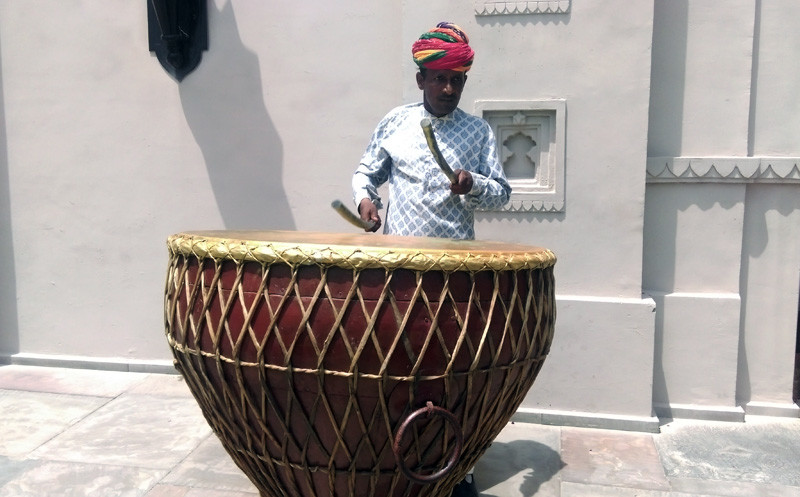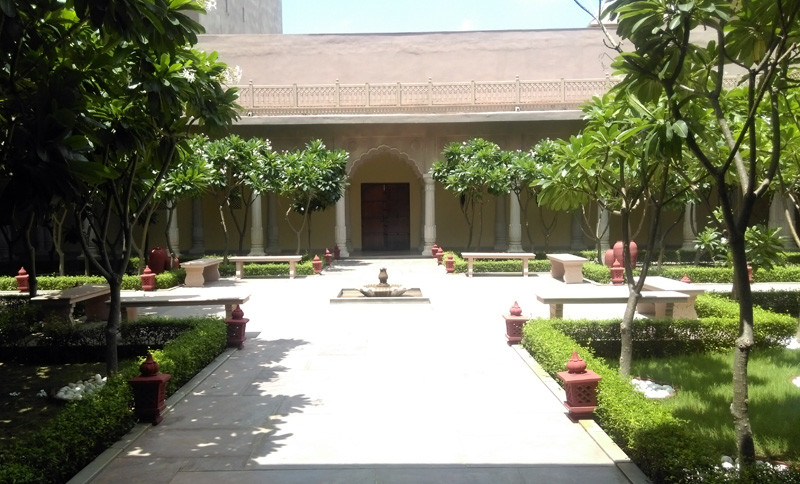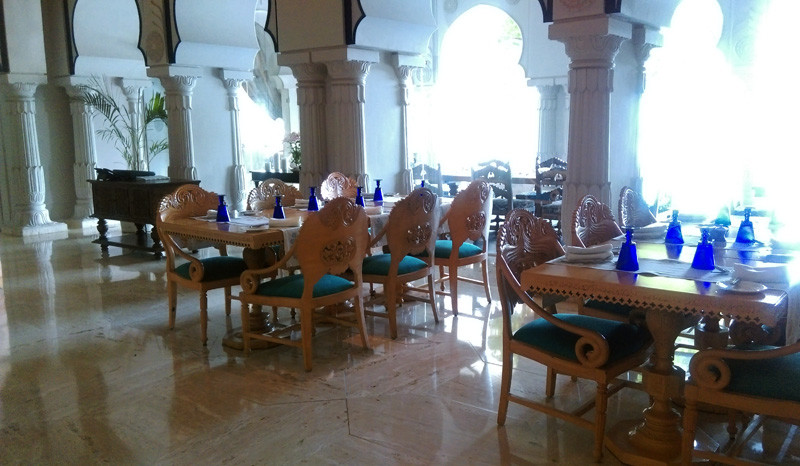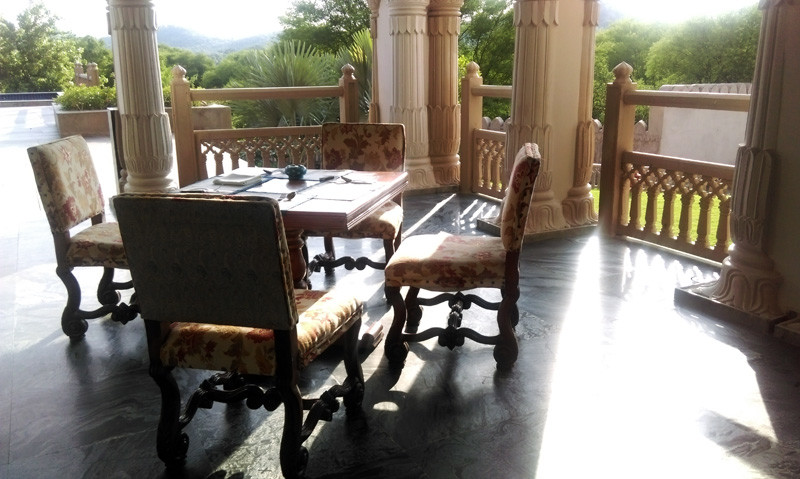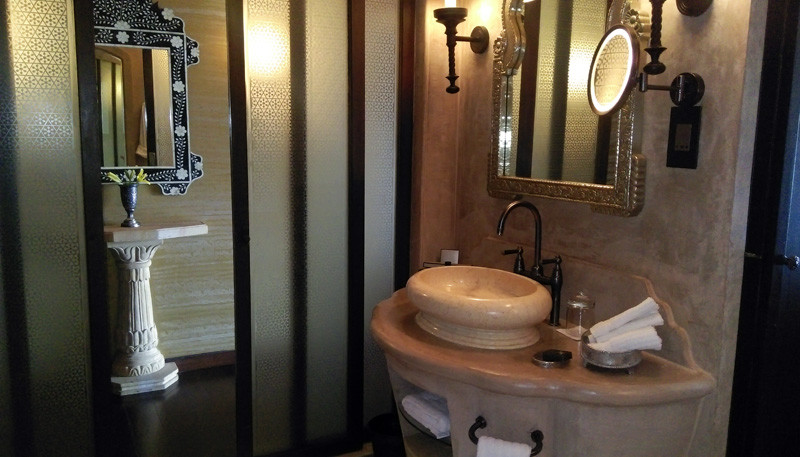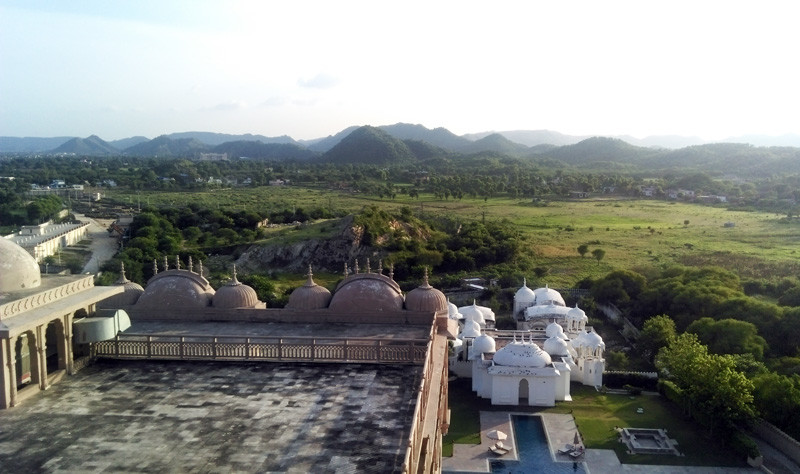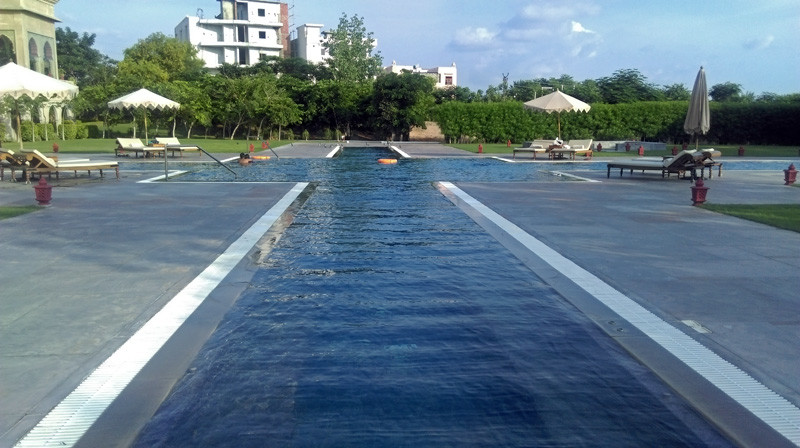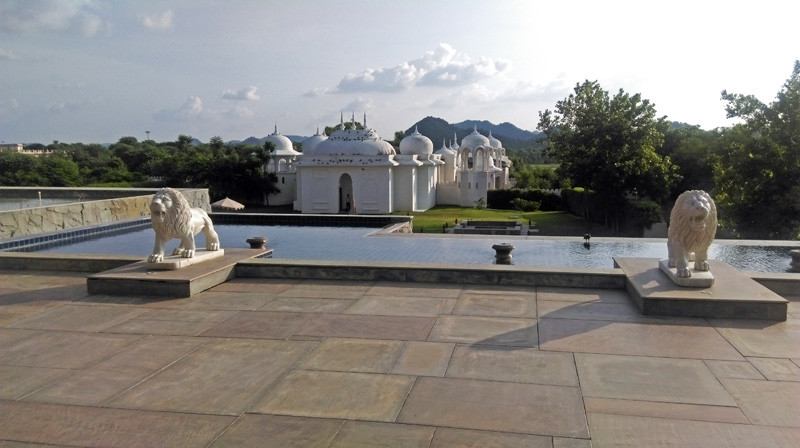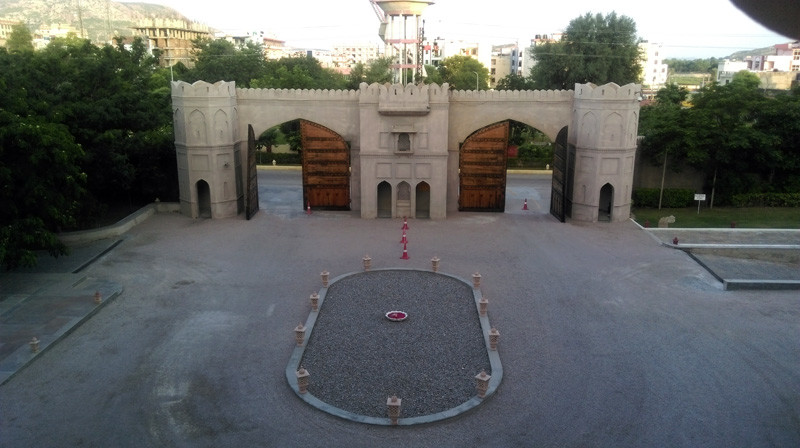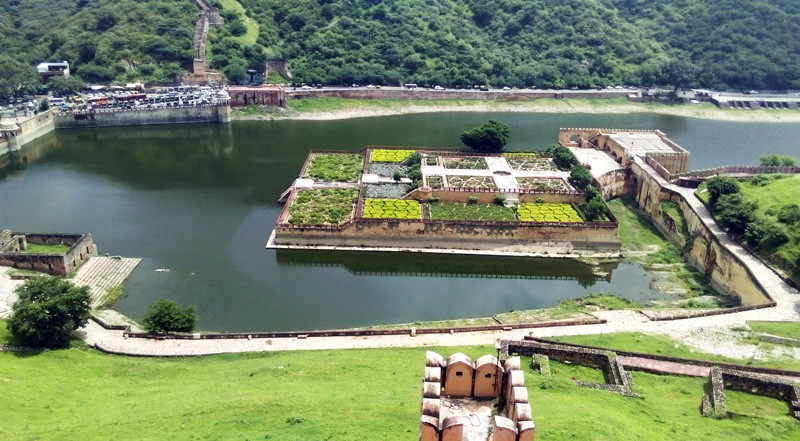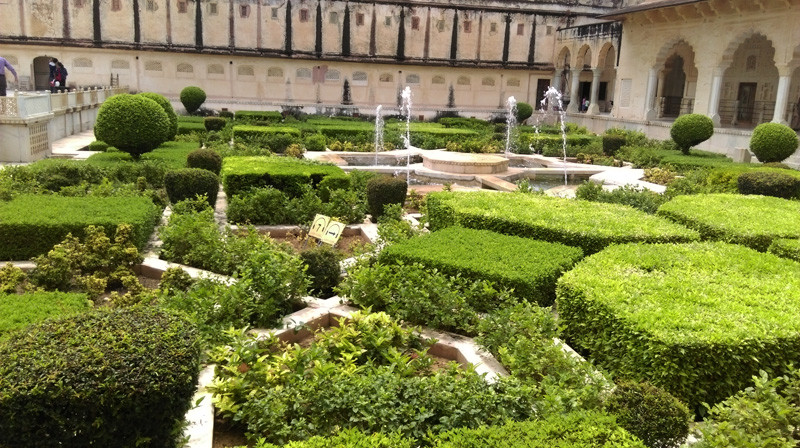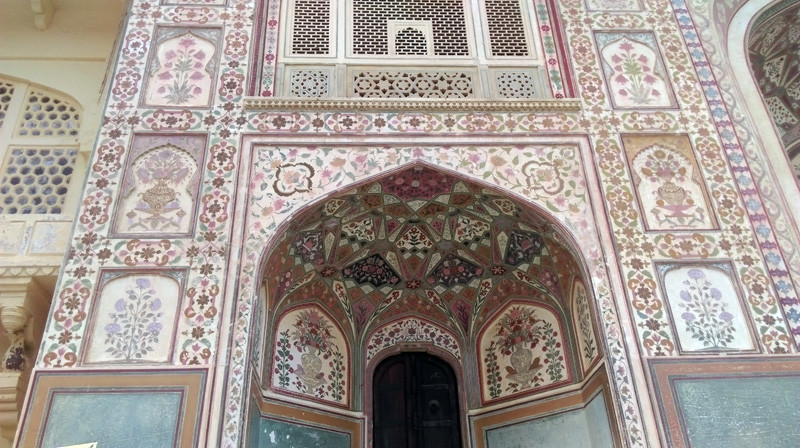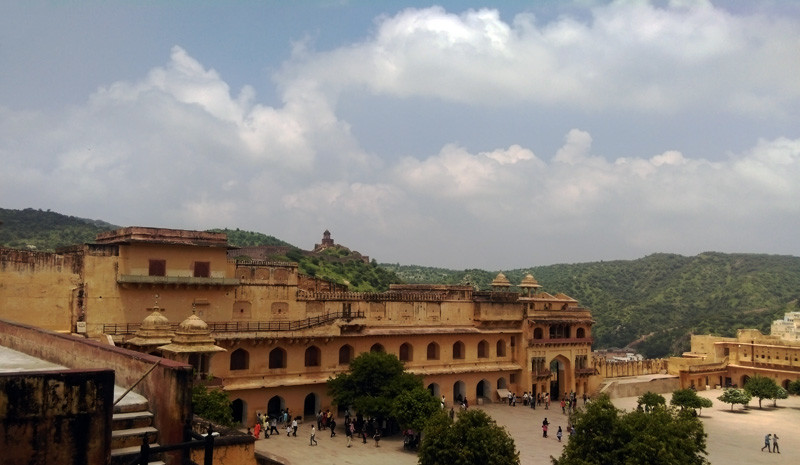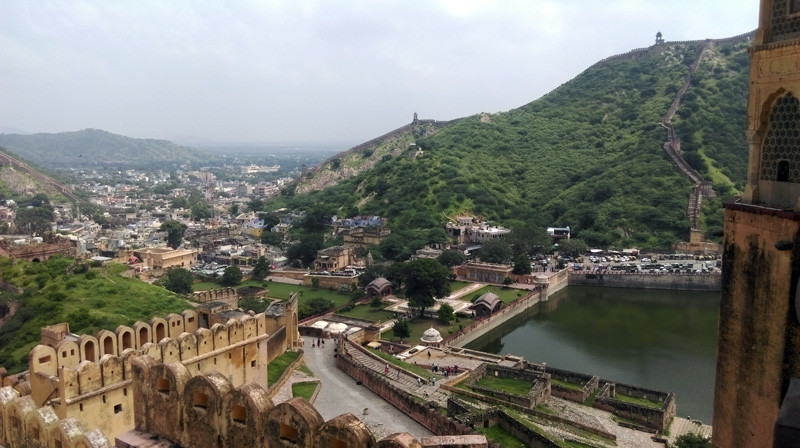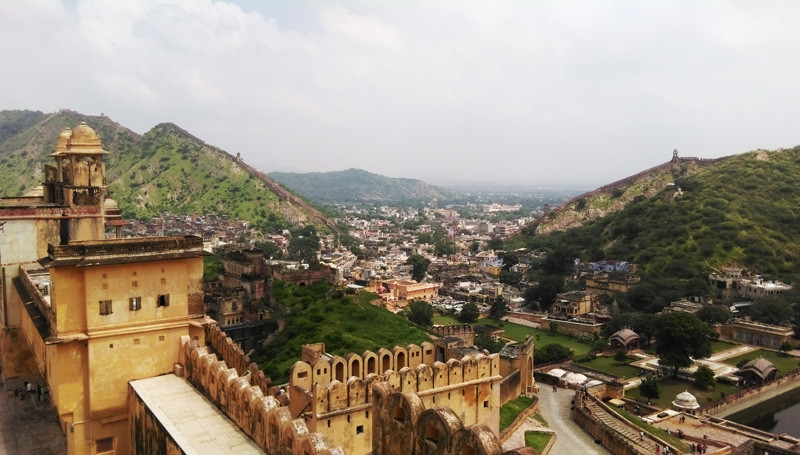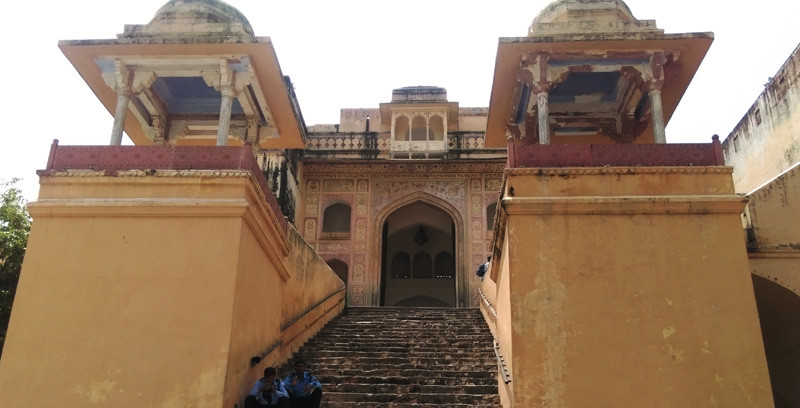 This article has been written by Mehar Luthra. I'm a total Grammar Nazi who eats misspellings for breakfast! A law student, wandering food critic, sarcasm worshipper, caffeine-junkie and serial sitcom-watcher whose abiding passion in life is to write, write & then go and write some more. Let me regale you with some of my musings!