Travelogue | 3 Days Spent In The Lap Of Unapologetic Luxury @ The Pretty Roseate House!
With the year ending on a rather cold note, we decided to head for the last staycation of the year and how! The Roseate House is barely 3 kms away from T3, situated in the very talked-about Aerocity and just a couple of minutes away from the corporate hub that is Gurugram. Follow us as we take you through our incredibly luxurious stay!
  Day 1
To make our week a happy one, we were asked to reach the Roseate House on a Monday evening, instead of the weekend. After all the Monday blues that we went through, we reached the premises at sharp 6:30 PM, and were welcomed with a big bouquet of fresh lilies, warm greetings by the staff and a glass of fresh orange juice. As soon as we entered the space, we couldn't help but notice how the place is built in an uncluttered format for the upcoming generation of business-savvy tech travellers.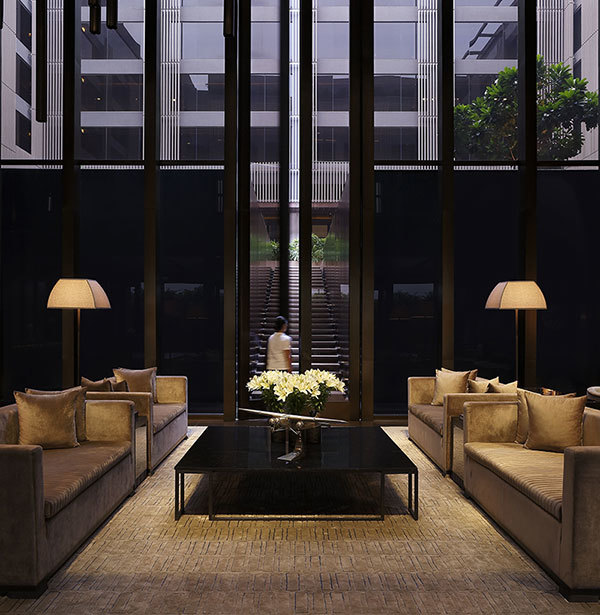 The ultra chic lifestyle hotel provides much-needed respite from the city's hustle bustle without even having to travel much. Owned by Bird Hospitality, Roseate House interestingly enough has been designed and conceptualised as pages and chapters of a book which bears stories of people and life. With each floor being a story and the rooms acting as chapters for the same, the property has been designed with a lot of heart and creativity. The hotel definitely shares a story through their corridors, walls, rooms and architecture. For architecture lovers, this hotel is an inspiration in itself in terms of creativity with a twist. With a total number of 216 rooms which includes 15 suites, the hotel also has a luxury spa with indoor and outdoor treatment areas for relaxation with tons of positive energy abounding!
Curious to see what the architectural masterpiece had in store for us, we then headed for a tour of the entire property. After taking a look at the Presidential Suit and the rest of the space, we were completely in awe of how the property has been designed and maintained, and instantly knew that a lot of thought had been poured into every small, painstaking detail. After roaming around the property, we then craved some cocktails to get into the groove for the upcoming fun days!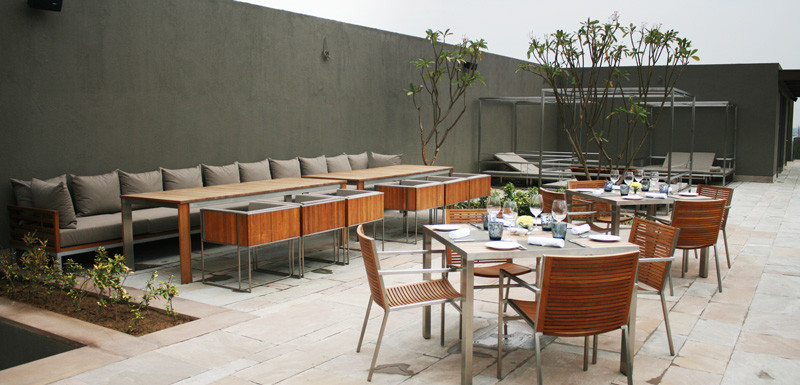 We started off with a glass of red wine and some amazing sushi at the very gorgeous rooftop infinity pool which is situated by their open-sky rooftop Japanese lounge called TARA. The infinity pool is breathtaking and made us fall in love with it at first sight *sigh*! After completing quite an entertaining round of gossip sessions with friendly banter and drinks, we then went towards DEL for dinner which was hosted by their Executive Chef Anooj Wadhawan. DEL being their all-day dining brasserie with an exclusive bar and live cooking stations, was all ready to host a scrumptious dinner for all of us!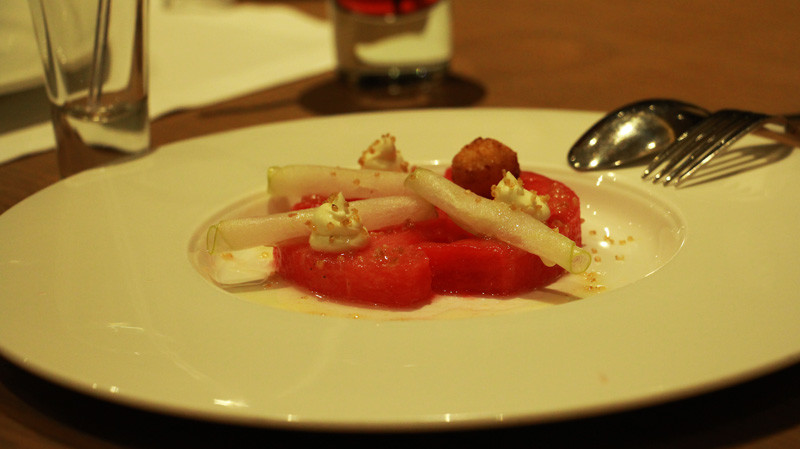 The dinner was a unique culinary experience with an exquisite European menu for the night. The Beatroot and Burrata Salad was heavenly and clearly was the winner for us! Full with all the awesomeness that we ate, we then headed back towards our cozy rooms to take some rest to re -energize ourselves for the next day.
Day 2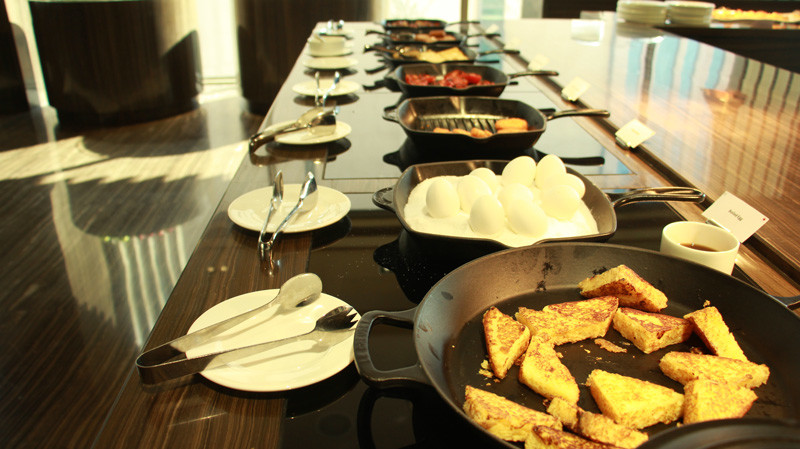 As much as we wanted to stay in our comfy bed and rest some more, the hotel staff had a full day planned for us, with a number of fun activities to do! With a breakfast buffet laid down for us at DEL, we were spoilt for choice with freshly cut fruit, an open omelette and dosa station serving three kinds of dosas and omelettes with the filling of our choice, a separate section just for breads and with palatable Indian dishes like Chole Kulche and Idlis. We stuffed ourselves to the brim and head out eagerly to start our day.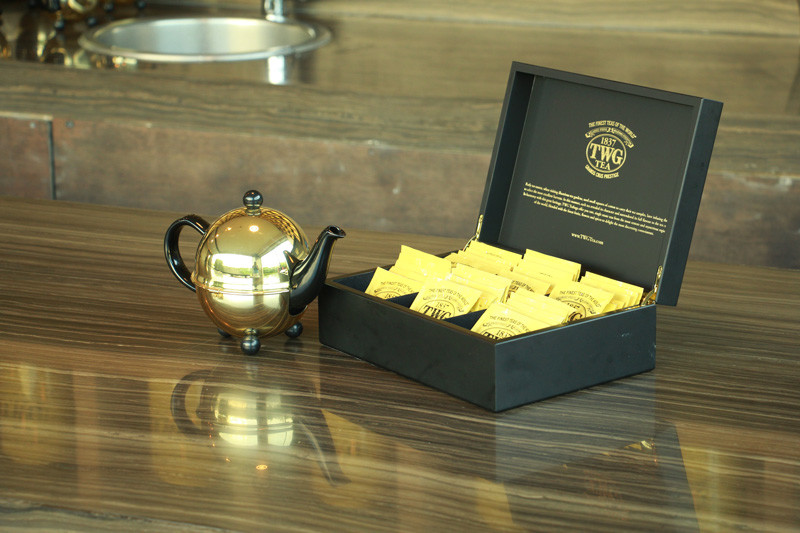 After the heavy breakfast the Roseate House team made sure that we utilized our day to the fullest whilst having fun. We started off with a Tea Tasting Session organised by TWG, a luxury tea brand available in all Roseate hotels and resorts exclusively. The tea tasting was conducted by Deepak Rawat, a pleasant gentleman who told us all about the handcrafted variety of teas available, a little about their history and about how different teas need to be brewed differently. He was kind enough to sit through and explain all about the different flavours of teas as we sipped along. Their Dessert Teas were what caught our attention, and the Creme Caramel Tea became our personal favourite along with their Chamomile Tea. The tea tasting then came to an end, leaving us craving for more. The tea tasting was followed by a photo session done at the most gorgeous nooks and corners of the property.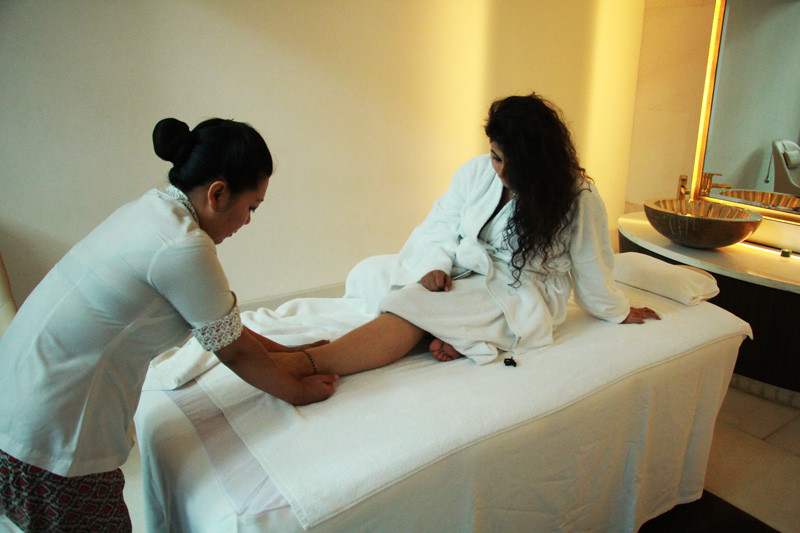 After enjoying the property to the fullest, we'd built up quite an appetite, hence we started moving towards DEL for lunch. As much as our stomachs were growling for food, we had to keep it light, as a full fledged spa treatment was arranged for us at their in-house luxury spa centre known as the Aheli Spa. The spa is surrounded by serene environs of water bodies and offers stunning outdoor as well as indoor treatment areas, with a wide range of therapies to choose from inclusive of a steam and sauna bath. The Aheli Signature Massage was chosen as the treatment for us, and as soon as we immersed our feet in the big bowl of warm water we felt all our stress leaving our body, and thus began our intense massage.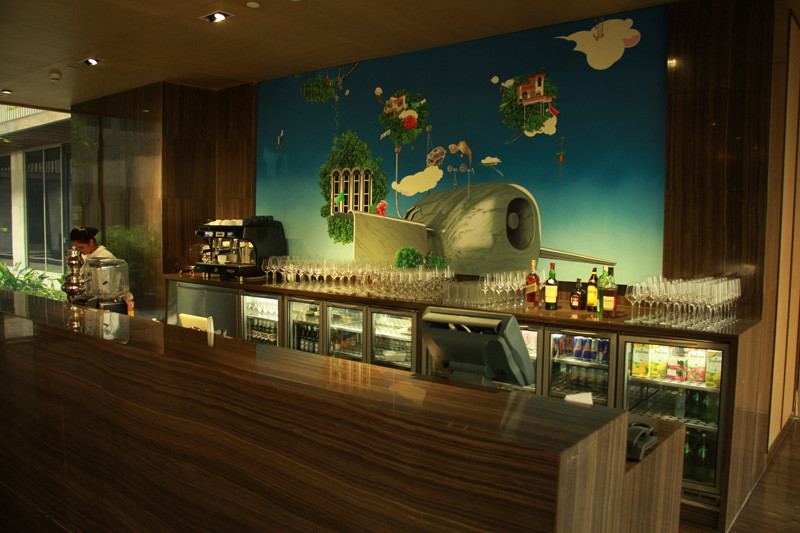 After an hour and a half long hour massage, we were taken towards the steam section to relax ourselves some more. Our spa session left us in a relaxed trance followed by some peaceful alone time at the rooftop poolside with a heavenly cup of Cappuccino alongside. As eventful as this day was proving to be, we needed to relax and get changed and back in form for the drinks and food tasting session at 'Chidya Ghar'. Chidya Ghar is a unique old-school bar, designed with materials like timber and brass, and the bar has been given a nostalgic yet contemporary warm sentiment to it. Perfect for conversations over drinks and some amazing fusion food, what caught our eyes and taste buds and stills remains to be our favourite is a dish called,'Nakli Chicken' which is a soyabean chaap dish made with tastes and spices like that of chicken tikka! The dish was so palatable that we were hooked on it right away, and we can come back here just for this! The conversations took an informative turn when we met Mr. Saurabh Dakshini, the architect of Chidya Ghar. Our small tete-e-tete with him lead to him telling us all about the concept, design and the whole idea behind the bar. A little tipsy and full from all the delectable food that we had, we were already anticipating the upcoming day 3!
Day 3
Day 3 of our stay at Roseate House was going to be a rather interesting one, as we were going to visit 'The Roseate', earlier known as Dusit Devarana today. After a comforting and rather heavy breakfast in bed, we straight away headed towards The Roseate. Approximately 4.5 kms away from the Indira Gandhi international Airport, this premium hotel is nestled in about 3.2 hectares of immaculately landscaped gardens.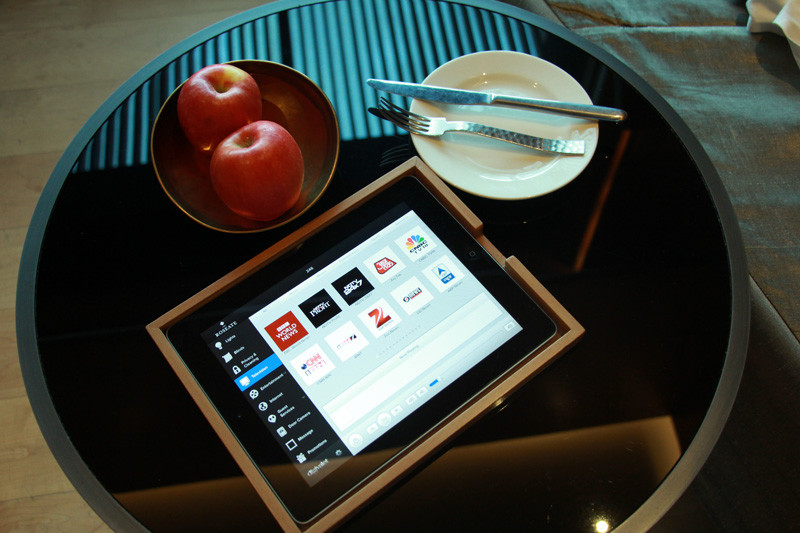 The place is a combination of a comforting ambience, an exotic location and supremely gracious hospitality. After being greeted with the tastiest welcome drink which was composed of apple juice, honey and ginger ale, we were checked into our day-use rooms. The rooms were huge with gorgeous vistas and an in-room bath tub with other modern facilities. What caught our attention was the iPad, which controlled all the features of the room from switching on the lights to changing the channel of the television, the device controlled it all! After exploring our gorgeous room to the fullest, we were then taken for a property walk-through.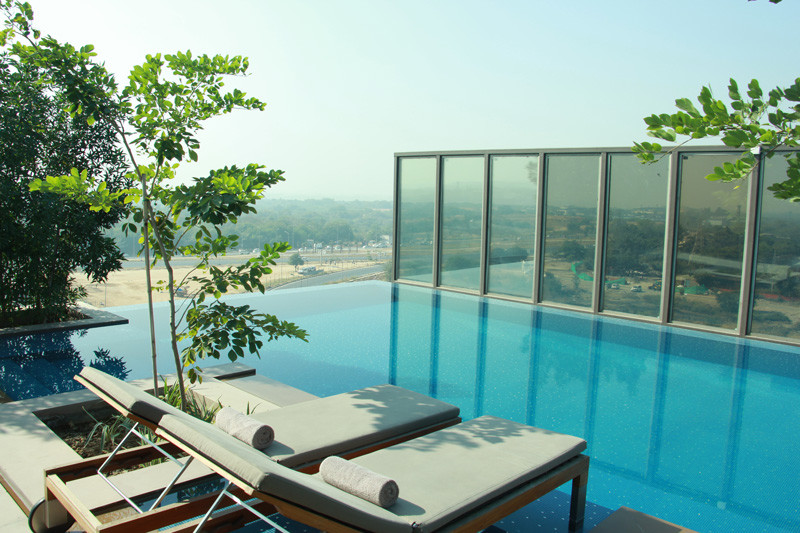 During the walk-through, we discovered that the property is the proud owner of the longest swimming pool (102 meters) in Delhi, and as the place offers the most surreal settings and views, hence it is 'the' venue for wedding ceremonies and other events. Famished as we were from all the walking around, we were then taken for lunch at 'Chi Ni'. Chi Ni, being one of the restaurants of the hotel, specializes in Chinese cuisine, and as the tagline suggests, the philosophy of the restaurant is 'Chinese cuisine from the heart'. Our lunch was hosted By Mr Ankur Bhatia (Executive Director of Bird Group) and by Mr Thukral and Mr Tagra, Art and Brand Consultants of The Roseate Hotels.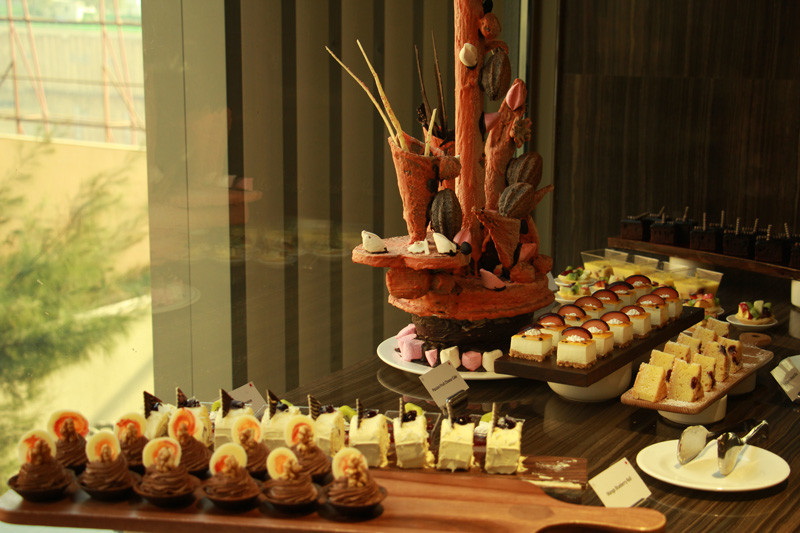 Much to our relief, the lunch started off with a round of red wine and some friendly chit chat. The highlight was our menus, which were perfectly curated and the staff being courteous as they were, helped us in deciding our menu keeping in mind our every fad and fancy. After a rather quick round of starters and soup, we were too full to indulge in any of the main course dishes on offer. But the heavenly aroma from the open kitchen made us lose all our control! For the main course, we had their Fried Rice, Chilli Chicken, Prawns cooked in shredded vegetables and Vermicelli Noodles (which instantly agreed with our taste buds, and became our favourite!). The long lunch came to an end with Mr Bhatia talking about the two properties, some friendly banter and with the tastiest dessert called the Senses Of Chocolate.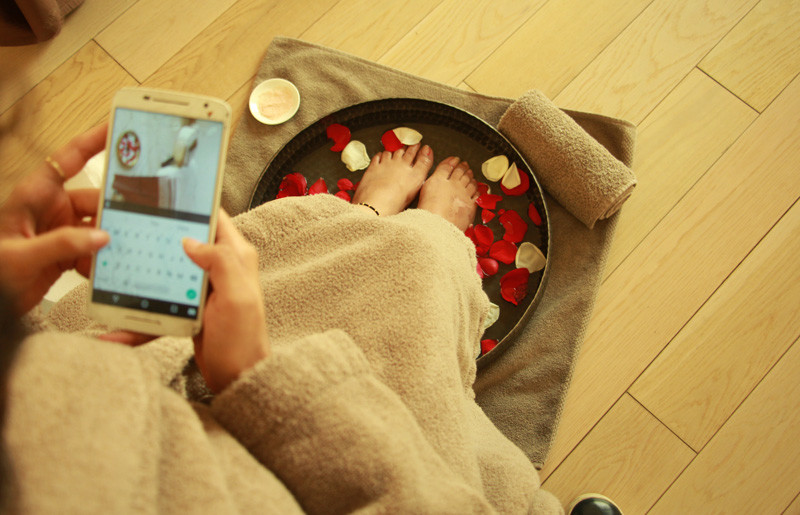 After a rather long lunch, we were then taken for a foot massage at the Aheli Spa at The Roseate. As soon as we entered the spa, we were filled with all the positivity which surrounded the whole space. The therapist was kind enough to take care of all our dos and don'ts. After 30 minutes of a relaxing foot massage came the time to head back to The Roseate House. Before that, we had a small round of snacks and coffee at 'Kiyan', which was refreshing.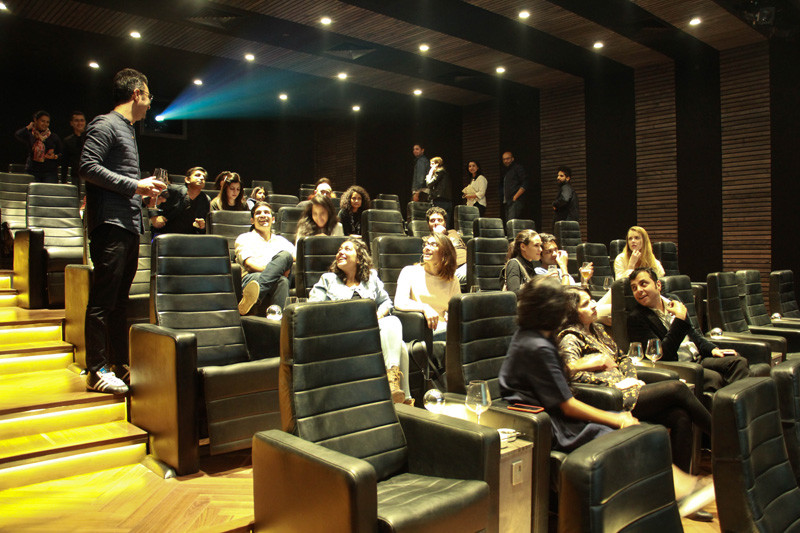 With so much happening around, we forgot we had a private screening planned for us at The Roseate House's very own private theatre called 'The Upstage'! After heading back, we straightaway rushed for the private event planned for us. It was the very first screening at The Upstage, and Mr Thukral and Mr Tagra had conceptualised and hosted the whole event for us. As Black Mirror (A Netflix presentation) was supposed to be screened for us, the theme for the night was black and everything, including popcorn and other dishes like sushi, were black and were made with edible charcoal (wow)! As impressive as all this sounds, we were all in awe as soon as we entered Upstage. The highlight of Upstage were the very comfortable recliners (exactly what we needed after a long, eventful day) and also that we were allowed to take our drinks along. Exactly how Netflix and chilling should be (staycation goals, aren't these?)
The next day, after a fulfilling breakfast in bed with a relaxed body and mind, we made our way back home. The warm hospitality, effervescent atmosphere and all the modern facilities made Roseate House the perfect property for staycations for us, and gave us an unparalleled feel of a home away from home!
Location | Asset 10, Hospitality District, Aerocity, Indira Gandhi International Airport
Browse Through More Photos