Delhi
Top 10 Dishes Like Peanut Pop Shake & Yummy Cannoli We Gobbled Up @ Duty Free In Rajouri
Duty Free is a recently-opened bar and casual dining place in the popular lanes of Rajouri Garden. Barely 15 days old, this cool place has already started making a name for itself thanks to its amazing food, stunning ambience and a unique concept.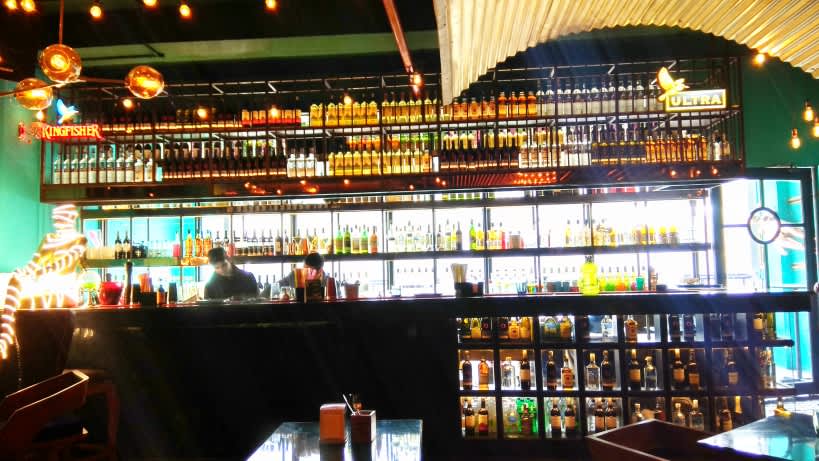 With two bars in-house, one serving you exquisite cocktails and drinks while the other sells bottles of various liquor to you at duty free rates * SAY WHAT?!*, this place is amazeballs! We visited them on a sunny day in this chilly season and the food, drinks and staff here filled us with even more warmth with their delightful offerings and friendly vibe. 
We gobbled up many exquisite treats served here and here's exactly what filled up our plate. Read on! 
1. Around The World Drink Concept Is A+

One thing we can definitely vouch for at Duty Free is its innovative concept and excellent drinks! Here, you can order any drink whether it's a mocktail or cocktail and be prepared to be amazed with its 'Around The World' concept! 
Perfect for big groups with similar tastes, the drink will be served to you in a clear Globe structure where you can fill your glass by simply twisting the tap, adding an air of instant classiness to your drinking experience. Nicely done Duty Free!
2. Goodie Bag Mocktail Is The Gift That Keeps On Giving

Almost a litre of sweet, tangy and salty mocktail which looks so beautiful that you would not even want to touch it! Served in a knit-bag & decorated with delicate flowers, this mocktail is quite a visual. 
But a sip of this mocktail and the flavour will hit you unlike any other drink you've ever had! With it's unpredictable and unique flavours, this delightful concoction is definitely a must-try for its funky taste and alluring look!
3. The Garden Fresh Mocktail & Peanut Pop Shake Had Us Shook 

The Garden Fresh mocktail is truly fresh AF! With the strong citrus flavours subdued by peachy undertones, this mocktail is the perfect summer drink that managed to charm us on a chilly winter day and definitely comes out as a mocktail to remember!   
Coming to the mocktail's partner-in-crime, to call the Peanut Pop Shake a stunner would be an understatement TBH! The shake is not only visually-impressive but also incredibly rich when it comes to the flavour and texture. Served with whipped cream on top & littered with popcorn, this is one shake ALL shake lovers need to try!  
4. The Only Salad We'll Eat Is The DF Special Salad

Although we aren't huge fans of salads, the DF Special Salad is definitely an exception! This colourful salad encompassing fresh veggies and fruits is not only gorgeous to look at but is also a much healthier option, providing a burst of flavours with every bite!
One definitely relishes the tangy and juicy element of the salad as it provides a mouthful of crunchy lettuce and yummy pomegranate with shavings of many other fruits & veggies. You HAVE to try this!  
5. Chicken Lollipop Is A Visual Masterpiece!

The presentation of this dish is en pointe and will definitely make you do a double-take! With Michelin-level food styling, this dish is not only exquisite to look at but also heavenly to taste! Lifting the cover of the dish, you'll know you're in for a treat. 
The chicken was nice and tender with a melt-in-your-mouth taste. Although it's a bit on the spicy side, that's what makes it all the more flavourful and appetising in our opinion. So just take our word and order this handsome appetiser when you're here - you won't be disappointed for sure! 
6. Old-World Charm-Infused Kulhad Wale Cholley Chawal

Served in traditional Chandni Chowk style, this serving of Cholley Chawal in a Kulhad  gets a double thumbs-up from us for its old-world charm and taste. This dish, with its killer presentation, brings in a wave of nostalgia and packs quite a punch with the exciting mix of spicy cholley and flavourful rice.
7. Living It Up With The Lebanese Platter

This exquisite platter pushes the boundary of a traditional platter with some new preparations such as rice balls & pickled veggies and innovative dips like sweet labneh & carrot hummus. This is the perfect thing to order when you want to nibble and savour different snacks with your friends while nursing a drink in hand. We know that we'll be coming back for this one with all our friends in tow! 
8. We Can't Stop Taco-ing About It!

We ordered a serving of the Paneer Tikka and Chicken Malai Tikka Taco and were delightfully surprised by both of them. First of all, the smart plating and clever usage of the sauce to indicate the veg and non-veg variety floored us completely! Apart from this, the tacos were definitely a mouthful and left us absolutely full and satisfied! 
9. Halfway In Love With This Mishti Dahi Cannoli

A delightful contemporary take on an evergreen favourite, this dessert was definitely a scene-stealer! With mishti dahi stuffed inside a cannoli and laid out on a bed of soan papdi, this sweet dish looked straight out of a fusion restaurant's eccentric menu card and holy moly, this dessert is a one-way ticket to foodgasm. Whatever you do, don't give this one a miss!
10. The DF Special Gajar Halwa Tart Has Us Floored

Last but not the least, this gajar halwa will definitely blow your mind with its amazing taste and magnificent presentation! Coming up with unheard of combinations and surprising collaboration, Duty Free managed to amaze us one last time with this dessert. 
The piping-hot gajar halwa was served in a tart tray *SAY WHAT?!* which added texture & a crunch to the rich halwa and we swear, we've never been more happy and satisfied with an atrangi dessert! 
With their lovely food, Michelin-level presentation, fast service & interesting concepts and offerings, this is one bar that you should definitely check-out before it becomes crowded to the brim!
Location | Duty Free - C-10, Vishal Enclave, Rajouri Garden
Meal For Two | Rs 900
Check Out Their FB Page | https://www.facebook.com/dutyfreebarr/