Being the 'it' market in Delhi Cantt, Gopinath retains the image of a go-to grandma who has a solution to everything! The market is studded with shops that range from the staple chemist stores to stationary shops, sweet shops to kathi roll stalls (yum yum), grocery marts selling everything from local produce to imported goods and lots more - you name it, they have it! 
Let's take you to this one tiny stall jammed inside one of the lanes here which is thronged with milling crowds at all hours of the day and especially during the warm evenings - The only samosa wala stall in the market, the Gopinath Samose Wala.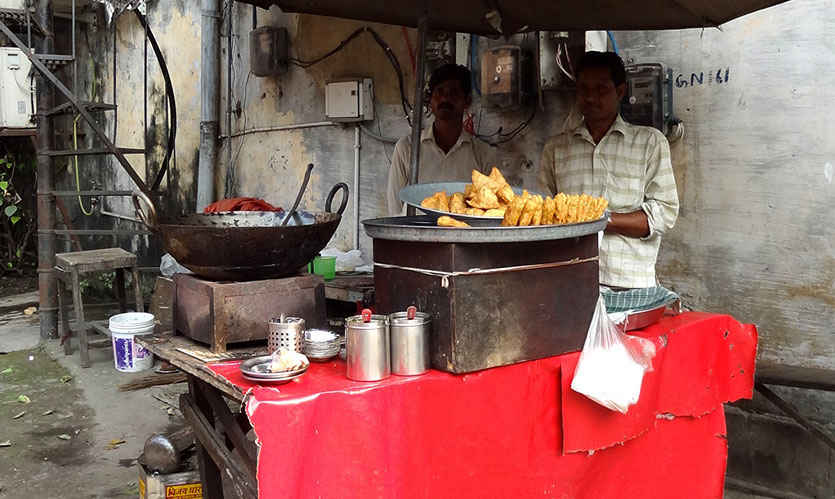 He has been serving piping hot samosas and bread pakoras to his regulars, at the same spot for over 20 years. What makes his samosas stand out is that these are prepared fresh every single time someone asks for them, even if there is a ready batch which has been kept for a while and has turned cold. He serves these steaming pouches of goodness with his remarkable Hari Chutney and the Meethi Chutney. The former has a slightly minty, sour, spicy and savoury flavour which enhances the samosas' quality (taste-wise) manifold and is much in demand.
The bread pakoras are not made to sound or look too fancy with a filling, however, the plain slice of bread is thickly coated with a batter prepared from gram flour which is then fried and served with the same heavenly chutneys.
The Samosa has an unmistakable texture of a delightfully crunchy pastry outside, while from inside the same pastry is soft and chewy, sprinkled with a slight amount of salt and ajwain giving it a distinct flavour of its own. Though this samosa tastes best if had right after being pulled out of the hot oil, with chutney or without; one wouldn't mind it slightly cold either.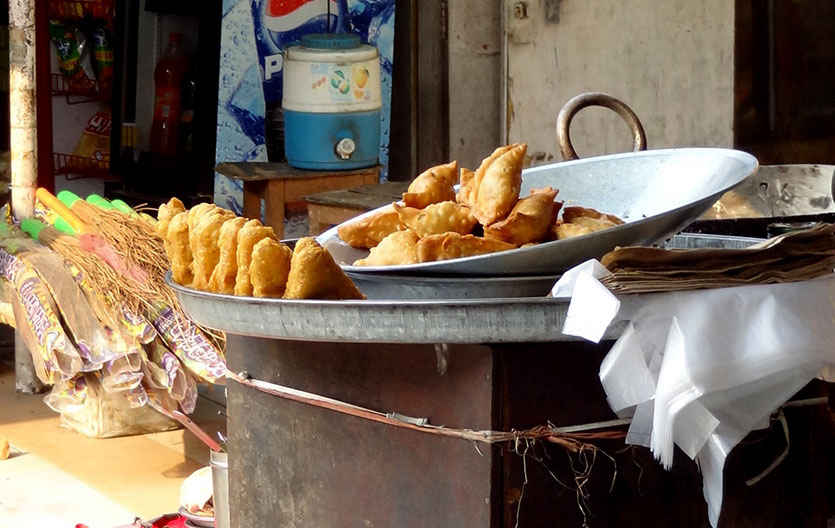 His samosas cost Rs. 8 per piece and the bread pakoras, Rs. 10 per piece and are gorged on by almost everyone who comes to this market. The Gopinath Samose Wala has a regular set of customers who have been coming to him for years irrespective of how far or close they are located to the market. 
As heard from one of the customers, "It's almost impossible to cross Gopinath and not get yourself a packet full of samosas packed!"
How about you swing by? You know you want to!
Location | Gopinath Bazaar, Delhi Cantonment