This Diwali, Give The Gift of Luxury With Makoba's Premium Pen Combos!
You know what the best part about Diwali is? The gifts, of course! 'Diwali shopping' is an annual event comprising loads of advance brainstorming, meticulous recess and a careful plan of action hatched with our besties. All of it is definitely worth it for the smiles and twinkling eyes of our loved ones that genuinely brighten up the festival of lights. With discounts galore and festive banners enticing seasoned and new shoppers alike, the month of indulgence begins!
This year, give the imported chocolates and jazzy clothes routine a rest and gift something truly personal - Delhi's premium pen destination Makoba has introduced some fab Diwali combos put together specially for the occasion, and we could tell you from a mile off that they are the epitome of sophistication! A Waterman, Sheaffer or Cross luxury fountain pen peeping out of a pocket instantly elevates one's status, not to mention the unparalleled writing experience. Now this is a gift that no one will pass on or bury in a cupboard; it's a gift for life.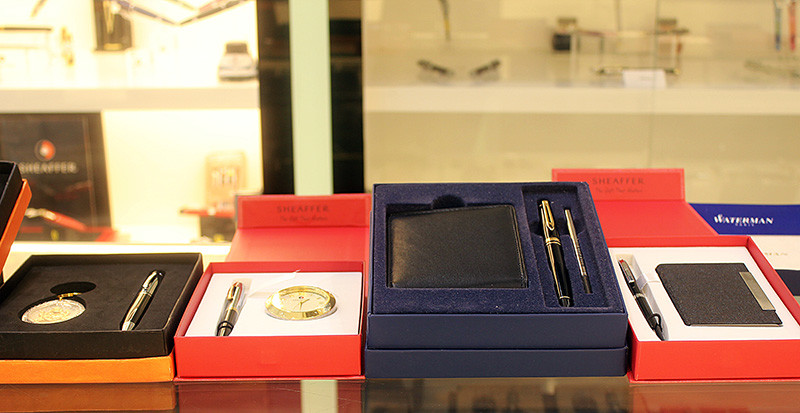 The best part about Makoba's combos is that you have the flexibility to choose any model from the aforementioned three brands that the store houses, and it will be paired with a complimentary set piece from the same brand such as a wrist watch, wallet or card holder, so you can customize the pen as per individual preferences (your brother's favourite colour or dad's preferred nib type). Take your pick from a range of options:
Sheaffer
1. Pen + Card Holder
Sheaffer pens are designed for the elite, the passionate and the ardent writers offering generation after generation of innovative and reliable writing instruments. This combo features a stylish textured card holder for the business savvy. Go snap it up!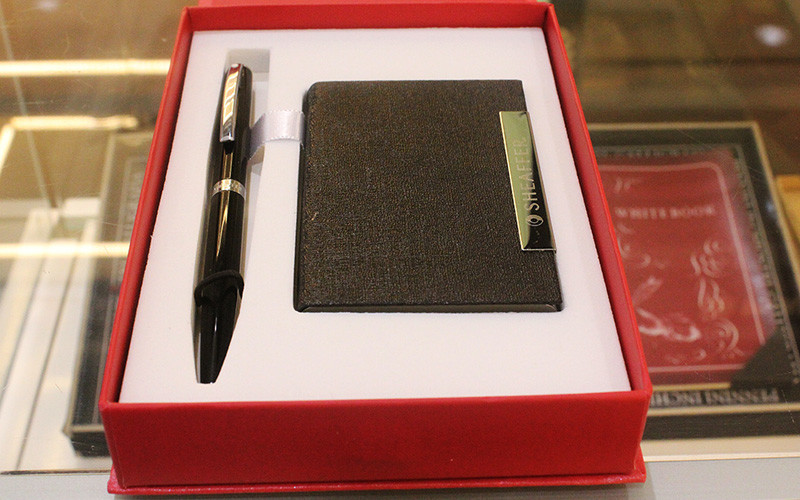 2. Pen + Table Clock 
With a century-old legacy, even Sheaffer's more affordable pens are a class apart and make for thoughtful gifts, as their tagline says - "The gift that matters." An elegant off-white and gold-toned table clock completes this pretty-as-a-button set.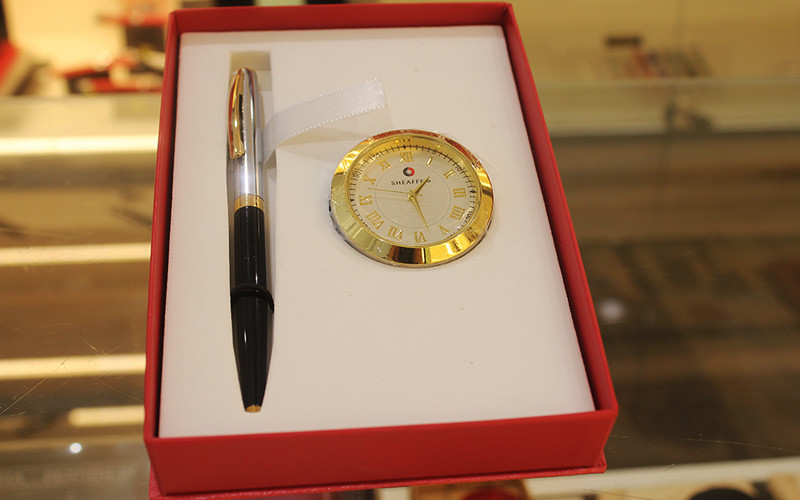 Waterman
Pen + Wallet
Collectors and connoisseurs of luxury pens and fine writing tools revere Waterman. Priced slightly on the higher side, these are pens for people who love beautiful designs as much as they love the art of writing. Your pen of choice will be accompanied by a minimalist and classy black leather wallet. Whoever's getting this must've done something right!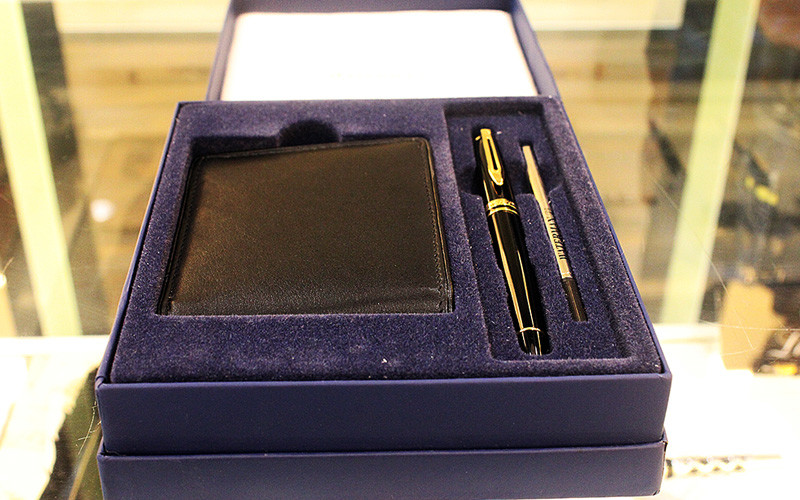 Cross
1. Pen + Wrist Watch
The Cross brand was founded by jewellery makers and artisans of functional luxury and their pens are high on the utility value, embracing facets of both tradition and evolution. Reflecting refined taste and a drive for perfection, go for their pen and leather wrist watch set to show someone you care (a lot!).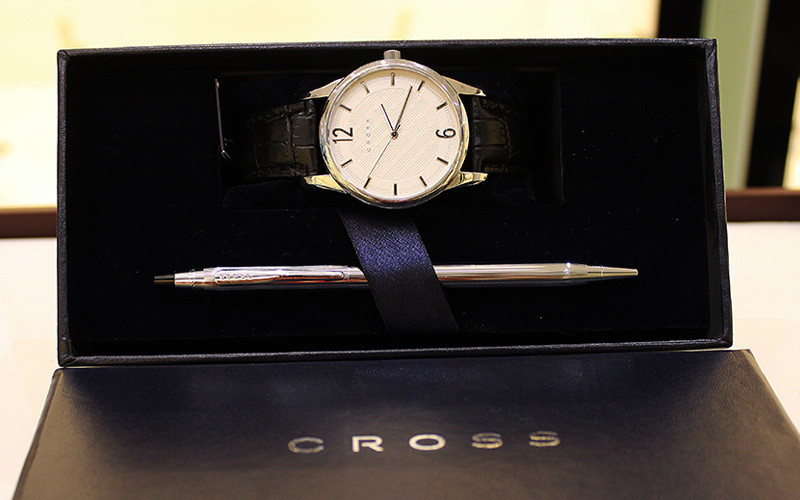 2. Pen + 24 Carat Gold Embossed Idols
Nothing says Happy Diwali like a beautiful image of Ganesh and Laxmi, and the ones here are pure 24-carat gold, resplendent in all their glory! You don't even have to pay for them, for they come free with the pen. How awesome is that!? We're tempted to snag this one for our own Diwali bash!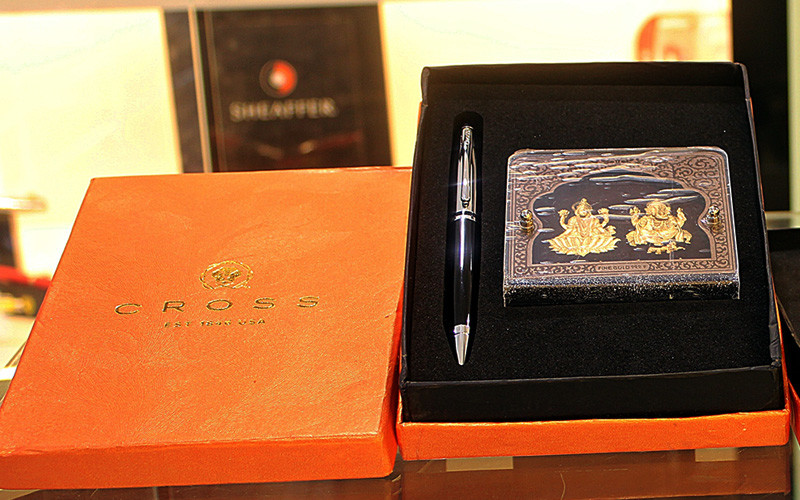 3. Pen + 24 Carat Gold Keychains
If you're buying for a relative who believes in the almighty with all their heart and soul, then this one is for you. They can carry a token of auspiciousness with them wherever they go with the 24-carat gold Ganesh/Laxmi keychains matched with the pen in this set, a handy Diwali delight!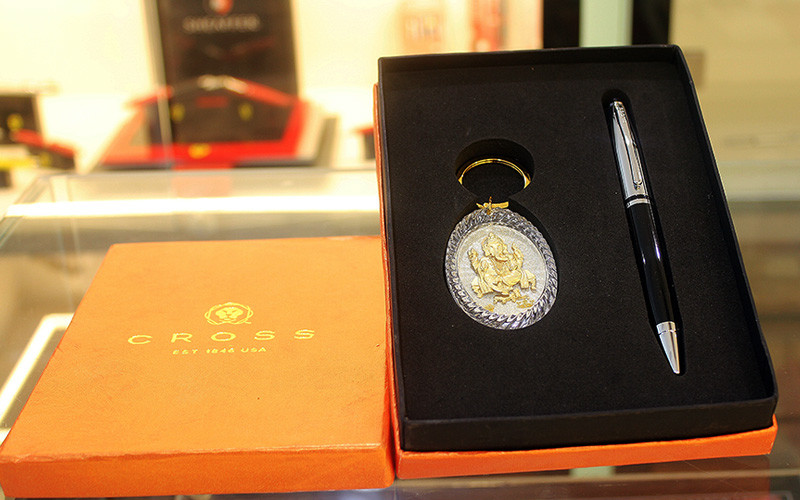 So there you go folks, the pen is mightier than chocolates, designer clothes, home appliances, furniture and everything that you've been playing passing the parcel with all this while! This time, think out of the box and make a thoughtful gesture that will be remembered for many Diwalis to come. Happy shopping!
Address | M-24, Greater Kailash 1, Hansraj Gupta Marg, Main Road 
Timings | Monday - Sunday, 10:30 AM - 8:30 PM