11 Lesser-Known Monuments Dotted Across Delhi That You Need To See
Our historic environment is not only radical to our sense of place but also links us to our roots and underpins our sense of cultural identity. There are the seemingly nondescript and hidden gems located in the bylanes of Delhi which deserve a special mention and should be visited if looking to explore the capital city. Read on!
1. Sadhna Enclave Tomb And Baradari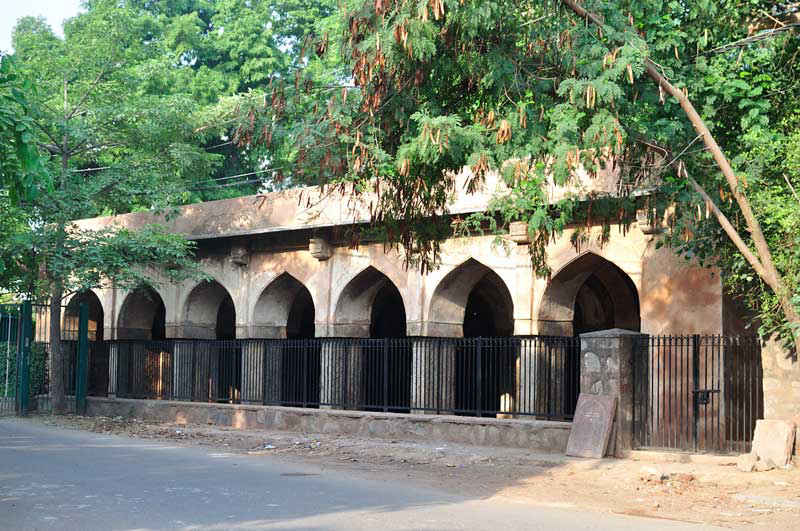 Sadhna enclave tomb is a square-shaped tomb that has the usual domed structure with arched doorways on three sides. It stands on a robust foundation and the grave inside the dome can be seen through the gateways. Baradari is located on the opposite side of the street. It is an arched hall with seven distinct bays lined from the North to the South. We all are bent on creating shiny skyscrapers and choose to ignore the old buildings, not understanding that by doing so we are actually losing a bit of ourselves.
Where | Sadhna Enclave Tomb And Baradari - Sadhna Enclave, Panchsheel Park
2. Wazirpur Monument Complex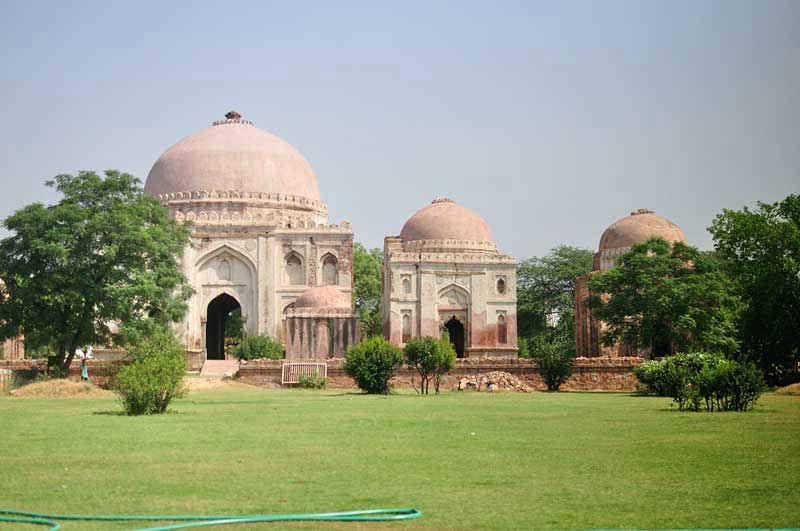 The saddest truth is that most of us have forgotten about them. They are a group of five tombs situated very close to each other. From the architecture, it can be guessed that they are Lodhi or Sayyid Era Tombs, from the late 15th or early 16th century. This place has a unique ambience that will provoke your latent patriotism. Gear up and brace yourself to be hit by a surge of patriotic feels!
Where | Wazirpur Monument Complex - Sector 5, R.K. Puram
3. Hastsal Minar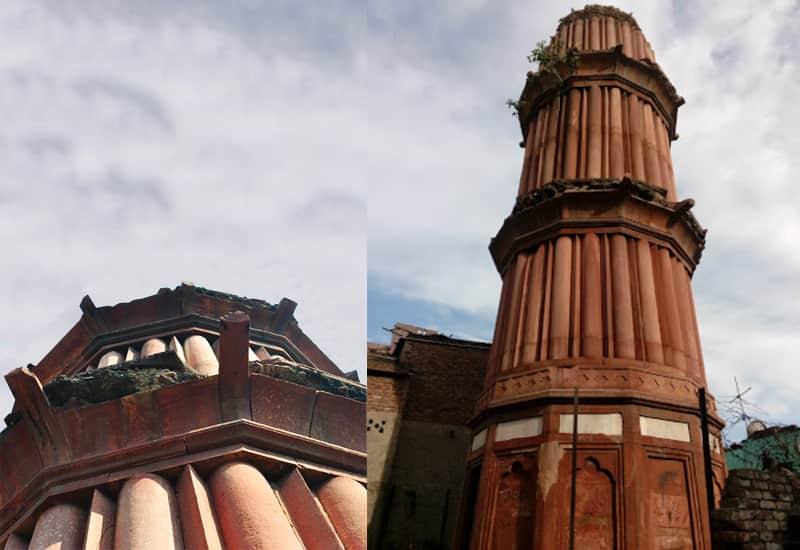 Picture Credits: Vaibhav Srivastava
Most human structures fall apart in due course of time, but some constructions outlast their era and become monuments and yet there are some others that outlive their contemporaries yet remain cursed in an eternal oblivion. Hastsal Minar is one such unfortunate masterpiece. It was a hunting lodge made by Shah Jahan. Visit this place to discover more.
Where | Hastsal Minar - Hastsal Village, Near Nangloi Jat
4. Chaumachi Khan's Tomb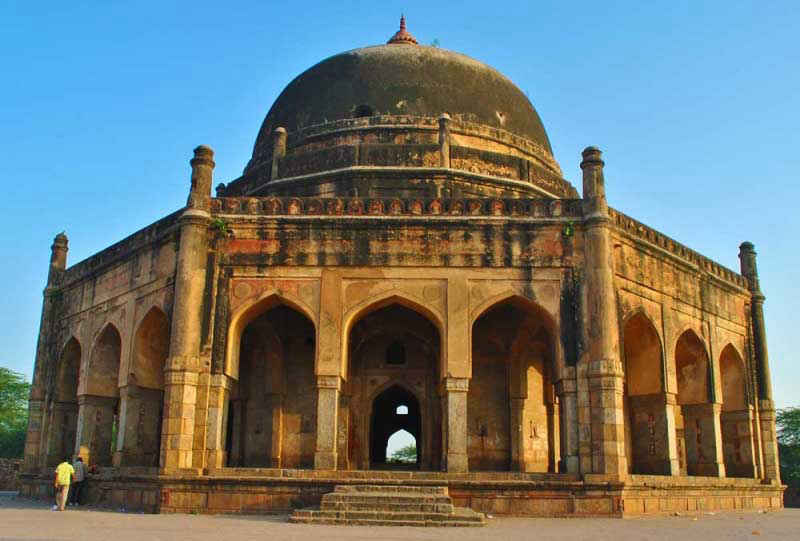 Chaumachi Khan was an unknown noble and his tomb is subject to brutal encroachment. There is no access to this place and you must climb grills of a private property to see this sealed place. It is a Mughal tomb surrounded by a little bit of open space and is adjacent to the Ram Lila grounds. Even the local residents are not aware of this spectacular tomb. If you're a die-hard history buff, then this place is for you!
Where | Chaumanchi Khan's Tomb - Nai Basti, Mehrauli
5. Biran Ka Gumbad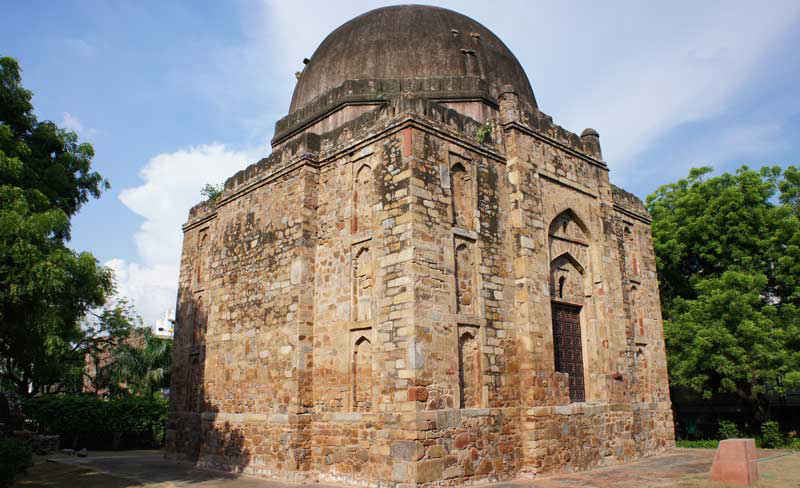 The name of this tomb, which literally means 'the doomed building of the brother', was probably coined in jest to complement the 'Dadi-Poti' tombs, nearby. Tired of mainstream romantic dinner dates? Take your sweetheart to a place like this and we bet that he or she will be even more impressed with you. Like many other un-inscribed buildings in this area, no one knows much about its actual history.
Where | Biran Ka Gumbad - Agrasen Park, Block S, Green Park Extension, Green Park
6. Qila Rai Pithora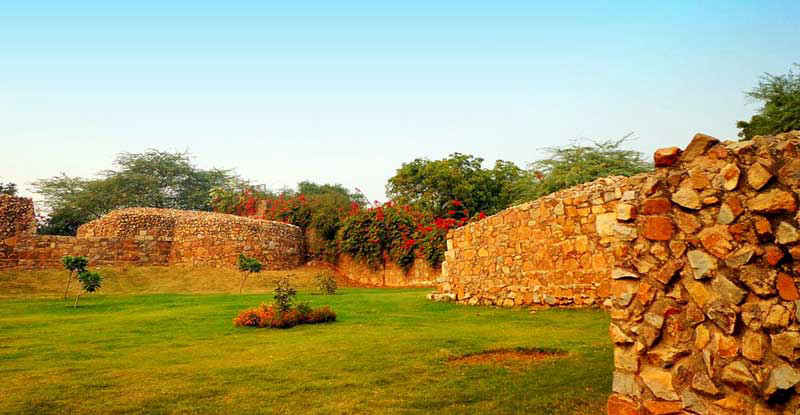 Picture Credits: Smit Sandhir
They are the only legacy that Prithviraj Chauhan left. According to archaeologists, it was built in the 12th century. Some parts of these walls are massive, 5-6 metres wide and the monument once also had as many as 13 gates as entry points to the city. Unprotected parts have already been encroached out of existence or probably lie underground in some residential area that cannot be excavated.Take your friends and impress them with your deep knowledge of history.
Where | Qila Rai Pithora - West End Marg, Off Mehrauli Badarpur Road, Malviya Nagar
7. Muhammad Shah Tomb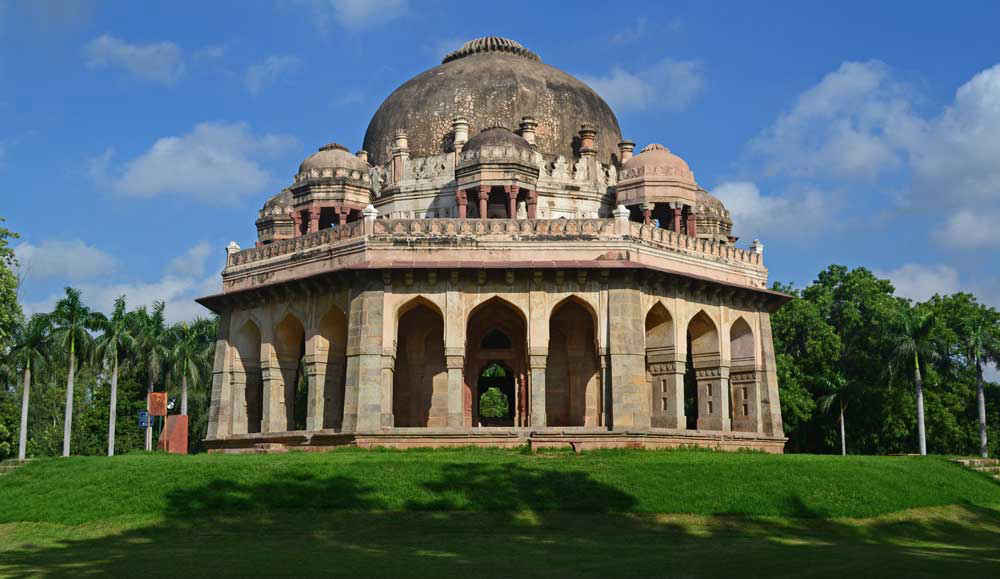 It is one of the larger tombs, those surviving till today, from the 15th century. It is the tomb of the third ruler of the Sayyid dynasty. The central dome sits on a sixteen-sided high drum. Hindu influence is reflected on the eight 'chhatris' that ring the dome, each centered and in line with a face of the octagon. This tomb is a clear reflection of the fact that people from different religions were tolerant towards the others' religious beliefs.
Where | Muhammad Shah Tomb - Between Khan Market & Safdarjung's Tomb On Lodhi Road
8. Bade And Chote Khan's Tomb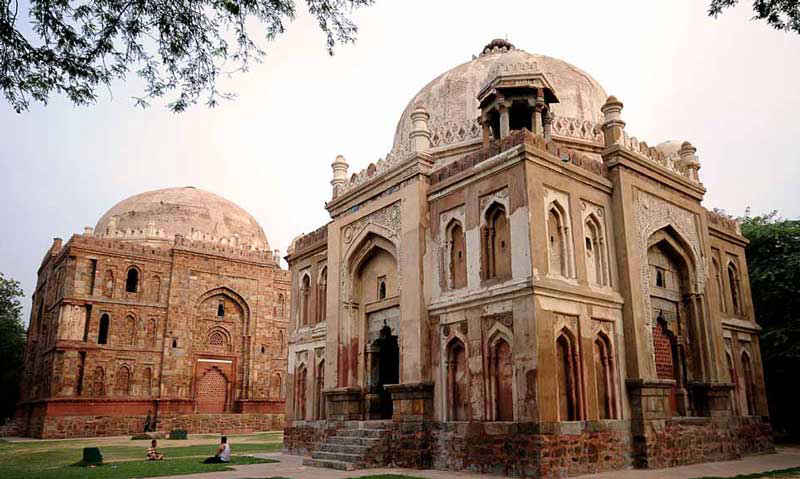 These two twin tombs are magnificent and colossal enough to get noticed. They are one of the major components of the Kotla Mubarakpur complex, which includes several other lesser known tombs that are mostly from the pre Mughal era, belonging to various kings and noblemen of the Lodi and Sayyid dynasties. Spend a day here and strengthen your cultural identity.
Where | Bade And Chote Khan's Tomb - South Ex Part I
9. Azim Khan Tomb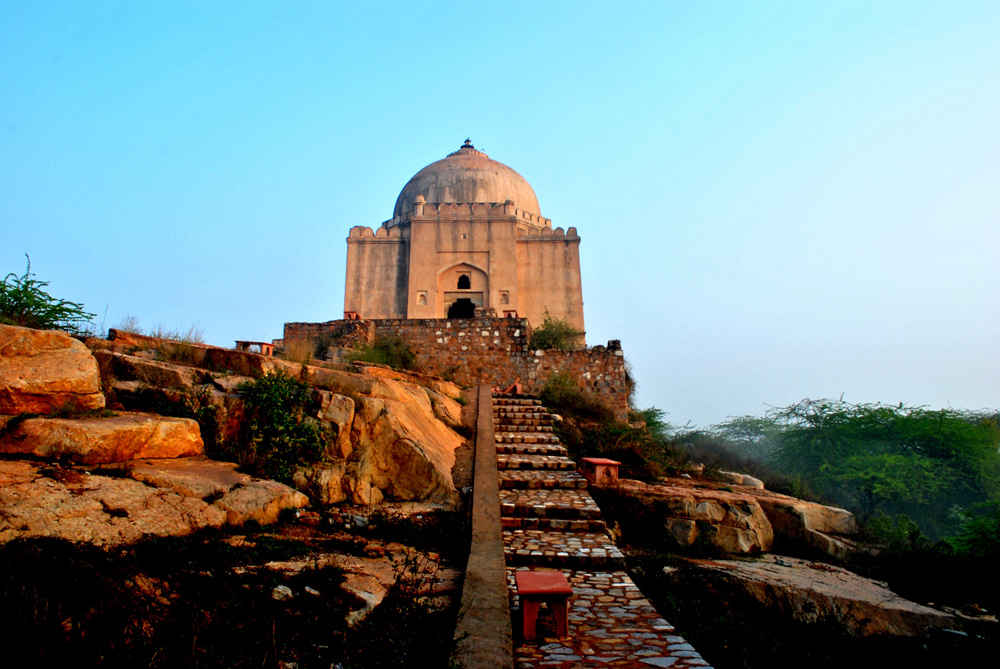 Though no one knows for sure who Azim Khan was, most historians think that he was a general in the army of the Mughal emperor Akbar. The dome, topped by an inverted-lotus finial, resting on an octagonal base is majestic. The wall of the tomb, especially the one overseeing the most dizzying cliff face has amazing patterns covering its ornamental arches. The dome rests on a layer of small, arched alcoves for decoration. It is breathtakingly beautiful!
Where | Azim Khan Tomb - Sri Aurobindo Marg, Butterfly Park, Qila Rai Pithora, Sainik Farm
10. Jamali Kamali Mosque Tomb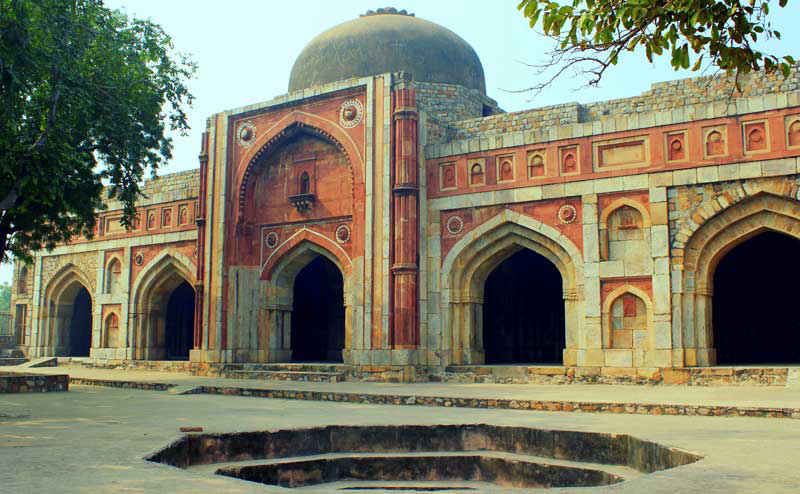 Jamali Kamali Mosque & Tomb is located in the Mehrauli village. This structure comprises of two ancient monuments located alongside, on one side lies the mosque and on the other sides lie the tombs of two different people - Jamali and Kamali. It's built in red sandstone with marble embellishments and is claimed to be a forerunner in the design of Mughal mosque architecture in India. This is the place is mostly ignored by tourists, so head for this if you want some 'me' time.
Where | Jamali Kamali Mosque Tomb - Ladha Sarai, Mehrauli Archeological Park Trail, Christian Colony, Mehrauli
11. Bijay Mandal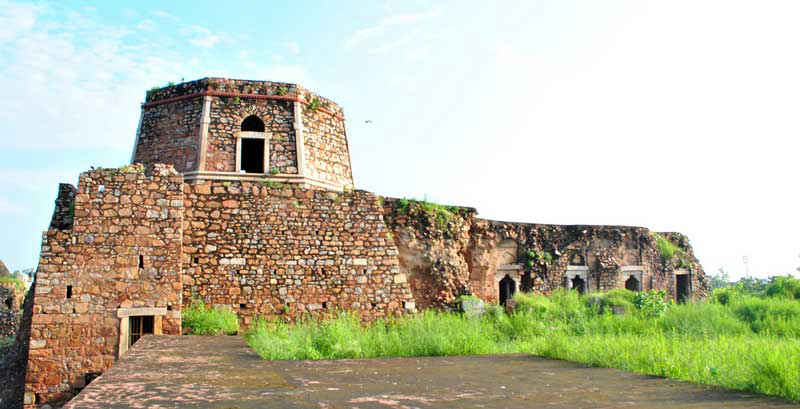 It is basically a fort, built in the 14th century and was constructed by Allauddin Khilji. Muhammad bin Tughlaq completed the fort. The entire structure was built on a raised platform, surmounted by another higher platform. Bijay Mandal is a piece of great craftsmanship but it almost remains in ruins now. A ramp on the side leads to an octagonal pavilion that offers a spectacular view of the city. This place will make you wonder how deft the artists truly were!
Where | Bijay Mandal - E-12, Block 4, Sarvapriya Vihar
Head over to these lesser-known albeit beautiful monuments that have sadly been lost in oblivion!