These 5 On-The-Go Snacking Treats @ Band Baaja Baaraat Are Best To Kickstart Your Daawat!
This one's a hot favourite amongst most gastronomes in West Delhi & why shouldn't it be! Right from the decor to the vibes & most importantly, the food - it's all lovely! If you've been there once, you'll have no reason to not pay a visit again. They do tasty, buffet-style (read shaadi-style) grub with great music and such shaadi vibes that now even the post-shaadi season is welcome because with Band Baaja Baaraat, there's no stopping with the shaadi ka khana!
We'd been scouting their menu for some easy, on-the-go style snacking options to kick start our daawat and here's what we came up with!
1. Sarson Fish Tikka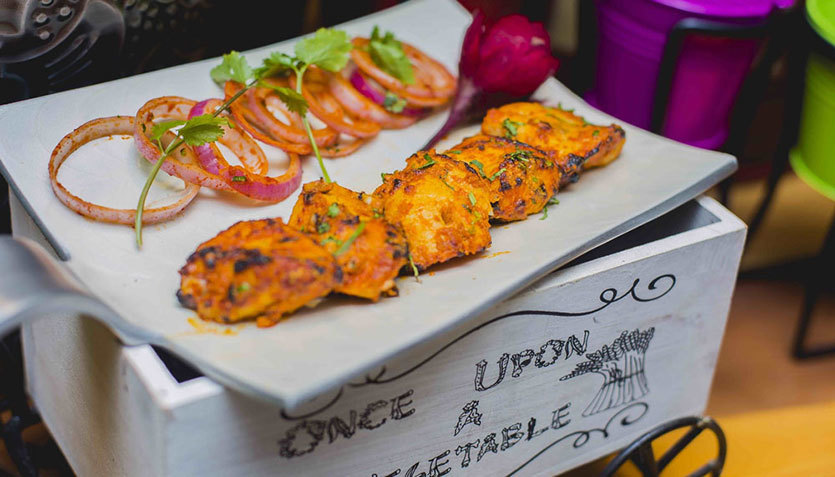 Ever since we took a bite, we've stopped missing Goa! Well, at least their fish. The Sarson Fish Tikka has the most delicious blend of mustard and spices you could treat your taste buds with. And if fish is your kinda meat, then you'll be amazed at how beautifully the mustard complements the fish, with the flavours seeping into its very depths while keeping it fresh and moist within!
2. Cheese Stuffed Mushrooms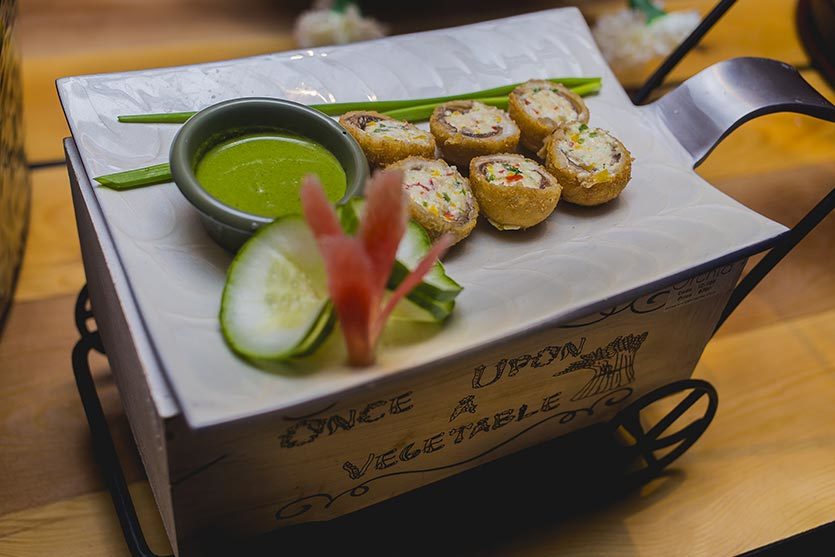 The Cheese Stuffed Mushrooms @ Band Baaja Baaraat taste dope! Right from the presentation to the awesome-sauce, melt-in-your-mouth filling, the mushrooms are gonna hit all the right spots on your palate. On your next visit there, soothe your cheesy and mushy cravings with this mouth watering treat that will appease all your yum-yum cravings!
3. Palak Patta Chaat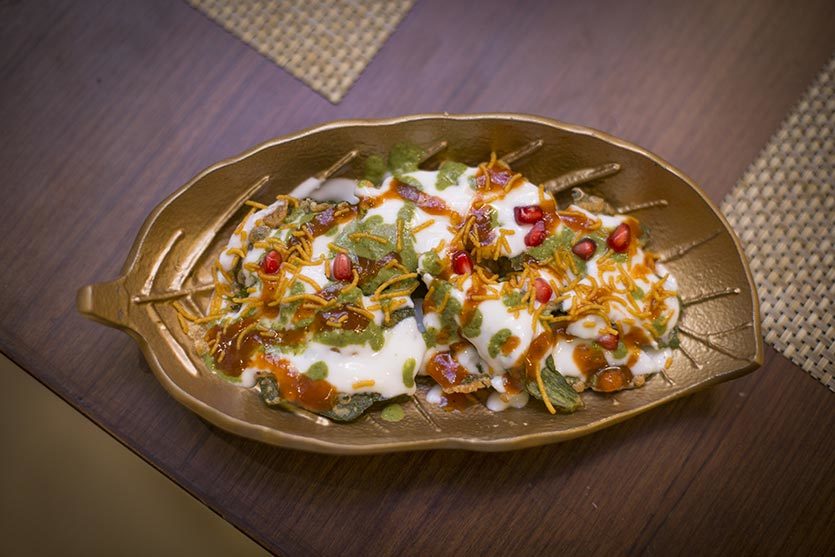 We were sent to our own sweet heaven when we tried their Palak Patta Chaat! Who knew palak could taste SO DELISH with this makeover! With imly & dhania chutney drizzled over cold, sweet dahi with some anardana and bhujia sev, it tasted thoroughly refreshing. We forgot the heat waves because it made our tummies nice and cool.
4. Mirchi Bhaaji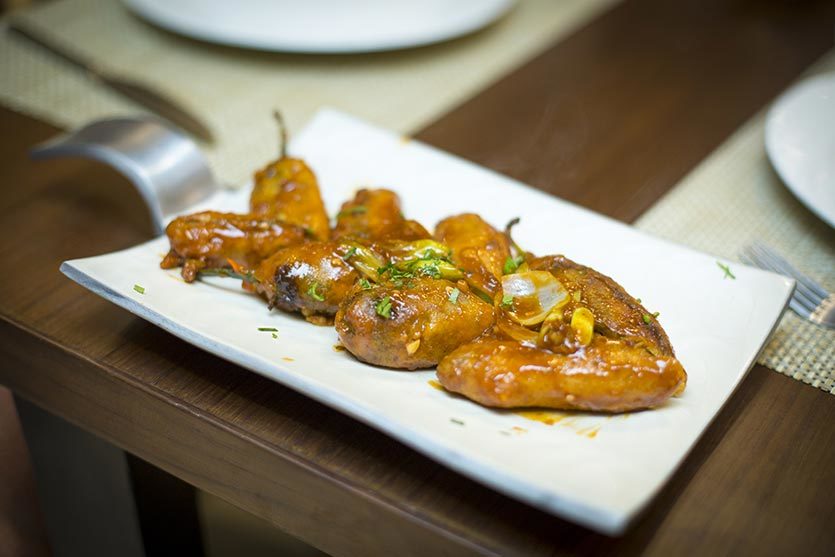 If you don't mind a little zing on your tongue & a little warmth coating your palate, you gotta taste this. Medium-sized green chillies stuffed with spices an d herbs and coated with a hot and sweet sauce with a kick of garlic and onion - it tastes mighty fine! The coriander garnish adds that freshness, and you happily welcome the next bite.
5. Blueberry Phirni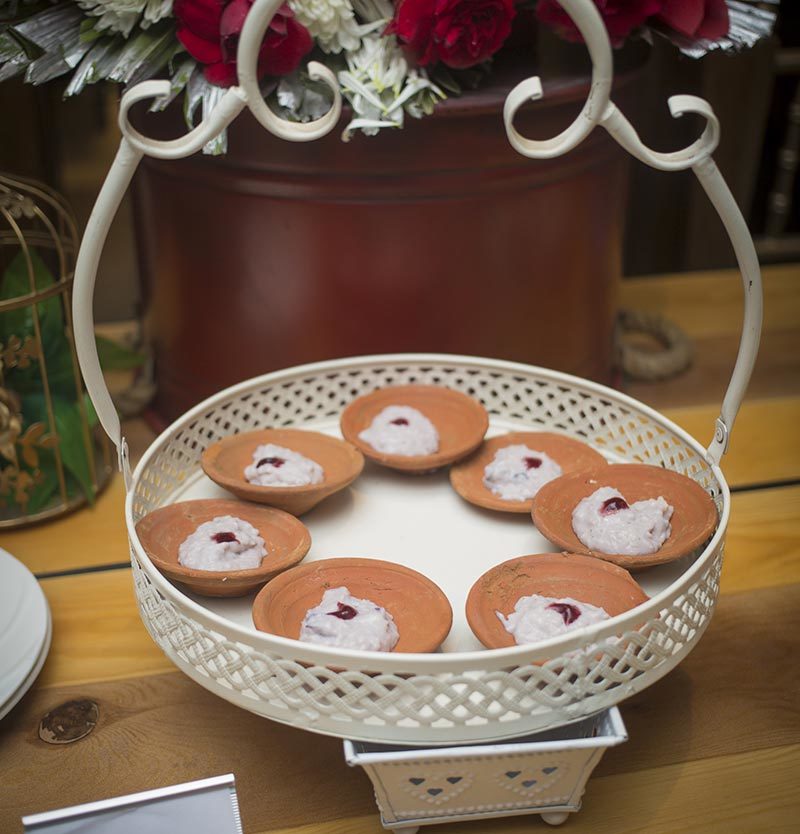 We firmly believe that life's too short to keep desserts last. When you see something this interesting, you wouldn't mind doing a round two on it anyway! This one here was a nice twist to the traditional phirni with a blend of blueberry & they went really well together!
So if you try any of these on your next visit, let us know how you liked them! You'll only have great things to say, sachhi, you'll see *winks*!
Meal For Two | Rs 1,300
Hunt Them Down |A-6 Ground Floor, Vishal Enclave, Rajouri Garden