The word Mudlark literally means 'collector of pearls'. However, for the foodies of North Delhi it means a pretty little cafe just off the Pitampura Metro Station serving some cool and innovative waffles. The place has created quite a name for itself, popularly known as the 'Waffle Love House' for the people living nearby. Who doesn't love a good waffle or two (or four)? Giving in to our waffle cravings one afternoon, we buzzed into this place to look at the pearls Mudlark had in store for us! 
Apart from the regular Chinese food and pastas, they have savoury waffles as well, which was a unique addition to their menu. Veggie Waffles and Chicken Waffles just seemed like a fusion explosion waiting to happen!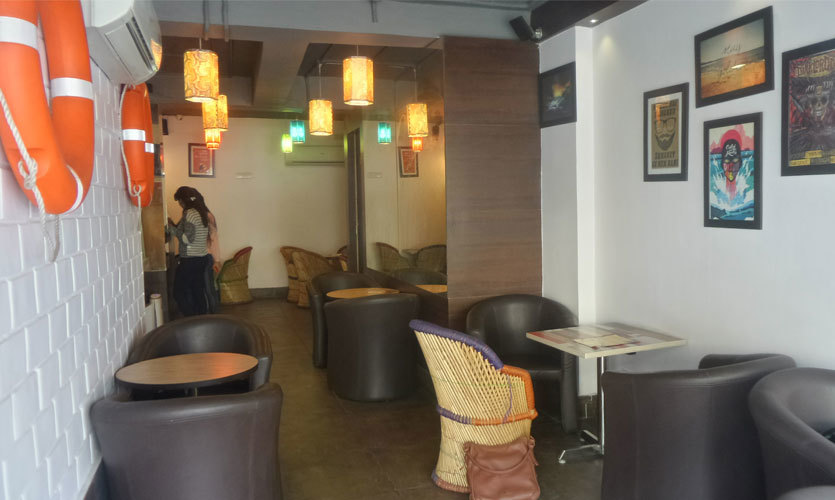 The ambiance was reasonably good with lanterns hanging from the ceiling, quirky posters on the walls and bamboo chairs. The place is quite small and can understandably get crowded during the evenings. After all that we'd heard of this place, here's how their food fared on our tastebuds! 
Cheesy Drencher Pasta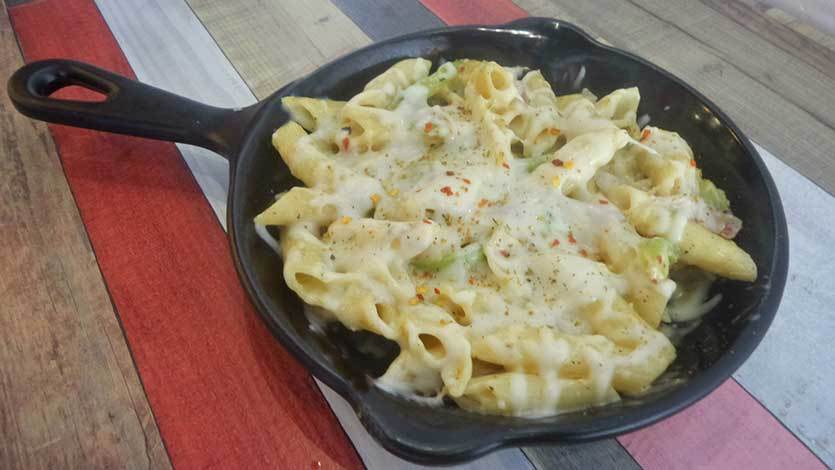 What Italian mothers cooked for their children has become the favourite snack of almost every restaurant! Given the name Cheesy Drencher, we expected an overload of cheese *obviously* but there just wasn't enough. Even the white sauce pasta at other places have more cheesy delightfulness. The pasta was a tad bit undercooked and even lacked a good spicy punch. All in all, this pasta couldn't drench us in its taste whatsoever! 
Price | Rs 120
Mudlark Veggie Waffle

Very rarely do you see an abundance of corn, capsicum, onions and tomatoes cooked in schezwan sauce as a topping to a waffle! These veggies were smeared with a delightful tandoori sauce and mayo that took the taste of the dish to a whole another level.The waffle base was crunchy and paired nicely with the toppings. Even though it was a little hard to eat neatly, we liked this glorious mess of taste and would love to have it again! 
Price | Rs 180
Chicken Cheese Burger
 
A pink coloured bun with a fried chicken patty topped with onions, ketchup and a cheese slice. The bun looked enticing, but was really dry. On top of this, the cheese hadn't melted properly, making it stick to the patty in a very weird undercooked way, taking away from the crispiness of the chicken. The patty lacked seasoning and overall, the burger was very dry.This offering can certainly use some love and attention from the chef! 
Price | Rs 110
Butterscotch Hazelnut Smoothie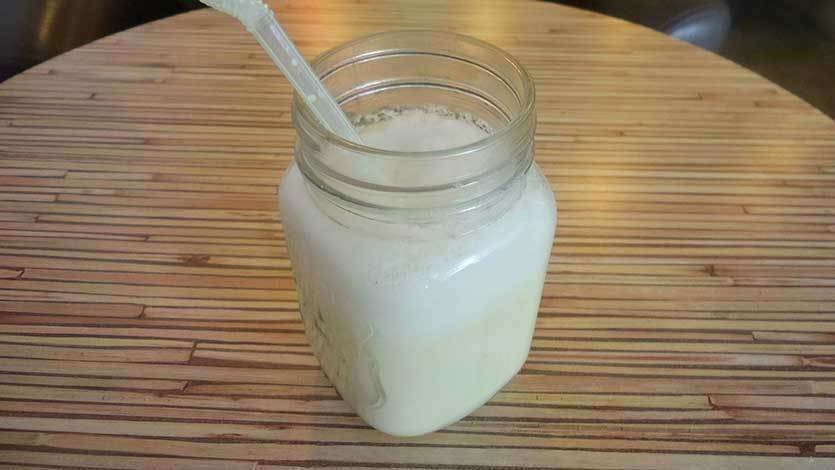 After an average performance of the food presented to us thus far, we jumped onto the drinks while rooting for some redemption for this collector of pearls. This smoothie couldn't turn our view around. First off, the mason jar it was served in was a little dirty around the rim. We had to send it back once and get it cleaned properly. 
Second, the sloppy presentation didn't impress us much. The shake tasted okay-ish at best. It was just butterscotch ice cream churned with milk and hazelnuts. It wasn't something you can't make at home in under 2 minutes and isn't something we'll come back for!
Price | Rs 100
Fruit Beer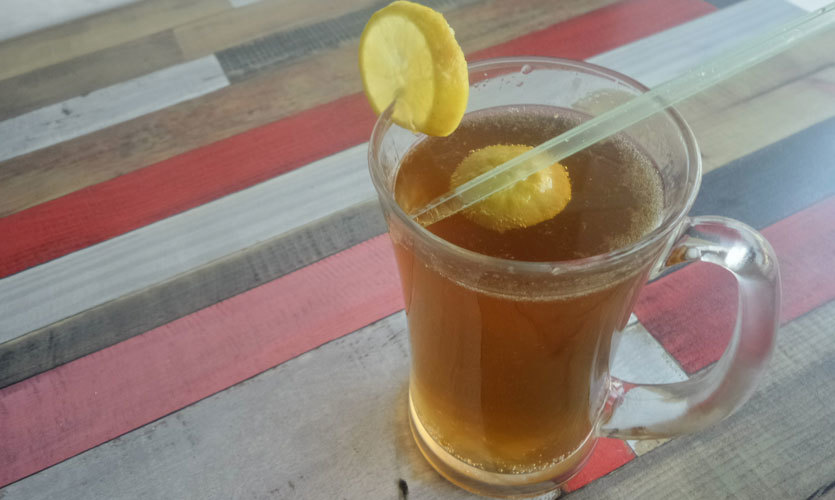 Even with a lot of drinks on their menu, many of them were unavailable. This left us with the staff's selection of a Fruit Beer which they said was something they made in-house and which was non-alcoholic. The quintessential beer jug definitely made it look like actual beer. It tasted quite bitter and even the lemon couldn't add any real flavour. There was no fruit flavouring to be found and we'd give this one a wide berth if we were you!
Price | Rs 120
Ice Cream Waffle
 
Given the pretty bad experience so far, we didn't expect much from this too. Surprisingly enough, this dish helped things end on a sweeter note. The base was crunchy and mildly sweet. The chocolate syrup drizzle did not overpower the whole dish. There were 4 flavours of ice cream which helped this dessert become less monotonous. 
The white and dark chocolate chips were also a nice addition. It wasn't the best waffle we've ever had, but it was good. The place is famous for an elaborate Ice Cream Waffle, but those tales didn't translate into real life!
Price | Rs 180
This place had us expecting a lot from the buzz that we heard from the students of nearby colleges. Neither the food nor the drinks lived up to the expectations we have from any medium-range cafe. The place is targeting college students who want value for their buck with the promise of quality. With these fluctuations in their offerings' taste, we see how they can't live up to their full potential.
The service was quite slow even though there wasn't much crowd at that time. They didn't serve us water until we asked for it and some basic requirements like salt and pepper, ketchup and napkins weren't readily available. The place needs a makeover really soon, as they can't keep the clients happy with how things are right now! 
We hope we'll get to visit this place again and return back happier and more satisfied. Until then, we recommend going just for the waffles for the people in the vicinity! 
Must Try | Mudlark Veggie Waffle
Meal For Two | 500
Location | Near Pitampura Metro Station, 386/C8, Opposite Metro Pillar 377, Sector 8, Rohini