The Ping of Good Times! We Checked Into Ping's Orient Cafe in Lodhi Colony for Healthy Asian Street Eats
The newest addition to South Delhi's vibrant F&B circuit, Ping's Orient Café in Lodhi Colony Market is a breath of (aromatic) fresh air in an industry obsessed and inundated with Oriental fine dining cuisine. Here's finally a place which serves exotic street food in all its glory! 
They are currently running a soft launch and based on the response to their tasting menu, we're sure that they're gonna have one cracker of an opening night!
The latest venture from the folks who gave us PCO and A Ta Maison, Ping's is quite easy to find. It essentially gives us glimpses of the different Southeast Asian countries whose flavours the Café has tapped into and which are displayed on its nameplate in the form of a black and white collage, which acts as a preamble to the menu.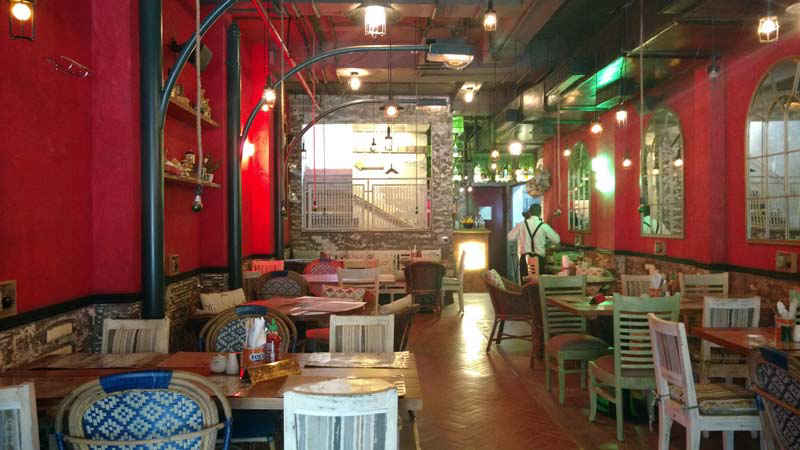 The street style vibe (with funky 60s and 90s music!) that runs as an undercurrent throughout the spacious joint instantly puts one at ease and sets the mood for a chilled out (or boisterous!) get together or even a casual date.
Guests have access to two floors with PCO's trademark cocktail counter on the ground floor and the décor on both has an unabashedly quirky streak with lots of pieces that will make you do a double take. 
Clothes drying on taut wires, newspapers upcycled as tablemats, the 'men' and 'women' restroom signages (a shaving and make-up kit respectively), a waiting area styled as a cool old school barber shop and an upcoming beer garden are all part of the charm.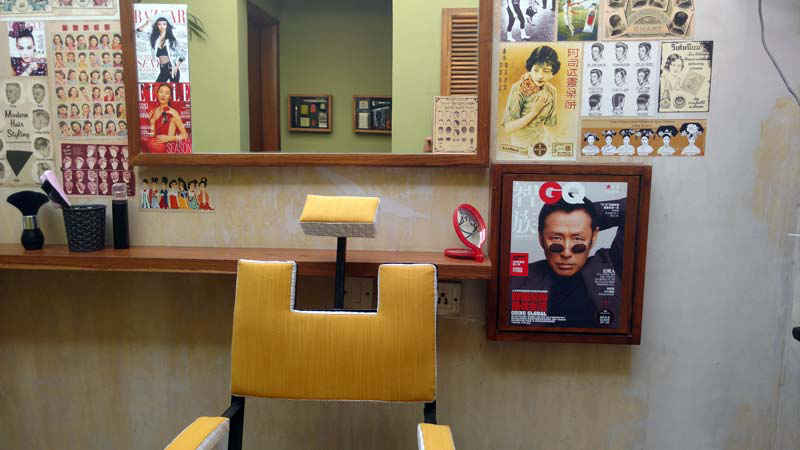 The second floor is currently under construction and will have a full fledged beer garden and a smoking space in the open air with greenery, so no more busting your lungs in captivity. The light wooden furniture and wicker chairs are inspired by Asian beaches and streets.
The proof of the pudding is in the eating, so we'll dish the deets on the dining experience. We started by flicking on a bulb above our table to signify that we were famished (yep, you can summon a waiter simply by flipping a switch, Master Wayne).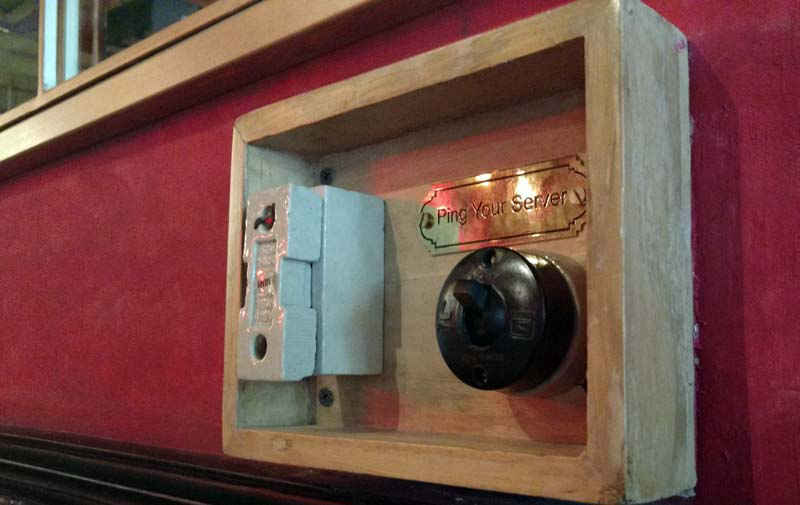 A server promptly appeared with a list of the Set Menus which was an amalgamation of local cuisines from Thailand, Japan, Indo-Malaysia and Korea accompanied by potato wafers with black bean and sriracha sauce. At the get go, the wafers and black bean combo bowled us over. Spurred on by the delicious filler, we decided to order one recommended dish from each country:
Midori Sour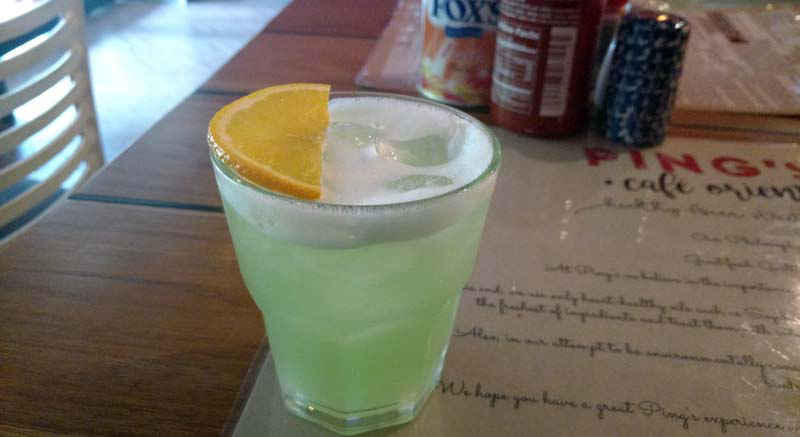 One of the Café's signature drinks, the Midori Sour was a refreshing new take on the classic Whiskey Sour with Japanese liqueur which lent it the trippy green colour and Bourbon; a frothy layer of beaten egg-whites on top provided protein and complemented the sweet and sour combination perfectly. Our new favourite weapon to beat the heat.
Edamame Sea Salt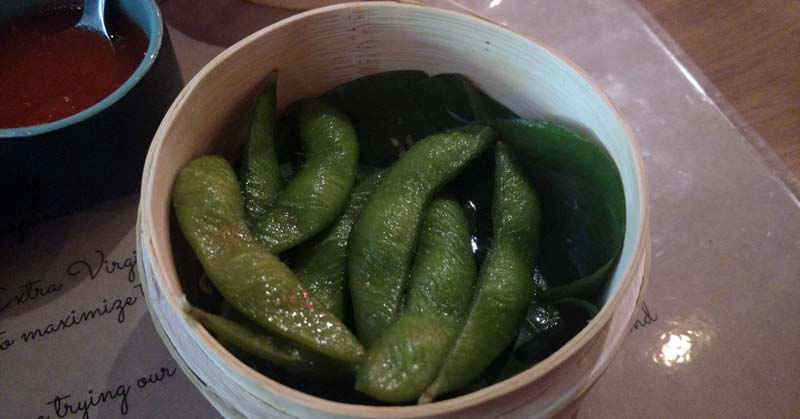 This Japanese dish definitely put the health in healthy and was essentially sautéed soybeans in the pod seasoned with rock salt. Served in a little bamboo basket, it had a mild flavour and was packed with protein, dietary fiber and micronutrients, which gave us our nutritional punch of the day. It's the ideal snack which goes best with a round of cocktails! 
Raw Mango Salad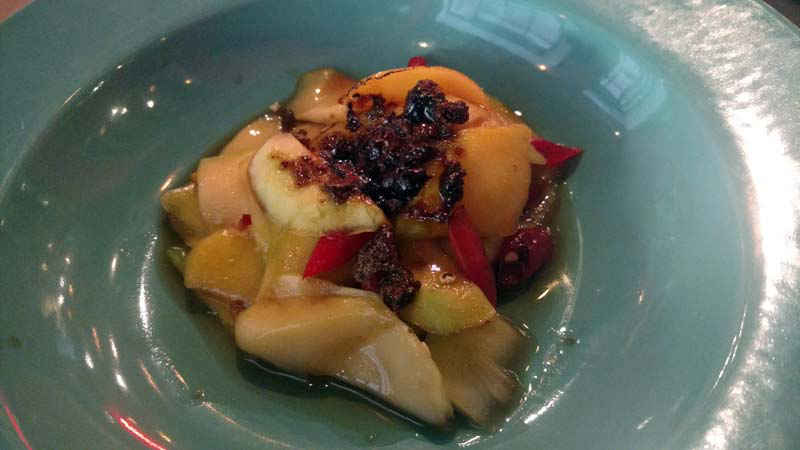 The complete opposite of subtle, the raw mango with sliced red chilli in lemon juice and soy sauce dressing was super tangy, which was offset by the sweetness of the crystallized jaggery on top. We were left reeling from a burst of tropical flavours in our mouths- fruity, hot, sweet, sour and salty. The salad is a street favourite in Thailand and retained its authenticity.
Dynamite Shrimp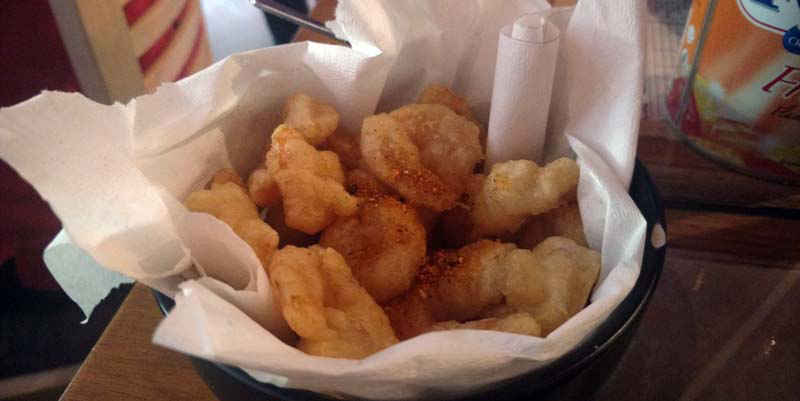 Served with a dipping sauce made from an in-house recipe of wasabi, garlic and mayo, the shrimp was fried with a sprinkling of Japanese spices on top and was one of the tastiest items we tried. Crisped to perfection with a light golden brown colour on the outside and delicately soft inside, it was light and crunchy and balanced things out quite nicely after the previous two offerings. We could literally munch on this one all day long!
Tenderloin Bulgogi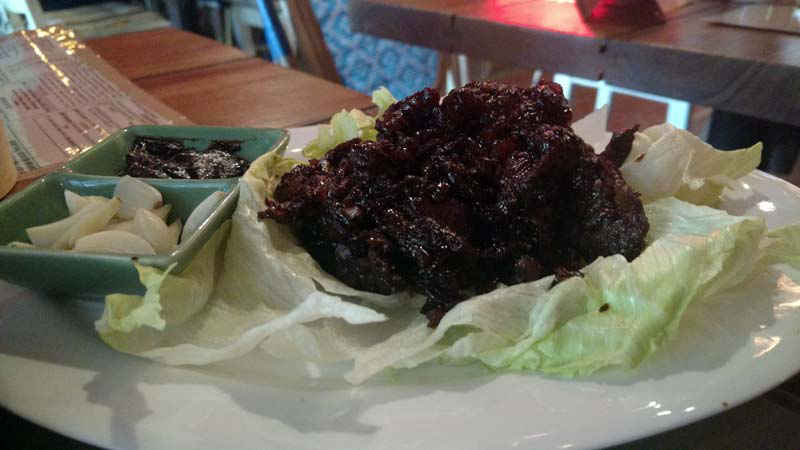 One of Korea's most popular beef dishes, the Bulgogi is basically thinly sliced grilled beef marinated in a mixture of soy sauce, sesame oil and black pepper with its own juices. This one was served with cloves of garlic and black bean sauce on a bed of lettuce and was high on piquancy. The beef was juicy with finely chopped onions for crispiness and had a heady mix of sweet and spice which hits you from the very first mouthful.
Banana Pudding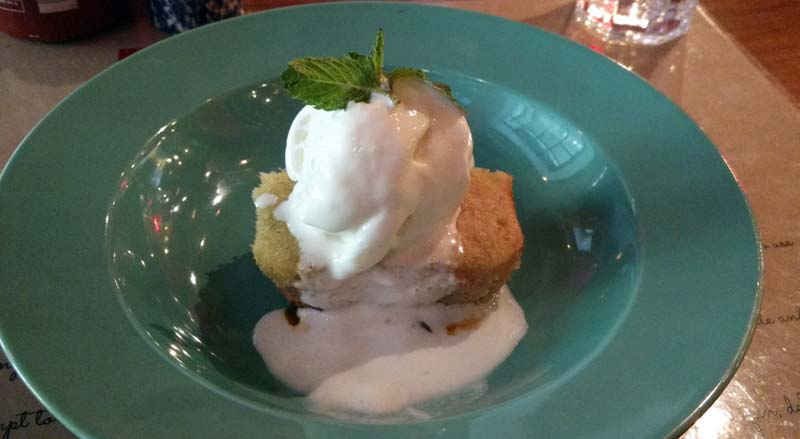 Onto the best part of the meal, we eagerly awaited one of the only two desserts which wasn't sold out (whoa) and were not disappointed. We can still taste the moist banana bread infused with the natural sweetness of the fruit, the scoop of vanilla ice cream on top and the basil garnish which gave it the perfect kick. We solemnly declare that Ping's version of the banana pudding was a smashing success! Be back for more.
They also plan to introduce a Weekend and Low-Cal Menu shortly. We'd recommend popping in at least once to try out some delectable healthy food sans the guilt!!
Location | 13, Lodhi Colony Main Market