Visit The Mubarak Begum Masjid In Old Delhi That Has A Colourful Facade & A Scandalous Story
Situated amidst the Old Delhi pandemonium, next to the Hauz Qazi Police Station, where the erratic electric cables mimic the tangled and entwined state of its residents, the Mubarak Begum Masjid, painted in red, can be spotted from a distance. Surrounded by lofty dukkans of tires, pipe fittings and home furnishings found on every side, this surviving masjid has a noteworthy past attached to it. Read on!
History Of The Nautch Girl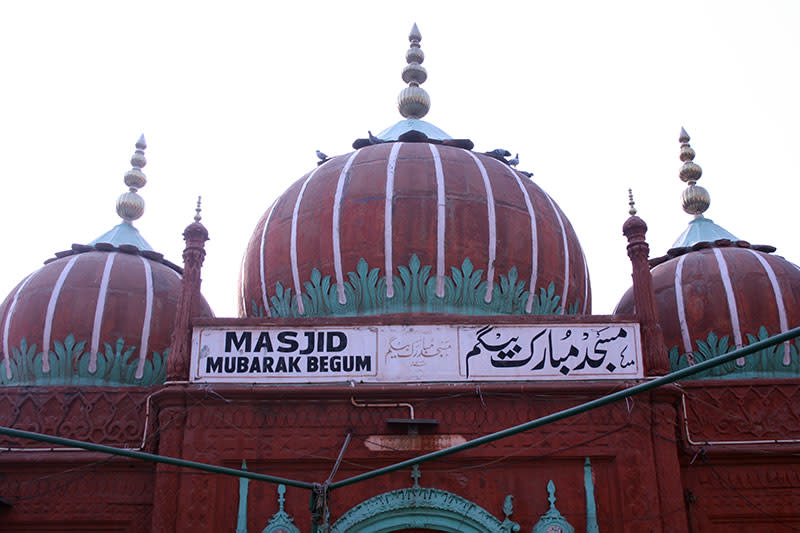 The mosque is named after Mubarak Begum who, in earlier times, was crassly referred to as 'Randi ki Masjid' on account of her possibly being a mistress. The masjid was constructed in 1823 and named after Bibi Mahru Tun Mubarak-ul-Nissa Begum, a dancing girl from Pune who converted to Islam after she married General David Ochterlony, a British resident in Delhi at the time of Akbar Shah II, who always had a burning desire for hookahs and mistresses. One of the thirteen wives of Ochterlony, she was known to be a pious Muslim and great wife.
An Islamic-British Confluence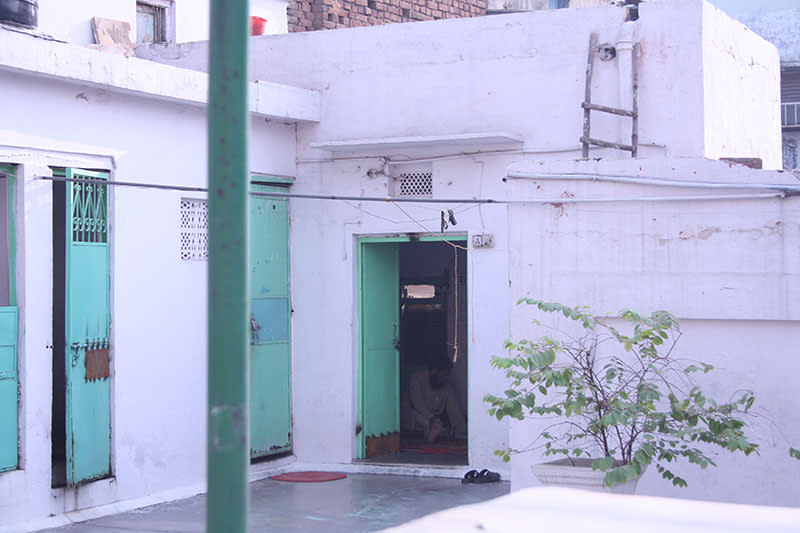 Begum Ki Masjid, built in red sandstone, is situated on the first floor while various shops are placed on the ground floor. The building is coated with hues of brick dust while an arched door, painted in minty green, marks the entrance of the masjid. A narrow staircase leads you to an open courtyard where one is not allowed to enter with shoes.
The premises comprise a rectangular mosque with three similar domical structures of different heights, a courtyard, with an outdoor prayer space, a washing area on the left, and the muezzin area on the inside left, where prayers are offered. The doors inside the masjid are painted green too, providing a great contrast to the off-white walls which offer a sense of cool serenity to the surroundings.
The Masjid Itself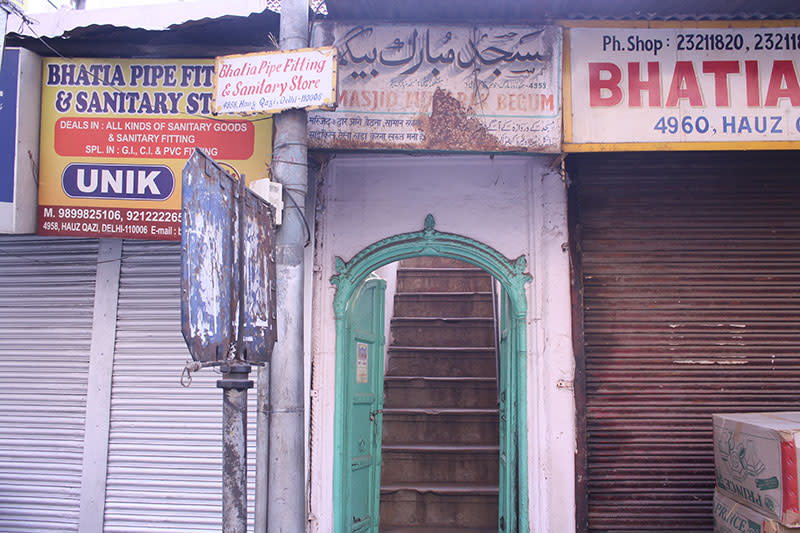 The carvings on the masjid façade are also concealed in green paint. The three arches on the front façade of the masjid correspond to the three domes, descending in height from the center.
Just where the roof ends, the date of construction of the Masjid is written in Urdu, with two ceiling fans on either side and a wall clock placed in the middle of the central arch opening. The prayer chamber inside the mosque is a dark, small area facing the Mecca, with marble flooring. It seems like the white marble railings, on the outside, with jali work, surrounding the devout mosque separate it from the filthy and blemished world outside.
Located in a Muslim-dominant society, the nearby Muslim shop owners are happily ready to spout a brief synopsis about the history of the masjid to those interested. Come on by if you're interested in exploring a lesser-known landmark of Delhi!
Where | Mubarak Begum Masjid - 4959, Hauz Qazi Chowk, Kaccha Pandit Main Bazar, Lal Kuan Bazar, Chandni Chowk