The Most Perfect Place to Go on a Wedding Shopping Spree - Pretty Kinari Bazaar!
In India, a wedding is not just an event, it's a festival with celebrations that continuously go on for weeks & weeks! In a city like Delhi which is known for its pompous & extravagant weddings, people are always in high spirits, whether it be the bride/bridegroom or her/his distant relatives. The most important feature comprising a marriage is shopping. In Delhi, there are several markets which can cater to your needs, but none come close to Kinari Bazaar!
Kinari Bazaar is located in Chandni Chowk, adjacent to the Gali Paranthe Wali, near Gurudwara Sisganj. It's a little far from the Chandni Chowk Metro Station & you can either walk down or take a rickshaw. Do not bring your vehicle as it's almost impossible to park here. It's not like the other modern market complexes of Delhi, but a narrow street bombarded with a colossal pool of people from all over Delhi and it takes a whole lot of patience and energy to get what you desired, but in the end it's an overwhelming victory! 
Street Sightings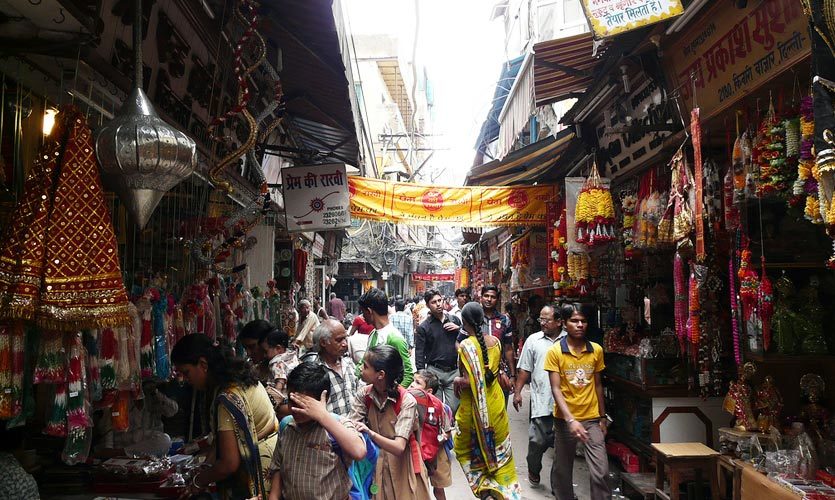 As you enter this street, one gets distracted by the sheen & colours of items displayed in the different shops and you can spot girls going totally shopping crazy! This market specialises in Indian wedding dresses like kurtas, sherwanis, lehenga dupattas, salwar kameez and turbans. During the wedding season, there are hordes of eager shoppers here flocking in locally as well as from outside Delhi - from far & distant places. After the rains, the alleys get clogged with muddy water, and yet, despite such mess, people come here time and again. It's not only the price, but the value that this market brings to the people. 
Real Craftsmanship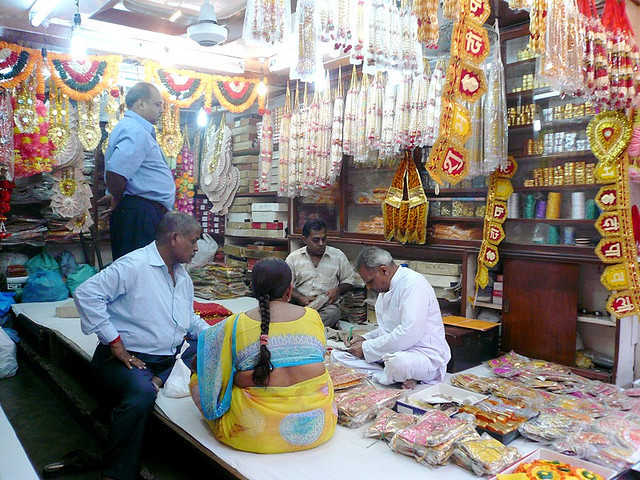 Apart from all this, Kinari Bazaar also specialises in selling other embroidery items like lace, threadwork embellishment, different borders, stonework, gold/silver work & garlands. These embroidery items showcase art from all over India and it's the craftsmanship of the workers that bring such ethnic styles to the market. This market also supplies goods in wholesale to the big branded boutiques and fashion houses of Delhi. If you're lucky, you may even spot some designers buying raw materials for their creations here!
Basically, you can get what is desired at a very low cost, and if you have got your own tailor who you can trust with such items, you might as well get something real classy tailor-made for yourself - it's cheap and it gives you a chance to be creative and be your own designer.
During Festivities & Celebrations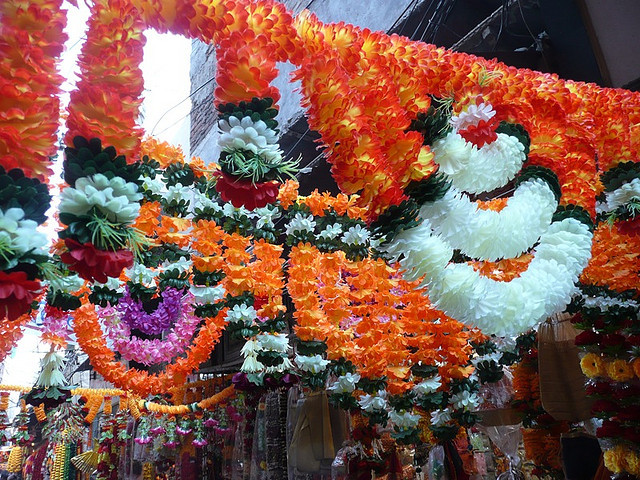 The market is also a place to buy other small items that are used in handicrafts, especially the ones being utilized in showpieces for home and office decor. It's a great place for people in such businesses to buy raw material at a low price. At the time of regional festivities, this place is crowded with decorative items, idols of gods, kites & colourful ornaments. Decorative boxes for packaging are readily available, and you can happily do your Diwali gifting in these customised boxes to surprise your friends and family. 
After all this shopping, do visit the famous Paranthe Wali Gali for some piping hot fried Paranthas & Natraj for its thick 'n' creamy Dahi Bhalle! 
Location | Chandni Chowk