The Lane Less Travelled In HKV: These Hidden Gems Dish Out Street Eats We Love
As every classic Bollywood movie constantly reminds us, there are two kinds of people in the world. One, people who find a place to eat they like and visit it every time they feel the munchies. Or two, people who find a new undiscovered place in the neighbourhood and make it a point to check it out! While we all want to be like the latter, in this world of former(s) it's not easy to find the road less travelled. In this case, we're talking about the lane less known of in the cool and classy Hauz Khas Village. 
Everyone knows that HKV is famed for expensive and chic bars and restaurants serving delicacies and drinks from around the world. The place is literally brimming with people on most nights and is undoubtedly the most sought-after spot to spend the weekend at. 
After crossing the major bar and cafe area, as you approach the fort, there is a lane on the left that is teeming with all kinds of street eats you should explore if you call yourself a foodie! 
Let's take you on a food trip through this hidden treasure chest inside HKV. Yes! It has more than one gem - read on!
Old Biryani Corner: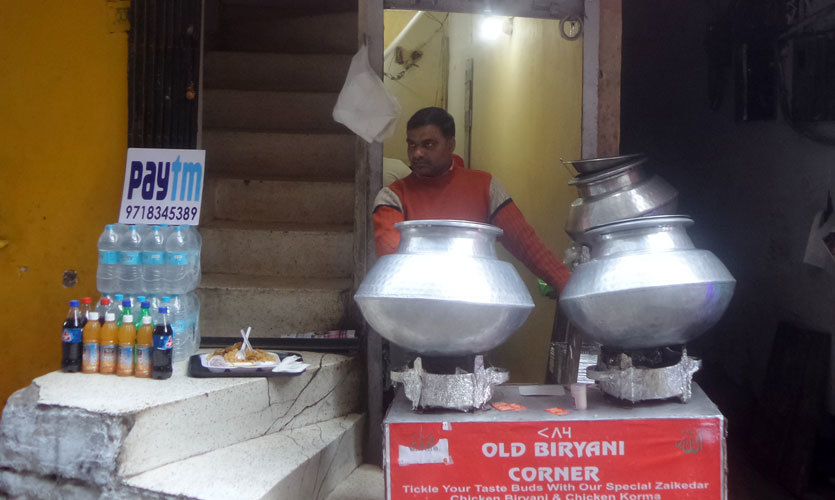 We love us some flavourful biryani, and if it comes at affordable prices, then everyone is in for a win! If you're bored of those pastas and need to treat yourself to some Nawabi goodness, this place is a stone's throw away from the HKV fort. As you venture inside the lane described above, you'll see huge pots of biryani as you hit the home run! Here's what to try here:
Chicken Biryani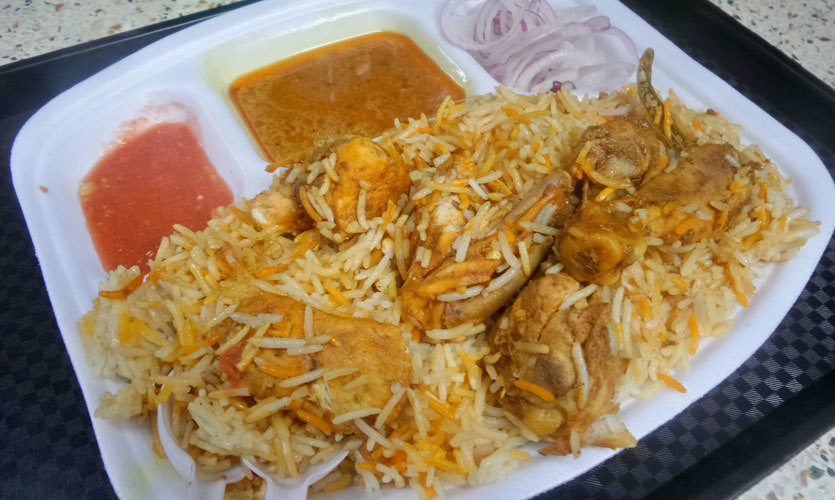 The Chicken Biryani was appetizing, loaded with huge pieces of chicken (falling off the bone!) mixed with saffron and cardamon-flavoured rice. As our grandmas have taught us, every good biryani must have every grain of rice separate and distinct from the others and this one nailed the description! It was served with chicken gravy and a tomato-garlic spicy sauce that enhanced the flavour of the dish even more. 
Price | Rs 110 (Half)
Veg Biryani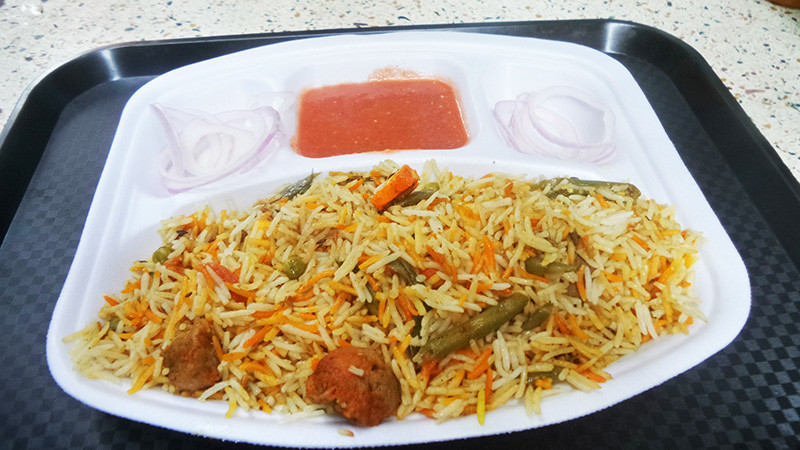 Yes, we know all you lovers of biryani like to say that veg biryani is just pulao, but for the purposes of this foodie jaunt, we will call it Veg Biryani, because the chef thinks it's legit. This lacked the overload of chicken obviously, but it did taste really good! It had chunks of soya and paneer that tasted nice with the same spicy sauce - defo go for it! 
Price | Rs 90 (Half)
Pro Tip | The chef said that the place had been running for 4 years, and it took 7-8 hours for every biryani to be cooked perfectly each day. We suggest you order half a plate only, if you're eating alone - the quantity is more than sufficient! 
World Street Bites: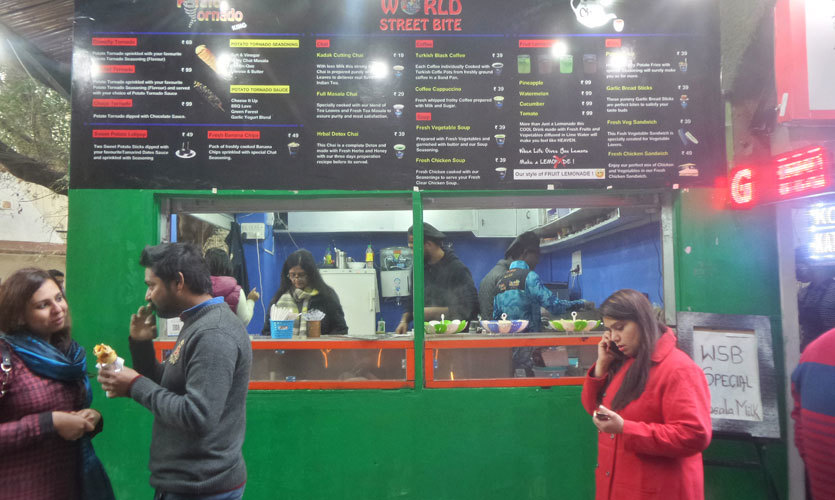 This newly-open kitchen has been the talk of the town with distinctly different offerings. It has just been around for about a week now we were very keen on trying it out. Despite having a fairly branched-out menu, they only had limited options available. But whatever they offered was actually delightful! This is what we ate: 
Potato Tornado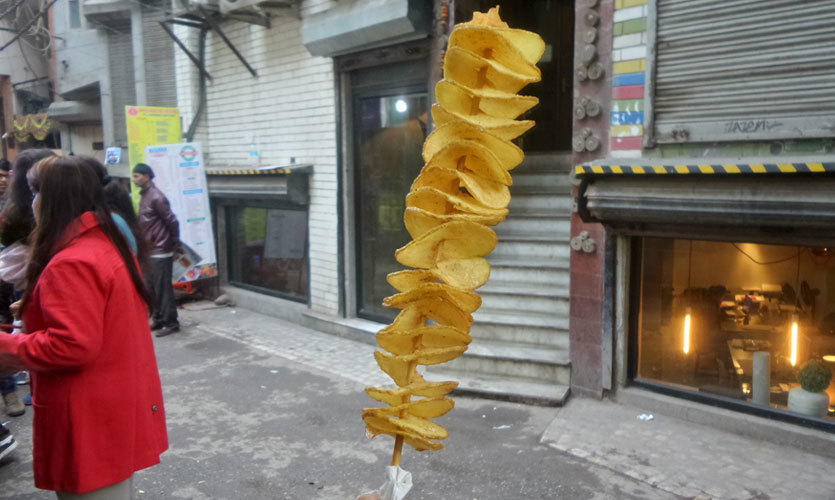 This didn't look like anything we had seen before, but it actually is a snack to be enjoyed by all ages (and palates)! Fried potato spirals speared on a skewer sprinkled with a sweet and spicy masala - yum yum. They had some varieties of flavours on the menu, but unfortunately only one was available. It's the perfect snack to be enjoyed with a cup of coffee or tea on a cold winter evening!
Price | Rs 70
Pineapple Lemonade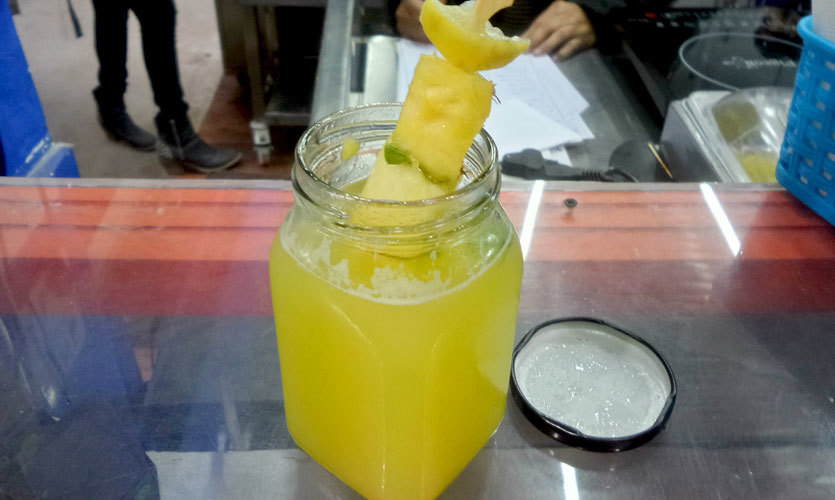 More often than not, we become tired of artificially-flavoured mocktails served at sky high prices. This freshly prepared lemonade contained real pineapple juice and chunks of fruit on a skewer, all set to be the drink of the summer and was delightful! It was served in a mason jar that you can actually take home - after all, one can never have too many mason jars!
Price | Rs 100
Whole Wheat Kathi Rolls:
After a boozing session, we get cravings to eat comfort food like rolls and parathas all the time! This place is graduating from a regular shop to a sit-down cafe just beside the all-famous Kunzum Travel Cafe. The range of offerings is pretty huge and you can find most of the popular street food items in it. We didn't try a lot, but whatever we tried was average: 
Paneer Tikka Roll and Chicken Roll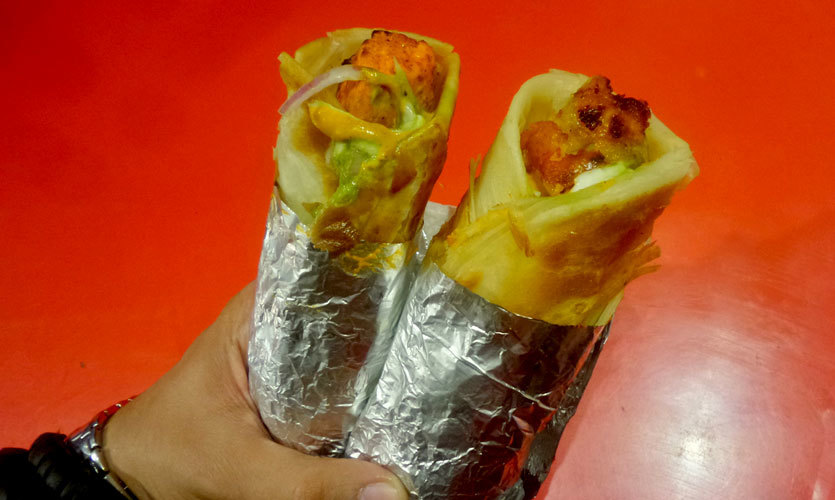 Flaky flatbread rolled around a filling of your choice with sauces and onions in every bite. The chunks of paneer and chicken were quite big and the rolls were high on satiety. The chicken was a little rigid, and definitely needed more spices. We'll say definitely not the best street side rolls we've had so far. The only reason they're popular is because of the ease in eating-on-the-go they offer. 
Price | Rs 100-150 
Wafflelicious: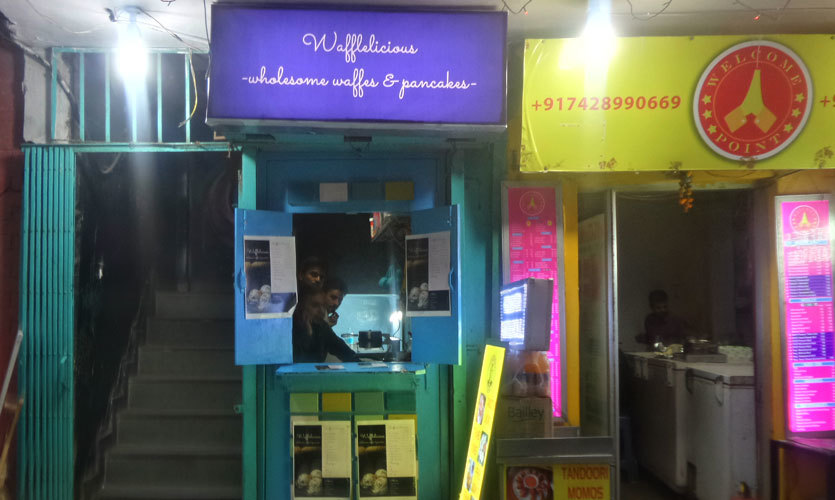 Another newbie in this lane, this is a hole-in-the-wall joint serving waffles and pancakes for all those with a sweet tooth. They offer around 10 varieties of waffles, but are overpriced in our opinion. There is no seating availab    le, so you might have to sit in the adjacent stairway to enjoy your dessert to perfection.
Dark Chocolate Waffle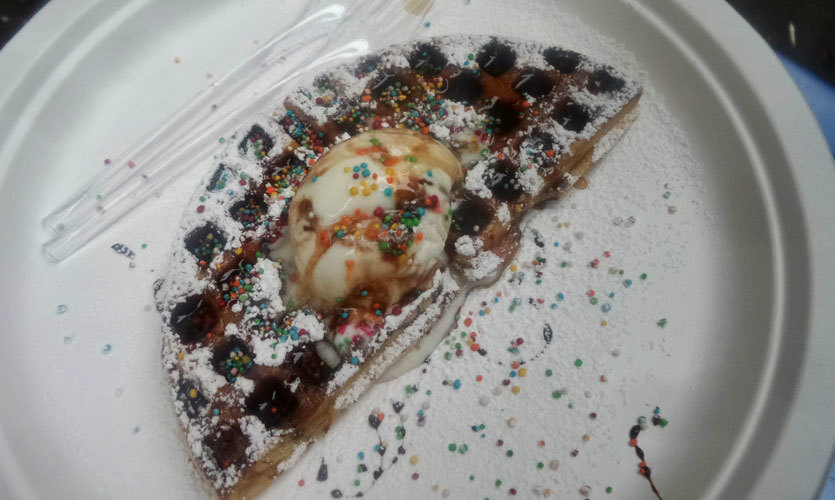 After having all these savoury items, we were actually craving something sweet and this was the right note to end the evening with. The waffle was crunchy and light. The sweetness was balanced nicely and the melted ice cream contrasted with the warm waffle very well!
Price | Rs 110 (Half)
This small alleyway is a collection of all sorts of street food items that you can possibly imagine. From authentic Indian street food to world class eats, it's safe to say that it is actually better than some of bar food dished out in HKV proper. On your next visit to the area, be sure to tread this road less taken for some off-beat fooding!