The King Of Street Food Thrills, We Divulge All The Awesome Eats Found @ Amar Colony
Delhi is the gastronomical capital of India and street food is what keeps us all ticking! Street food is popular everywhere in the world and today we'll take you through the plethora of awesome thela food found in South Delhi's harcore foodie hub - Amar Colony! So here's what we got:
Tandoori Cheese Maggi @ Cheezy Quest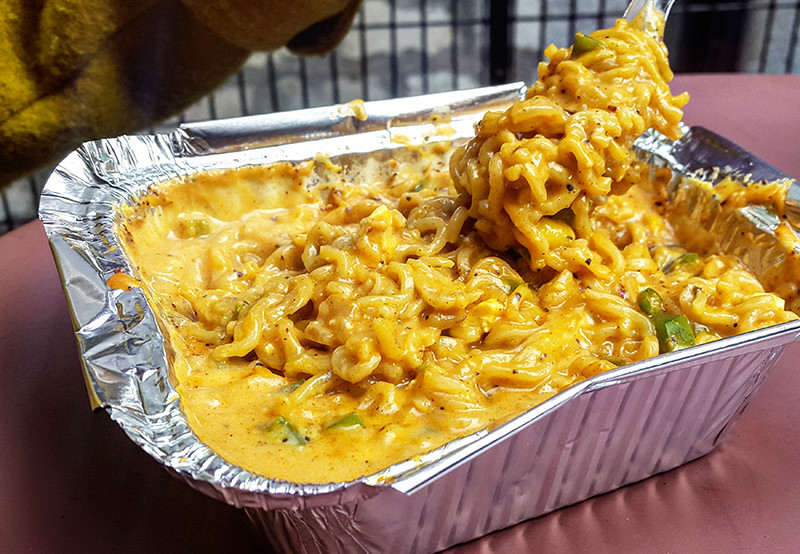 Cornered by many other food joints in Amar Colony Market lies this cheesy gem! With a variety of options for cheese lovers, the most sought-after dishes here are Paneer Wraps, White Sauce Pasta, Grilled Sandwiches and Cheese Maggi. The ambience might not be too eye-catchy, but the menu is totally heart melting. Pssst - Cheezy Quest is closed on Tuesdays y'all - so plan your visit accordingly!
Price | Rs 70
Afghani Chaap @ Amritsari Chaap Wala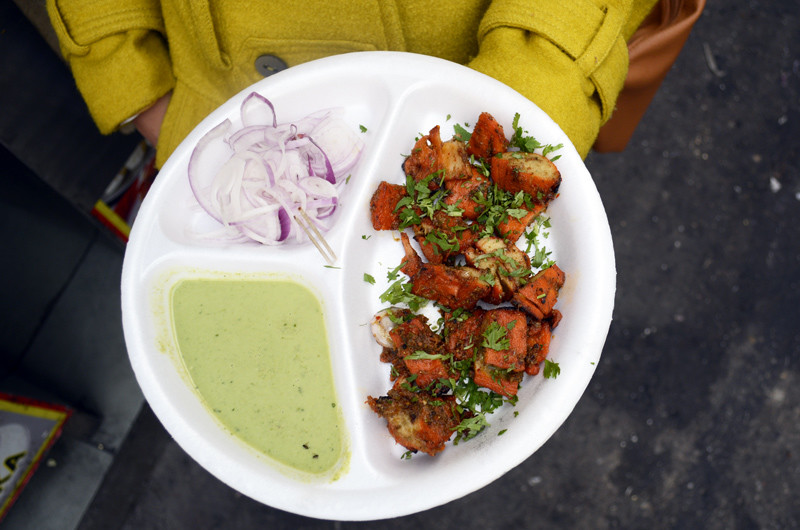 One can't definitely miss out on such places which waft out such tantalizing aromas! This place is pretty popular for its delectable platefuls of Afghani Chaap, Malai Chaap, Paneer Tikkas and to a certain extent, crisp Tandoori Momos *starts drooling already*.
Price | Rs 90
Mutton Biryani @ Biryani Center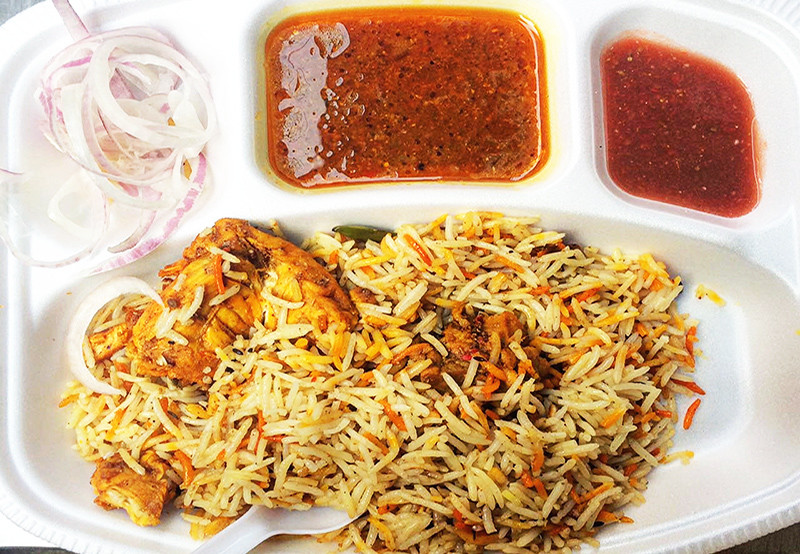 This lane of Amar Colony isn't deprived of any kind of dish that you can possibly think of and street food without biryani would be so incomplete! Within a compact budget lies this biryani shop which delivers perfectly cooked Chicken, Mutton and Veg Biryani with Kormas. The speciality here is their Mutton Biryani and you have got to try it out!
Price | Rs 80
Chocolate Desire:
One would surely be waffled if one walked through the doors of this small dessert parlour! This place serves crepe, pancakes, shakes, waffles and more at nice, pocket-friendly prices and here's what we tried here:
Waffles With Nutella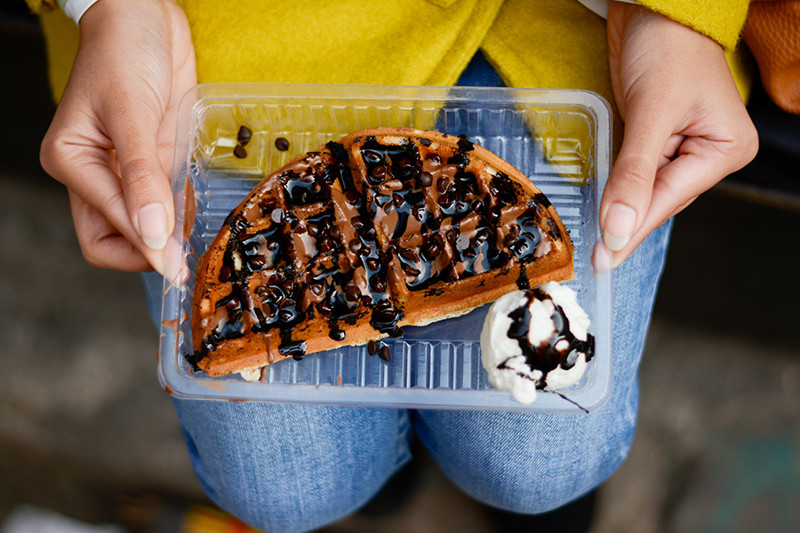 With a wide range of base for waffles and toppings, this newbie is surely a heart warming place. The waffles can be customized with extra toppings, gems, extra scoops of sundae - whatever you like. Just suit your needs to get waffled!
Brownie Jar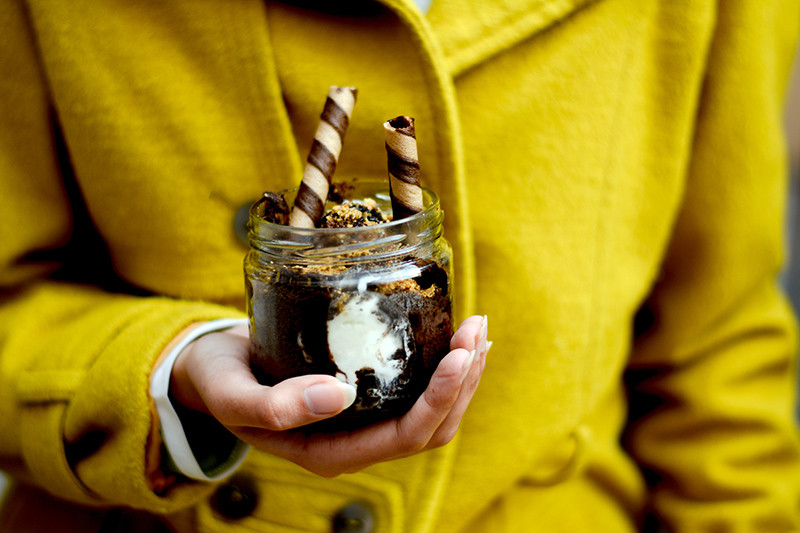 Brownies boxed with scoops of butterscotch ice cream *lovestruck* topped with crushed Oreos, choco chips, hot chocolate sauce and chocolate sticks is the most appreciated dessert from this place! Come get it right here at Chocolate Desire y'all.
Price | Rs 150
Tandoori Momos @ Hunger Strike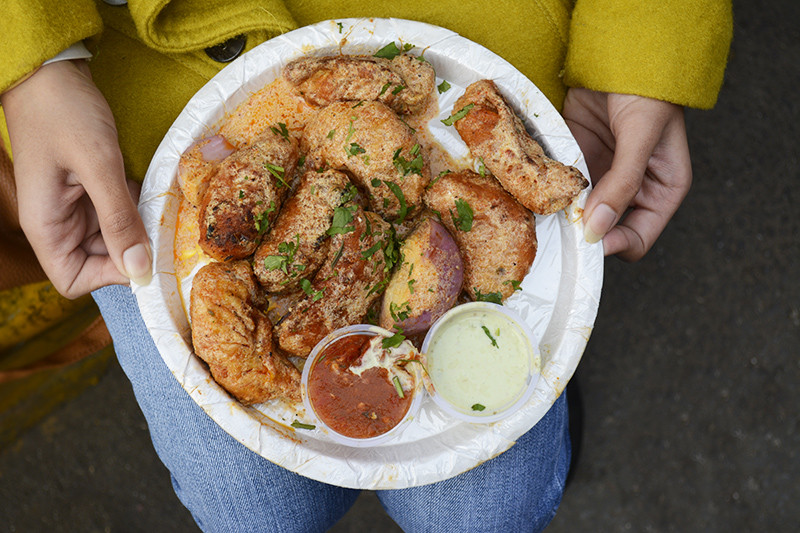 Needing no introduction, this place is always bubbling with young crowds for the love of momos, tikkas and tandoori yummies. The ultimate joint for spicy cravings and hungry-cum-broke students, you must try their famous Tandoori Momos, Paneer Tikkas and Afghani Momos with spiced green chutney and garlic sauce along with onions. Nom nom!
Price | Rs 130
Already drooling at even the thought of these yummy snacks? Just head on over to Amar Colony after work today and gorge away to glory!