Picture Credits: thewirehindi.com
Built in 1764 AD in Nehru Place, Kalkaji Temple is famous for worshipping Shakti Devi/Maa Kalka or Kali, an incarnation of Maa Durga. It's believed that people who have faith in the goddess attain everything they want in life and locals from all walks of life throng the temple, as do tourists.
The temple is made of white marble and it effuses piousness, serenity and tranquility. Devotees can visit the temple at any time of the year, but in October during the Navratri festival, it has its own charm as a big mela is held here and the temple is abuzz with celebrations and tradesman selling various handicrafts. Scroll on!
About The Temple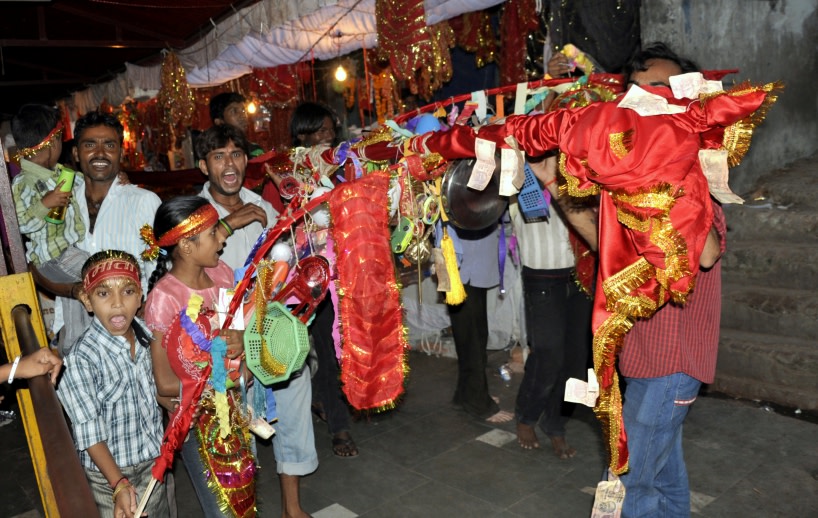 The temple is a mini replica of the famous Vaishno Devi shrine in Katra and there are two gates that open onto the temple for the convenience of their devotees. One opens onto the main road of Kalkaji and the other at the metro station. There are small temples of Kal Bhairon and other gods inside the area as well. The temple complex has been renovated over the years and today, you'll find that it is constructed of brick, plaster and marble. A central chamber, surrounded by a verandah with 36 arches, holds the Kali idol.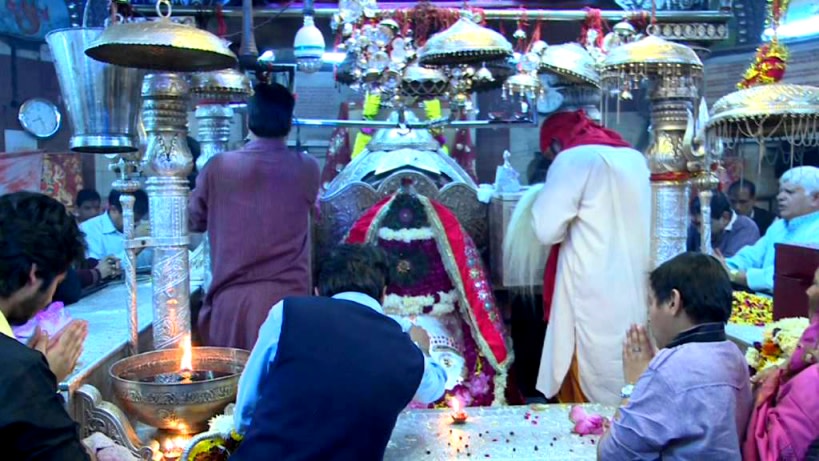 Picture Credits: YouTube
Aarti is performed between 6 to 7:30 AM and 6:30 to 8 PM in winters, and from 5 to 6:30 AM and 7 to 8:30 PM during summers. Saturdays and Tuesdays remain the most crowded, people have to stand in queues to enter the temple and as a result of the uncontrollable rush at such times during the aarti, the gates of the temple are closed. Also, the temple remains closed on Mondays.
A Beautiful Sight At Night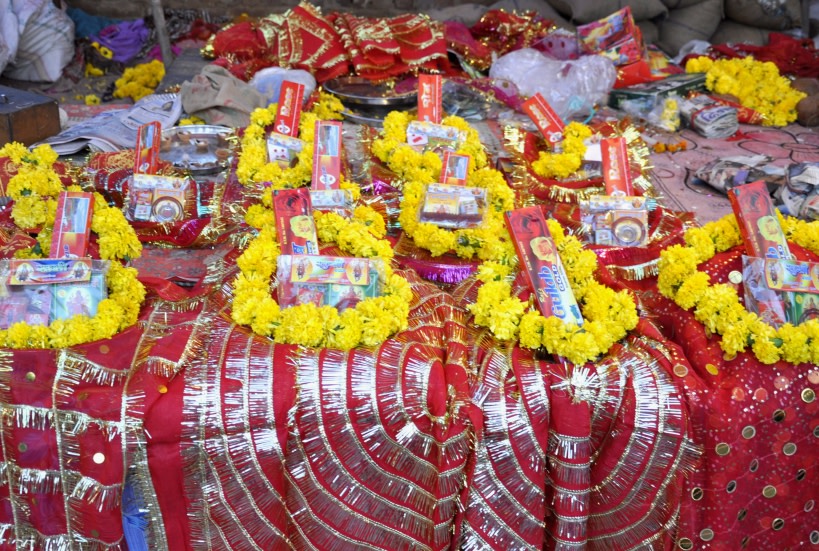 The temple offers a striking sight at night as it's thoroughly decorated with illuminated bulbs. The road to the main temple is uphill and dotted with a lot of shops on both sides. They consist of eating joints that mostly sell snacks, sweets and cold drinks. Some photography shops are present within the arena which definitely catches one's attention and you can always get a picture clicked and carry it back home as a great memory!
Idols of gods and goddesses, bangles, cosmetics etc are sold in other shops along with puja offerings. Small booklets and audio cassettes can also be bought to learn the history of the goddess or for the chants and songs that fill one with positive energy.
The temple can be reached by metro, bus, auto and taxi. The closest metro station is the Kalkaji Mandir Metro Station, on the Violet Line. Some other places near the temple that are worth visiting are the Lotus Temple, ISKCON Temple, Nizamuddin Shrine, Okhla Bird Sanctuary, Zakir Hussain and Chirag-e-Delhi Dargah, to name a few.
Come on by if you wish to experience true religious fervour in all its glory!
Location | Kalkaji Temple - Ma Anandmayee Marg, NSIC Estate, Okhla Phase III, Kalkaji