7 Best Sadak Chhap Chai Corners For Every Desi Chai Lover in Dilli
As we sit to write, we're clutching a cup of kadak chai tightly with both hands, cherishing its fragrance like happy little kids. For every old soul out there who still struggles to comprehend the concept of fancy teas with the variety of flavors at posh cafes and restaurants because 'woh chai hi kya jo old-fashioned way mein na pi jaye'! So as winter's gonna come hug you soon, we tell you where to head for the comforting sadak chhap chai you have always been in love with! Read on.
1. POINT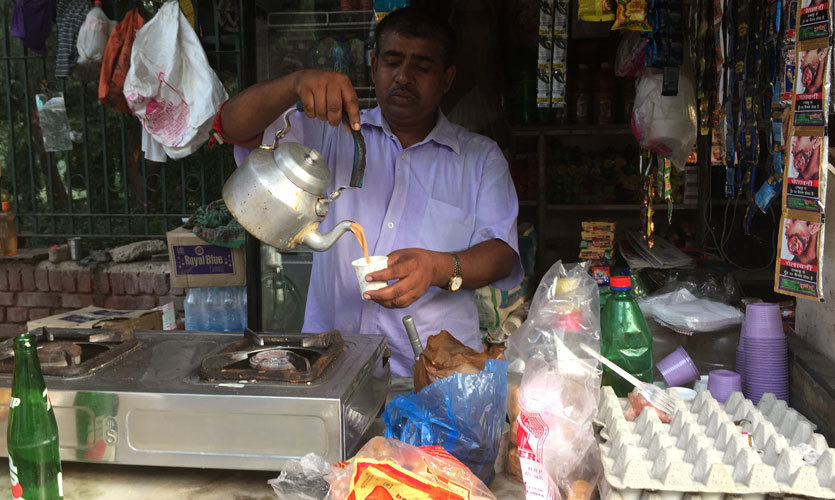 With many other fast food joints in the area including the well-known Kathi Roll Corner, this chai thela is basically the most perfect spot to spend a winter evening doing 'dher saari baatein' with your loved ones over a steaming cuppa. The beautiful park nearby is an added bonus! Do try their special chai - you'll absolutely adore it.
Location | POINT - Hauz Khas Market Road, Opposite NIFT
Price | Rs 10
2. Moolchand Ka Famous Flyover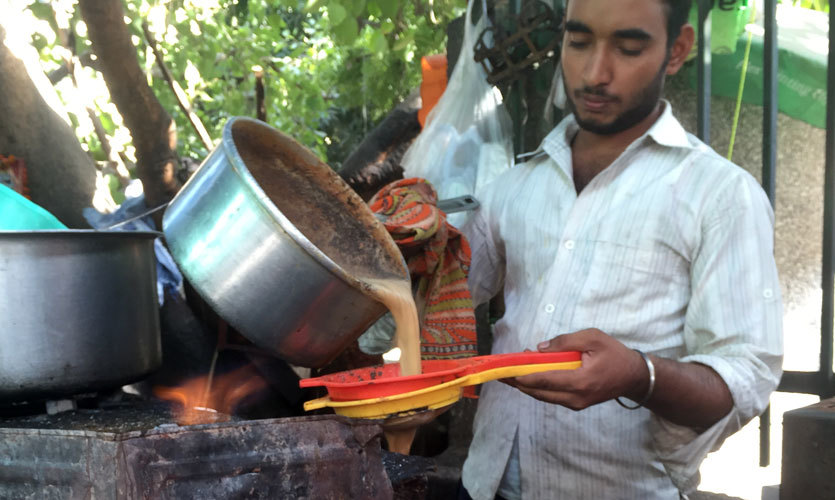 Oh you street food lover, this place is simply calling out to you! This is the most talked about stop for delicious paranthas and what could be better than a cup of tea along with it to fight the winter chill? All you night owls, this is your place to be! The flavour of elachi chai is all you need to relax your mind.
Location | Moolchand Ka Famous Flyover - Next to Raza Juice Corner
Price | Rs 10-20
3. Om Prakash Tea Stall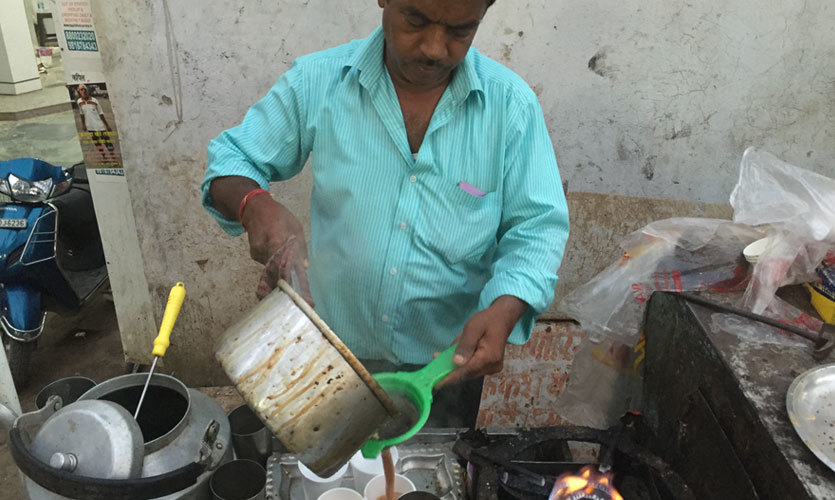 One of the oldest stalls in the city is the Om Prakash Tea Stall and if adrak wali chai is what feeds your soul, then your next stop needs to me the INA Metro Station! "1982 se hai yeh stall, pehle bhi aaye the interview lene kuch log," says Om Prakash, who is indeed a multitasker as he juggles so many chai orders whilst firmly keeping a constant smile on his face. This place is mostly crowded because well, old is gold, right? Come on over!
Location | Om Prakash Tea Stall - INA Market, Opp A-One Fruit Corner, Near INA Metro Station
Price | Rs 8-10
4. Aurangzeb Lane, Aurangzeb Road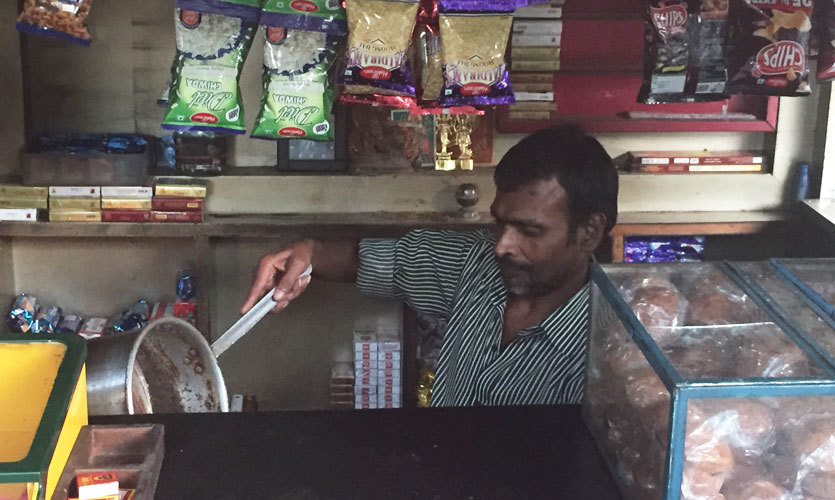 Located much away from the chaos of the city and also lying close to the historical Lodhi Garden, the chai here is worth every km of the drive over, we promise you! There's nothing quite like a kadak chai on an early winter morning at a place so serene and tranquil. What are you still waiting for? Go drop by - we'll meet you there!
Location | Aurangzeb Lane, Near Lodhi Garden, Next to Nagar Tourist Taxi Service
Price | Rs 10-12
5. Sachin Pan Corner, Vyapar Kendra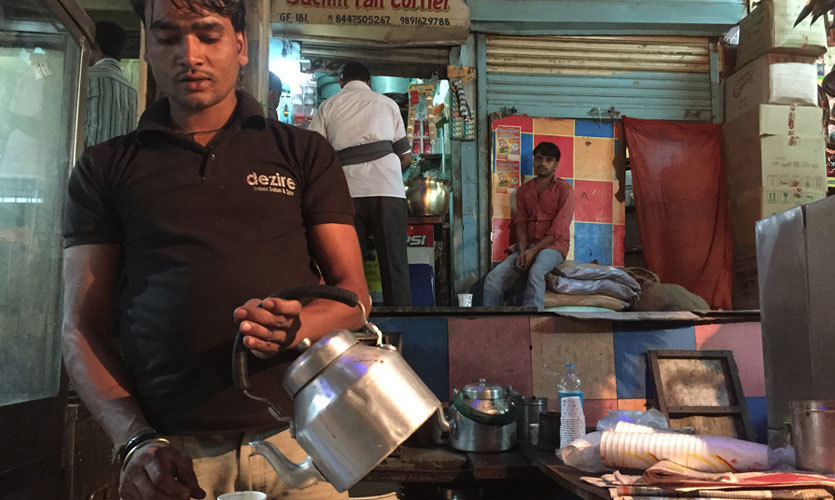 Known to be one of the more inexpensive markets, Vyapar Kendra is located in Gurgaon's Sushant Lok-1. It's a complete market in itself with loads of useful shops, and is largely famous for its street food joints and chai thelas. Kadak Chai is served best here! Go try it out! Really, it's time to indulge in this beverage a little more.
Location | Sachin Pan Corner - Vyapar Kendra, Sushant Lok-1, Gurgaon, Next to Veg-o-Non
Price | Rs 12-20
6. BabuLal Tea Stall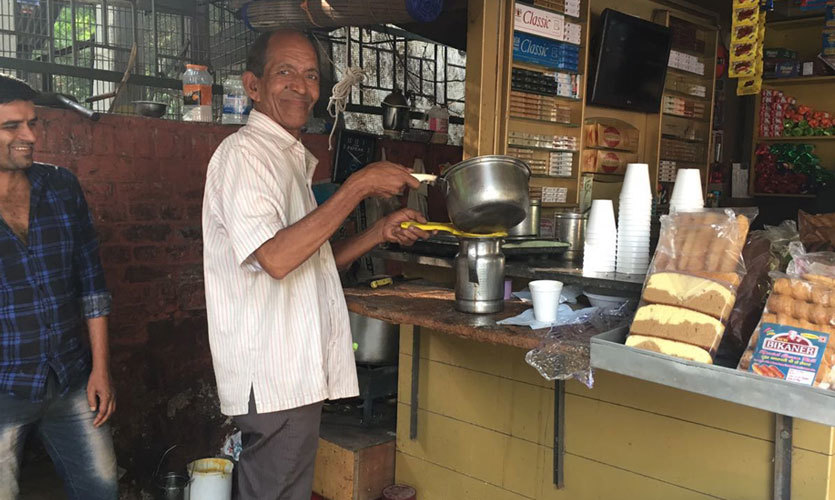 In the hustle bustle of upish GK Market, this famous chai walla is a home away from home to many. In terms of its balanced flavour, it surely satisfies the taste buds. Stop by for a cuppa and you'll know exactly what we mean. Sometimes all you need is a lil chai therapy, so head on over for your dose!
Location | BabuLal Tea Stall - Next to The GK 1 Petrol Pump
Price | Rs 7-10
7. Green Park Metro Station Thela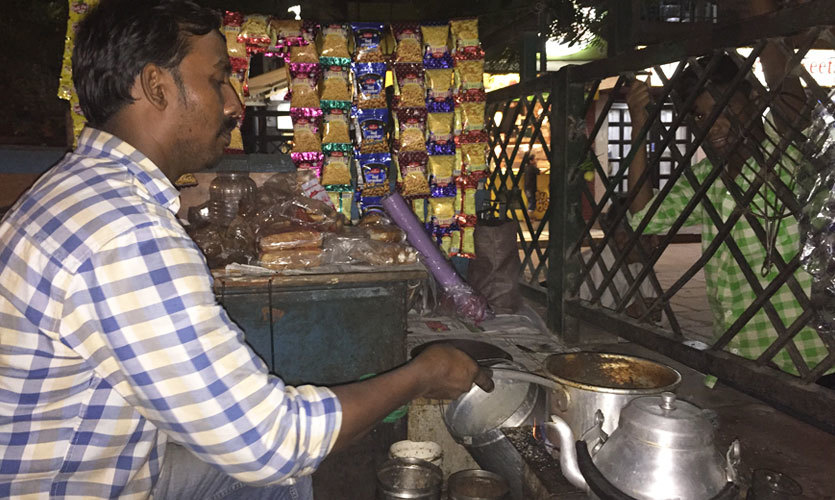 Tea can soothe your soul and keep you healthy too. There's something so therapeutic about tea that makes it a complete healer. So are you craving for that hotel wali chai? Well, your wait is finally over! All you 'Chaivinists', head to this chai thela and we bet you won't regret it. Located near the Green Park Metro station, their special chai is all you need to get over a bad day, really.
Location | Opp Say Cheese, Near Green Park Metro Station
Price | Rs 8-10
Do it the old-school way this time. These awesome and cheap desi thelas await you already!