Chole Bhature is the staple breakfast as well as lunch for most people in town. It's affordable and filling and keeps people going for the day! Every locality in the city has multiple vendors selling it and more often than not, they taste the same too but there are a few who stand out from the crowd. 
Sita Ram Diwan Chand in Paharganj is one such shop that has built a name for itself and has become so well known that people travel from far and wide to taste its fluffy bhaturas and zesty chole. Late Sita Ram, the original founder started it as a roadside stall targeted at school children more than 50 years ago in Paharganj. The business grew and it became a permanent restaurant.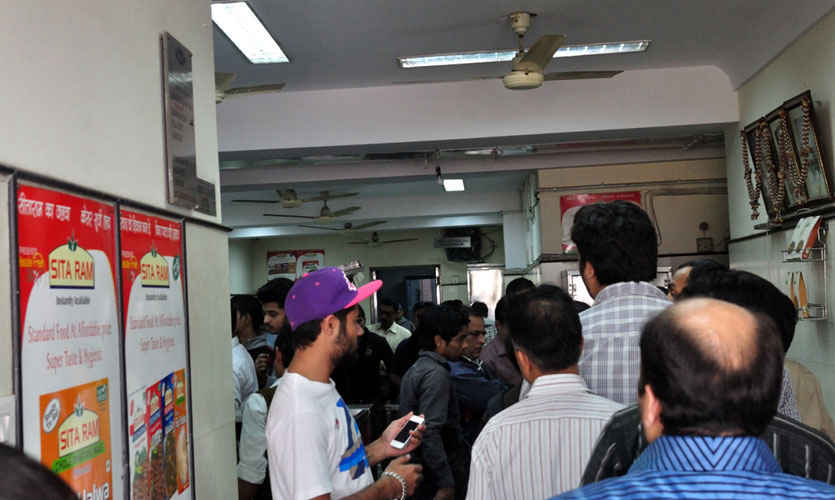 Of late, they have invested in offering a better customer experience. So, the interiors are well lit and well-furnished now however, there are only tables and no chairs and everyone is expected to eat standing. His descendants are running it now and are also trying to diversify into the instant food market through packed choles and other such mixes.
The food at Sita Ram's is popular because it doesn't compromise on quality. Also, it focusses on its core strength and does not try too many things. It only sells Chole Bhature and some assorted stuff and is not trying to do too many things in order to expand its business. 
A plate of Chole Bhature here cost Rs 45 as of now which is higher than the roadside vendors we see elsewhere but cheaper than some other reputed shops in Old Delhi.
Coming to the Bhaturas here, they are absolutely divine and so unique, owing to their stuffing filled with grated paneer and a rich blend of spices. This not only makes it softer but adds a different texture and of course paneer is rich in protein too. The moment you tear it open, you can see the layer of grated paneer inside it. They are in such demand that every few minutes a guy from the kitchen brings fresh ones in a huge cauldron and then they disappear in no time.
The chole/channas on the other hand are prepared in two parts - they are cooked with spices and onions but the potatoes are cooked separately unlike what we usually see at other places. This provides a contrasting taste when they are mixed just before consumption.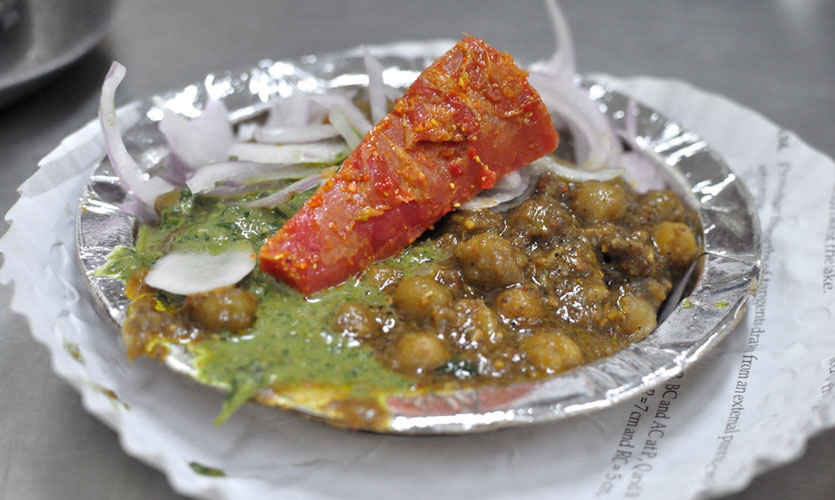 A real connoisseur of spice can sense the aroma of cardamom, cinnamon, pepper, masala, cumin, nutmeg, mace and many more items. Like all successful food joints, they must be having a secret blend of spices. 
Also noteworthy are the seasoned vegetable pickles served as condiments made of carrot and chilli, for those looking for something tangy to accompany their meal.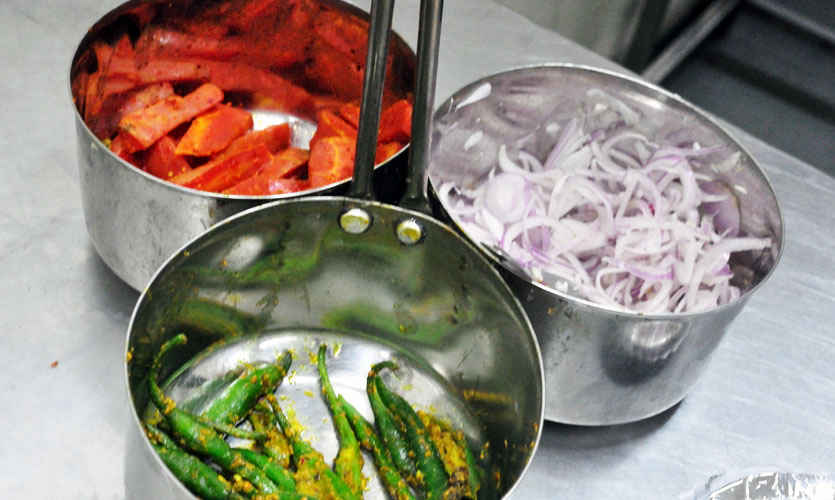 It's not difficult to locate. Mainly you have to find the Imperial Cinema in Paharganj which is very famous. The shop is on the same road, just slightly ahead. It's not very big but one can easily spot it from the crowd that forms in front of it, lying at a 10 minute walk from the Rama Krishna Ashram Metro.
Location | 2243, Rajguru Marg, Chuna Mandi, Paharganj