The 8th edition of the ah-mazing 21 Gun Salute International Vintage Car Rally & Concours Show happened this weekend at Ambience Greens Golf Course, Gurgaon and trust us peeps, it was every car lover's paradise! From a diverse showcasing of rare classic and vintage cars to splendid cultural performances - this rally had it all.
If you missed it for some reason, then fret not 'cause we've put together all the highlights of this RAD event!
Blast From The Past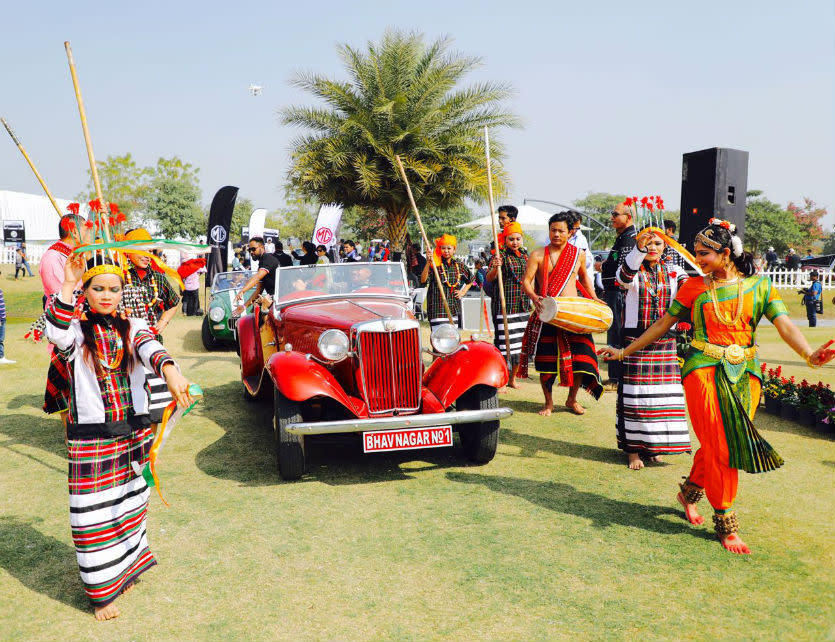 The spectacular 21 Gun Salute International Vintage Car Rally & Concours Show 2018 saw more than 100 beautiful vintage cars! Hosted under the support and participation from the Ministry of Tourism, TAAI, IATO and TAFI, this rally saw a host of cars from yesteryears participating in the show and everything from the beautiful 1946 roadster MG TC to the 1965 saloon Midget was on display.
There was also a host of engaging and colourful Indian cultural performances throughout the event which was an amazing addition to this already-perfect fiesta.
The evening concluded with a glorious assembly of all the winning cars that were judged by an international jury and we can't even imagine how hard it would have been for them to decide amongst so many wonderful cars!
Tete-a-Tete With The Proud Owners
We happily moved and mingled at the event and cornered a few proud MG owners, and started off by having a conversation with Mr. Amit Maheshwary from Jaipur, who is the owner of a gleaming green 1965 MG Midget *woah* who had it stripped down completely and lovingly restored to its current glory. Talk about the love for MG!
We then turned our attention to Mr. Amir Jetha, who owns a 1951 MG TD, which is a bright, popping red in colour *heart eyes*. Mr. Jetha told us that he had actually grown up with the car, which has been in his family for years and still takes his children out for a ride in the beauty quite frequently!
We also met Ms. Jagruti Dave from Bombay, owner of a 1965 MG B, one of the few female owners we met at the rally, who told us that it took around 2 whole years to restore this primo machine and that she loves to take her car out for weekend jaunts!
And that's a wrap to the beautiful afternoon that this was! If you missed it, then better luck next year and if you were there, then you'd know that no words would be enough to sum up this amazing rally!
Check Out Their FB Page | https://www.facebook.com/MGMotorIN
Browse Through Their Website | http://21gunsaluterally.com/
Follow Them On Insta | https://www.instagram.com/21gunsaluterally/
Browse Through Some More Awesome Pictures Of This Rally!