The 6th So Delhi Tweasure Hunt, HKV Edition - This Is Exactly How Much Fun We Had!
Clamouring the bells and heralding our arrival, we flung open the registrations for the 6th edition of the So Delhi Tweasure Hunt, happily presented by dineout! Flocks and flocks of Delhiites participated with fervour, and we had a behemoth event on our hands!
Cut-To-Backstage | We happily started off our Hunt at beautiful, charming The Project in Hauz Khas Village. Huddled around in the pretty, airy confines of The Project, HKV, our minions (crazy volunteers) milled around getting briefed, getting psyched and were raring to go!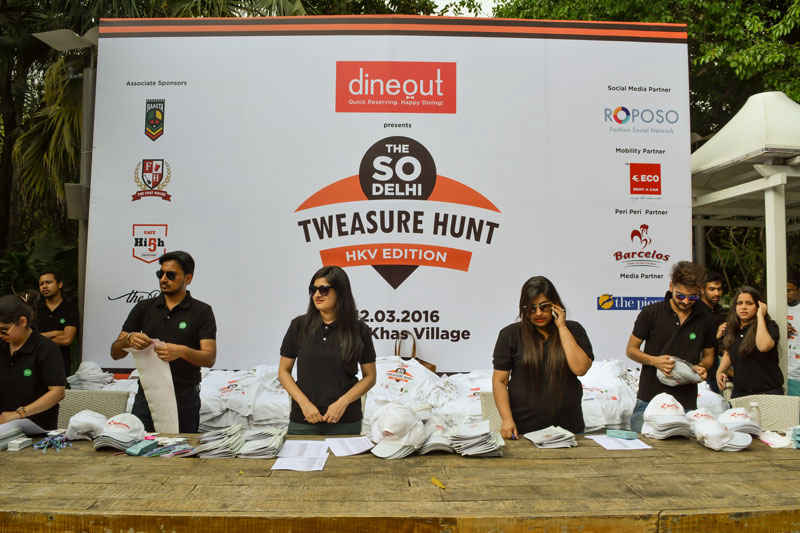 Stockpiles of goodies, the all-important dossiers, Tweasure Hunt T-shirts, water bottles and all manner of gear was then transformed magically into regimented packs ready to be handed out to our Tweasure Hunters! And just like that, we were all set!
We opened the floodgates and energetic participants came pouring through. As usual, the rules of the Hunt were simple - solve your clue, reach the store it leads you to (all awesome, trendy joints, of course), perform the spirited task set at that location, have fun, take pictures, Tweet, Snap and Instagram (why not show off to your friends!) and move on to the next clue - creating a trail of happy cheer all over trendy HKV. Ready. Set. Hunt!
Taking Over HKV | We gleefully took the entire, perky Hauz Khas Village hostage, and had a gargantuan total of 38 tasks lined up! To give you a taste of what y'all missed, here's a bare sprinkling of all the best tasks!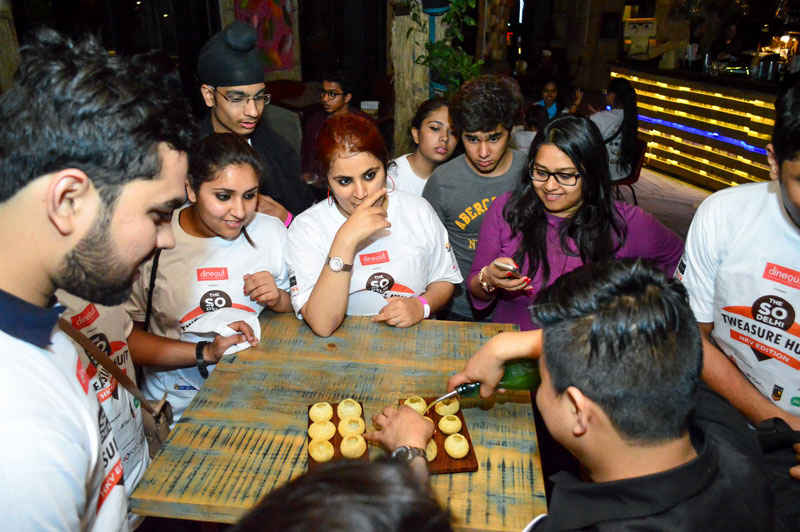 Ever heard of vodka-splashed Golgappa Shots? That was just what our lucky Hunters had to do - down as many Golgappa Shots as possible within an unthinkable 30 seconds! And where was this, you ask? Imperfecto, of course!
Love sheesha? Well, we had that covered too! One of our most popular tasks, the participants had to head over to hep new Liquarium tucked into HKV, take a drag (or a hearty sniff) of the sheesha set before them, and tell us the flavour! 
The folks at Mafioso had their own mafia games planned out - how about picking up a mauser pistol and shootin' it up? That's just what we did - picked up our pistols, took aim and shot at our targets - for loads of fun points before scrambling onto our next task!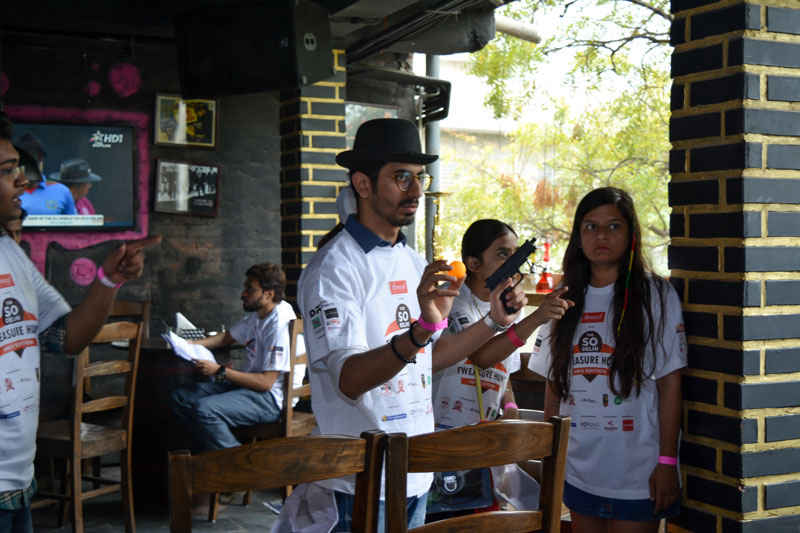 Riding posh through HKV is no easy feat, and Eco Car Rental made sure we got the swankiest ride! Picture a long, brawny and sleek limo parked right smack in the middle of HKV. That's right! Admire it, covet it and take innumerable selfies with it!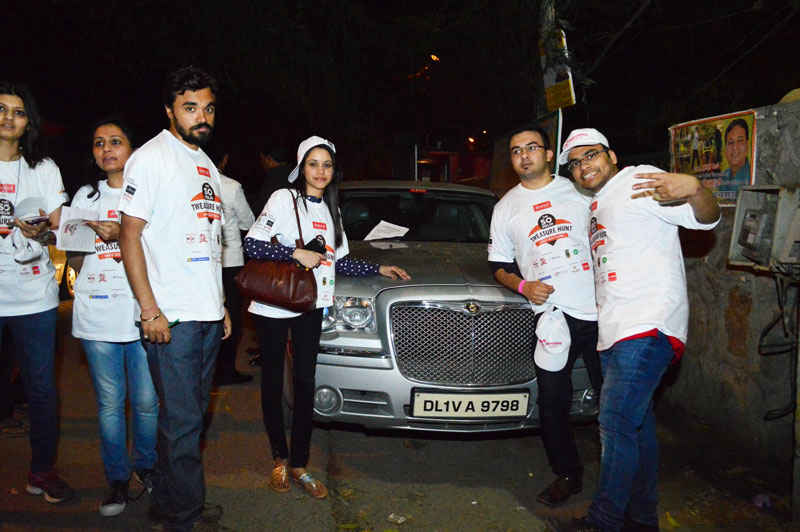 Moving the party over to, haha, The Pajjama Party, our Hunters were then given two sets of tied pajamas, and all they had to do was pull the pajamas up each other - simultaneously of course! This resulted in loads of hilarious tumbles, quick fumbling around and tons of fun!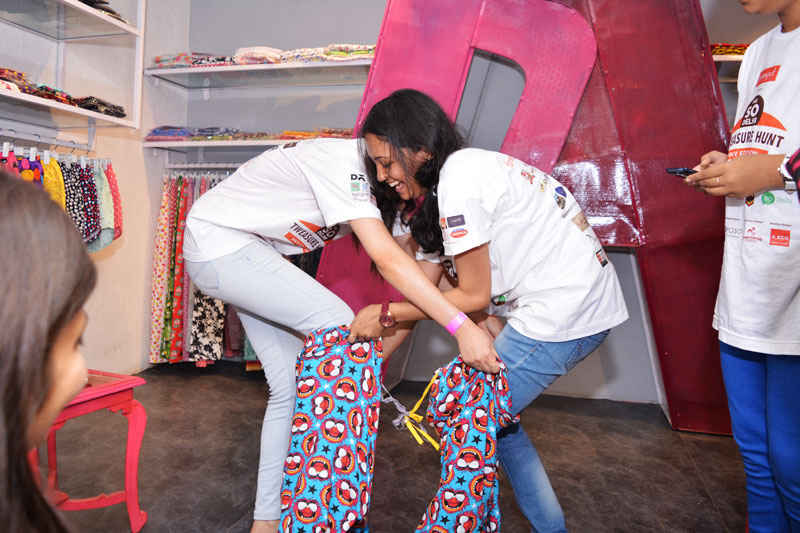 Task by fun task, we ran all around Hauz Khas Village enjoying the manic wind and dancing clouds to happily reach the finishing point for one last happy, whacky selfie and our hands out for the treasured (tweasured really) Goodie Bags!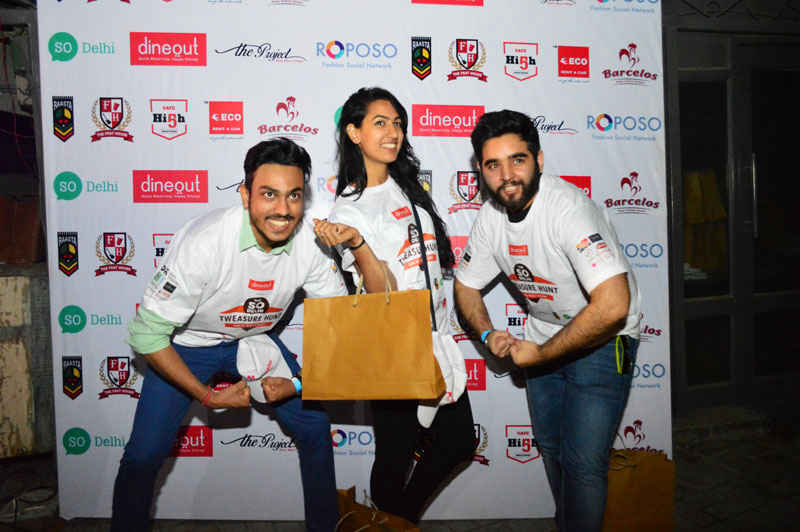 Loaded Goodie Bags | Want to take a peek inside? Open up the hefty Goodie Bags, and you see a virtual spray of awesome (and we mean really awesome) discount vouchers from places like Kinbuck 2, Getafix, Boombox, Poster Gully and Dulce Couture etc. Plus, a packet of yummy Opera Chips, a divine Nutella Salt Cookie from Bombaykery, a pack of chocolates from Sinfully Yours, funky badges from Spike Me, fridge magnet from Berserk, diary from Roposo and really, the list goes on!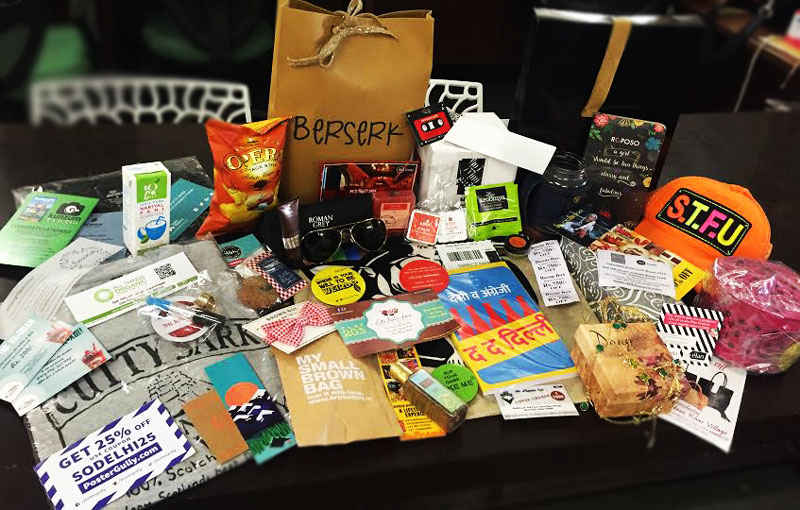 Colossal Prizes | If you thought just the loaded Goodie Bags made our day, we've yet to heap on the Tweasure Hunt Prizes *cocky grins*! As promised, we'd lined up prizes worth Rs 5 lakhs, including a bag/accessory from chic Avocadoe, gift hampers from Fuschia VKare, products from Hats Off Accessories, mugs from Postergully, baked goodies from Lets Bake Love, glam Shades by Drishti and oh! So much more!
List of Top 10 Winners - Scores
1. Smile, Let's Go! - 1510
2. REDBULLS - 1430
3. The Hottiez - 1395
4. Liberetos - 1365
5. Delhi Divas - 1340
6. DSMS - 1295
7. The High Rollers - 1295
8. Bloggerati - 1295
9. Twenties - 1280
10. Team Awesome - 1240
Signing off with a promise to be back again, bigger and swankier than ever! 
#SoDelhi #SoHKV #TweasureHunt #Goodies #MadFun