Noida's Sector 76 Market Is Full Of Foodie Gems & We Unearthed 5 Best Eateries To Check Out!
There are times when we feel comfy in our pyjamas and bermudas and would not like to budge an inch. At such times when hunger calls, we are left with no option but to resort to our local market to quieten the growls in our bellies. So this time we went hunting for scrumptious food in the heart of Noida in Sector 76 Market to unveil the best among the best!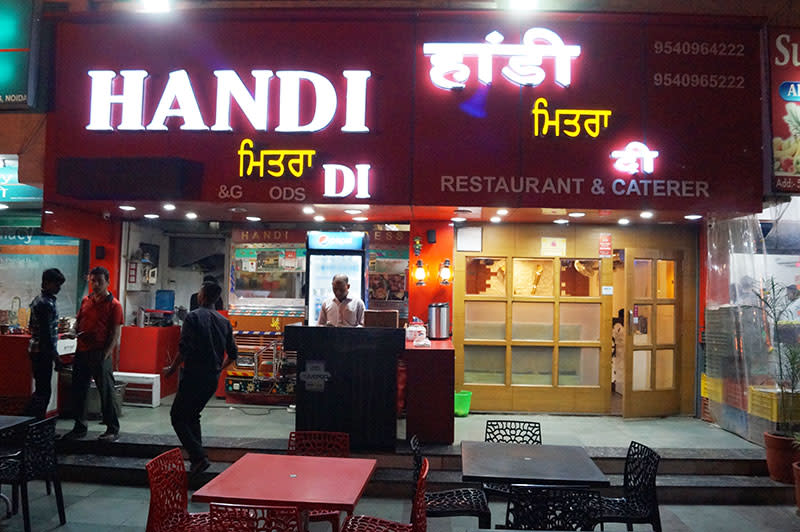 Within a distance of approx. 4 kms from Noida City Centre, this market serves as a common point for numerous societies that have been developed recently. With the increasing footfall in the market, we began our quest and wouldn't shy away from saying that the results were outstanding! Our little jaunt through this market turned out to be interesting one due to the presence of all genres of outlets and stores for people living in and around this area. Ranging from a pharmacist to bakery, from a departmental store to a milk shop, this place has something for everyone. Spotting the presence of some known and some quirky names, we fastened our bibs and dug right in, read on!
1. Tandoori Chicken @ Handi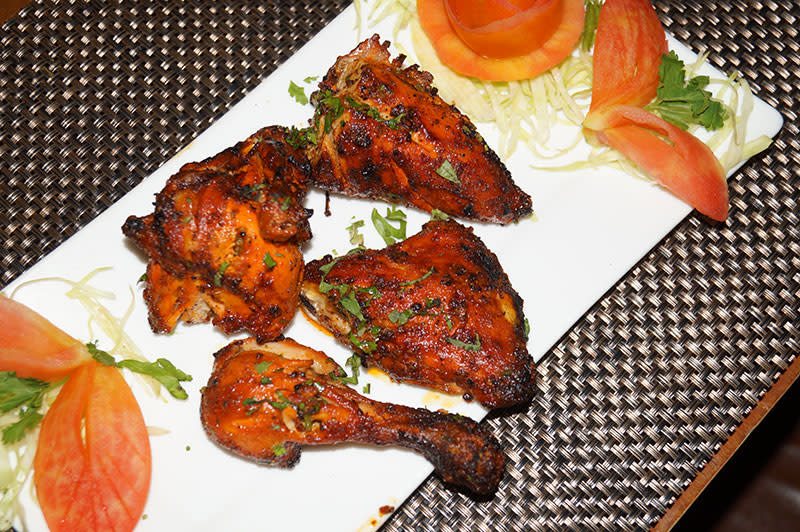 Our first stop was the first outlet of the market going by the name of Handi. Being chicken fanatics, our first dish had to be something non-veg and hence we ordered the most favoured item of this place - the Tandoori Chicken. Four massive pieces of succulent chicken were presented to us in pretty good time. 
Thoroughly marinated in a unique blend of spices and tossed in a concoction of grounded spices with apt amount of lemon juice, these pieces from heaven were garnished with coriander before being served to us. The chicken, cooked beautifully in the tandoor, was implicitly tender and had absorbed the spices to the core. We were already in love with this place!
Price | Rs 190 (Half)
2. Idli Vada @ Dosaman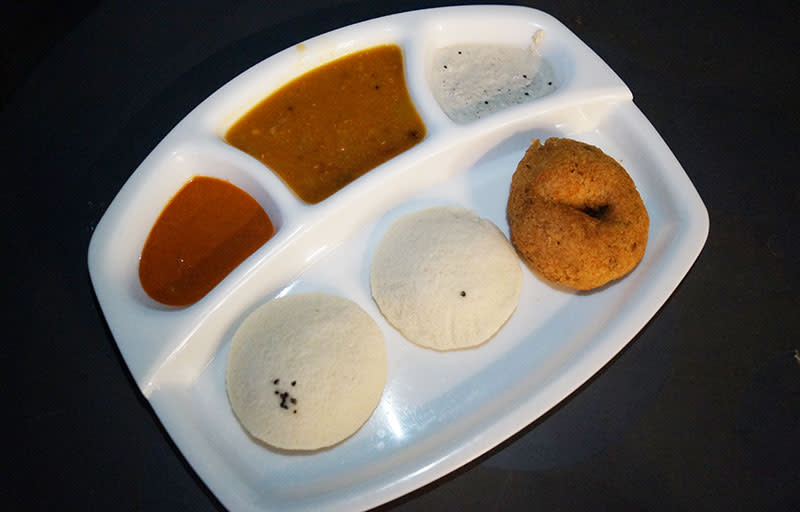 The next joint that grabbed our attention was this small kiosk by the name of Dosaman. Serving South Indian, we went in for the Idlis and Vada from this one. Two sizeable rice idlis and a single, substantial piece of vada was served with sambhar, tomato chutney and coconut chutney. The idlis were undisputedly mushy and when combined with sambhar gave a tantalizing taste overall. 
The vada, being deep fried, hardly left any traces of oil, had a perfect crisp on the outside and was moist on the inside. We felt the vada could have tasted better if served hotter, though. With unlimited sambhar and chutney coming our way, Dosaman passed with flying colours!
Price | Rs 55
3. Chicken Rarra @ Zooby's
Our craving for non-veg far from satiated, we next landed up at Zooby's. Scavenging through their entire menu, we ended up ordering their Chicken Rarra. Honing the blades of our knives again, we were presented with four enormous pieces of chicken, outrightly marinated in oodles of spices with the essence of black pepper playing its due role in enhancing the taste of the dish overall. Served with a portion of diced onions and mint chutney and garnished with coriander, this item was worth every penny!
Price | Rs 180 (Half)
4. Aloo Parantha @ The Chandni Chowk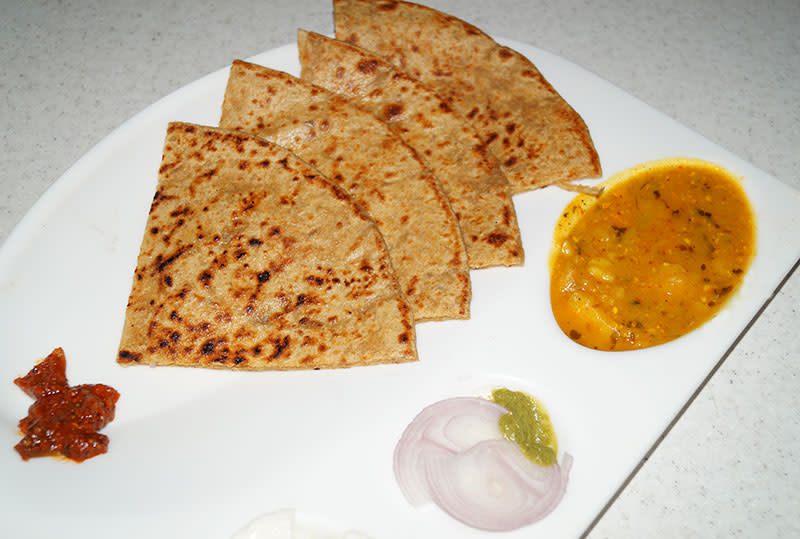 Strolling on further in the market, we found this gem tucked between a salon and a departmental store. From their vast menu, we tried their most sought after item - the Aloo Parantha. All our cravings came to a halt when we saw this 11'' parantha cut into four equal pieces served with a portion of aloo sabzi, diced onions, lemon pickle and curd. 
The stuffing of mashed potatoes and onions in a blend of spices with dry coriander being the dominant flavour, was the USP of the dish. The sabzi was again a delight to devour owing to garam masala in it acting as a catalyst in enhancing the overall taste of the dish. Well done Chandni Chowk!
Price | Rs 70
5. Mocha Shake & Paan Meetha Ice-Cream @ Cold Rock Café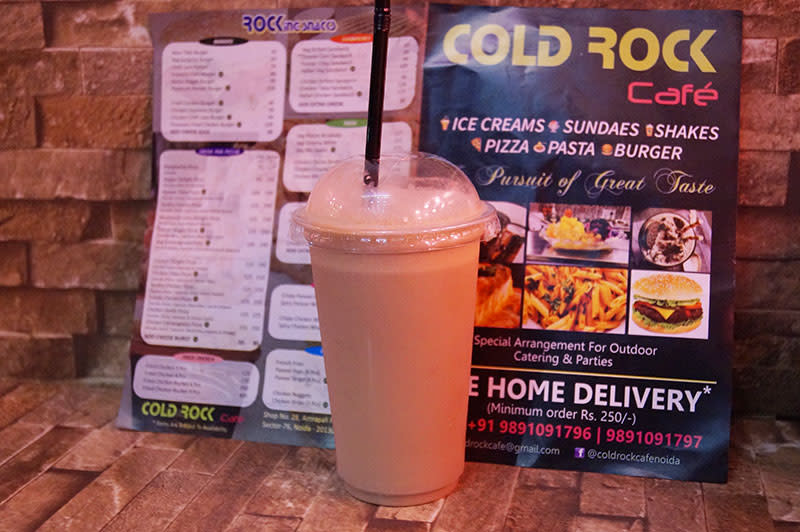 Amongst all these outlets was one sophisticated bakery-cum-ice-cream shop going by the name of Cold Rock Café. We were dying for some coffee but also wanted a shake and hence ordered their Mocha Shake. A blend of toned milk, mocha-flavoured syrup and a dash of sugar syrup resulted in this awesomeness. The first sip left us with a new high as every ingredient was in perfect proportion. What's more? One can also have this shake with ice-cream as an add-on!
Going without trying out the ice-cream at this place would have been a sin and hence we ordered our all-time favourite, the Paan Meetha. A generous amount of this flavour was scooped and presented to us on a small plastic plate. Unlike others, the ice-cream had actual gulkand in it along with sweet anise, whose presence could be easily felt. Open till 1 AM, we found ourselves a wondrous ice-cream parlour for late night binging.
Price | Rs 180 (Mocha Shake) & Rs 70 (Meetha Pan)
We certainly put on weight post our little jaunt to this market owing to the savoury food items available. You'll probably see us munching away at this market often - come on by!
Location | Amrapali Princely Estate, Sector 76, Noida