Tandoori Chicken Momos, Tikkas & Butter Chicken: We Checked Out Kalkaji's Dilli 6 - Dilli 19!
Our love for chicken and our duty towards non veg lovers takes us to different places in town. One such hidden gem serving mind-blowing chicken has now been unveiled. Going by the name of Dilli 19, this small shop tucked in the lanes of Kalkaji is a heaven for chicken lovers.
The place is named on the lines of DIlli 6. The pincode of Kalkaji area is 19, and hence the quirky name! The shop works in two shifts, noon and evening. The noon time targets patrons looking for lunch, alongside its fixed customers for whom deliveries are made. The evening time witnesses more of youngsters and people wanting to have a nice dinner. On the outside, they have two tandoors, running side by side, trying to match the orders of the hungry souls waiting outside. As one enters, on the left is the billing counter and despite being a small place, it has a seating capacity of roughly 20 people. Apart from that, they also have a small bifurcation to cater to larger groups, possessing a capacity of around 10.
We, being their first customers for the evening, ordered the following:
Tandoori Chicken Garlic Momos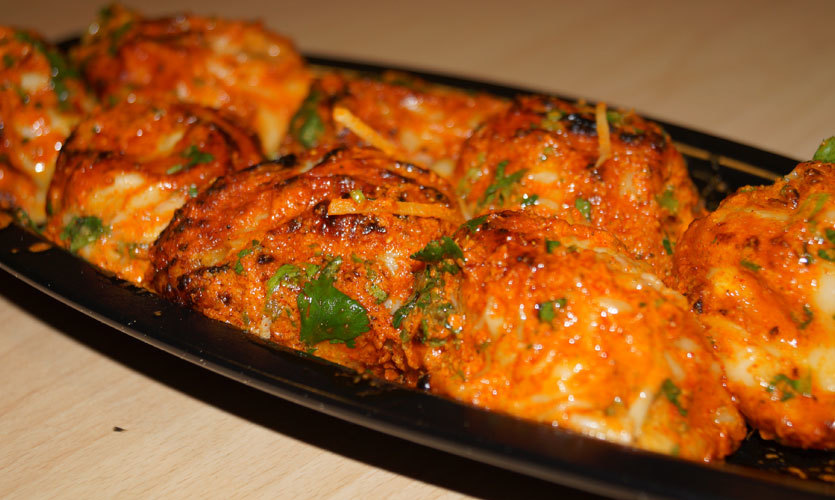 Now this is what chicken momos should technically look like! Fresh dough was rolled in front of us before filling it with pan fried chicken. Around 3 cm in diameter, eight pieces were pierced on a skewer and put in the tandoor. We could confirm by the whiff of the spices along with that of the chicken, that they were almost ready. Till that time, on a separate pan, the chef prepared a mixture with some butter and added garlic paste and chopped ginger, in which the momo shells were tossed and garnished with coriander before being served to us. The tenderness of the chicken, oomph of the spices and its piquant flavor gave us happy foodgasms!
Price | Rs 160
Mutton Seekh Kebabs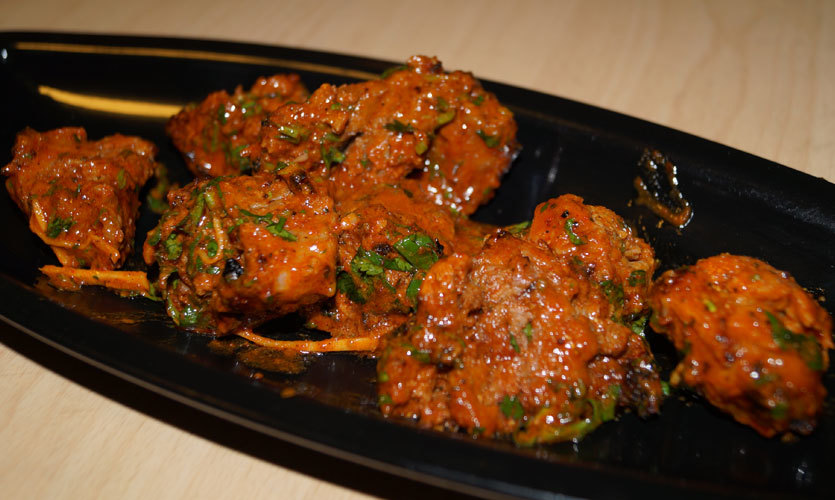 Mutton loses its flavor if overcooked. However, Dilli 19's kebabs had a raunchy aroma and were evenly cooked, aptly marinated and the flavour was just about right. We just felt the spices to be a tad on the higher side, making them too salty and difficult to gulp down. The taste was nice in the beginning when we started chewing it, but the moment these extra spices kicked in, the mutton had lost its battle.
Price | Rs 240
Lehsuni Tikka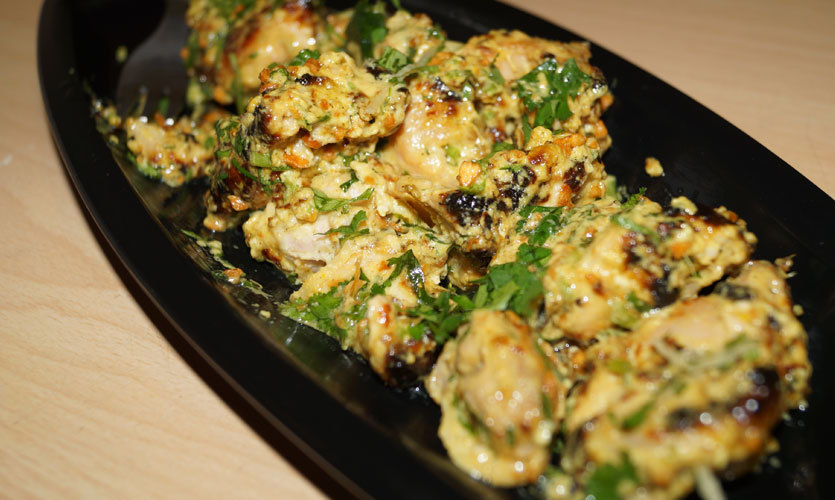 Unperturbed by the fiasco of the Mutton Seekh Kebabs, we went for the most sought-after dish of this place. Considering the essence and the style of their cooking, we were not surprised by this fact. Large chunks of succulent chicken were cooked in the tandoor and then tossed in a mixture made of butter and garlic paste and garnished with coriander before being served. The yogurt helped tenderize the chicken and the garlic and spices in marinade infused it with lots of flavour. The chicken was juicy and the spirit of spices were easily felt all through our munching bout.
Price | Rs 240
Veg Manchurian (Dry)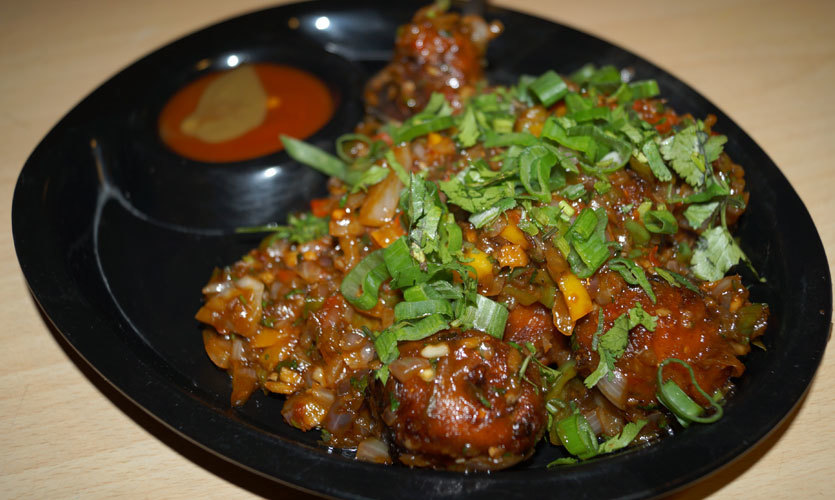 This picante dish is a saviour for those preferring veg food. A lot of ingredients, amazing texture, mushy character and sumptuous taste would best describe this dish. Shredded carrot and cabbage, chopped capsicum and green chillies, pepper powder, a pinch of ajinomoto, cornflour and salt goes into making their manchurian balls. These are then tossed in the mixture that comprises minced onions, tomatoes, capsicums and other spices. It's this mixture from where the balls gets their true flavor. The Manchurian balls are squashy and totes delectable!
Price | Rs 180
Haryali Paneer Tikka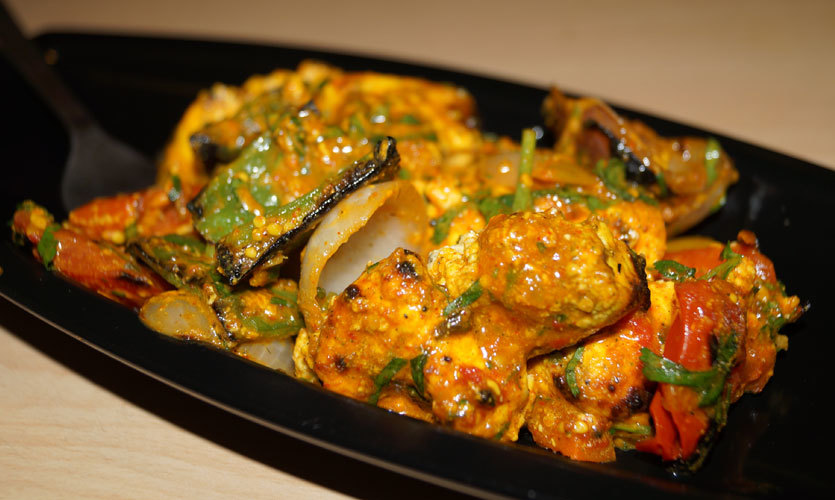 Fresh and pulpy paneer cubes coated with hung curd and coriander-mint paste, spicy masala and chutney are placed in a tandoor. The evenly cooked paneer, along with capsicums and tomatoes is then tossed in butter and garnished with coriander before being served. The pieces were flavourful and this dish was a scrummy treat to our bellies!
Price | Rs 180
Butter Chicken & Roomali Roti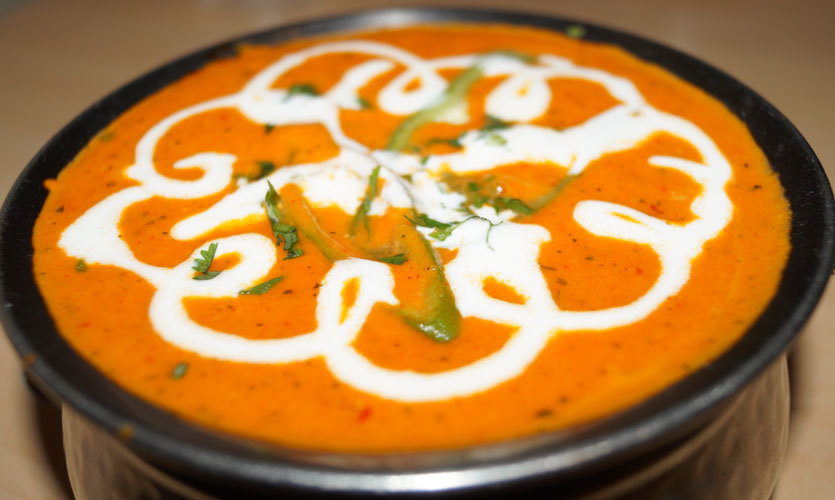 Just these two words brings a big grin to our faces! The smile just grew bigger when we saw this dish coming towards us. The aroma and the trace of freshly cooked chicken in the spiced gravy left us salivating. We were amazed by the presence of abundant chicken pieces in our dish. The chicken hunks were juicy, evenly boiled and easily nibbled. The gravy was a perfect blend of spices and had a sweet and sour taste. We were astounded by how the essence of spices lingers on even after the dish had been devoured.
The bread, Roomali Roti, did not live up to our expectations. These were soft when hot, but turned crunchy very quickly. It's advisable to go for either tawa roti or tandoori roti instead.
Price | Rs 260
Speaking overall, this place is an undisputed haven for chicken fanatics! Even the vegetarians won't go away hungry from this place. It offers free parking for its customers, only if one gets a place to park their car, so choose your mode of travel wisely. Last words - burp!
Location | A-109, Double Storey, Kalkaji