Tandoori Cheese Maggi & Blackcurrant Shake! We Hit Up Cheezy Quest In Amar Colony For A Budget Binge
If you call yourself a foodie, then you're no stranger to Amar Colony, a labyrinth full of hogging havens at every turn. If you're a regular here, then you must be used to eating on your feet since a lot of the joints in the main market are hole-in-the-wall spaces barely furnished with one table. Cheezy Quest is one such outlet that's been around for a year now, but has only recently started gaining popularity, perhaps sharing the limelight with Hunger Strike, which is right next door. 
The best part about its menu is easy to identify – a glance at the right side should suffice *wink wink*. Obviously, don't land up expecting refined, fancy restaurant-quality dishes - Cheezy Quest offers only a decent meal that the broke you will be happy to devour, but the Tandoori Cheese Maggi is truly their pièce de résistance!
We ordered up five items for 350 bucks, here's all about them:
Veg Penne Pasta – Red Sauce (Half)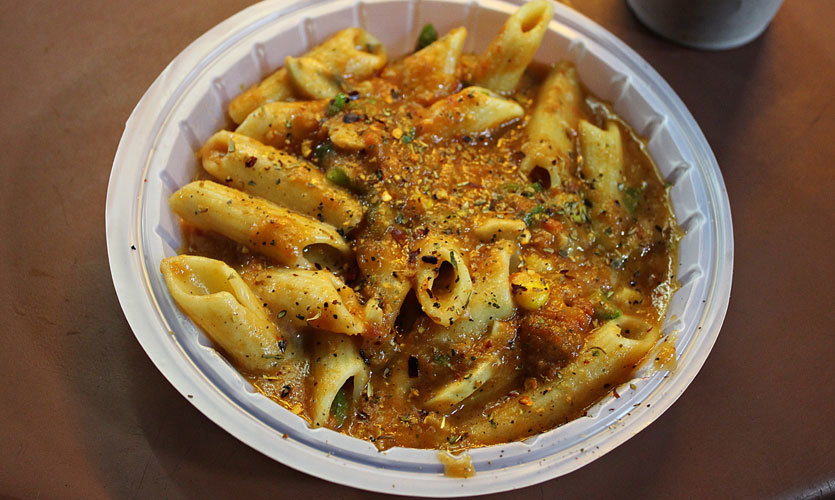 Brimming with mushrooms, capsicum, corn and onions, the best part about the pasta sauce was the use of fresh tomatoes rather than a pre-prepared puree, which made a major difference to the taste. A very desified version of this Italian staple, the dish was generously sprinkled with black pepper and loaded with oregano. Served with grilled garlic bread, the pasta was mild in terms of flavour, but great in terms of quantity. You'll get half a plate for 50 bucks, which is pretty awesome!
Classic Chicken Sandwich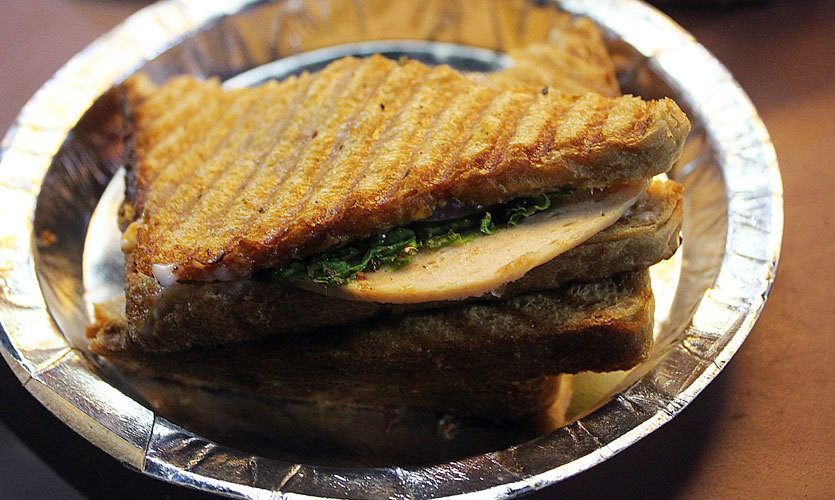 Their grilled chicken salami sandwich is something that you could whip up in your mom's kitchen, but nevertheless, we admit it was tasty enough! With huge slices of salami flanked by lettuce and onions with a hint of mayo on brown bread, it was truly a value for money dish. It was a tad bit oily, but then, you can't have everything for 50 bucks, now can you? 
Exotic Veg Salad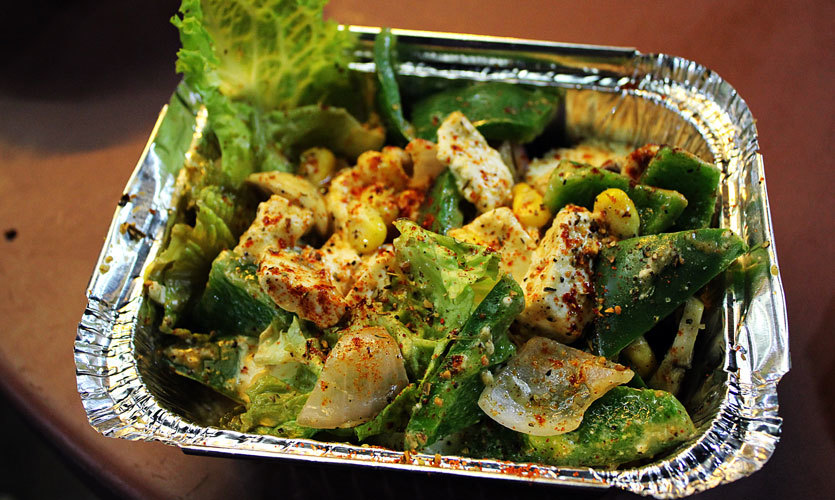 Health nuts can opt for this leafy salad with soft chunks of paneer, lettuce, capsicum, corn (over the course of our meal, we came to the conclusion that 'Corn Quest' would be a more apt title for this place with most dishes running super high on the corn content), mushrooms and loads of red and black pepper on top. The dressing was low-cal and featured a smoky grill sauce instead of the usual mayo or mint. We found that the marinated paneer tasted much better when dipped in mint chutney - go ahead, try it for yourself!
** P.S. : Did you know? You can now download the So Delhi App for iOS & Android. Click Here ** 
Blackcurrant Shake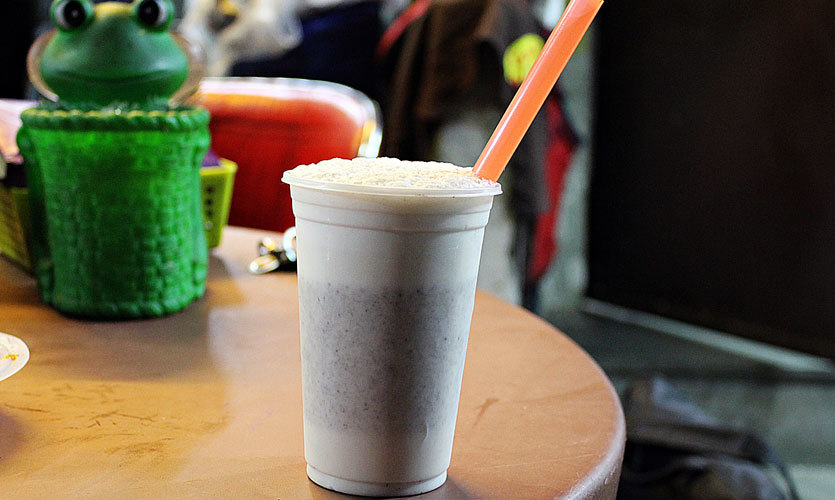 To wash all that down, we chose the Blackcurrant Shake which came recommended by the staff. The best non-chocolate beverage on their menu as per the cook here (go for the Oreo one if you're looking for a safe option), the thick frothy layer on top was a sight to behold! We liked how creamy the drink was, but it was a bit too sweet for our liking. If you don't mind a sugar rush, then go for it!
Tandoori Cheese Maggi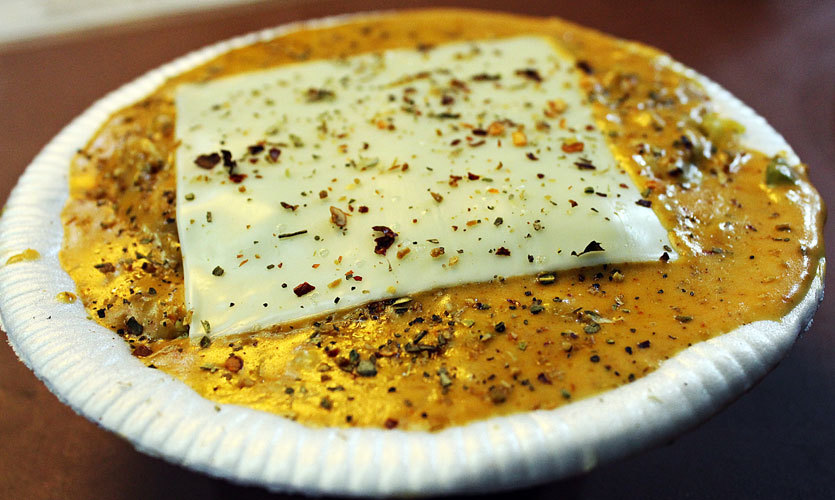 Although this isn't strictly on the menu, ask the guys running the kitchen for this very special recipe, and they'll be happy to oblige. This is what puts the 'cheeze' in Cheezy Quest and easily trumped everything that we had eaten so far! Picture this – steaming Maggi with vegetables (the corn makes a comeback again) topped with a thick layer of heavenly tandoori sauce and a slice of cheese with a smattering of spices…it was love at first bite (damn that was cheesy!). Before long, our forks were longingly scraping the bottom! We'd highly recommend the Tandoori Cheese Maggi and would even go so far as to say that it's worth a trip out to Amar Colony.
Although CQ gets its fair share of hungry students in the vicinity, it mainly prospers as a takeaway or home delivery joint and is available on both Swiggy and Zomato. If you're famished and poor, then hit 'em up. Your quest for a delicious meal at prices that won't rip a hole in your hearts ends here!
P.S. - This heavenly joint is closed on Tuesdays, so plan your jaunt accordingly y'all!
Location | C-7, Amar Colony, Lajpat Nagar IV
Must Tries | Tandoori Cheese Maggi & Penne Pasta
Meal For Two | Rs 200