Constructed by Mughal Emperor Shah Jahan, the Red Fort houses the lesser-known albeit amazing Hayat Bakhsh Bagh. Talking in terms of layout, the garden has a striking similarity with other Mughal gardens. The design of the Hayat Bakhsh Bagh comprises dome-less towers, channels to diffuse the water, marble pavilions and walled water enclosures.
The Well-Structured Architecture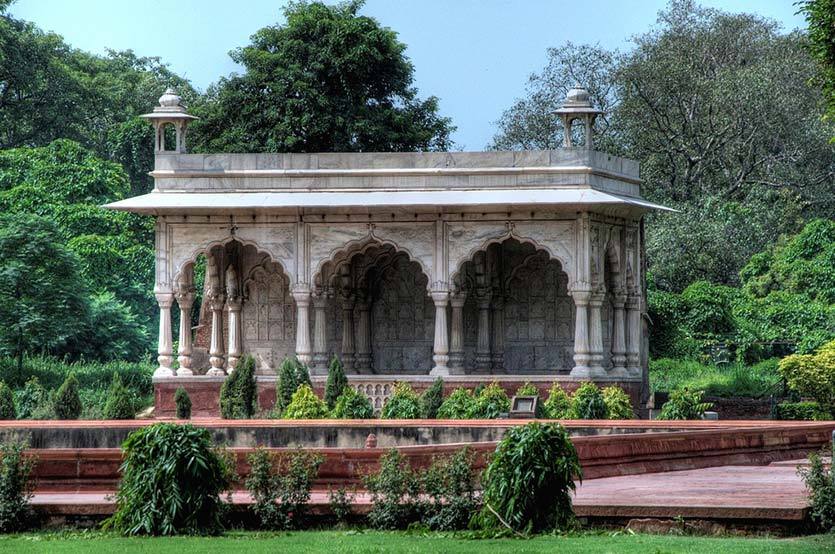 The gardens laid out by the Mughals followed a typical structure characterized by pools, fountains, canals, walled enclosures and channels. Most of the Mughal architecture was influenced by Islamic culture; however the Hayat Bakhsh Bagh draws more from the Persian style prevalent at the time. Square structures, pathways and two channels divide the garden. Literally meaning 'life bestowing garden', the charm of the place has not survived the progressive years, due to its alteration post-independence and the damage it faced during the 1857 Mutiny and the consequent construction of military buildings by the British. Parts of the garden, however, were refurbished to preserve the architecture as curated by the Mughals.
Two Different Sides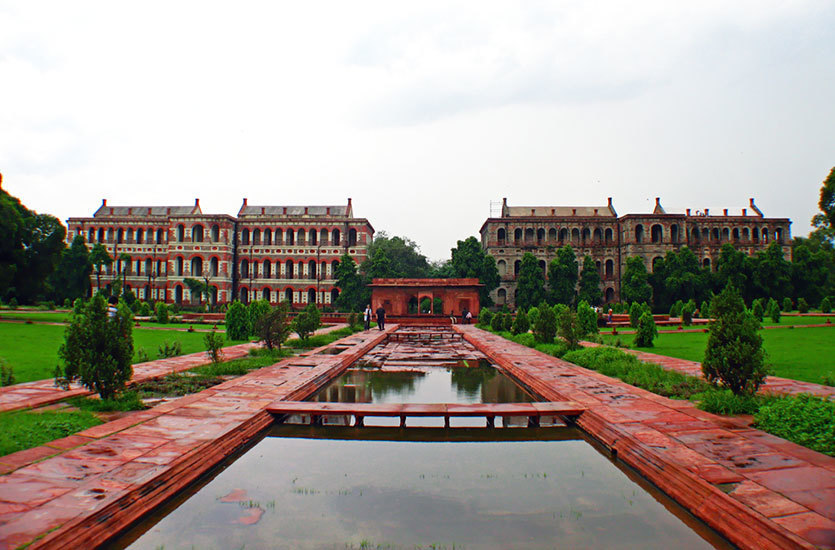 Lying to the north of the mesmerising Pearl Mosque, both North and South ends of the garden bear two dome-less towers – Shah Burj and Asad Burj. The former apparently functioned as a water tower. The height of the tower created the required pressure to collect water from River Yamuna and diffuse it through the channels to Nahr-i-Bihisht.
The Water Tank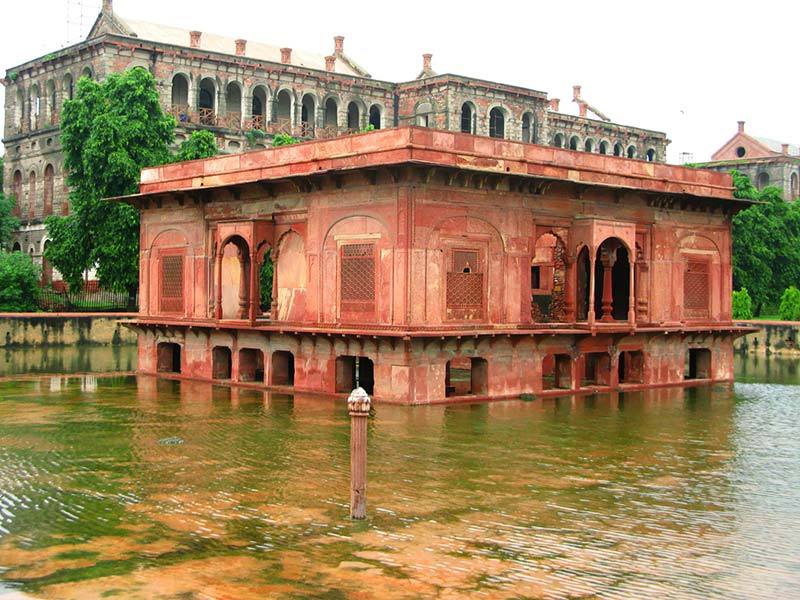 The Northern and Southern sides of the garden bear two open structures built in marble named after the two major months of monsoon – Saawan and Bhado. Although the Archaeological Survey of India (ASI) has worked to refurbish the garden, it has not been able to successfully mark out which of the marble structures was used during which months and thus, were unable to identify their respective names.
A water tank is inbuilt in the one of the marble pavilions on the North. You can notice the small carved-out spaces surrounding the tank which are apt for the placement of candles that were lit at night and probably formed a part of the décor along with the stonework. Similar to the architecture of other Mughal gardens, the Hayat Bakhsh Bagh has a tank in the centre of the garden and a red sandstone structure is placed ahead of it. The tank is lined with plants on either side now. The red sandstone structure draws its name, Zafar Mahal, from the last Mughal Emperor – Bahadur Shah Zafar.
To try and attempt to understand and unravel its history would be a good reason to visit this park. The Hayat Bakhsh Bagh is easily reachable by bus, auto rickshaw, taxi services and the metro. The nearest metro station is Chandni Chowk. After descending at the station, you can take a cycle rickshaw to reach the Red Fort and walk your way to it.
Enjoy bragging rights by traversing this little-known but beautiful bagh in the middle of the Red Fort complex!
Where | Hayat Bakhsh Bagh - Netaji Subhash Marg, Lal Qila, Chandni Chowk