Swilling Back Boozy Cocktails, Swaying To Live Music & Gorging On Quick Bites @ BandStand
Known for setting the scene for live music, gigs and after-parties, BandStand has managed to carve out a niche for itself in the vicinity of the buzzing Hauz Khas Village where a new spot opens every fortnight. With just as much indoor seating as outdoors, the place has been designed in such a way that anyone sitting anywhere does not miss out on the gigs. Urbane decor combined with pop-culture quirks here and there make BandStand an instant favourite with all kinds of crowds! 
However, if we had to round off on the one unique selling point of this place, it has to be their cocktails! Be it the classics or the twists, you simply have to try 'em out and we can bet you *can't stop, won't stop* after just one. The food, primarily European and Continental is quite mouth-watering too! Here's our top picks from the place:
Wild Mushroom Arancini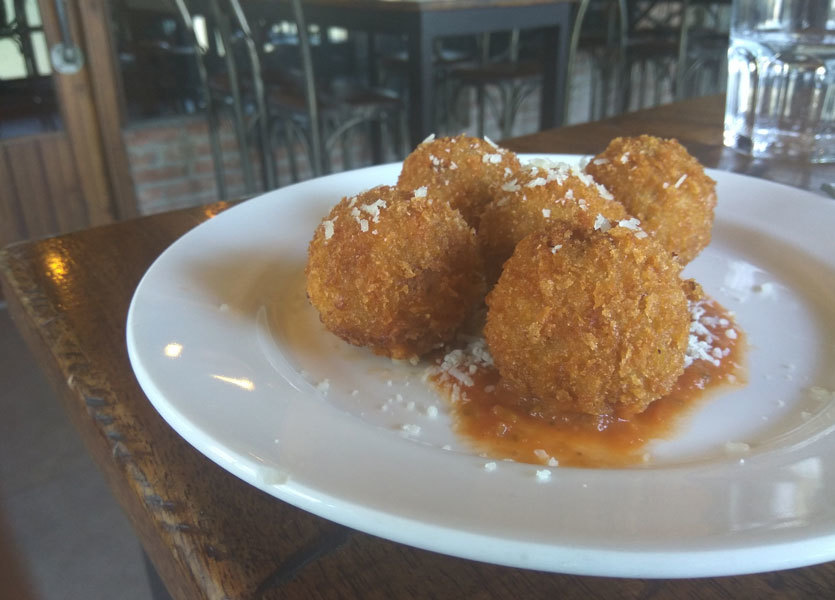 The perfect vegetarian appetizer or tapas, if we may, the Wild Mushroom Arancini on a roasted tomato bed is cooked quite marvelously and although crunchy on the outside, the mozzarella and wild mushroom stuffing makes it melt in your mouth with a tinge of tomato tang. Yummy!
Panko Prawns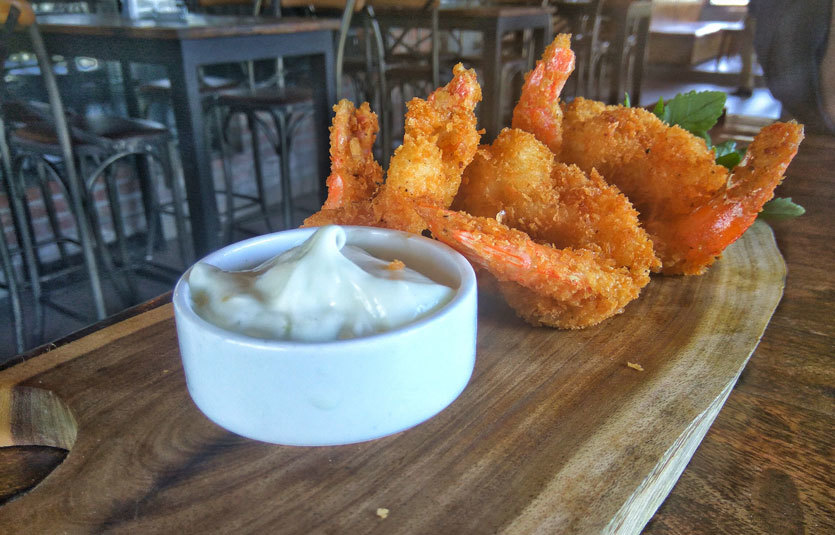 The prawns fried in panko or crusty bread crumbs and served with mayo are extra crispy, extra buttery and extra-amazing, and despite the sizeable quantity, super light! Prawn lovers are especially going to enjoy this one as the chef has kept it to the basics here with no unnecessary dressing, which we really appreciated.
The Sliders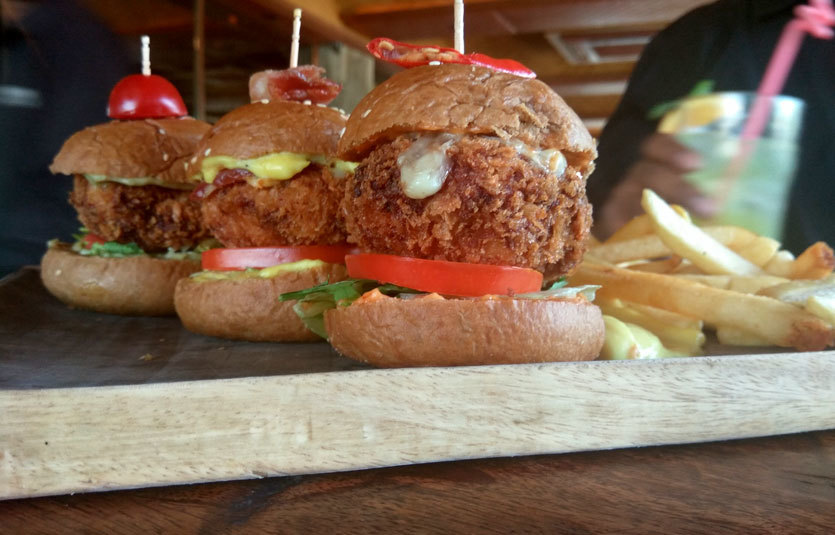 Fair warning: do not go by the bantam size of the sliders here, for you'll be mistaken about their actual prowess! Three mini burgers (not so mini) with three different flavours along with a side of fries make for the most sumptuous order. A bacon slider with mustard mayo and caramelised onion, a crispy chicken slider with chilli mayo and jalapenos and balsamic glazed mushroom slider with pesto mayo in impeccably baked buns are here to fulfill your stomach, heart and soul! Not exaggerating. 
Quinoa Mix Bowl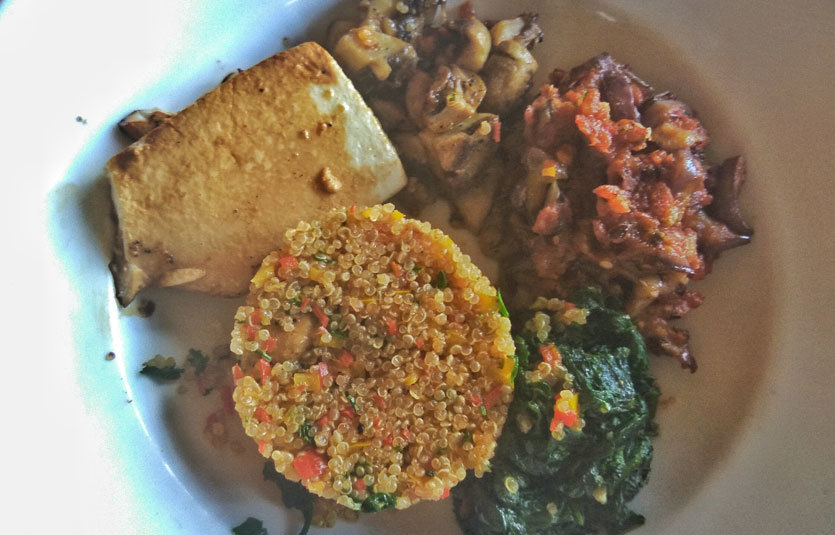 This is for that one health freak of a friend watching their carbs intake and whatnot! The Quinoa Mix Bowl with spinach, aubergine, mushrooms and ginger soya tofu is not only nutritiously enriching, but surprisingly quite palatable as well. Surprisingly because before BandStand we did not know that even quinoa could taste so great! And the spinach, mushrooms and aubergine are cooked with no added flavour so the invigorating goodness of these is retained. Safe to say, BandStand has something for everyone!
Bean & Pepper Stuffed Chicken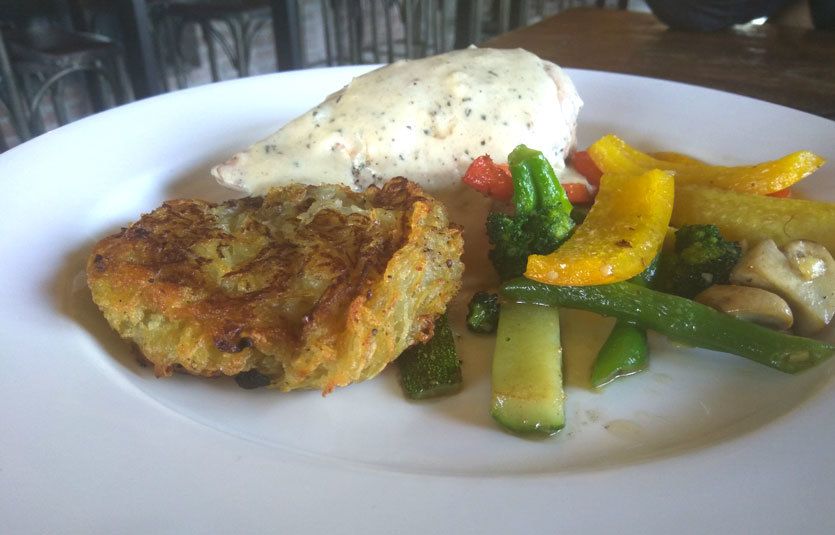 Stuffed chicken is always a mood-uplifter for foodies since the stuffing tends to add layers of deliciousness to the dish. And the Bean & Pepper Stuffed Chicken here is no less! Beans and pepper chicken in white cream sauce with loads of veggies stuffed inside and served with a potato roastie is your ideal main course dish that you can relish with every bite you take. We know we did!
Chocolate Lava With Ice Cream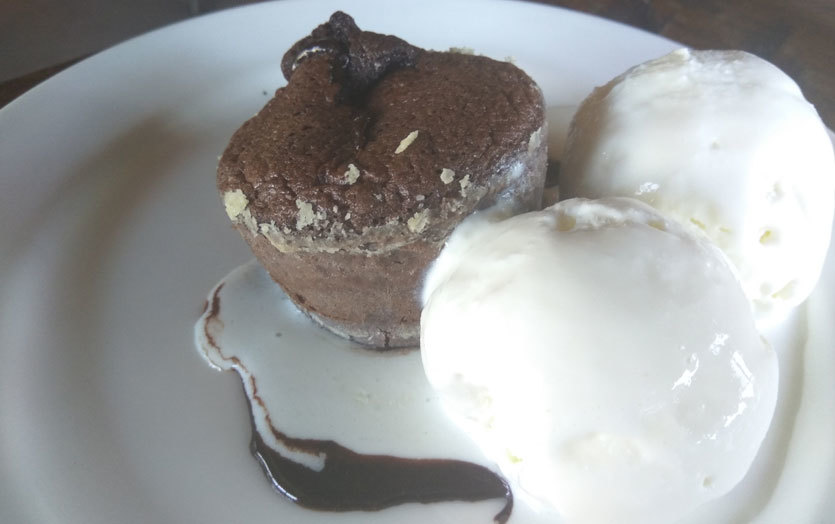 Do not, we repeat, do not think of this as just any other choco lava cake with ice cream! The utter joy of biting into a spoonful of hot lava, souffle and ice-cream is indescribable in words. So much so that you might as well be tripping on a chocolate-induced sugar rush. The thick molten chocolate lava tastes like none other we've had previously and highly recommend having it - go now!
Star Walker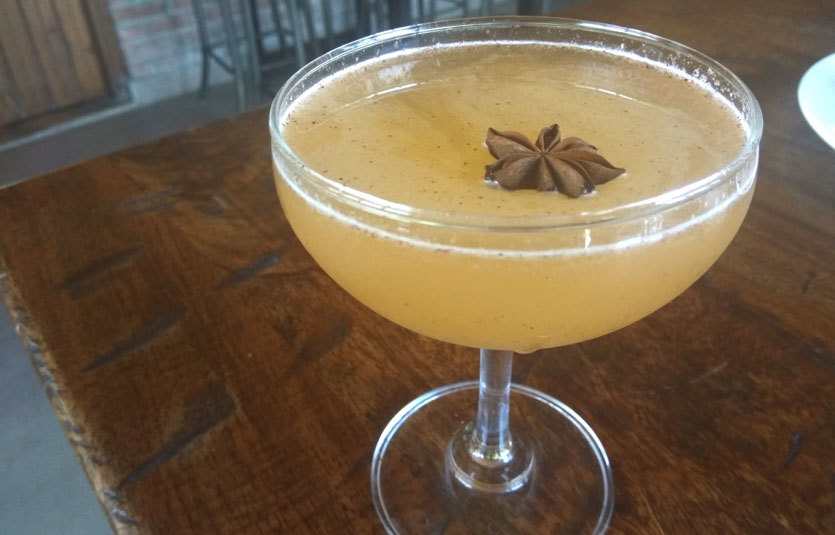 Absolut vodka, peach and orange juice topped with a star anise is what comprises this piquant cocktail. The most fascinating thing about this one, apart from the categorical flavours of peach and orange is that the cocktail is neither too strong nor too weak - just perfect!
Moscow Mule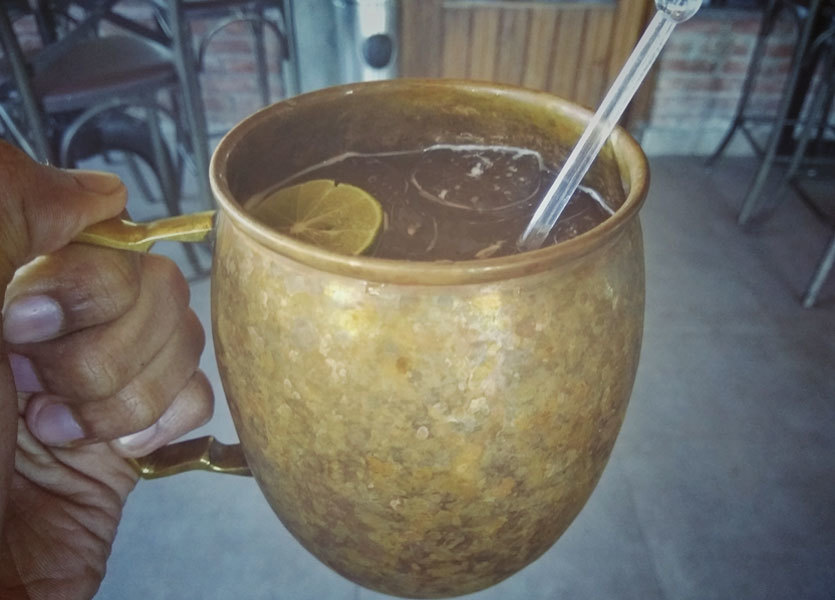 Another boozy cocktail BandStand serves is the well-known Moscow Mule. Composed of ginger ale, lime and vodka, it's one of the most exhilarating cocktails we've had in awhile. The most fun part about this one is the supercool brass/copper mug they serve this one in!
All we'll say is - gather your crew and come on over to experience the delights of live music, a chiller vibe and really killer finger food! Swing by next weekend, won't you?
Location | 214, DDA Shopping Complex, Aurobindo Place, Hauz Khas
Meal For Two | Rs 1,600