Sweet Nostalgia & Savoury Grub: Head To Kandy's In Kalkaji To Reminisce The Good Old Days
If you've spent your childhood in South Delhi, then chances are that you've already visited this bakery - and that too very frequently. Yes, we're talking about our beloved bakery Kandy's which is tucked away in the forever bustling Kalkaji. Hit hard with a sudden nostalgia and a never-ending craving for sweets, we headed here, for the nth time and relived the glory and sweetness of past. Scroll down if you too want to go back to good old days *happy smiles*!
Salami Sandwich
Like always, we started our feast with something savoury by ordering a plate of their meaty Salami Sandwich. The raw, soft and fresh bread perfectly paired with mayonnaise and delicious slices of chicken salami. Next time when you're looking for delectable comfort food outside of home, you should head here and devour this! 
Keema Pav
Glad and excited to discover this newest addition to their ages-old menu, we hungrily ordered a plate of their Keema Pav and oh boy, did fall in love with it! The keema was fresh, tossed well in desi spices and sprinkled over with fresh coriander. We can literally go here every single day to hog this, people - and so should you!
Rocher Truffle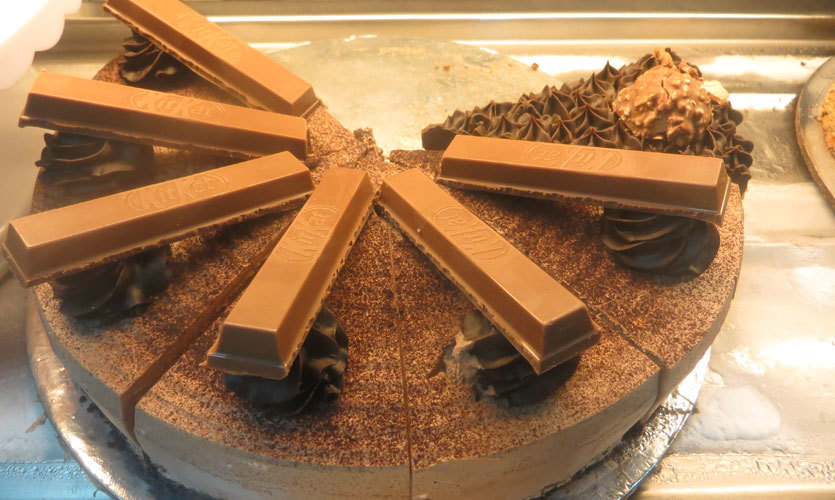 Mingling the best of both the chocolatey worlds, the indulging truffle pastry and Ferrero Rocher balls, Kandy's gave the traditional pastry a delicious spin of their own. To top it all, the truffle had a filling of Nutella *yummy!*. So if you love indulging in chocolate (like us), you should definitely try this pastry!
Red Velvet Muffin
Let's be honest here - not everyone knows how to nail the perfect red velvet flavour. And we're happy to tell you that Kandy's did, in fact, know to master it! Not only was the little muffin fresh and delicious, it was filled with fresh blueberry sauce and it just made the delicacy yummier. 
A place where nostalgia looms large and sweet delicacies get yummier by the day, Kandy's is a bakery that will win you over and over again. Head over y'all! 
Meal For Two | Rs 350
Location | B-30/B, Kalkaji