Sunday Brunching It Up @ 24/7, The LaLit
After being ushered into the posh, airy confines of The LaLit's fabulous 24/7 Restaurant located at Barakhamba Avenue in CP, we were promptly regaled with pretty flutes of chilled champagne (awesome!) - making for the perfect effervescent start to our smashing Sunday brunch.
Stepping into the alfresco area right outside 24/7, we sauntered into a beautiful, tinkling-waterfall infused outdoor patio lined with a power-packed, absurdly lavish spread of a buffet. We're talking numerous smoking grills cooking juicy meats, separate Khao Suey counters, a cute 'Tapri' counter especially fabricated for desi High Tea, and get this - a waffle-and-pancakes station littered with mile-high glass jars containing all manner of toppings including marshmallows, gummy bears, various compotes and dripping chocolate sauce! Mamma Mia! Now that's what we call doing a Sunday brunch - the right way!
Cheese, Crackers & Grapes Platter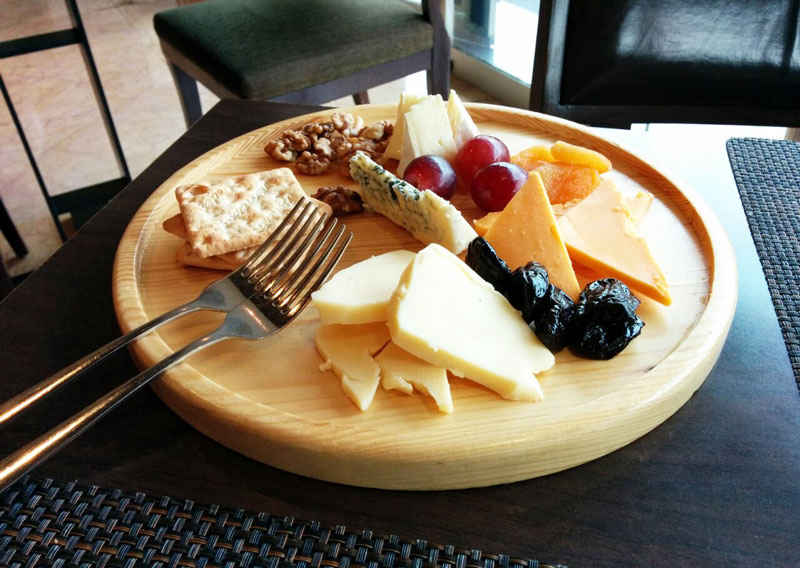 In-between topping off our bottomless champagne flutes, we were served a hearty cheese platter heaped with all your uber-chic varieties - thick wedges of brie, finely sliced cheddar, amazingly creamy herb and mini-Greek cheese! Smearing our crackers with the best, we happily munched our way through!
Thai Soup With Prawns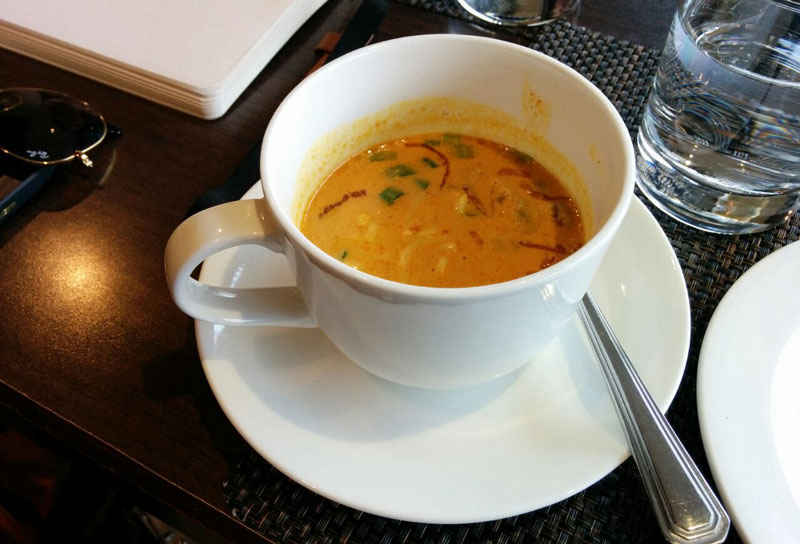 Flavourful, with just the right amount of spice to add some jazz, their Thai Soup was delightful - chopped up prawn hunks doused with syrupy coconut-sauce coupled with lots of noodles and chopped veggies - just perfect to whet our appetite!
Non-Veg Barbeque Grill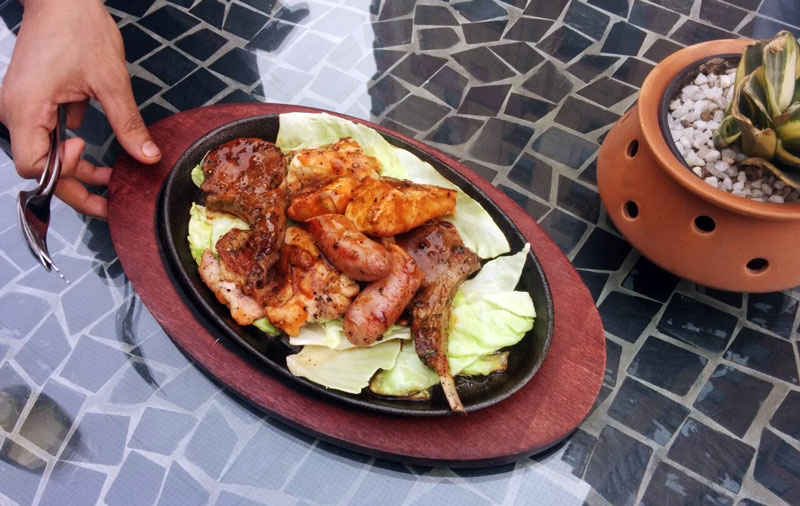 Their Non-Veg BBQ Grill Platter was pretty much a heaping, sizzling mound of the most juicy fleshpots. They had Bratwurst pork sausages (omg!), lamb chops, Norwegian Salmon, Jerk Chicken and prawns. The Jerk Chicken steak was generous, meat-packed and thoroughly tasty; their Bratwurst was keenly bacon-esque and decadently meaty; the prawn shrimps were fresh, plump and grilled to perfection - all in all, the perfect carnivorous grilled platter!
Shucked Oysters With a Shot of Vodka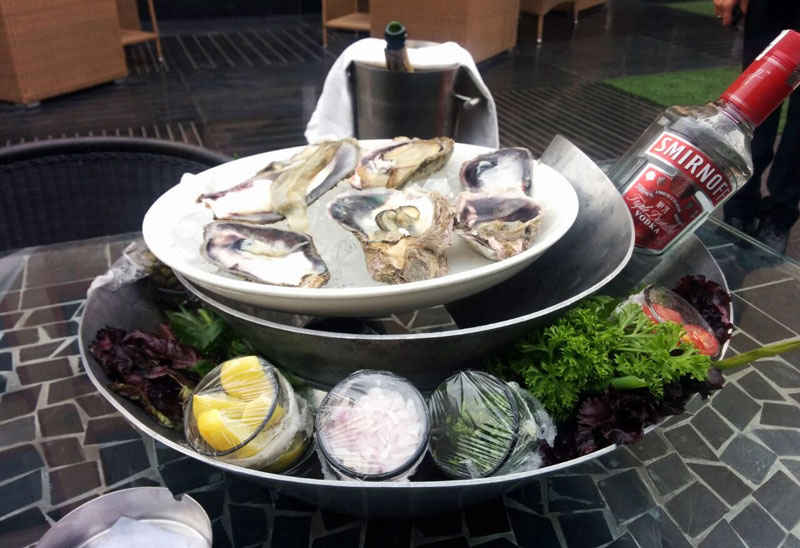 Yes! Shucks of oysters, nicely iced, were presented to us (to our amazement and delight) along with gooey toppings of diced onions, parsley, capers and lots and lots of lime juice! Needless to say, we absolutely guzzled our oysters, accompanied by boozy slurps of vodka.
Rockefeller Oysters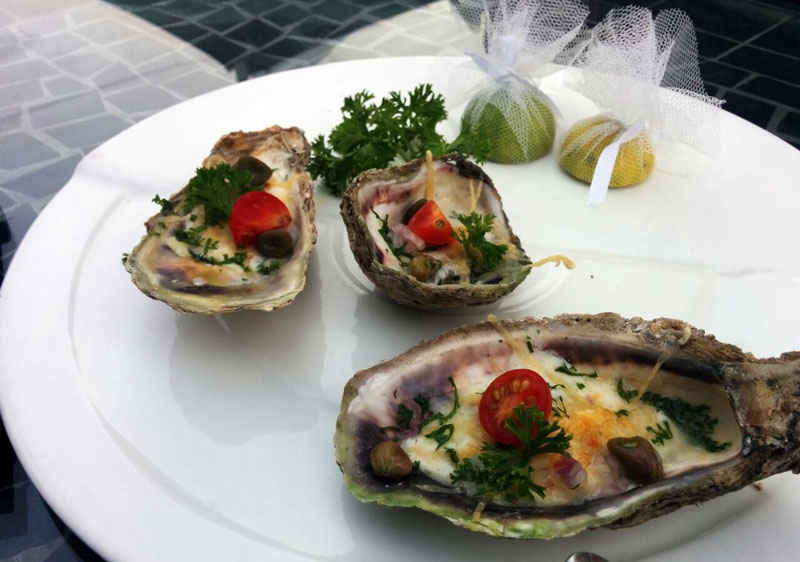 Eager to try another variant of this yummy seafood delicacy, we ordered their Rockefeller Oysters, and the Head Chef Ravi is one of the few maestros in Delhi who can make this superb dish! Baked (yeah, really!) oysters with lots of oozing cheese, splashed with sparkling white wine and chalets - gourmet seafood at its best!
Pancakes and Waffles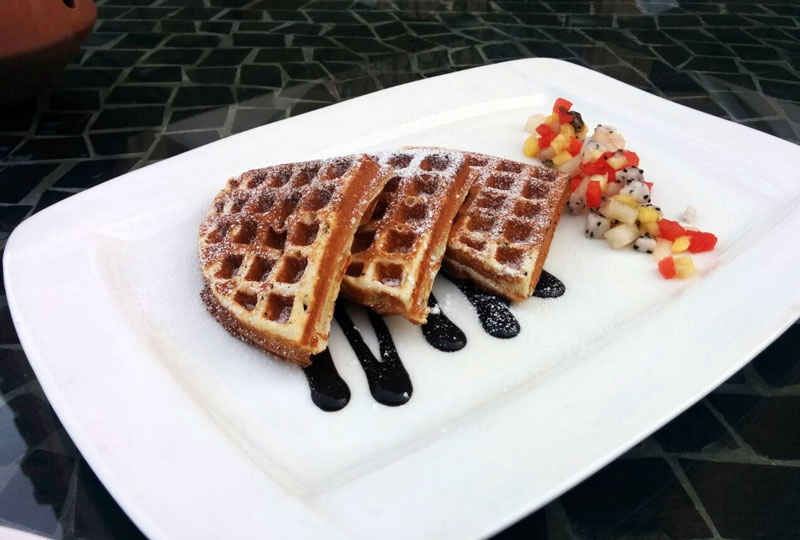 Fluffy, golden-brown pancakes were served up with a cornucopia of compotes and of course, maple syrup. We doused our stack with oodles of maple syrup and gobbled away! Our waffles were crisp, hot and fresh and liberally slathered with lots of whipped cream and we loved every last morsel!
Danish Pastries, Chocolate Croissants & Mocha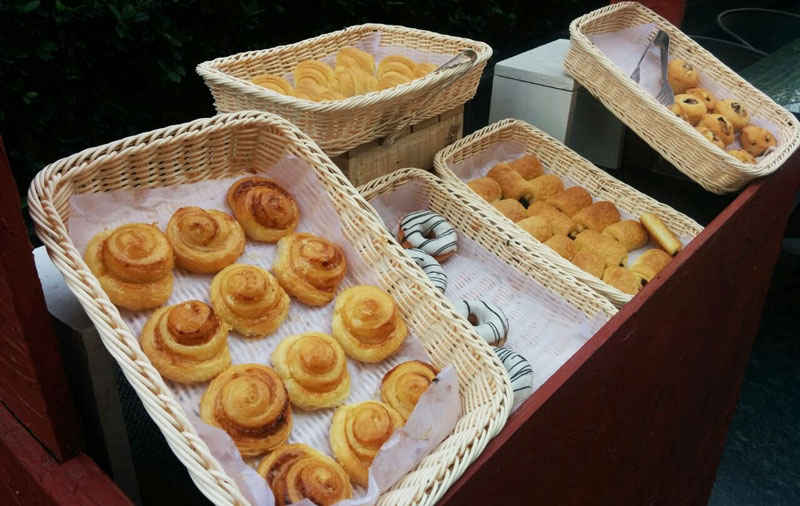 Wrapping up our extraordinary Sunday brunch, we indulged ourselves with freshly baked, sugar-slicked Danish pastries, chocolate-oozing croissants and sipped away on perfectly-prepared mocha - with a side of extra sugar and sighed in bliss!
The LaLit sure knows exactly how to whip up an excellent and dreamy Sunday brunch - head on over for when you want some decadent extravagance!