Still Waters Reflecting Pretty Lights: Have A Date Night @ These 6 Pretty Poolside Restaurants
Delhi sure is known for its rising mercury levels and hence a dip in the pool is most necessary to beat the heat. What complements a perfect swim is good food and it's even better by the poolside itself, so you feel a sense of peaceful calm throughout. We bring to you some of our favourite poolside restaurants in the city that'll make for the perfect backdrop to your date night!
1. Threesixtyone Degrees, The Oberoi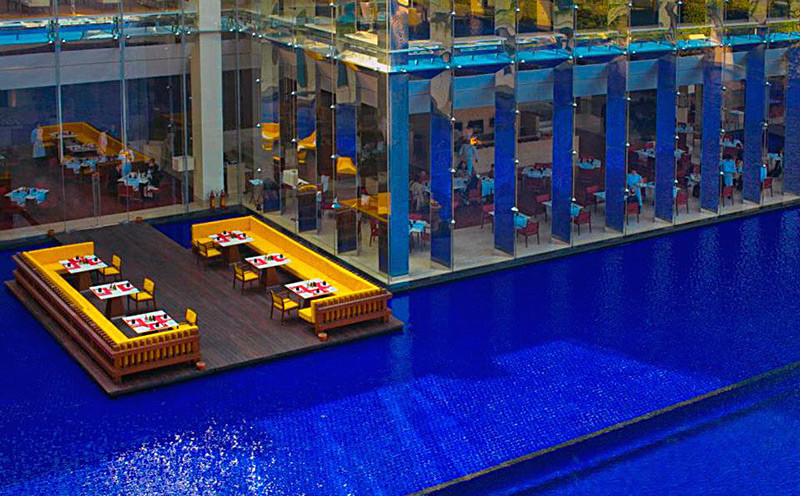 Known to be one of the most elegant restaurants in Delhi NCR, your dining experience can never be disappointing or fall short of Oberoi standards of service and quality at Threesixtyone. Glass walls overlook the beautiful blue waters and the outdoor seating area will leave you awestruck! With avant garde hospitality and lip smacking delicacies and par excellence presentation making the mesmerizing ambience the cherry on the cake. Spoil your loved one at this romantic setting!
Location | The Oberoi, 443, Phase V, Udyog Vihar, Gurgaon
Meal For Two | Rs 5,500
Check Out Their FB Page | https://www.facebook.com/OberoiNewDelhi/
2. AQUA, The Park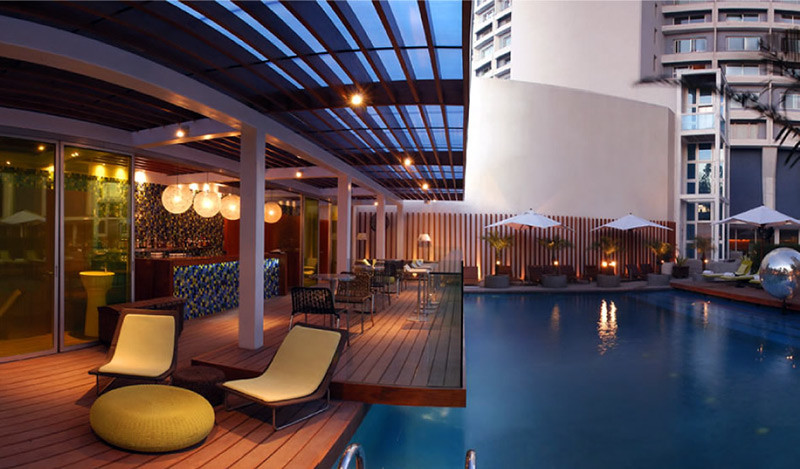 The name says it all! We swear by this place if you want to relax and have a wonderful time with your special someone in a gorgeous alfresco pool lounge that's also flocked by a delightful crowd and quick service, made even more happy and buzzing in the evenings. AQUA has also been hosting many pool parties and is an indulgent and trippy poolside restaurant that you must check out. Come on by, the weather right now is just perfect!
Location | The Park, 15, Parliament Street, Connaught Place
Meal For Two | Rs 4,500
Check Out Their FB Page | https://www.facebook.com/AquaTheParkNewDelhi/
3. The Pool Bar/China Kitchen, Hyatt Regency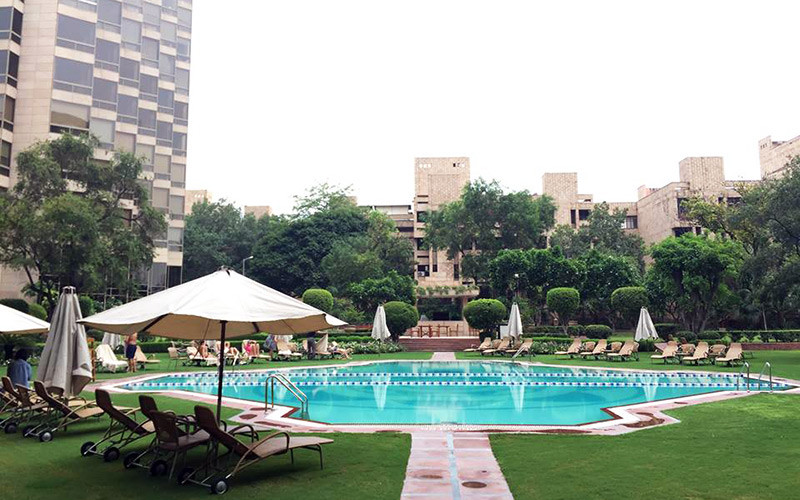 The Hyatt in Delhi offers a whirlwind culinary experience and The Pool Bar is one its prized jewels! For stellar Continental food and an all-day long sun deck (omg!), this is the place to be. Here, all you need to do is sit back and enter a state of trance! We add The China Kitchen to this list as the poolside is adjacent to the lounge, adding to the beauty that culminates in their excellent Chinese cuisine as you literally eat 'by the pool'!
Location | Hyatt Regency, Bhikaji Cama Place
Meal For Two | Rs 4,500
Check Out Their FB Page | https://www.facebook.com/hyattregencydelhi/
4. Splash, The Westin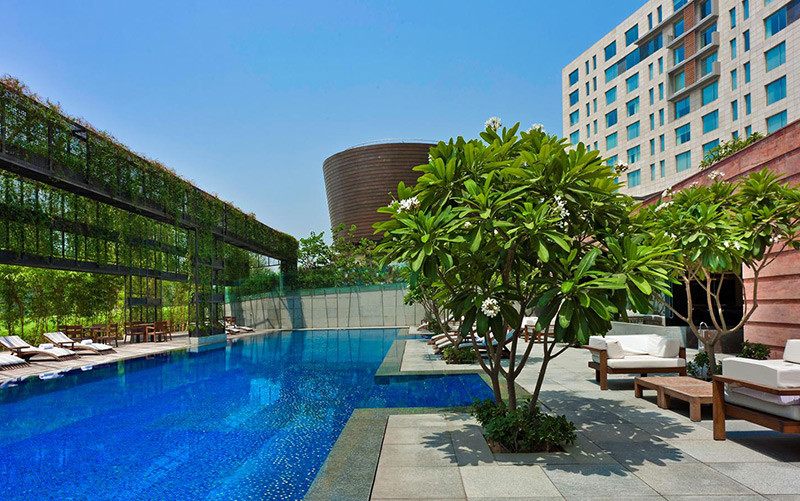 Splash at the pool and decompress after at this delightful setting for healthy finger food! The enchanting outdoor pool takes the cake and helps you loosen up after a hectic day or when a change of mood is most needed to escape the humidity. You can take refuge here from the hustle of the city whilst lounging with your friends or family sipping on their Long Island Tea or Passion Fruit Margarita. The airport proximity is an added bonus!
Location | The Westin, MG Road, Sector 29, Gurgaon
Check Out Their FB Page | https://www.facebook.com/WestinSohna/
5. Elan, The Lodhi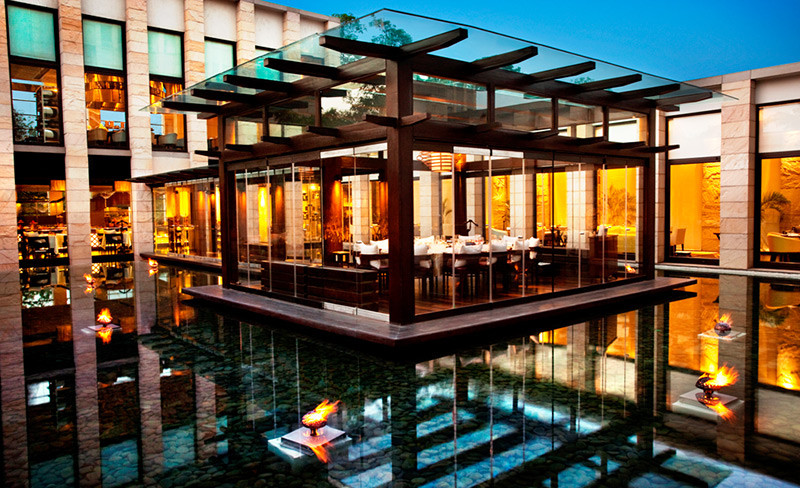 Known for their poolside dining and Sunday brunches, this place is damn beautiful! All the boundary walls are made up of glass, which lets you see the starry night sky and the gleaming pool outside. This place hits all the right notes - the decor, the staff, the food, everything is just bang on! This is the perfect way to spend your Saturday night followed by a leisurely Sunday brunch! Go out with your girls (Or SO) and have the perfect Sex And The City weekend!
Location | The Lodhi, Lodhi Road
Meal For Two | Rs 3,000
Check Out Their FB Page | https://www.facebook.com/thelodhi/
6. 3B's, Country Inn & Suites by Carlson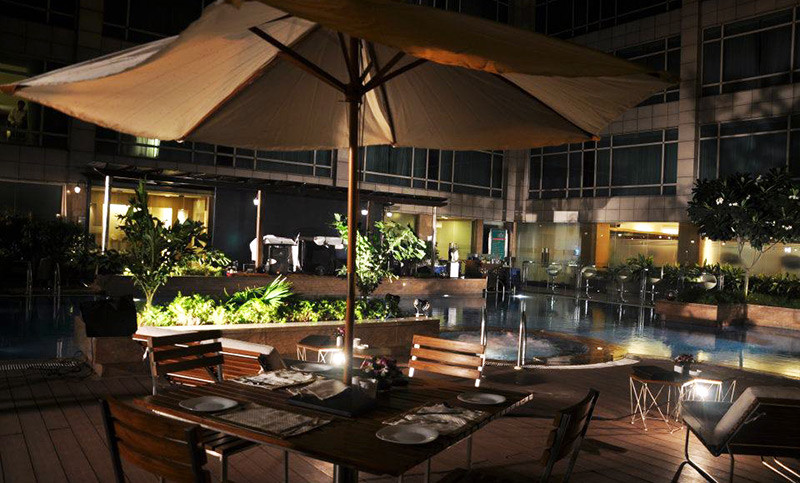 Rightly abbreviated for buzz, bubble and booze, 3B's might be a long drive but with great company and lively surroundings, you'll be glad you made it here! Sparkling lights and ambient karaoke music add to the relishing experience of the chef's Continental delicacies. The place is well-known as the perfect bar destination, so how about you gather your gang for a short weekend trip for good measure too? See you there!
Location | Country Inn & Suites by Carlson, Sahibabad, Ghaziabad
Meal For Two | Rs 2,800
Check Out Their FB Page | https://www.facebook.com/cisdelhi/
Already tempted to try 'em all out? We're right there with you - go on and enjoy the balmy breeze and yummy grub at any of these fab poolside restaurants!