Standing Tall & Still Enduring, Delhi's Hastsal Minar Lies Forgotten And Crumbling
Most human constructions fall apart in due course of time, some constructions outlast their eras and become monuments and yet, there are some others that outlive their contemporaries yet remain cursed in eternal oblivion. Hastsal Minar is one such unfortunate masterpiece. It lies forgotten and partially broken. On top of that, it's located in such a remote site that even locating it is a nightmare. Yet, it has a story that deserves to be told!
Rajput Or Mughal?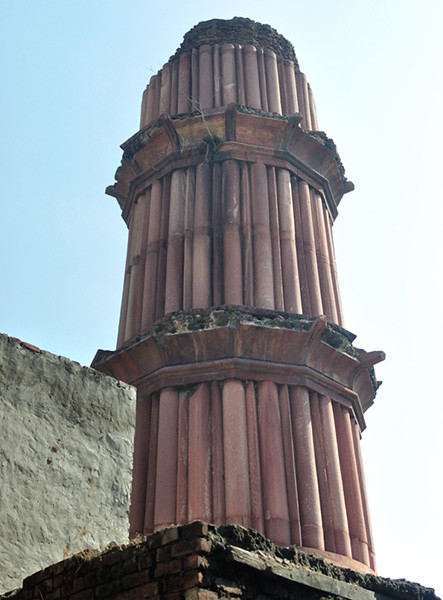 According to archaeologists, it was a hunting lodge made by Shahjahan. But the local inhabitants think it's from the era of Prithviraj Chauhan, although the red sandstone architecture suggests the former. In any case, there is no information available and not even a notice board has been placed in front of the Minar.
As of now, it stands around 17 metres tall but originally, it's expected to have been much taller. The top portion has now broken down and there are many urban legends surrounding it. According to some stories, it was hit by a plane but that's not really believable as news as big as that would have been recorded somewhere.
The Structure
The structure generally reminds one of Islamic era monuments. The base is an octagonal plane that can also be seen in many other Delhi monuments. The tower has twelve faces and there is an entry door too, but it remains locked.
In the past, one could go inside and climb up the stairs but not any more. It's also believed that there was an underground tunnel connecting it to a palace although it seems impossible to locate and verify that under present conditions.
However, the sandstone and marble surface of the tower is still in good shape. It is smaller in diameter than the Qutub Minar but big and stable enough to stand on its own & must've been a spectacle during its heyday.
Gasping For Breath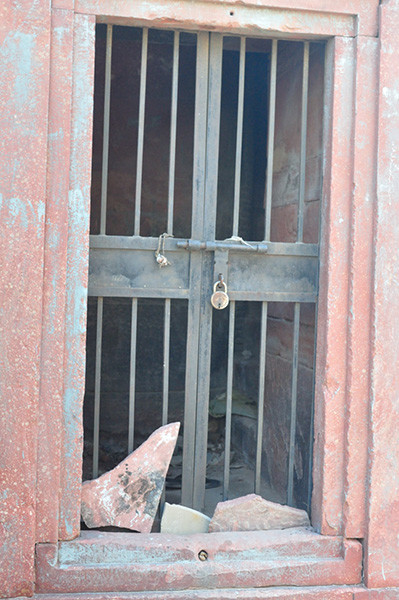 The generally accepted explanation of the name is that it had something to do with elephants. Hasti (elephant) + Sthal (place) = Hastsal, however, it's hard to imagine it could've had any room to accommodate a real elephant. The area surrounding the minar is also called Hastsal. It was basically a village near Nangloi Jat in West Delhi which has now grown to become a part of NCR. So it's not much different from other urban villages such as Mehrauli or Khirki but this area certainly has a more rustic feel to it owing to the considerable distance from the centre of the city.
The compound has been completely encroached upon, so only a few square feet of land remains around the minar. It is surrounded by brick houses so tightly on all sides that it cannot be seen from a distance despite being a reasonably tall structure. The surroundings are squalid and one can't help but feel sad for its abysmal and pitiful state.
Locating Hastsal Minar
Hastsal is a large urban village amidst a maze of narrow alleys that's almost impossible to locate, especially for an outsider. The best way is to reach Uttam Nagar East Metro Station on the Blue Line and then take a rickshaw or shared electric car, they should know about the Minar. The route on Google Maps may look simple enough, but when on the ground, locals leading the way helps a lot more.
Come by here to explore yet another part of Delhi's rich cultural heritage and don't forget to bring your cameras along!
Where | Hastsal Minar - Deep Enclave, Hastsal Village, Uttam Nagar