Delhi
6 Dishes Like Spl. Kulcha Omelette & Chicken Omelette You Gotta Try @ This Hidden Gem In Tilak Nagar
Disclaimer: Bearing in mind the current health crisis befalling the city and the world at large, we're tweaking our content policy and recommendations. Stay positive, keep hygiene levels up and don't fall prey to panic and misinformation.
While we all have our own definition of a perfect egg dish that satisfies our bellies but we all need change! Our ever-so monotonous omelettes have been revamped at Mithlesh Andeywala. This little place in Fateh Nagar has changed the definition of an omelette for us forever and serves varieties of omelettes, bhurjis and toasts. Needless to say, Mithlesh Andeywala will now have a special place in our hearts!  
Mithlesh Andeywala has been popular among the nearby areas of Tilak Nagar and Janak Puri for scrumptious and melt-in-your-mouth varieties of omelettes. With an affordable price range, this place is sure to delight you with their egg-stastic preparations. Seriously guys, you need to GO and try this place out for sure! It's a kiosk with no seating area or standing tables for that matter, but that ain't hurting as long as we get good food!
Here's what we had and how it fared for us:
1. Chicken Omelette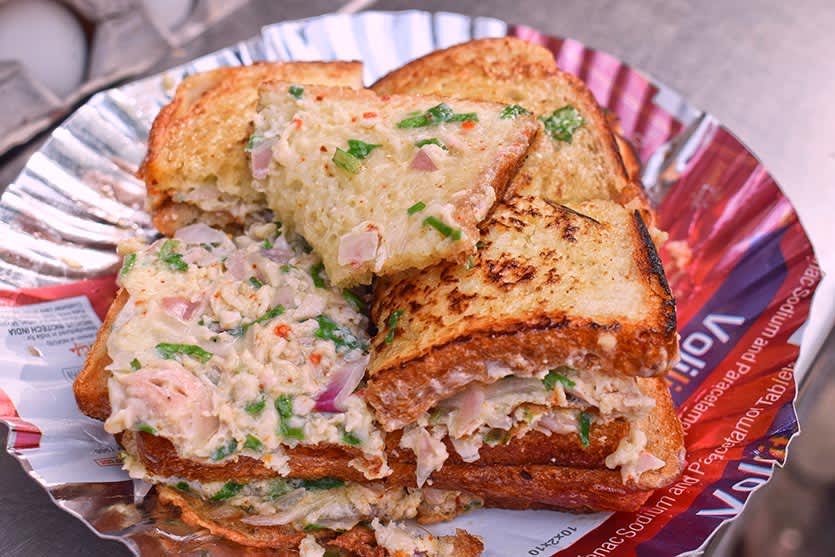 Shreds of chicken whisked in eggs, onions and green chillies wooed us at first sight! They have this unique way of cooking the bread with the omelette, all together with loads of butter *starry eyed*. When the omelette was almost ready, they sprinkled their special masala (we asked what it was made of but they definitely didn't budge!) and some lemon juice. 
We guess that these two ingredients make these dishes standout for sure! In the first bite itself we were in seventh heaven as the shredded chicken and their special masala made it even more appetising!
Price | Rs 80
2. Special Kulcha Omelette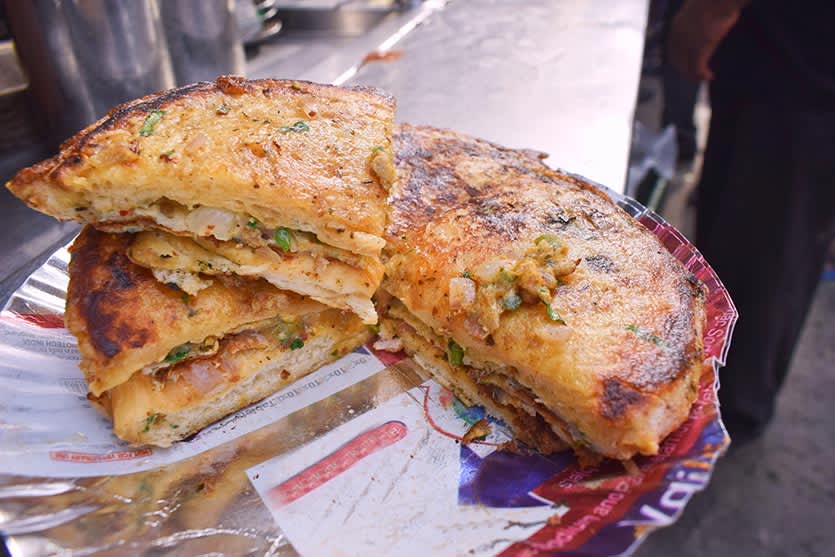 Ever thought of a kulcha stuffed inside an omelette? Well yes, you heard it right peeps! Mithlesh Andeywala serves a kulcha stuffed inside an omelette! A butter-infused omelette wrapped around a kulcha with lemon drops squeezed *drools* on top made this our personal favourite out of all! Served with a tomato and green chilli chutney, it really amped up the whole dish. You've got to try this scrumptious omelette whenever you visit and you can thank us later! 
Price | Rs 80
3. Desi Butter Omelette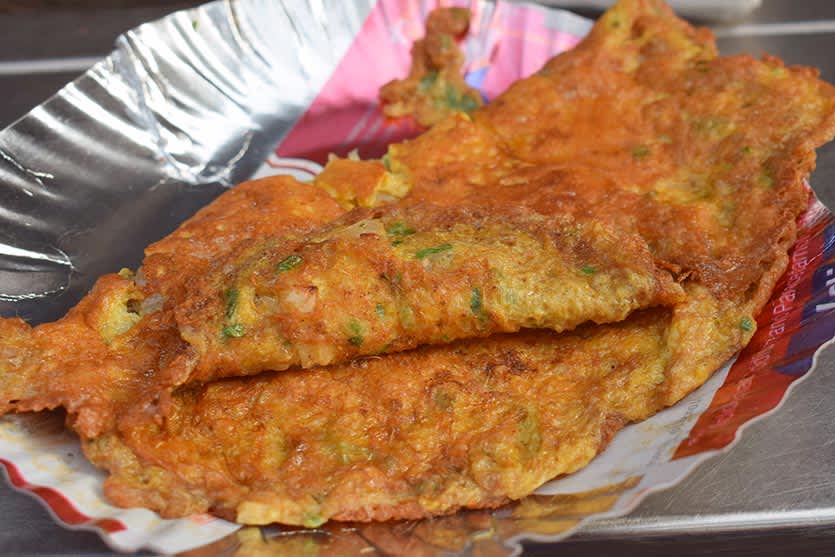 It was the age-old omelette with chopped up onions, coriander and loads of green chillies. The humongous amounts of butter used to prep it was what made it a little more special from all the other omelettes we'd ever had. Once again the special masala did its trick and amped up the taste. While they generally coat the omelette on bread slices but you can ask them not to add bread, like us. The golden brown color of the omelette made us drool and it was definitely love at first sight! 
Price | Rs 65
4. Salami Roll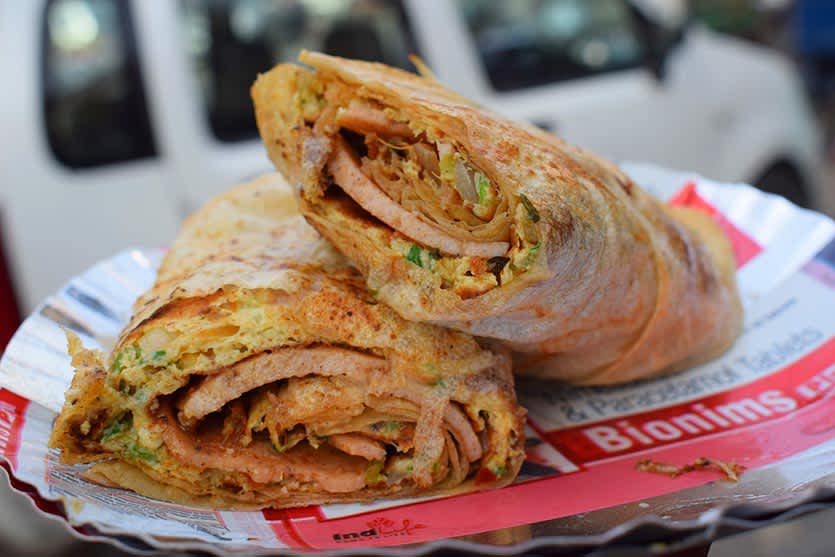 Mithlesh Andeywala is not just about eggs, but also serves some succulent rolls too! We ordered the Salami Roll and we're not kidding you guys, it was really fulfilling! Rumali roti stuffed with eggs and salamis cooked to perfection in oodles of butter, is one of the best rolls you can stuff your face with! You're sure to experience the goodness of eggs, salami and rumali roti plus a prominent flavour of black pepper in every bite. It's the perfect evening appetizer on a dull day!
Price | Rs 110
5. Boiled Egg Toast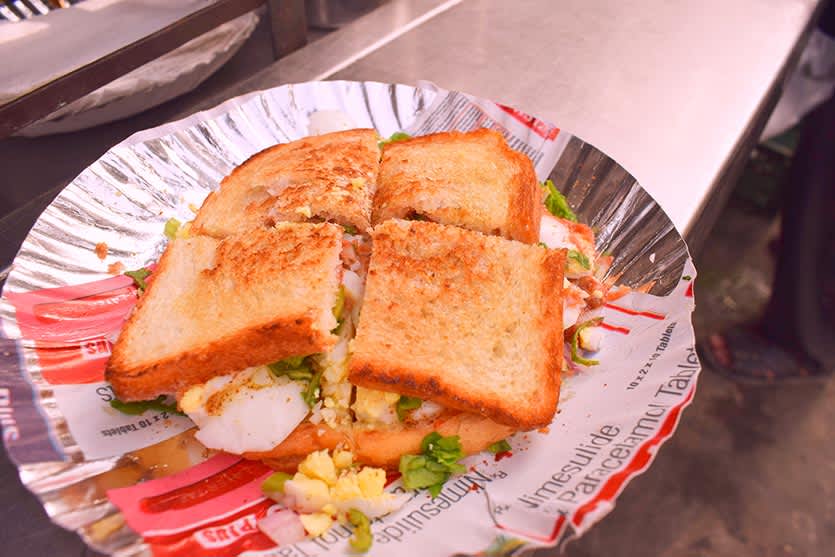 For all the boiled egg lovers out there, we tried an option for y'all too! Boiled egg sauteed with onions and tomato chutney in a lil bit of butter and stuffed in toasted bread is somewhat of a healthier option for the health conscious peeps out there. These people really know the art of turning monotonous eggs into something much more fancy and yummy! So for a less fatty egg dish, you should definitely try this one out!
Price | Rs 30
6. Boiled Egg Bhurji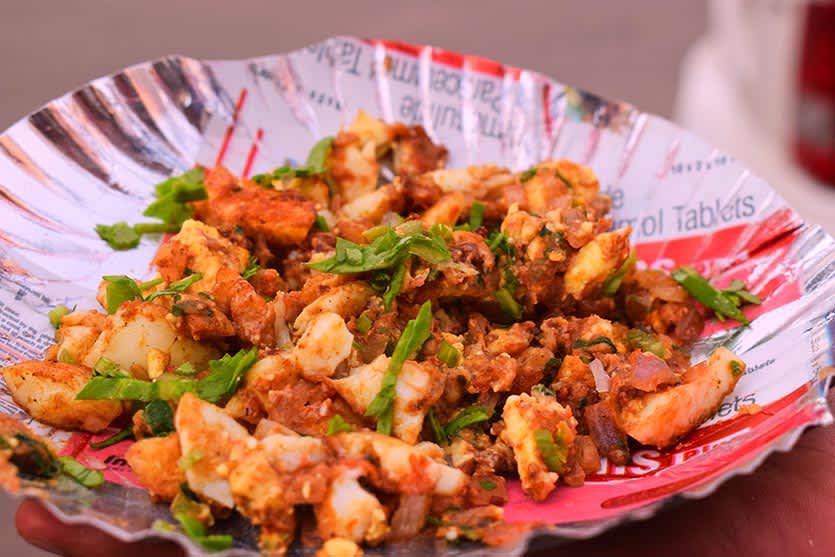 All we can think of when someone mentions egg bhurji is scrummy eggs that couldn't make it to be an omelette but did you ever try a boiled egg bhurji? Well, Mithlesh Andeywala is here to serve you some. Onions, coriander and boiled eggs sauteed in butter and topped with spicy tomato chutney is a god send for boiled egg lovers! It's sure to delight you guys and at such an amazing price you can't ask for anything more!
Price | Rs 50
So we have had our share of delectable eggs and now it's your turn. Head over to this kiosk and relish toothsome egg preparations (all doused in butter *starry eyed*) and enjoy the good weather till it lasts!
Where | Mithlesh Andeywala - Shop D-3, Fateh Nagar, Tilak Nagar
Call Them | +91 9717 535 244
Timings | 4 - 10:30 PM 
Check Out Their FB Page | https://www.facebook.com/Mithlesh-Andeywala-257701057596627/