The streets of Kamla Nagar hide many treasures - for shopping, eating, entertainment, anything and everything. We found one such treasure while strolling through its streets - Vaishno Chaat Bhandar. What caught our eye was the huge crowd standing outside the shop, everyone holding a plate or two. Sandwiched between various food joints, Vaishno Chaat Bhandaar is a landmark in itself here in Kamla Nagar.
Being a local food joint, it's pretty famous around the area and we can see why! They serve all the masaledar street food items you can find - from Golgappas, Bhalla Papri to Pao Bhaji and samosas. The only negative point is that there isn't any seating area - no chairs, no tables; people usually come by in their cars and take platefuls away. We couldn't resist checking this place out for ourselves to see what the buzz was all about, and our verdict is a firm thumbs up!
Aloo Tikki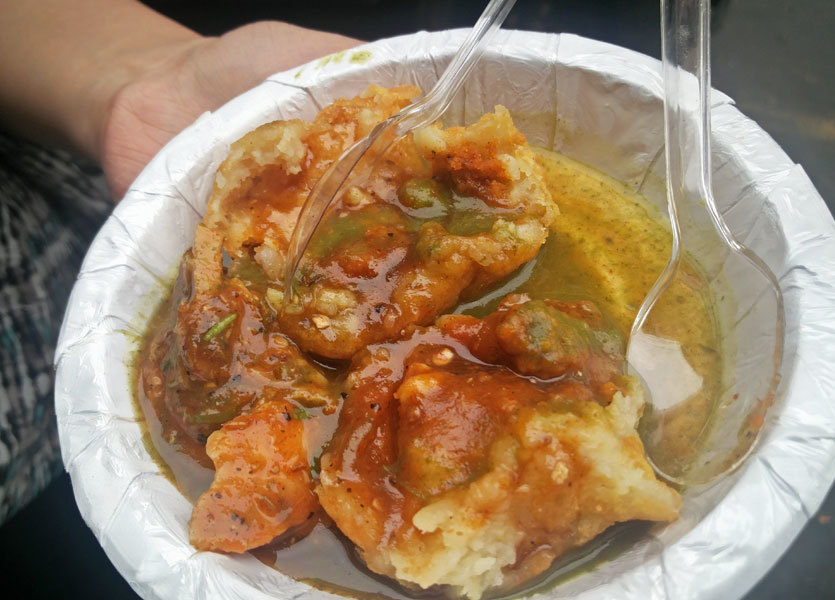 Everyone around us was ordering their Aloo Tikki and we obviously couldn't be left far behind. Crispy and crunchy, their Aloo Tikki was a delight to our taste buds. It was dipped in red imli chutney and the spicy green coriander chutney. The tikki was fried perfectly with peas, red chilli and black pepper and satisfied us to the core!
Price | Rs 30 ( Half Plate) & Rs 60 (Full Plate)
Bhalla Papdi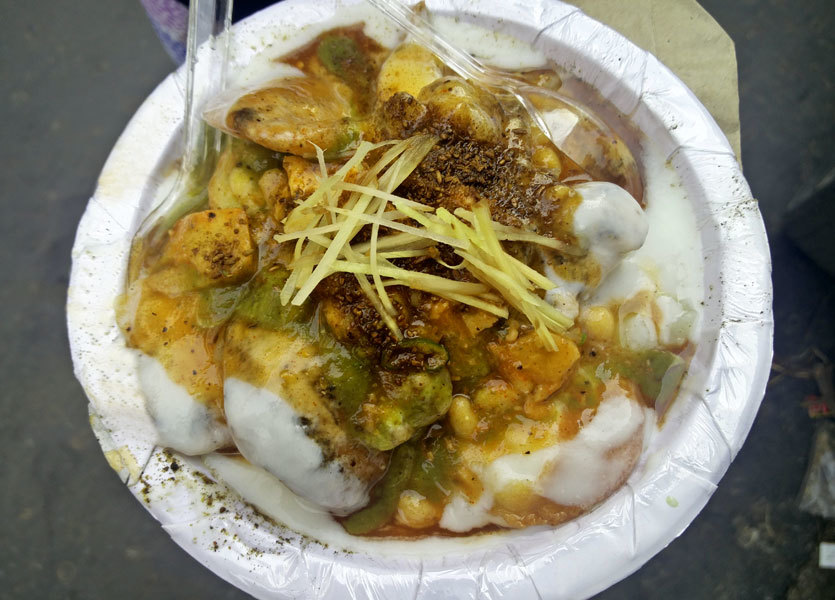 As they say, 'It's not street food if it doesn't make your tongue burn'. If you just nodded in agreement, then Vaishno Chaat Bhandar's famous Bhalla Papdi should definitely be on your must-try list! The quantity is huge, so make sure to take your friends along. A perfect blend of curd and chutney, it came sprinkled all over with their unique masala. The bhalla is served in the centre surrounded with some crunchy papdis - yum yum!
Price | Rs 70
Pao Bhaji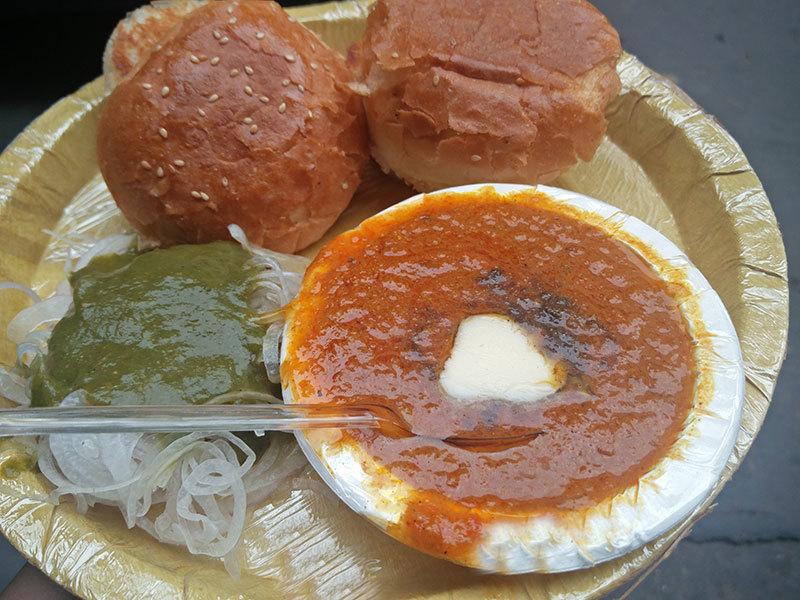 The next thing we tried was their Pao Bhaji. The buns were pan fried with some sesame seeds and the sabzi was flowing with butter - yep, flowing! The dish was served with some onions and chutney on the side. As appealing as it was to our eyes, the sabzi tasted pretty average. Even the butter failed to bring out the taste and the mixture of the spices didn't appeal to us at all. Minus a few points for this one!
Price | Rs 80
Golgappe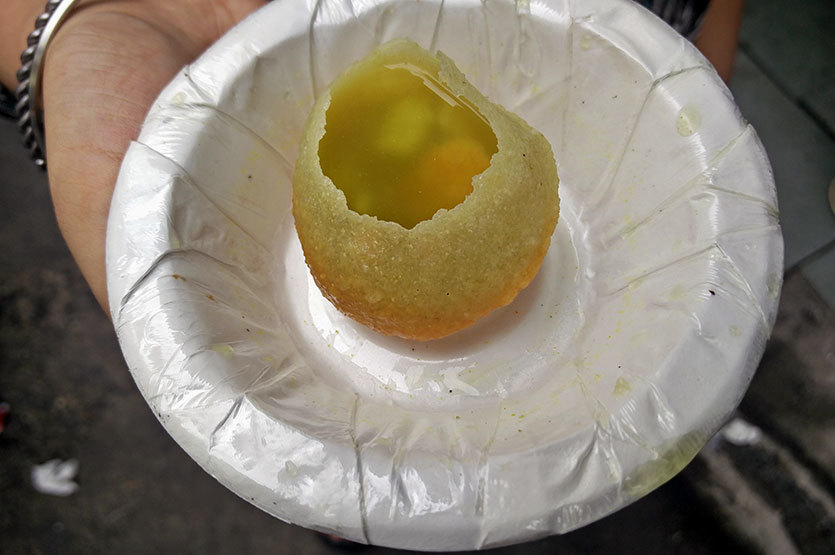 Next up we tried their zesty Golgappas. We'll just say it straight up - you should definitely try these mouth watering (and potentially eye-watering) Golgappas out! You'll get 5 pieces in one plate, and they come full of potatoes and chhole. Frankly, we could have eaten 4 - 5 plates of these if we hadn't already eaten so much!
Price | Rs 25
Kulfi Faluda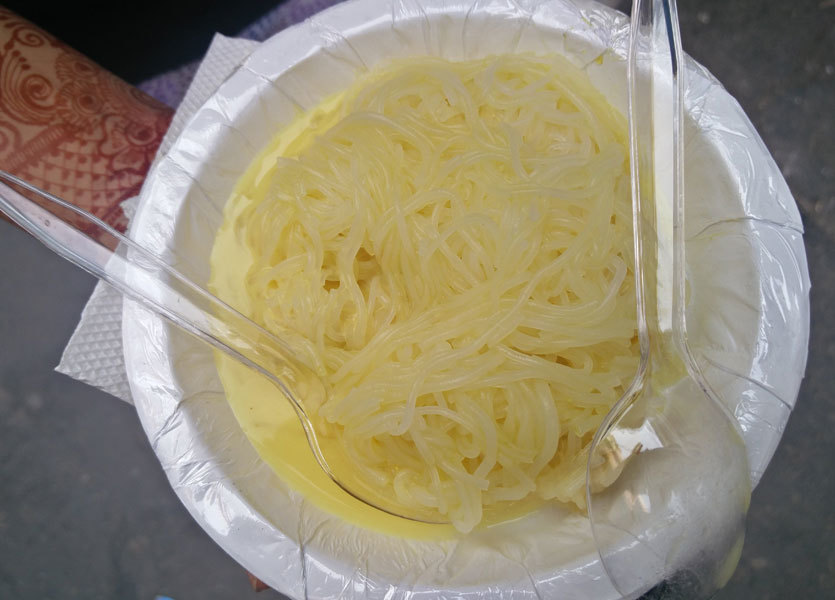 Finally, we ordered their Kulfi Faluda to sweeten our mouths after devouring the bucket of spices that we just had. The dessert was average, like at any other shop you'll find. But like we said, you will NEED it after satisfying your tummy with the spicy food here!
Price | Rs 40
Trust us and check this bhandaar out! You won't get a chair or a table but the food is worth standing in the heat for. Just put on your shades and take your friends along the next time you're craving something desi!
Location | Kohlapur Road, Kamla Nagar