Snazzy & Deliciously Affordable Wedding Paraphernalia to Score @ WedTalk.com!
Basically marching on a crusade to completely revolutionize the money-grubbing and greedy-fisted stranglehold that the wedding market has on hapless brides and grooms to-be, we're here to introduce you to your shaadi saviour people - say hello to WedTalk.com! Right from quirky ideas for the bride & groom, to providing customized solutions for your wedding guests, unique wedding decor ideas, exclusive options for gifting and the all-important wedding favors, fun photo booth props and frames to your complete merchandising options for the Bachelor and Bachelorette celebrations - they've got it all! 
And here we've scoured their website and come up with a cutesy list of the most quirky & offbeat shaadi & bachelor / bachelorette party essentials they offer!
Bridesmaid Box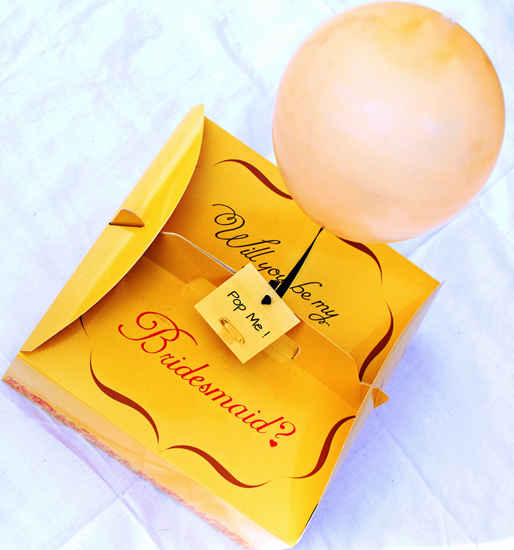 This one's for popping the most essential question in every wedding celebration - "Will you my bridesmaid!?" WedTalk has prepared a charming box full of bridesmaid essentials like a balloon with a "Will You be my bridesmaid" scroll inside, a cute 'Pop Me' tag, One 'Team Bride' badge and One Bridesmaid sash. Plus, they're happy to hand-deliver this goodie box to your bridesmaids' doorstep - how cool is that!
Hangover Kit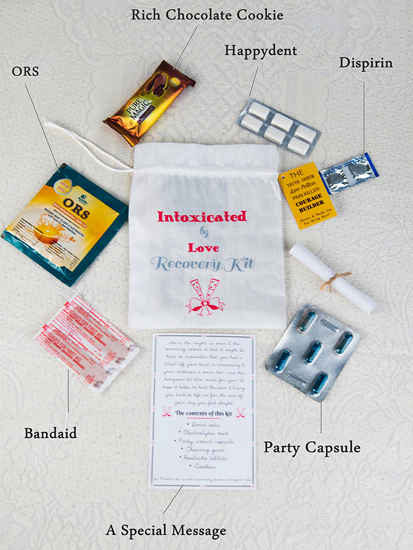 While having a blast at your bachelor's party, they make sure each of your friends are given thoughtful and stylish hangover kits to make the morning after just as much fun! These canvas pouch hangover kits come pre-filled with thoughtful items to take care of your guests' hangover including the sorely-needed Disprin pill, a bandaid (who knows what sort of antics you've been up to!), a chocolate cookie, Happydent mints and a special message! Aww!
Mason Jars & Wish Boxes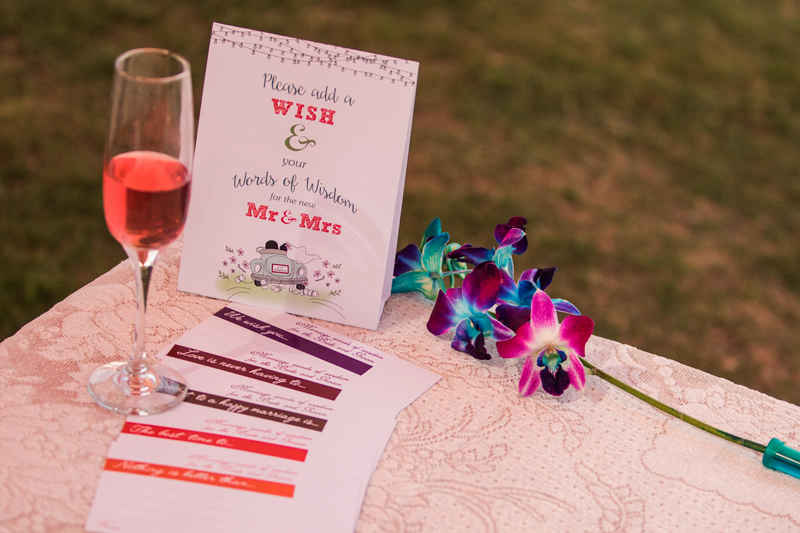 You know how during the wedding everybody's showering you with heartwarming wishes and you just wish you could pen them all down? Well, here's the perfect solution for immortalizing those sweet messages! Snag these cute mason jars and wish boxes that come with tent cards that can be placed on the table, so your guests can happily write down all their special wishes on your big day!
'For Your Tears of Happiness' Napkins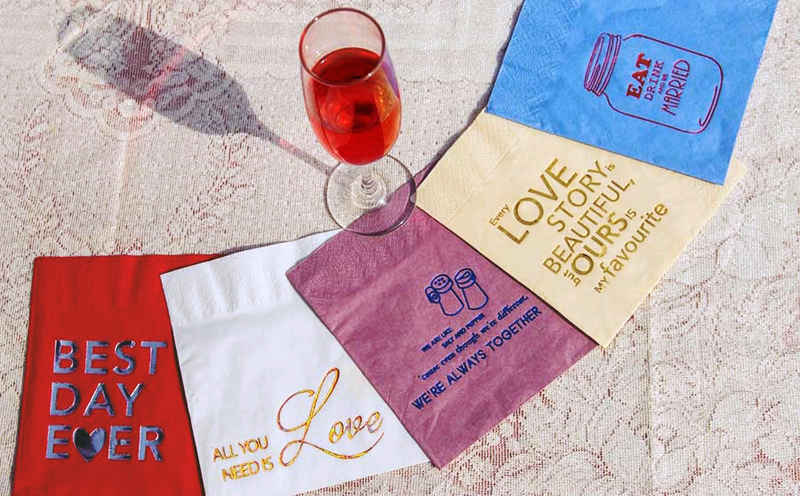 So we're all well aware of the adage - "Ye toh khushi ke aansu hain, beta", symbolizing the rivers of tears your relatives and friends cry at the big moment. In order to cheer them up, and handily provide them with much-needed tissues, check out these adorable napkins proudly emblazoned with the words 'For Your Tears of Happiness', that can be handed out to all your guests on the D-Day!
Hand-Stitched Leather Pad with Love Quotes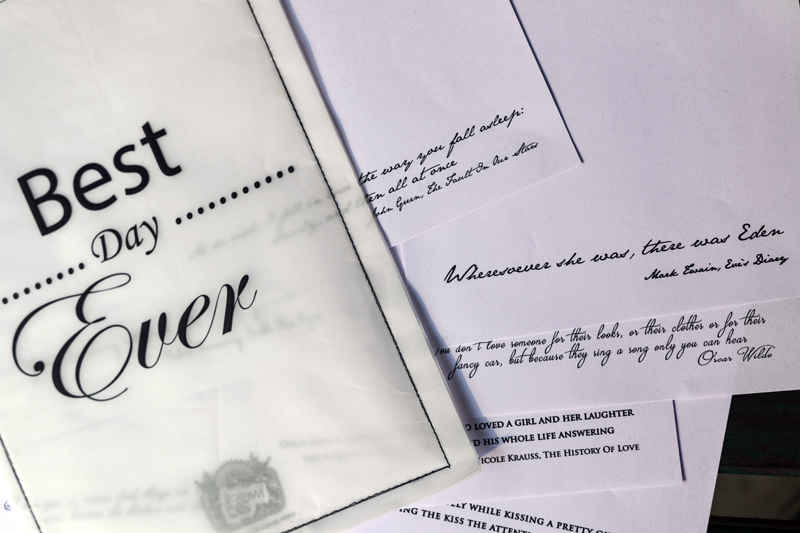 What better shaadi souvenir to capture the love you guys feel for each other than these perfectly gorgeous, hand-stitched leather pads containing the most gush-worthy love quotes you can possibly imagine! Apart from being super-cute, these leather pads contain a different romantic quote printed on each and every page, just waiting to be opened and fawned over! Pssst - these can also be use as letterheads to be kept in each of your guests rooms or on tables.
Placards Citing 5 Fun Things About The Couple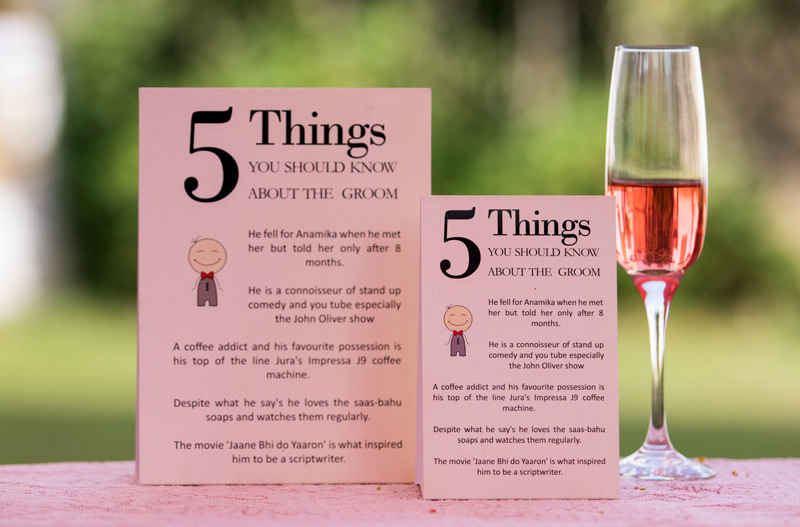 So this is a great way to divulge quirky and fun things about the bride and groom to all your wedding guest! These cutesy placards containing embarrassing or funny quirks about the couple will make your guests connect to the wedding like never before and are basically the most novel thing we've seen in awhile! Sound just perfect? Go check 'em out!
DJ Request Card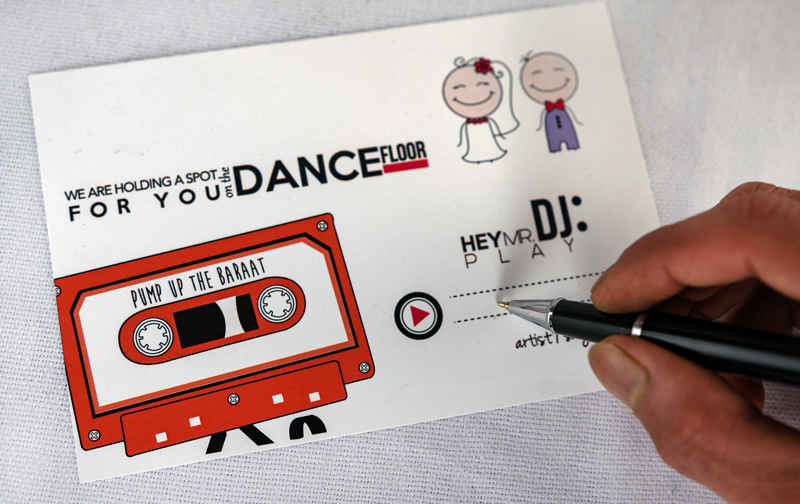 Ah, now we come to our absolute favorite! You know how when you're good and buzzed (courtesy the free bar at weddings) and are shaking a leg to the most popular beats (Punjabi songs, obviously) and you get a hankering for that one favorite song you just need the DJ to play? Well, how about you grace your guests with these awesome DJ Request Cards! Your guests will laugh over them, pen down their favorite party songs and voila! Everybody's ahving a hell of a time.
Midnight Snack Boxes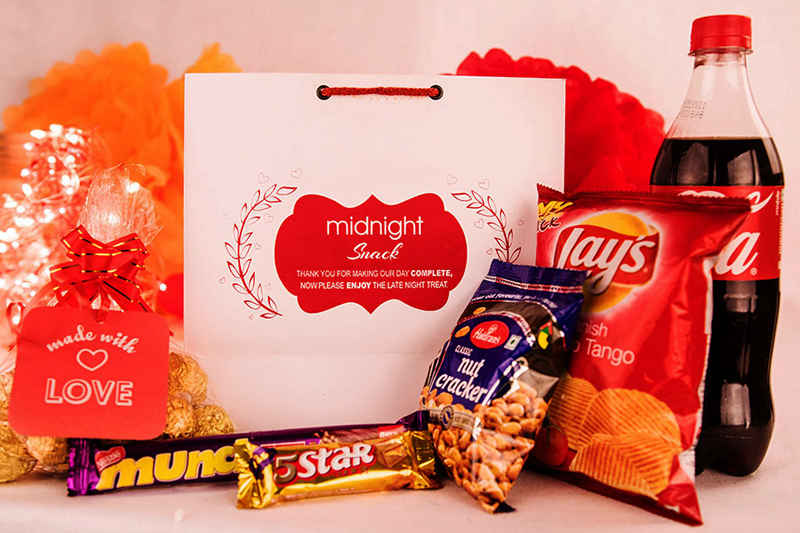 So we all know exactly how tiring it is when your bestie is getting married and the pheras go on till the wee hours of the morning and it's super-hard to keep your eyes open, let alone lend support! So we've found you these amazing Midnight Snack Boxes, which have especially been designed keeping in mind the late-night munchies you get during weddings. They come equipped with stuff like chocolate bars, a big bottle of caffeine-replete Coke, peanuts and much-needed chips!
Naughty Cake Toppers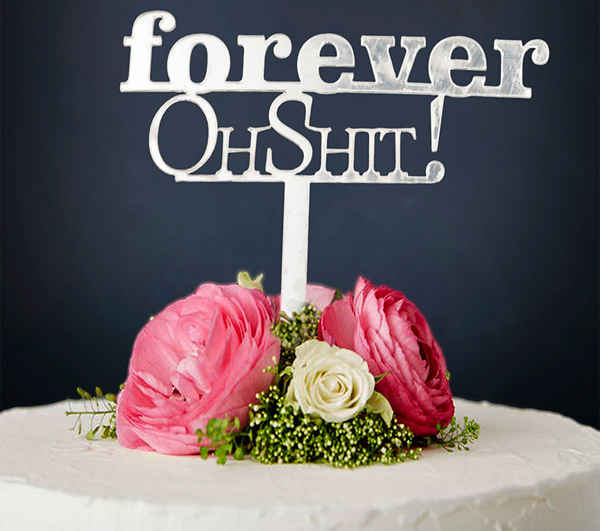 So here comes to icing on the cake (quite, literally)! WedTalk has a funky range of naughty and classy cake toppers that'll make your wedding / bachelor's party cakes all the more fun and droll! With funny quotes like 'Forever? Oh Shit!', 'GameOver' and the standard 'Happily Ever After', these will bring a smile to everyone's face and are just to adorable to pass out on! Go snap them up.
Funky Photo Booth Props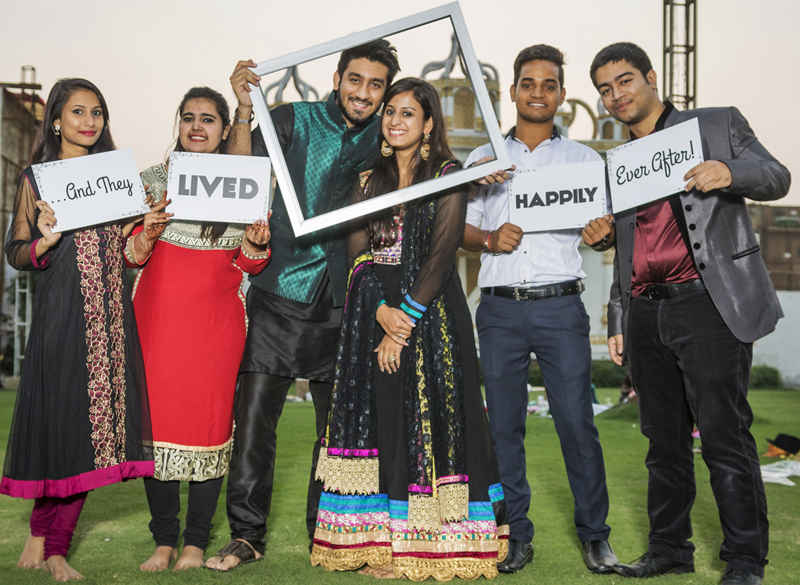 Now we all know that with the trend of elaborate photo shoots and the inescapable photo booth props have taken over the shaadi industry in India, photo booth props are basically must-haves at any wedding! So here we've got a range of 'I Stole Her Heart, So She Stole My Last Name' photo boards, not to mention a whole cornucopia of the funkiest photo props you've ever seen right here on WedTalk - see, choose and buy!
We've just about fallen in love with WedTalk's fabulous collection and just can't stop raving about 'em!
Shop Online Here | www.wedtalk.com