A Towering, Blue-Hued Statue Of Shivji Occupying Pride Of Place, Go Visit Shri Shiv Mandir
This Hindu temple is like a treasure hidden away in the streets of Old Delhi, located ten minutes from Chawri Bazaar. The Blue Shiva statue with a cobra crawling on his neck, placed on the roof, is hard to miss. The carved murti of Shiv Ji painted in blue, sitting in a yogic posture and meditating on a lion's hide in the Himalayas, is easily visible from quite a distance.
It's located near Dilli Gate in the historic walled city of Shahjahanabad and the ideal way to get here is via a rickshaw ride which will surely be unforgettable for one and all. The minute one enters the gates of Old Delhi, its sights and sounds won't fail to charm you with its simplicity and bustle.
The Divine Bend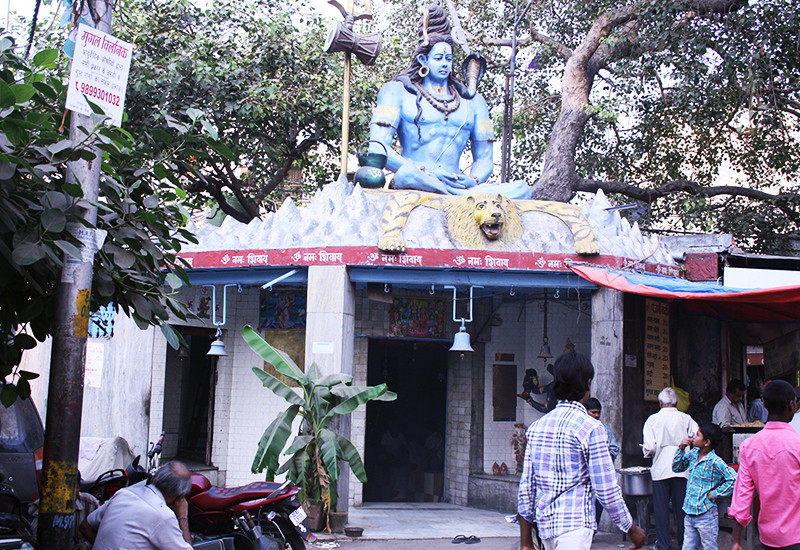 Tucked in one corner, the temple covers a small stretch with sacred trees (Peepal and Neem) covering its periphery. There are neither fancy carvings nor any great architectural feats in the temple. The minimal needs are fulfilled, where people come with their offerings in the hope that their prayers will be answered.  
The Peepal tree in the central vista takes the focal attention with Balaji (an incarnation of Lord Hanuman) on the trunk, adjoining the platform. The dark premises on the inside are lit by small openings in the roof, which acts as a source of purity. A temporary staircase in the premises leads to the rooftop.
Hindu Traditions & Beliefs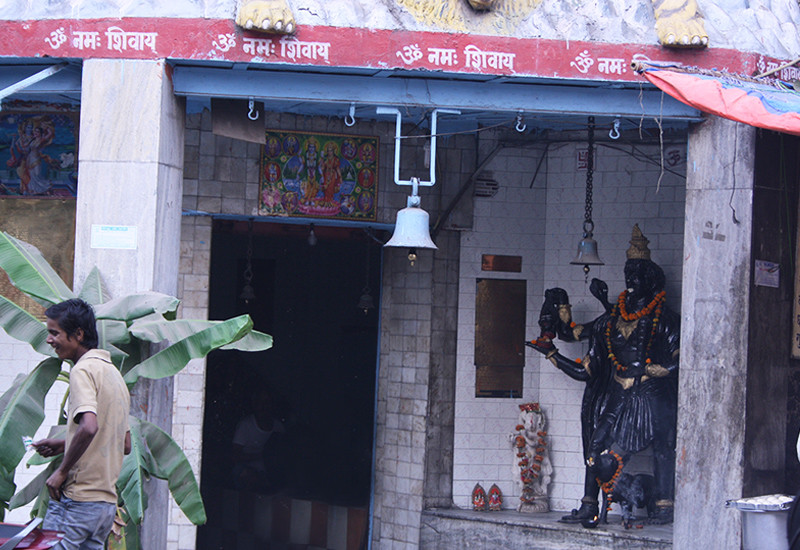 Kalka Mata's idol marks the entrance of the temple, with the simplest marble cladding on the outer walls. The Bhairav Murti placed inside is offered madera (rum/whisky) on a regular basis, as a part of a Hindu ritual, whilst other gods such as Ganesha, Hanuman, Radhe-Krishna, Sai Baba, Devi Maa, Kalka Maa and lord Shiva are made various other offerings, with their respective beliefs to please the lords. The aarti here usually takes place between 7-8 PM. The calming bells of the temple never fail to take you to a sacred horizon in the midst of all the noise, chaos, the food stalls, beggars and the adjoining market areas.
For The Foodies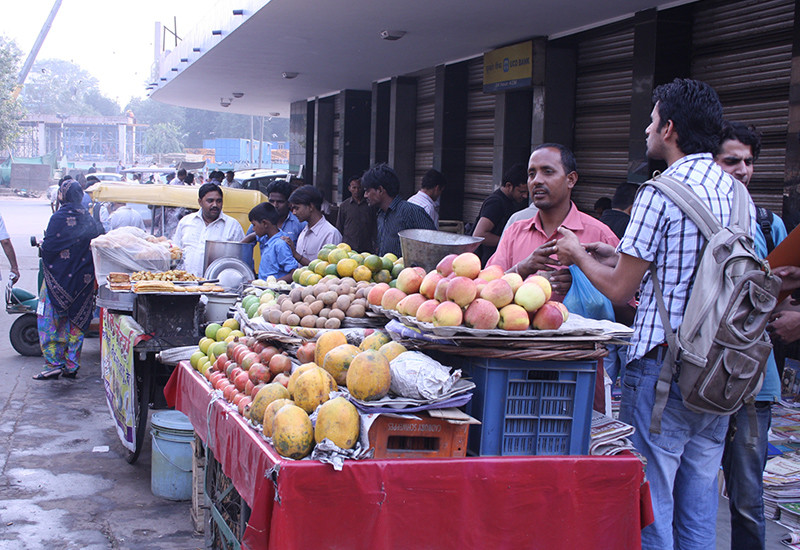 The various food stalls located at the entry of the temple are simply amazing! Celebrating Indian taste buds, you get one of the most scrumptious kachori-subzis at this sacred nukkad. The current bestseller novels displayed as a carpet just in front of the temple is a treat for all book lovers, with various fruit and vegetable vendors having their thelas right next to it. The tea and bread stall adjacent to the temple is a hot spot, especially during the Delhi winters.
Do visit this marvel after taking some time out from your busy schedule for a slice of religious fervour and a whole lot of serenity!