Shop 'Til You Drop: Himachal Bhawan Has A Year Long Sale On All Our Fav Brands!
Mandi House is popularly the cultural haven of Delhi with a host of plays, exhibitions and the like taking place all year-round in the various auditoriums and halls of the area. But we have some good news for you – our desperate, vain shopper-selves have managed to find a shopping spot here as well!
Another place to go and splurge prior to crying about how empty our wallets are, is only among one of the many little pleasures of life, it seems.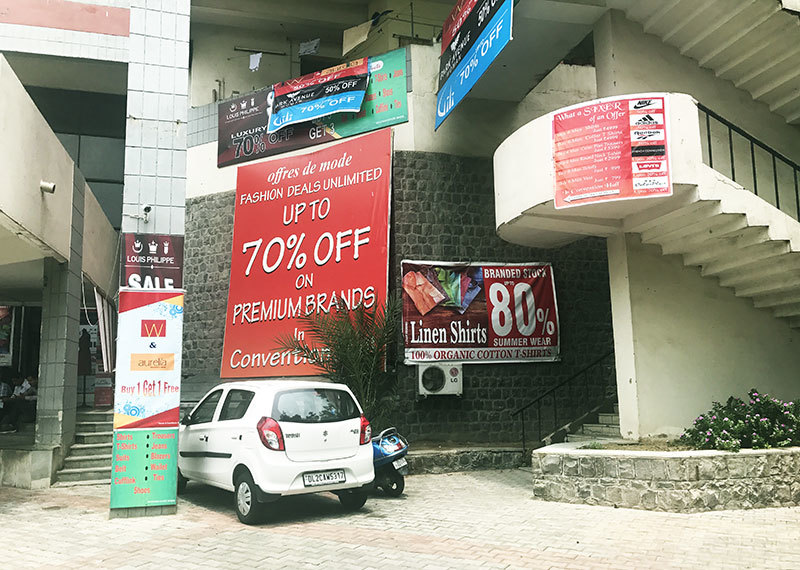 To the right of Gate Number 1 of the Mandi House metro station is Himachal Bhawan. It's quite hard to miss considering the numerous posters hung outside proudly announcing our favourite four-letter word: S-A-L-E! The large convention hall at the ground floor of the Bhawan houses a large warehouse-looking sale.
And so we did what we're best at doing, scanning through all the shelves to find everything that's worth our money!
Adidas, Skechers & Asics - There's Sportswear For Everyone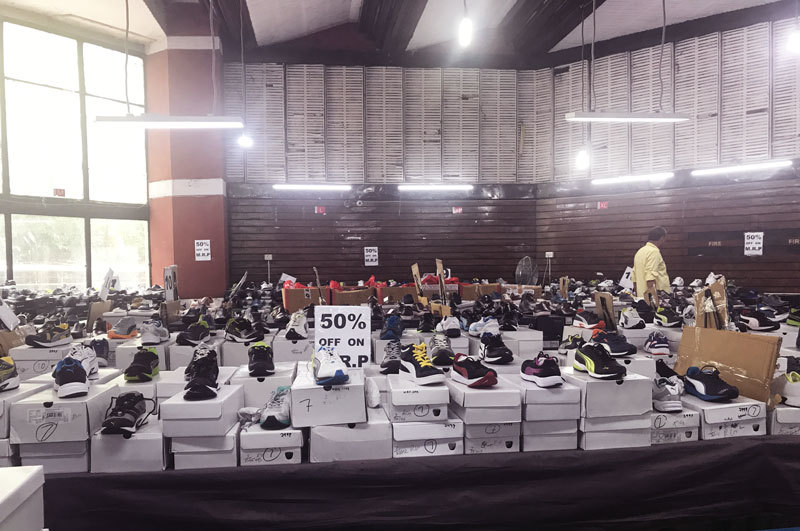 The first thing that caught our eye in the women's section was the range of sports wear. Dri-fit tees in so many attractive colours, (that's all the incentive we need for heading to the gym!). Adidas, Skechers and Asics were the few brands we spotted. There was also a range of trackwear right next to the tee-shirts and sports bras. Full gym gear sorted!
Starting Price | Rs 350
Enough Pairs Of Jeans? What's That?!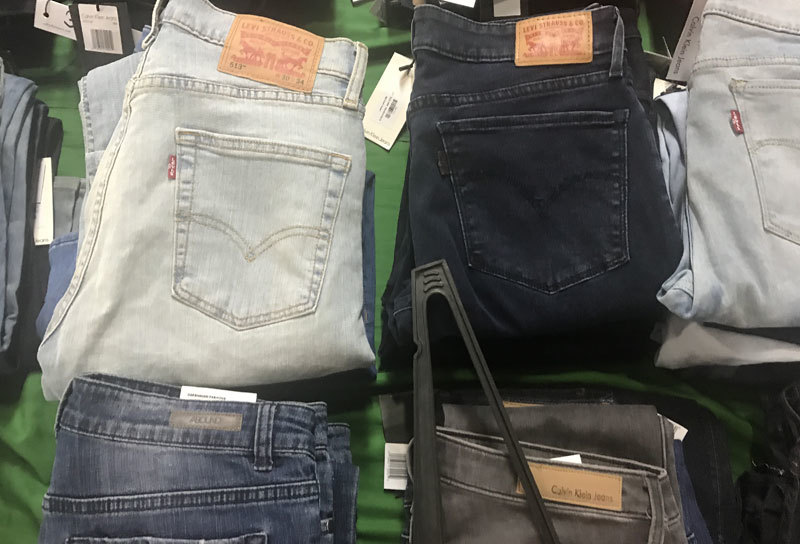 We spotted a few very tempting offers on pairs of jeans and jeggings! Get this– three pairs for just 2000 bucks! And since you get to choose among brands like Levi's, Lee and more, we'd call it quite a steal!
Prada & Armani Spotted - You Have GOT To Be Kidding Me!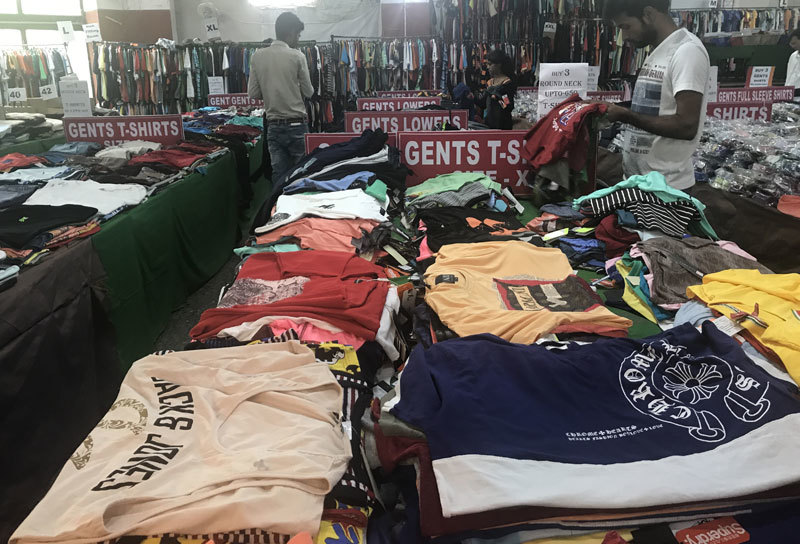 Heading over to the men's section, there was the LARGEST variety of casual tees and shirts from all our favourite brands such as Jack And Jones, Tommy Hilfiger, Color Plus and SuperDry, to name just a few! We also spotted two or three pieces from the big names of Prada and Giorgio Armani! Almost too good to be true!
Starting Price | Rs 250
From Western Formals To Indian Wear - Office Outfits Sorted
There were so many Indian wear options to choose from that ranged from kurtis from Aurelia, Biba and other popular brands! From solids to prints, you'll definitely find something nice here. And if you're looking to stock up on some formal wear, then the collection from veteran brands like Park Avenue and Allen Solly is definitely worth it!
Starting Price | Rs 400
Tip Tac Toe: Shoes Galore!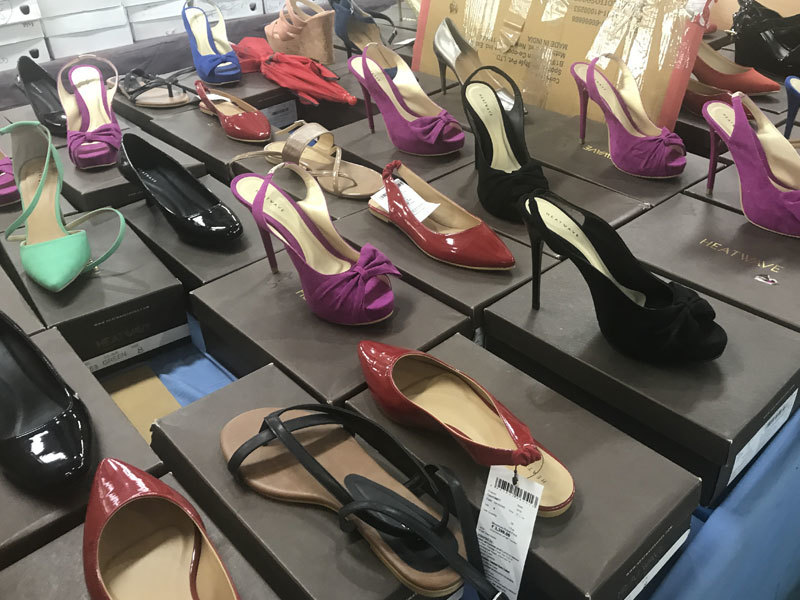 Perhaps the most eye-catching section in the large hall was the shoe section. Multiple rows of shoes for both men and women dominated almost half the hall! We spotted a range of stilettos for women in hues of green, purple and other quirky colours! Absolutely perfect if a pop of colour is what you like - we know we do! We also loved the everyday flats in neutral colours, great to pair with pretty much anything.
The variety of shoes for men, though was mind-boggling! Casuals as well as formals, there were endless options and we didn't know where to even begin! Along with brands like VANS and U.S. Polo, there were also great running shoes from trusted regulars like Adidas and Reebok.
Starting Price | Rs 700
Apart from clothes, we also found sleepwear and intimate wear at very affordable prices, along with things like towels and socks as well! Though there are no claims on the authenticity of the brands for any of the products on sale, the quality seemed pretty good. Our guess is that they're probably either factory rejects or old stock.
Nonetheless, this is a sale definitely worth checking out. They replenish their stocks every few months so there's no worrying about what you'll find here on each of your all out shopping sprees!
Happy splurging!
Where | Himachal Bhawan - 27, Sikandra Road, Mandi House
Call Them | +91 7888 893 947
Check Out Their FB Page | https://www.facebook.com/Himachal-Bhawan-SALE-229443464465953