Come Explore The Majestic Sher Mandal At Purana Qila In Pragati Maidan
The Sher Mandal, one of the two structures of the Purana Qila still existing in entirety, is nestled far from the magnificent entrance gate that stares down at you with a sense of majesty hardly eroded by the passage of time. 
Even though it is only an unassuming double-storeyed structure that stands on a very slightly raised platform, it has become one of the many reasons why the Purana Qila is known as the fort of misfortunes. 
Kings and emperors have tried to build, re-build and embellish this sprawling structure in their own time, but have all failed, falling prey either to circumstances or to external aggressors. Babur, who had originally commissioned the construction of Sher Mandal, fell to his death from its stairs, to his sudden & uneventful death.
Existence in History
The Sher Mandal is so named after Sher Shah who occupied the fort after Babur and even tried to complete the construction of what was begun by his predecessor. But it was not to be. He too died midway. Sher Shah had intended to raise it as a pleasure resort.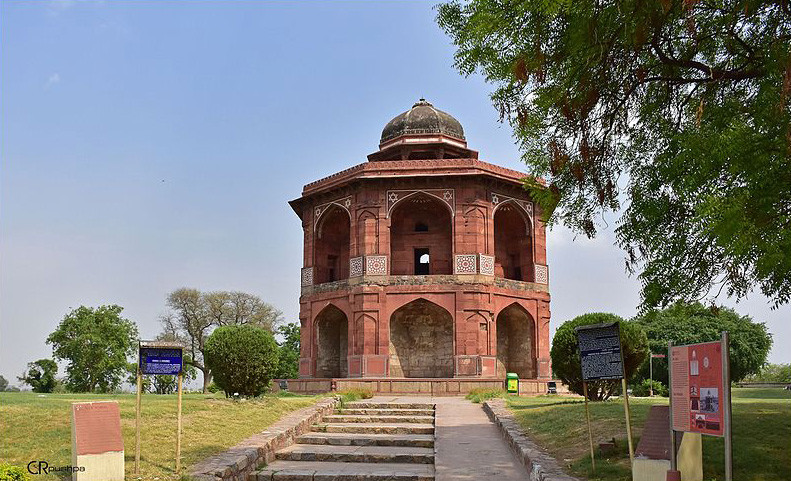 After his death, the structure had to be completed by Babur's son Humayun. It was for him that the Sher Mandal was originally meant, to be used as a library. It was also one of the first and the most well-known astronomical conservatories in Delhi. As the story is recorded in the Akbarnama, it was while hurrying down its stairs for namaaz in January 1556, that Babur had the fatal fall. It is visible from the remains of Kazirul Manzil, the mosque built by Maham Anga, Akbar's wet nurse.
Architecture and Design
For an observatory, this octagonal structure is of a surprisingly short build, having two storeys in all, but was meant to be raised higher. It is constructed largely out of red sandstone and white marble. Even though named after Sher Shah, its architecture and designs are decidedly Mughal. There is a domed chhatri on the top, but it contains hardly any unique architectural or artistic feature. 
It was on the inside that the Sher Mandal is known to be exquisitely lit with lamps and chandeliers in its heyday, but now entry remains barred to the visitor. 
Rummaging through its bare exterior, one notices kalash-shaped designs at the foot of one of the eight pillars on which the structure stands. This fusion of imagery between predominantly Mughal and intermittently indigenous Indian is a trademark of Mughal architecture.
The Hammam
Right adjacent to the Sher Mandal are the remains of an ancient Hammam. In fact a major portion of it still stands, braving the ravages of time and names of apathetic modern lovers scratched cruelly, out of a meek attempt at immortality.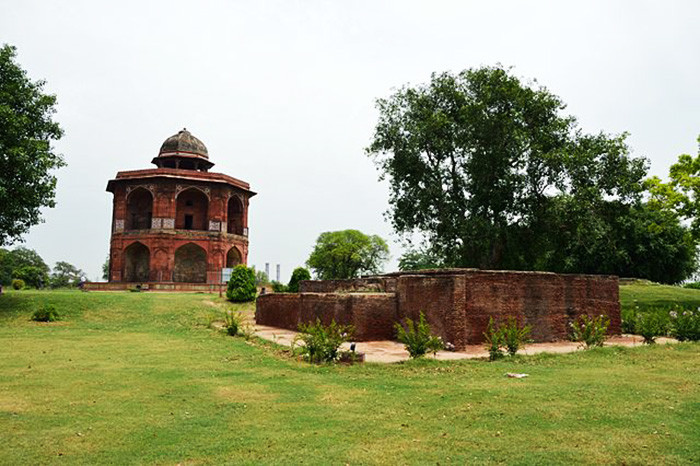 The caretakers here account for the proximity of the two structures because it is believed that Babur used the Hammam as his Wazoo-khana, the place for performing cleanliness rituals before worship. He would engage in star-gazing and reading right before his prayer time. It is a feature that hardly finds documentation, and does not even figure in the information booklets provided here in the museum. 
It is important to remark that such baths, equipped with hot and cold water and steam-bath chambers, were a significant aspect of Mughal culture and a daily royal practice. 
The semi-labyrinthine structure still stands today even though it was built over, several times, as the fort changed hands. It was excavated and found only when the protection, conservation and renovation of the site were taken over by the Archaeological Survey of India in 1913-1914.
The Purana Qila was a citadel in itself, the beginning of the making of a city. It has not been in ruins amid indifferent surroundings for the first time. It has always remained undone, incomplete, orphaned and re-adopted. But whatever is left for us to see, the remnants of a history in hot stone and cold marble, is a story recounted with unfaltering pride.