The best of the Sichuan, the classics of the Cantonese and the mystical cuisine of Yunnan - the legendary Shang Palace finally opened its door to Delhi for a succulent blend of heavenly tastes that would leave you craving for more! 
Once you step inside, your eyes get acquainted with a lustrous oriental splendor with filament lamps, wooden floors and opulent seating lending the space a royal look. The sprawling indoor seating with three lavish private dining rooms and a beautiful alfresco area overlooking lush green gardens promise you the experience of dining in a Chinese spring.
As you get seated, the delightful servers bring to you one of the various flavors of Chinese tea that they house, to help you get warmed-up.  Authentic ingredients and steaming hot dishes finished on fancy lava stones, are simply irresistible to wait for another minute! 
Here is our score of the imperial feast out its carefully concocted menu.
Wiki Wiki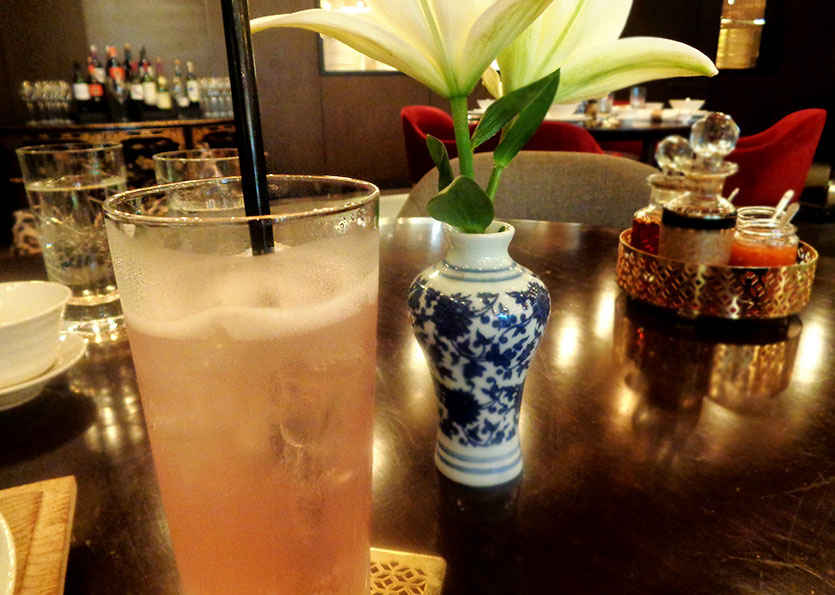 A cold seltzer drink, Wiki Wiki is one of the signature specials of the place. Have the first sip of the beverage, and you wouldn't ask why. An ornate mix of pineapple juice and lychee flavor, the drink would entice all the freshness lovers out there.
Mapo Tofu Spring Roll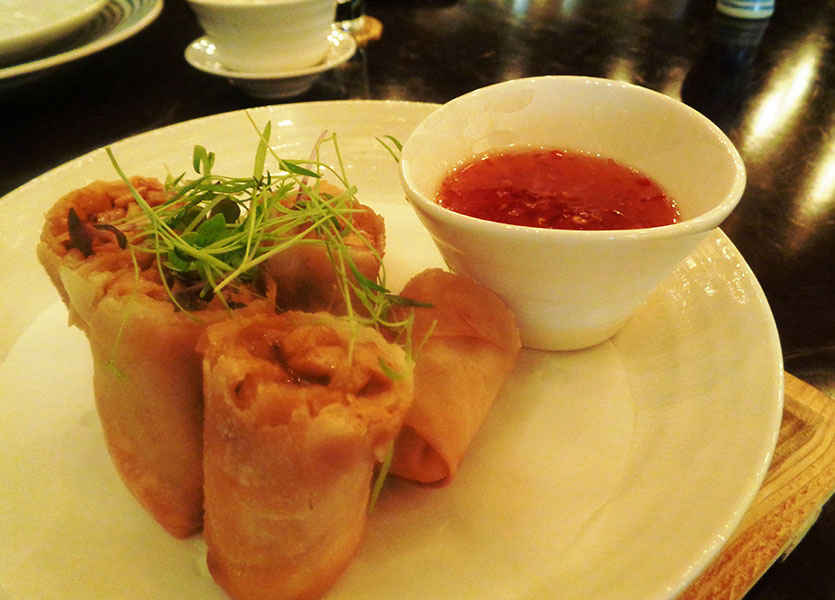 If you thought spring rolls could only have a vegetable filling, and that tofu is inherently a main course dish, the seasoned chefs here will offer you an interesting twist. Bringing tofu and an Indian touch in the starters on the menu, these tantalizingly exquisite spring rolls contain hard tofu tossed in schezwan, chili, peppers and spring onion!
Chicken Shou Mai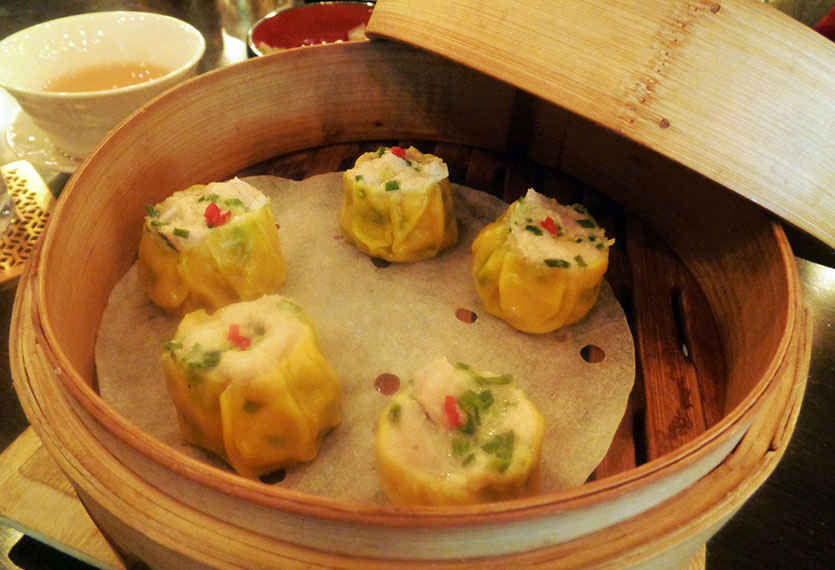 When indulging in Chinese cuisine, it's hard to not hog on dumplings. Just perfect for an emblematic Chinese starter, the Chicken Shou Mai is a bunch of steamy hot and saporous dumplings prepared open face with fillings of chicken, carrots and spring onion. We'd definitely recommend this one!
Smoked Eggplant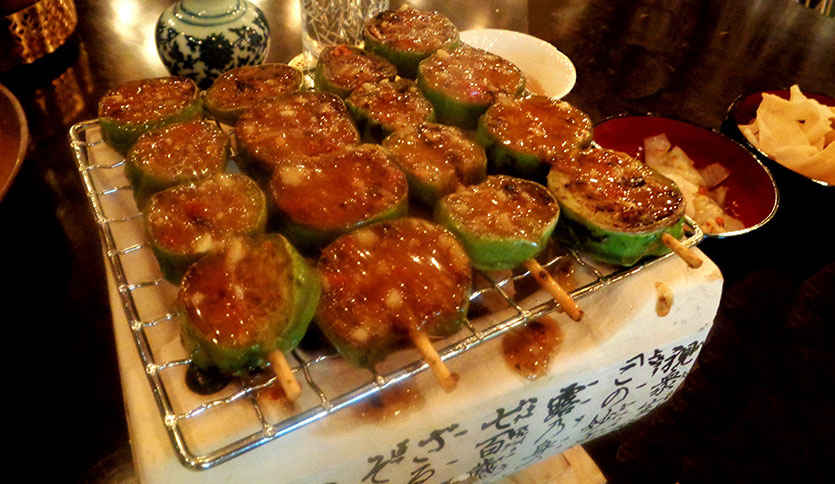 Eggplant has the tendency to bring a grimace onto people's faces, however, not this dish. Just as fascinating as the name is, the round shaped smoked eggplants are prepared with absolutely fresh aubergines and served as compelling sizzlers with a taste that was unmatchable!
Deep Fried Corn and Potato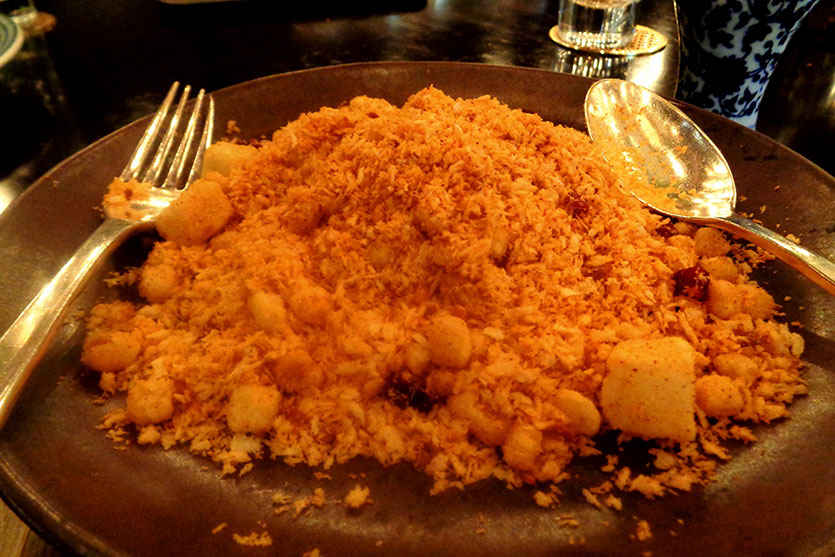 Corn kernels and rice potato deep fried in golden garlic (which gave it a glorious color of gold) - this is something you jwon't be able to stop eating. A typically unique pick from the menu, this stood out as one of our personal favorites!
Claypot Chicken, Lotus Root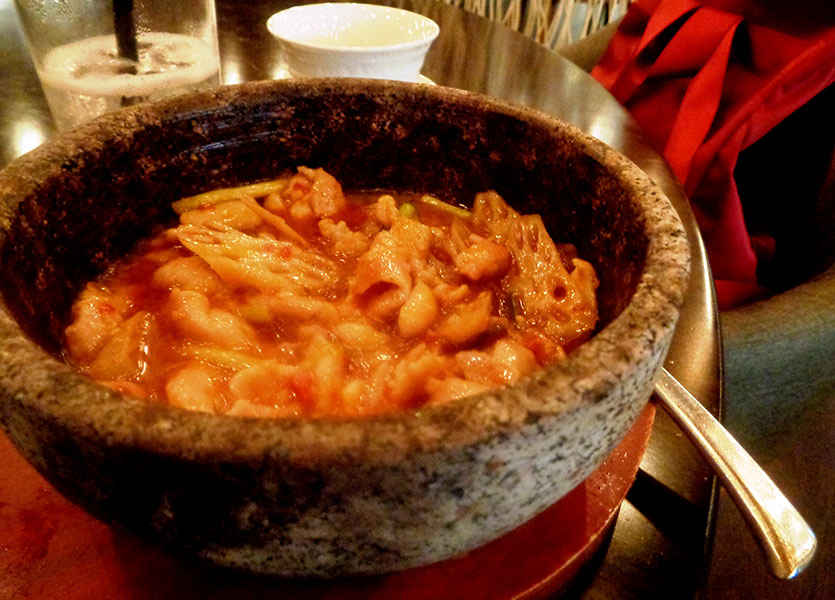 With lotus roots and chicken, this is one of the chef specials. Prepared with original and authentic ingredients, the chicken is stone heated to 300 degrees for an aromatic delight that occupies the air. It's served with a chili garlic sauce made indigenously in the kitchen and will leave you craving for more.
Hot Stone Pot Rice With Crispy Potato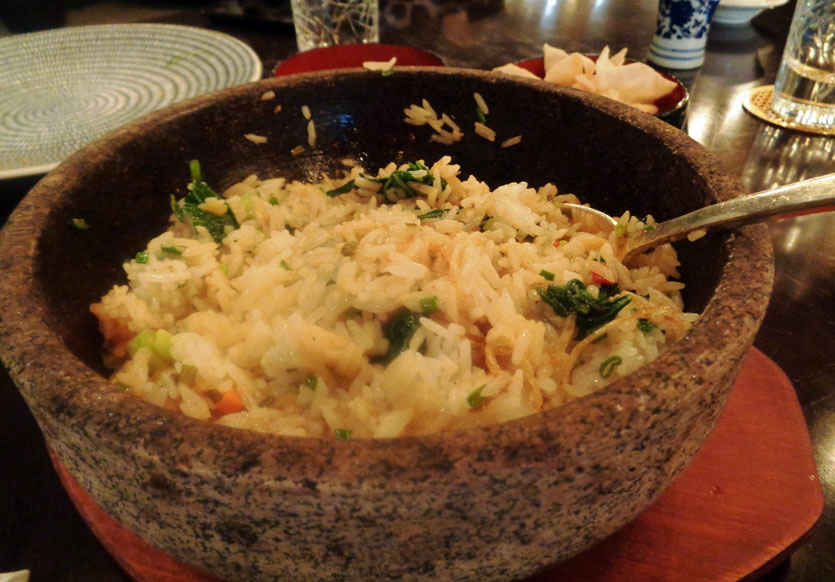 A pick from the Yunnan cuisine, the Crispy Potato Pot Rice is an exceptionally gratifying dish. Served with pickled chili and Yunnan chili chutney, it's a mix of coriander, chili, garlic and carrots with butter added to the stone pot. The butter and the rice together melt in the mouth leaving a lingering taste.
Sticky Toffee Pudding With Mango Ice Cream
A blend of egg, flour and kemia dates, the sticky toffee pudding was a sweet gooey play on the tongue, coupled with a delicious mango ice cream. The date pudding and the mango did perfect justice to the platter of scrumptiousness presented on the table, and you really don't need to have a sweet tooth to fall in love with the dessert!
Taking dining experience to a celestial level, the 39th restaurant of the prodigious global chain is an extravagant pageant of the rich Chinese cuisine right in the centre of the capital that you must try!
Location | Lobby Level, Shangri -La's - Eros Hotel, 19 Ashoka Road, Connaught Place
Meal For Two |  Rs. 5000 plus taxes (without alcohol)
This article is written by Khushboo Panjwani. Khushboo is a part time blogger and a full time feminist. If she is not busy explaining the world what feminism means, she is found reading (no love stories please), gardening (she is deeply devoted to her plants) or meditating (not a day without it). The term soliloquy was coined for her alone, and if you ask about the most beautiful experience - it would be a morning sunrise!