#ShaadiFever Running High! From Regal Bandhgalas & Achkans to Fancy Tuxedos - Check Out antarDESI!
Hailing from the city of Lucknow, with dreams in eyes and passion in his heart, Manish Tripathi has been creating a stir in the fashion industry with his willpower and stupendous designs. Here's all about his biggest foundation - antarDESI located in Shahpur Jat. 
The Man Behind It All | From participating in college shows as a judge to promoting handloom textiles, Manish Tripathi has achieved a respectable membership with the National Center for Textile Design. Through his hard work and impeccable design wizardry, he has earned himself a discerning clientele of celebrities spanning across the Middle East, America, Australia and London.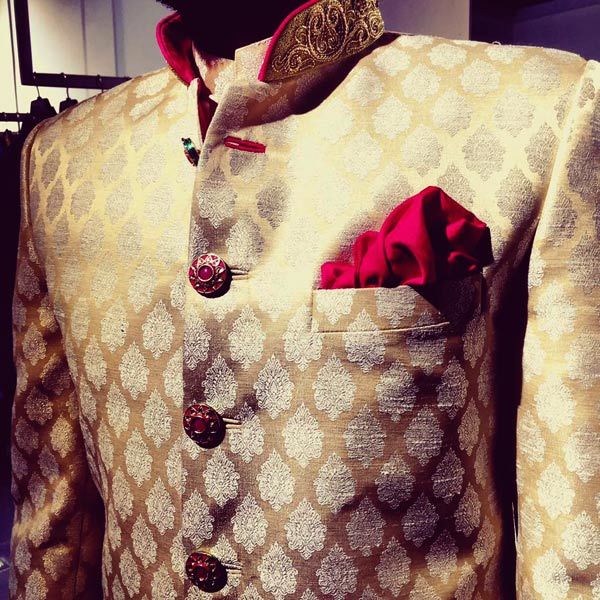 He is also a renowned and respected caricature artist and an established cartoonist. Woah! Currently, he's looking forward to execute 'DesignMee Project', which aims at providing clothing to the masses. 
Get Your Fashion Fix @ antarDESI | The exclusive menswear brand, antarDESI offers you bespoke tailoring with an impeccable cut and finish. They fabricate classy bandhgalas, chic western jackets, tasteful waistcoats, tuxedo suits, beautifully embroidered regal achkans, pathani suits, handcrafted kurtas, breeches, quirky yet refined shirts and a huge array of complementing accessories like pocket squares, cravats, ties, safas, juttis and especially designed cufflinks. Wow!
Each of their designs speaks volumes about the fashionable fix of creativity, technicality, workmanship, passion & practicality. Now that you know what a classy brand antarDESI is, won't you go and check them out?
Location | 5C, Jungi House, Shahpur Jat
Browse Through Their Website | http://antardesi.com/
Browse Through Their FB Page | https://www.facebook.com/antardesimanish/?fref=ts