Spicy Lemon, Singapore Style & Sizzler Momos: We Checked Out Poku In Dwarka!
Delhiites are crazy about street food, and what tops the list (always) is momos! Who isn't a fan of these yummy pockets full of goodness? They're a great snack whenever or wherever cravings strike. No matter which part of the city you land up in, streets in Delhi are filled with scores of momo spots, especially during winter-time. And talking of momo spots, there's a secret gem of a place we'd like to share with y'all, that not only serves delectable and juicy momos, but has pledged to bring a revolution in the whole concept of momos!
Poku Foods, an enterprise from Bangalore has set its foot firmly in the South-West part of Delhi, that is Dwarka. It has three outlets, one in Sector 12, which is the first one, and the other two are in Sector 7 and Sector 10. "Poku" stands for "love" in the local language and Poku Foods strives to deliver love and happiness in every bite you take! They understand the need to go beyond the conventional, and have played well with the art of making momos. Specialising in Tandoori Momos, they've transformed the initially simple dish introduced by the Nepalese community into something truly unique and certainly appetizing.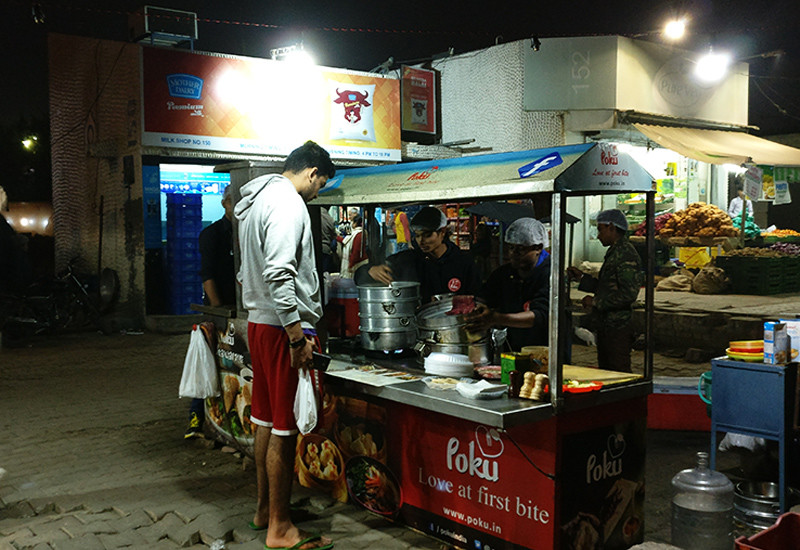 We landed our foots on the first ever street spot of Poku, in Sector 12, Dwarka. Part of the DDA Market in Sector 12, Poku has taken for itself a small part in the area, but reigns over a bigger place in the hearts of many of its patrons. The place has no seating arrangement as such and just a line-up of a few tall, round tables for customers who choose to eat here. Some of them park their cars next to the pavement close by and choose to eat inside their cars while others choose takeaway meals. Poku is happily associated with Swiggy and Zomato for home deliveries as well!
Their menu is all about momos, ranging from steamed, fried, tandoori, and they also have the Chef's Special Sizzler and Italian Momos - can you imagine?! Along with the varieties of Momos, they also serve Chicken Shawarma rolls, which are known to be the best in Dwarka. They serve their momos with mayonnaise, green chutney and the classic red chilli chutney. So you can imagine how we couldn't hold our horses to order once we'd laid our eyes on the menu! Here's a sneak peek into everything we wolfed down here: 
Veg Spicy Lemon Momos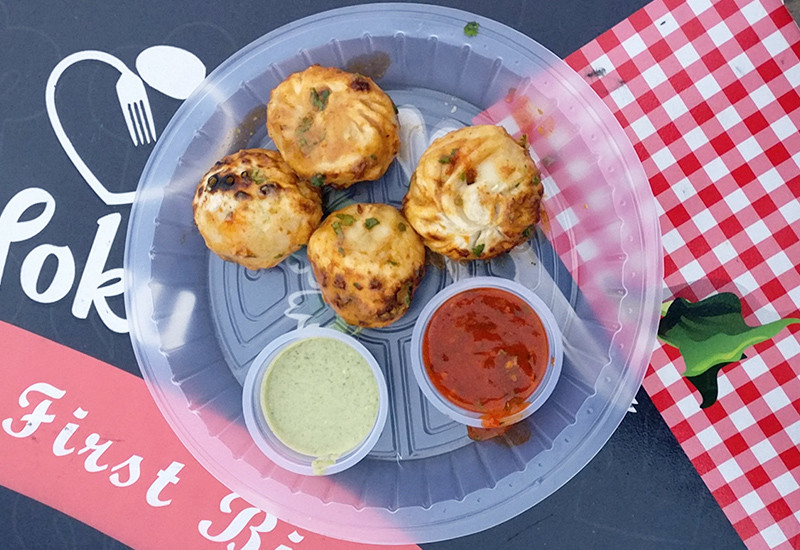 Yes, Lemon Momos! They do sound different, but boy did they taste heavenly! We ordered half a plate that served us four dumplings of sweet and sour with just the right balance. This costed us just Rs 50 and were well worth it. The dumplings were stuffed with freshly-fried veggies and coated with a piquant lemony glaze. The flavours, with the freshness of lemon, were like a party for our taste buds. These are by far one of the best veg momos we've tried, so do give this a shot for sure!
Chicken Singapore Style Momos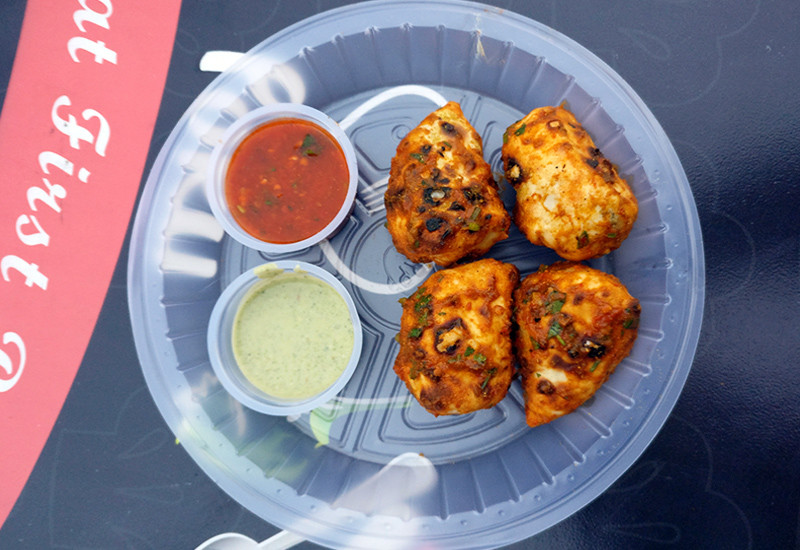 Singapore style? We were curious when we saw this on the menu. The dumplings were pocketed with nicely flavoured minced chicken and pan fried with chilli sauces of various kinds. They sure had heat, but they didn't taste out of the world to us. You can head in and try them, as the stuffed chicken was super delicious! This half plate of Singapore Style Momos costed us Rs 70.
Chef's Special Chicken Italian Momos (White Sauce)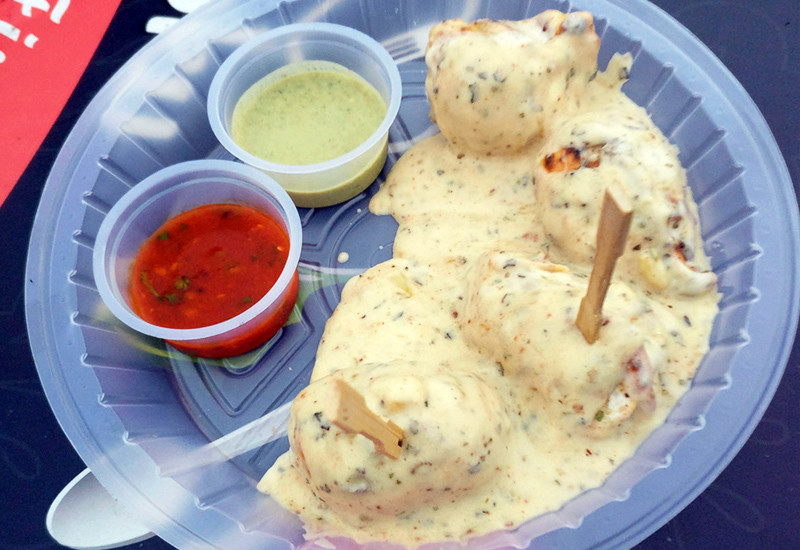 You read that right, Italian Momos. You can choose to pair them with either white or red sauce. We had to order this one for sure, and we're super glad we did! These dumplings came dipped in a thick gravy of white sauce and we just couldn't wait for these to cool down so we could take a bite. 
The chicken inside was seasoned perfectly and cooked nicely, and the way it complemented the thick savoury white sauce made our hearts flutter with pure bliss! They were the star of our time spent here and costed us just Rs 70 for a half plate of momos. We just love such cheap thrills *wink wink*!
Chef's Special Veg Sizzler Momos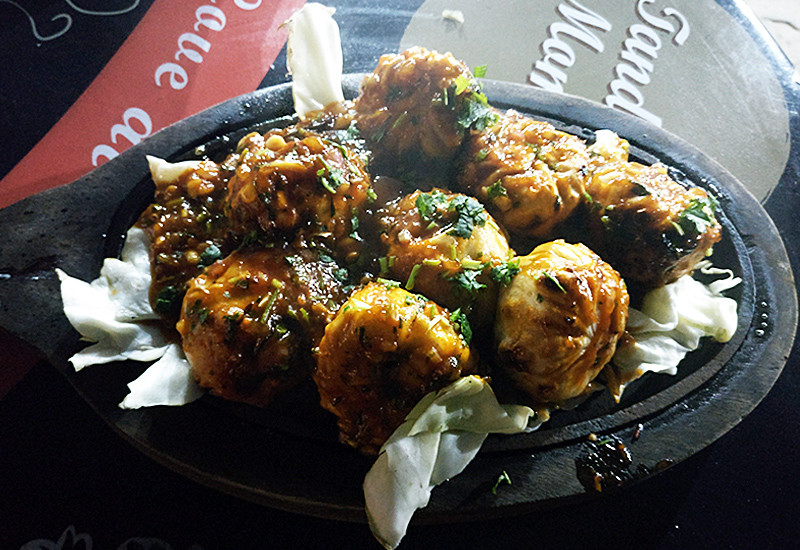 We then decided to indulge in some sizzling business next! What came to our tables was surely sizzling, and definitely mouth-watering. There wasn't an option of ordering a half plate of these, so these babies costed us Rs 110, which was totally worth the quantity and the delectable flavours it held. The sizzling dumplings were laid out on a tray dish, accompanied with a cabbage dressing and coated with a delicious layer of sweet and spicy Manchurian style sauce. Yum yum! 
Chicken Shawarma Roll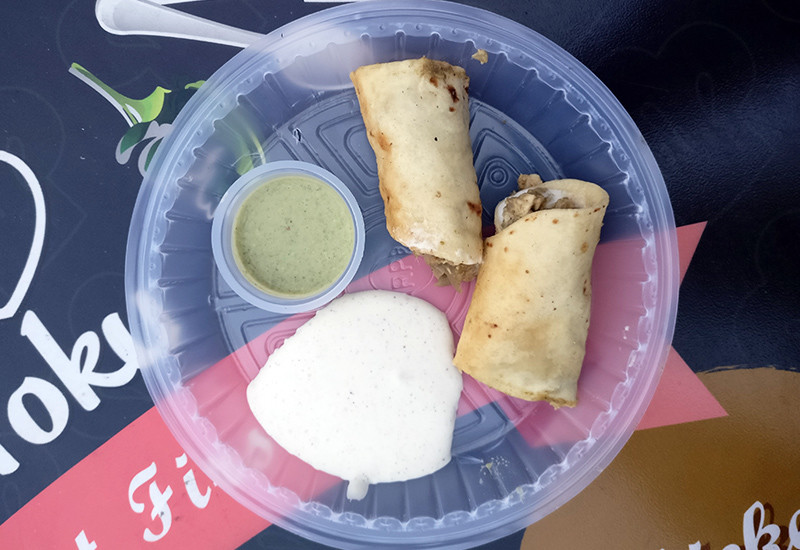 We then ordered some shawarma rolls for us and were slightly disappointed by the size of the roll, and even more so after tasting it, knowing how amazing they were! Oozing with the most succulent minced chicken and the homemade mayonnaise that they have was truly a delicious affair. These are, hands-down, the best shawarmas in Dwarka and are a must try! The portion of this Rs 50 roll was a bit of a dampener, but the tastefulness of it still made us smile from ear to ear!
So, if Poku isn't on your go-to momo spots list, it better be, as it's a must visit if you're living in Dwarka or hanging around in the neighbourhood. A great way to spend a weekend with family and friends, with the best variety of momos in Dwarka. Also, soon the Sector 10 outlet of Poku is turning into a bigger joint, so keep an eye out for that! 
Location | Near Bal Bharti School, Sector 12, Dwarka