Mumbai has Juhu, Goa is well Goa and Delhi? Well, Delhi has cafes that give us the beach vibes day in and day out! Our latest adventure in the heart of West Delhi led us to such a place where the alcohol flowed, the food was finger lickin' good and the ambience reminded us of the RAD shacks in Goa! 
Hinglish : Cafe, Beach Bar is located right at the entrance of the huge and always crowded Pacific Mall. This cafe is just what you need to make your weekend perfect! Comfy couches, smooth sheeshas and an amazing menu, this place has it all. We tried almost all the dishes from their menu and came up with a long list of must-haves at Hinglish, check it out!  
1. Achari Paneer Tikka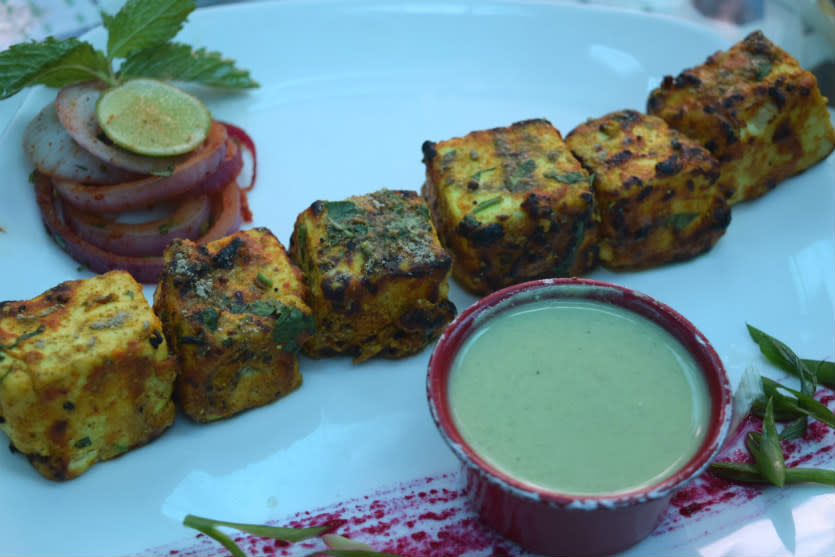 The Achari Paneer Tikka here sells like hot cakes! Nested in a Punjabi dominated part of Delhi, Hinglish knows the palate of the people and grills one of the softest, creamiest and achar filled paneer tikkas! Pair them up with the sirke wale pyaaz that they serve along with these smashing tikkas and you're good to go. 
2. Tandoori Jhinga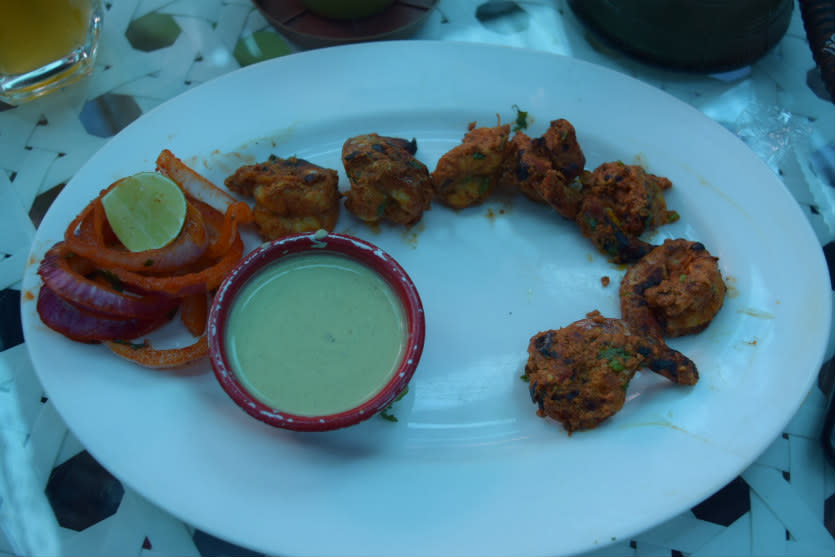 A dish truest to a shack by the beach, it doesn't disappoint us one bit! The shrimps aka jhinga were rolled in one of the classic red chilly paste akin to coastal food and were then tandoor-ed to perfection! Give this dish a try if you wanna gulp down your Bira with something spicy, something tasty!
3. Chilly Fish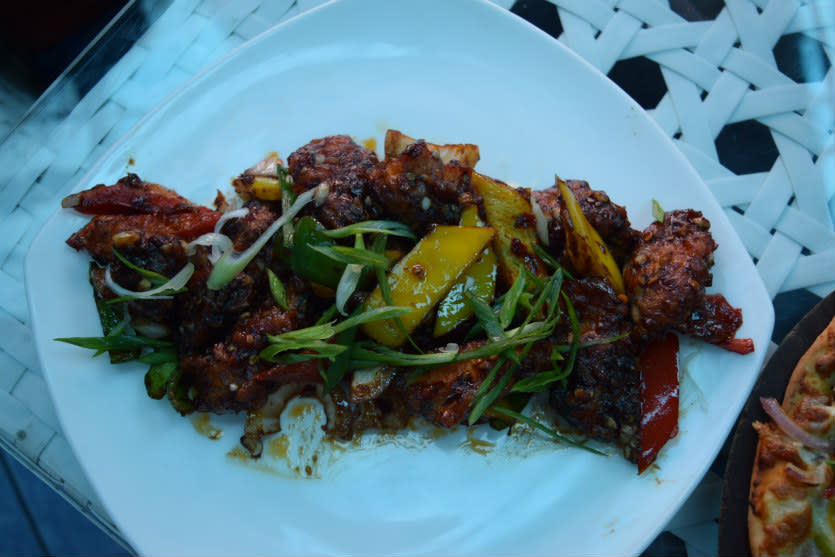 Taking a part of coastal food and mixing it up with something that we Delhiites love and voila, these guys are all set to serve you Chilly Fish and  trust us peeps it was one of the most stellar dishes on display and we licked the entire plate clean till the last bite! The fish was fried to a perfect deep crimson colour and then stir fried with the lismacking chilly sauce! What else would you want on a laid back weekend?!
4. Hinglish Pan Pizza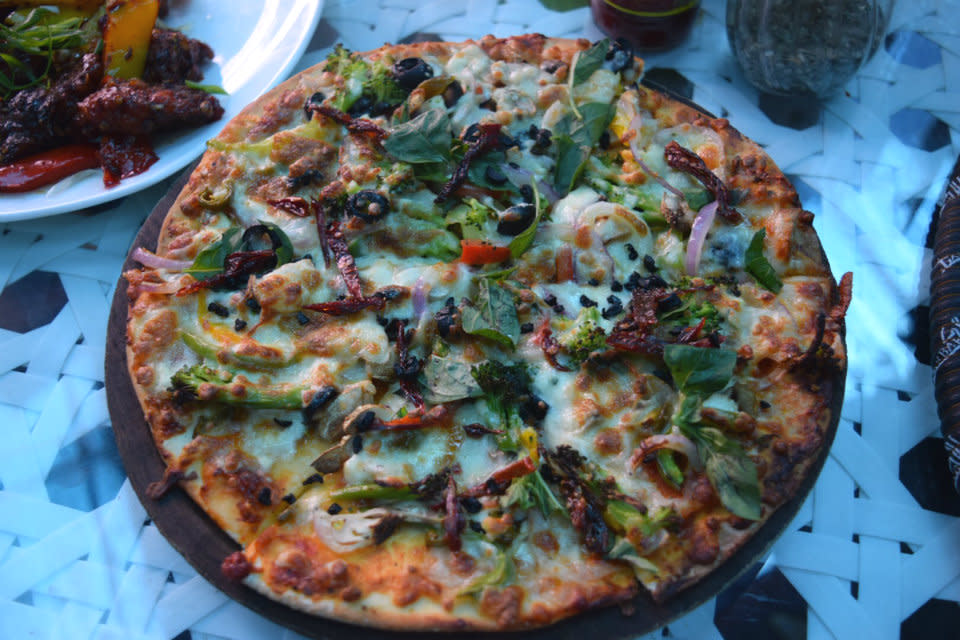 Feeling a burning hunger for something cheesy, we ordered their signature Hinglish Pan Pizza and understood why it was their signature dish from the very first bite! With a pan base, loads of cheese and every imaginable vegetable, this pizza takes the prize for the best pan pizza! The generous use of herbs like basil and flavoursome sun dried tomatoes made the Pizza taste like a million bucks! Give this a try and thank us later y'all!
5. White Sauce Penne Pasta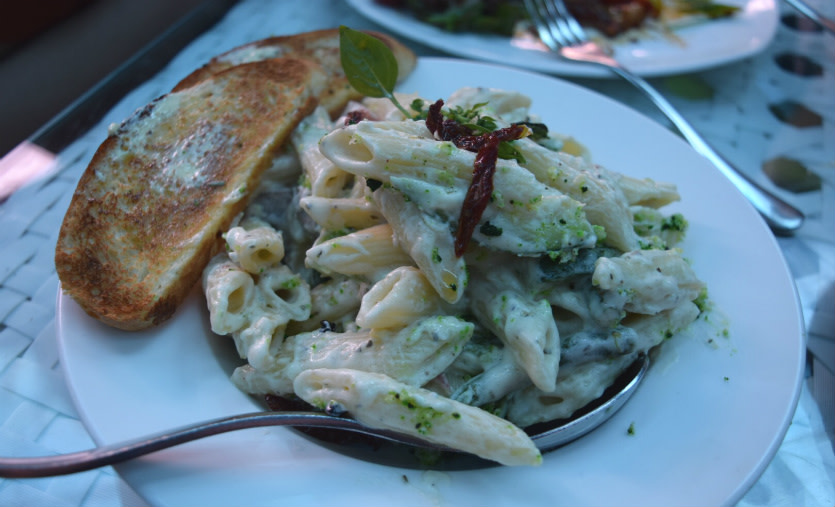 This time we decided to ask the servers about their best selling pasta which turned out to be the classic and everyone's favourite, white sauce penne pasta. The chefs at Hinglish put in every vegetable known to mankind in this classic dish and we aren't complaining one bit! It has mushrooms, french beans, broccoli, basil, sundried tomatoes and peppers! Veggie lovers are you on your way to this beautiful beach cafe yet?
6. The Hinglish Chocolate Fondue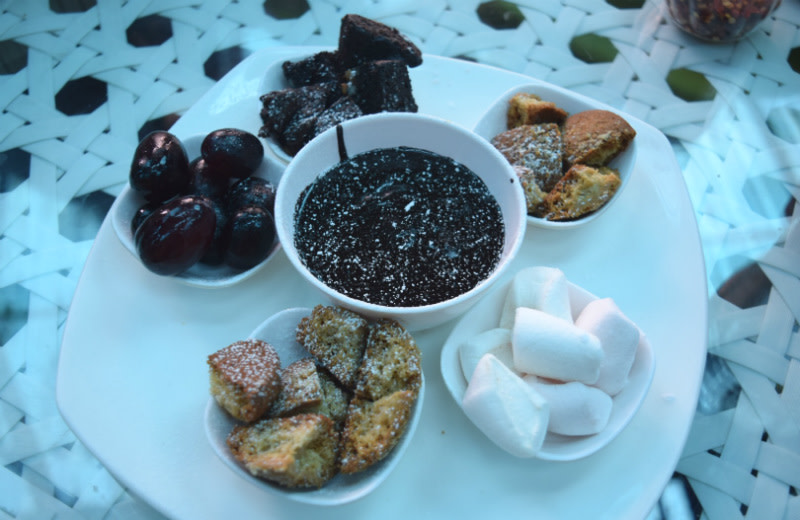 West Delhi is not famous for such fancy desserts (sorry for the stereotype fellas!) but we just happened to chance upon this magnificent dish and boy were we happy afterwards! The entire platter comes loaded with marshmallows, cookies, brownies and grapes all ready to be dipped in the most sinful of all chocolate sauce! Top marks to the quality of chocolate and brownie points to Hinglish for being adventurous with such lip smacking desserts!
So shop til you drop in the huge Pacific mall and unwind at this pretty beach cafe with finger lickin' food, smooth sheeshas and tipsy cocktails.
Meal For Two | Rs 1,600
Location | Ground Floor, Pacific, Tagore Garden
Check Out Their FB Page | https://www.facebook.com/Hinglishpacificmall/