Salted Caramel New York Cheese Cake & Oodles More: Theos In DLF Mall Of India Just Blew Us Away!
"Life is short, eat dessert first", is the motto which binds the Noida Wallahs and it goes without saying that it's a strenuous task to woo them with the delicacies offered in the city.  Located on the 3rd floor, just opposite the Panasonic showroom, of DLF Mall of India is a huge kiosk of Theos dishing out some of their fine pastries, patties and sandwiches.
They have a colossal variety of pastries to suit the different taste buds of the people perpetually hovering around. The factor that gives an edge to this place is a small yet splendid seating area, just opposite to the kiosk, designated for regaling its patrons. It's a square shaped area with a table and four chairs each on every corner. The boundary of this area is beautified by an astounding arrangement of artificial flora. The idea is to give a sense of privacy while enjoying the variants offered.
Smitten by the sweet aroma, we tried the following:
Salted Caramel New York Baked Cheese Cake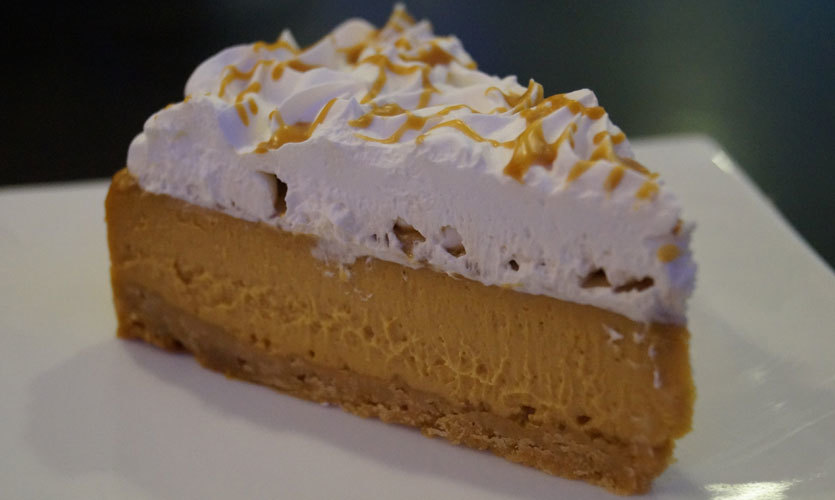 A sweet dessert comprising three layers, the base was made of graham crackers, which are made from unbleached, whole wheat graham flour. The middle layer, being the thickest, was a mixture of soft, fresh and salted cream cheese and the top layer was made up of whipped cream (omg)! The true essence of this piece, being the most sought after pastry, was felt only when a scoop of all the three layers was taken at once. The salted clotted cream with the sweetness of whipped cream and the crunch of the biscuit left us drooling!
Hazelnut Opera Cake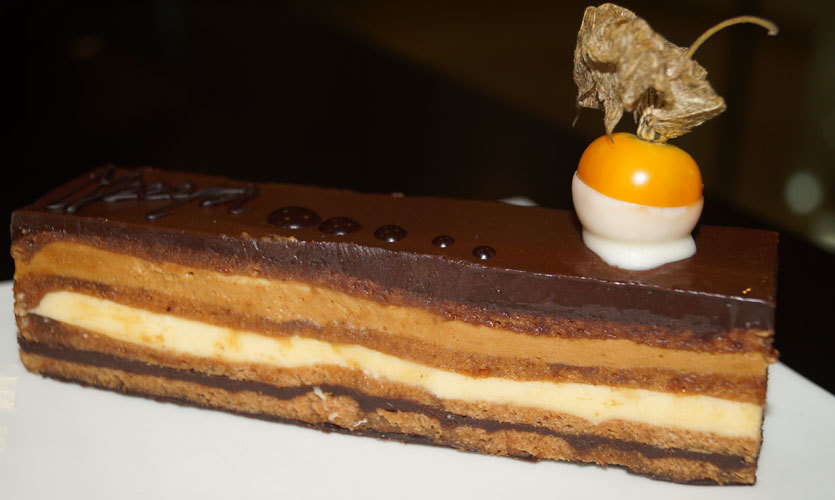 We became besotted just by the look of this piece flaunting itself proudly at the counter. It was made with layers of almond sponge cake, soaked in hazelnut syrup, layered with ganache and coffee buttercream and covered in chocolate glaze! To give it an exquisite look, they had garnished it with a small raspberry on the top. The cream was soft, smooth and airy. The sweetness level was also kept under control. The true essence of this piece was derived from the admirable blend of the sweetness of chocolate, bitterness of coffee and the nutty flavour of hazelnut.
Mushroom Vol Au Vents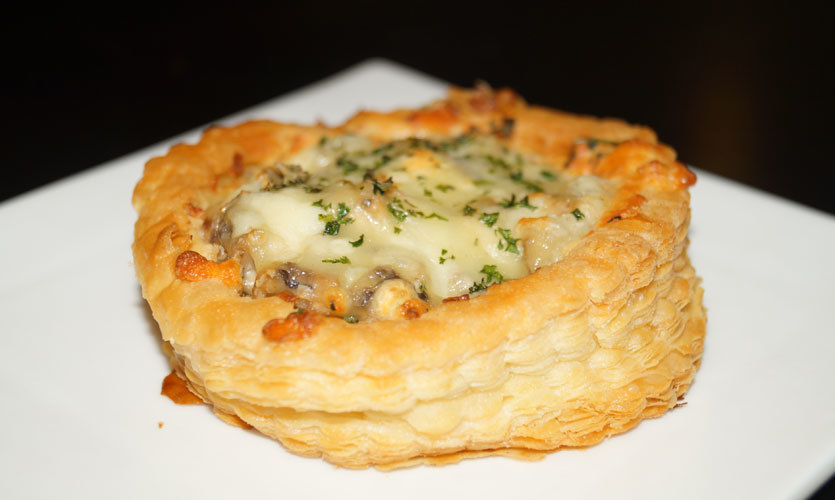 A small case of puff pastry with a savoury filling of minced mushroom and cheese, which was then coated with mozzarella cheese would best describe this one. It was basically a flaky light pastry which had a fried base and pan fried mushrooms in a unique blend of spices. The base, despite being fried, hardly left any evidence of oil (thank God!). The spirit of spices was aptly absorbed by the mushroom and could be felt with every bite. The presence of mozzarella cheese acted as a catalyst in enhancing the flavour of this dish and taking it to a whole new level. Needless to say, we finished this one off in no time!
Chicken Chinese Roll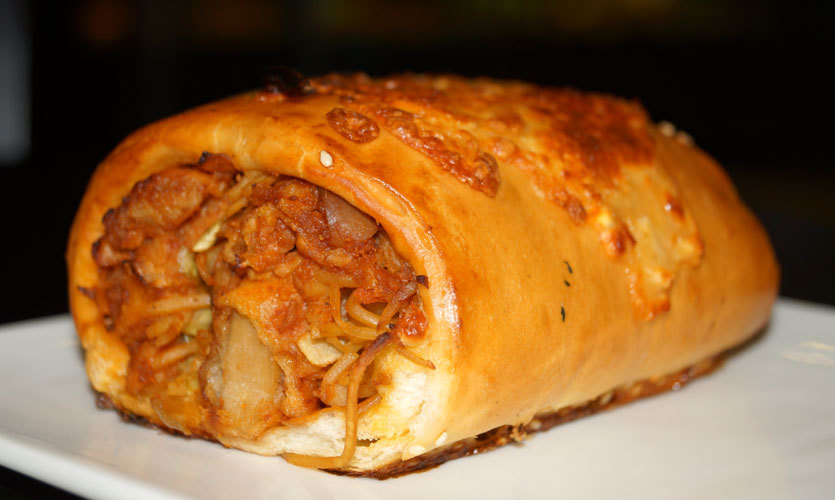 Giving due importance to the high demand of this item, we almost had to fight to get our hands on this one, and we were so glad we were able to! Spiced noodles, fried chicken pieces, minced and pan fried onions and capsicums formed the filing of an enormous roll made of wheat flour which was then baked with a cheese slice on top. The noodles were evenly cooked and had nicely absorbed the spices. The chicken pieces were succulent and added a zest to every bite. The slight presence of soya sauce and vinegar gave a sour tang to the dish. We suggest you devour it hot as it loses its flavour when cold!
Chicken Sandwich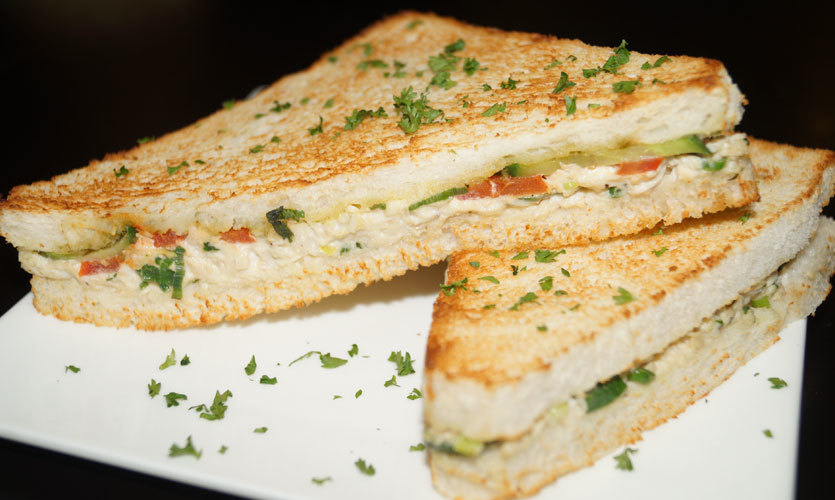 Theos boasts of serving some of the freshest and best sandwiches in town and we couldn't agree more! It's the filling between the slices of bread that makes all the difference - sliced onions, tomatoes, cucumbers, capsicums, minced chicken, cabbage and mayonnaise formed the sumptuous filling of the sandwich, which was then grilled and sprinkled with coriander before being served. A word to the wise - wolf it down before it turns soggy!
Veg Panini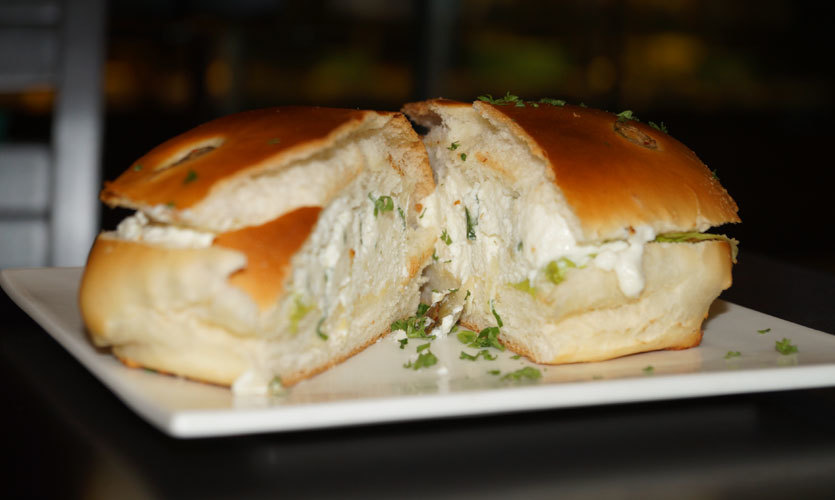 Pulling off the filling of a Veg Panini is a tedious task, but was somehow facile for the chef here! The Panini comprised a toasted Italian bread with a filling of finely crumbled cottage cheese aka paneer mixed with minute pieces of cucumber and capsicums. We were mesmerized by the volume of the filling in the Panini. The sweet and salty flavour induced in the paneer left us completely satiated!
Hazelnut Chocolate Shake
Belgian chocolate syrup, milk, hazelnut syrup and sugar syrup, when whisked together resulted in this completely enchanting drink! Those preferring a low sugar content may give the sugar syrup a miss as the taste, flavour and texture remains intact. Served with a munchini on top, one can miss out on soft drinks/cold coffee for a change and go for this instead!
All in all, one can expect fresh, scrumptious and mouth-watering snacks along with pastries made under experience guidance and with extreme finesse. Since they've arranged for seating as well, one can enjoy some 'sweet' time in peace. Happy munching!
Meal For Two | Rs 1,500
Location | 3rd Floor, DLF Mall of India, Sector 18, Noida