Delhi's Shangri-La – Eros Hotel has recently gotten a facelift, and is already working up a storm in the culinary world. Only a short while back, they launched their Italian restaurant, Sorrento, named after a coastal town in the southwest region of Italy showcasing the best of the country's cuisine. It is here that renowned Italian Chef, Luigi Ferraro puts out Neapolitan cooking with a twist. 
Their menu boasts a variety to choose from, and if you leave it to the chef, he will pleasantly surprise you, ensuring you walk out satisfied by the experience.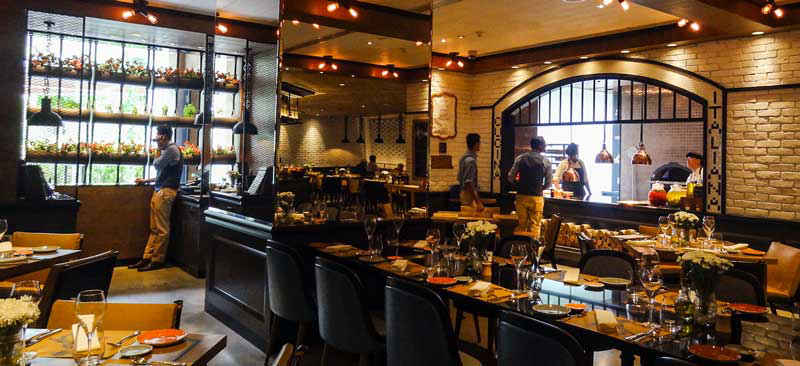 Beginning from the salad, down to the desserts and freshly prepared digestive liqueurs, Sorrento will not disappoint. Decent portion sizes, no compromise on the quality of food or service, a menu that is on point, great location and beautiful interiors make Sorrento worth a visit – or more, if one wishes to ensure they strike all of the goodness on the menu off their list!
Before beginning a meal, pick a wine of your choice - red or white - or ask for a tasting before you settle for one. Here's why we enjoyed our Sorrento experience… 
Insalata Caprese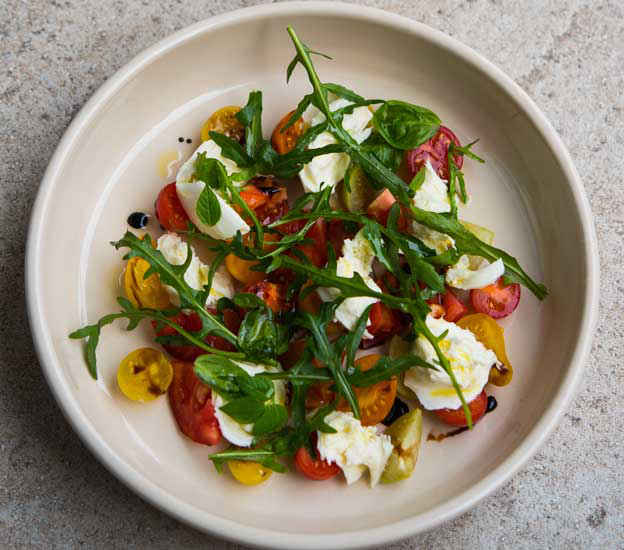 The salad was assembled table side using fresh toybox tomatoes, mozzarella, basil and rocket leaves, seasoned with olive oil and balsamic vinegar. A simple and refreshing start to the meal - the tiny tomatoes added colour and bursts of flavour to the salad, which was complemented by the strong and dominant balsamic vinegar. Fresh mozzarella chunks helped balance the dish. 
Sicilian Fennel and Fava Bean Soup 
The creamy Fennel and Fava Bean Soup which was quite a unique creation came with tiny and crunchy bread crumbs. We found it to be comforting and delicious together, with fava beans dominating the flavours which gave it a nutty taste and buttery texture. 
24 Month Aged Parmesan Stuffed Ravioli Garnished with Spring Vegetables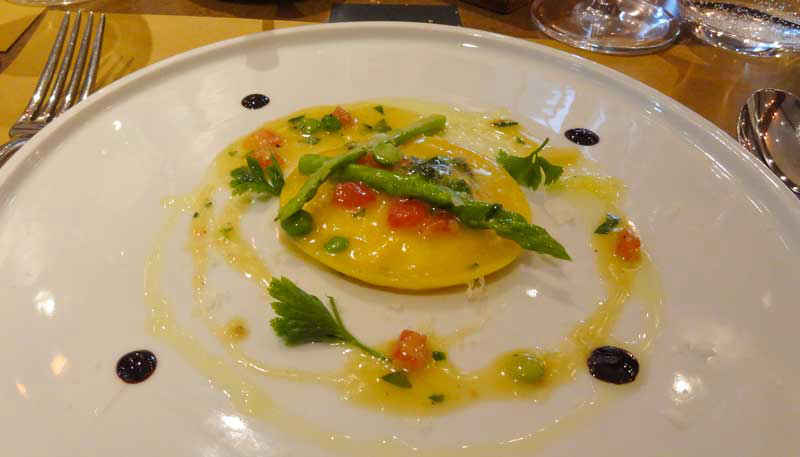 If you love your cheese, you will love this ravioli. The pasta came with perfect consistency, and a generous filling of delicious parmesan. This was served with bright spring vegetables adding more texture to the ravioli. It could be something you pick when you're not too hungry, or are contemplating on eating more. 
Mushroom Truffle Risotto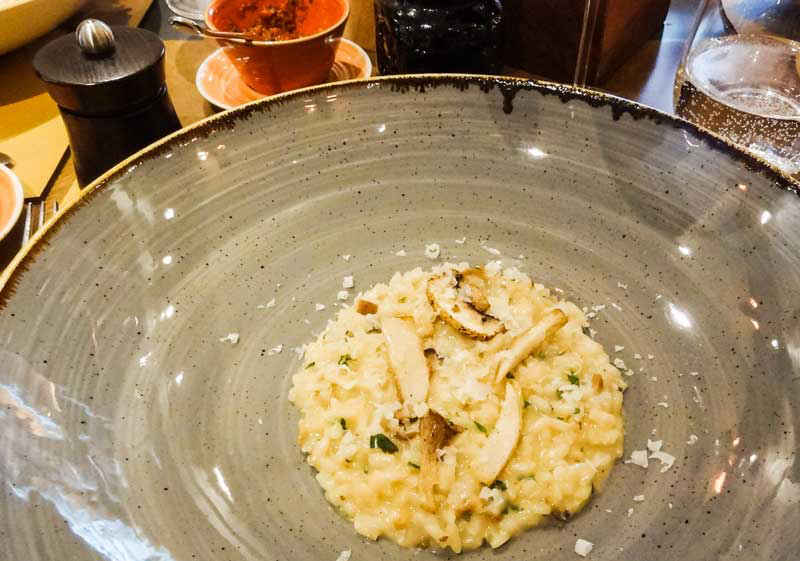 Sorrento is one Italian restaurant in Delhi that nails their truffle risotto. Chef Ferraro added a twist to the dish by not choosing the usual Arborio rice. The Mushroom Truffle Risotto was a delight, as we could taste the truffle and mushrooms creating the ideal combination that cannot be ignored. 
Tagliatelle Con Sugo Di Agnello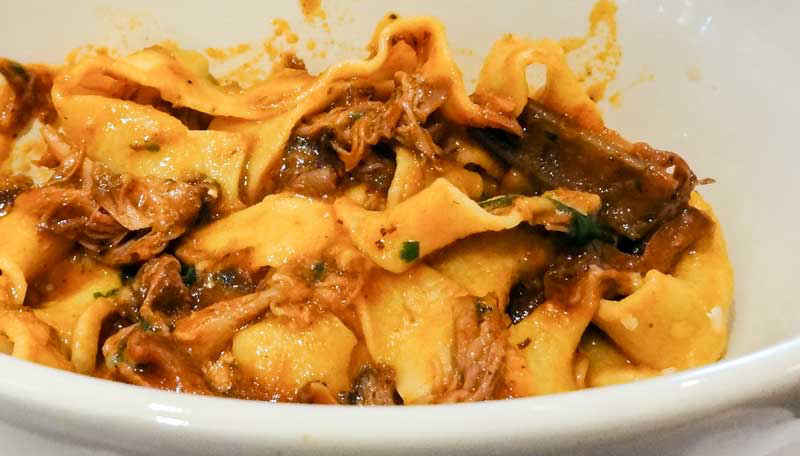 One of the specialties of Chef Ferraro is the unconventional pastas he serves – each differing in shapes and sizes and prepared from scratch at Sorrento. Nothing can beat the flavour and texture of freshly prepared, al-dente pasta. Served with shredded lamb in gravy, this was the most delicious part of our meal here – also felt like something that would sit very well with the Indian palate!
Buffalo Mozzarella, Prosciutto di Parma & Rocket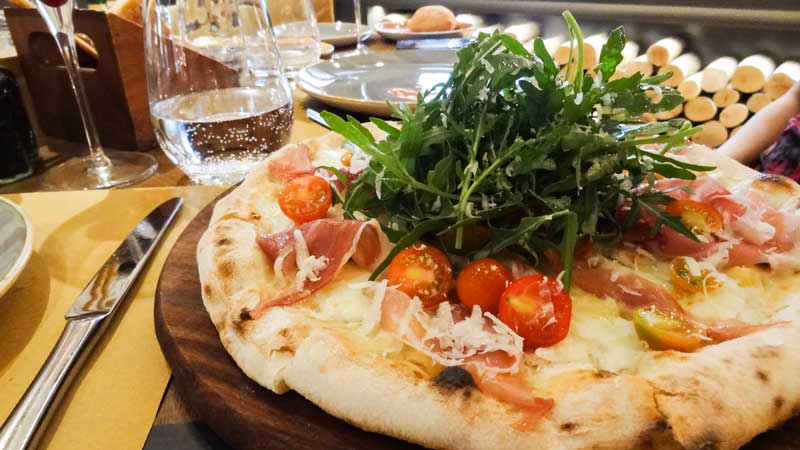 The pizza was prepared right before us, using hand-stretched base covered with fresh mozzarella. Once cooked, this was topped with thin slices of prosciutto, which covered for the salt. And a pizza enjoyed without any extra toppings is indeed a good pizza.
Mount Vesuvius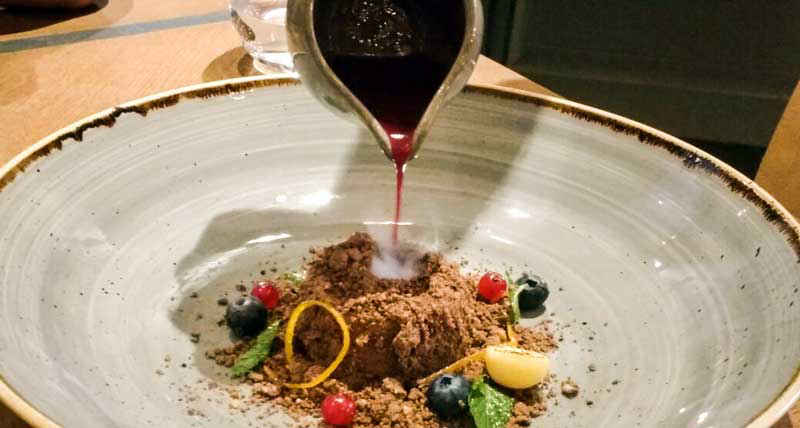 Mount Vesuvius is named after the volcano in Naples and was recreated by the Chef using Hazelnut chocolate cremeux, almond biscuits and cocoa soil for the volcano - this added crunch to its creamy texture. The Raspberry sauce was used to pour over the portion containing dry ice to depict an active volcano. The dessert came together as the sauce and fresh berries balanced the creamy chocolate structure.
Tiramisu 
Round two of dessert was the Tiramisu – tender biscuit lined with mascarpone cream, bits of almond biscuit and topped with a dollop of coffee ice cream. The first bite hit us with the beautiful coffee flavour sweetened by the rest of its components. Dare to try this, if you wish to ruin the conventional Tiramisu for yourself - we did it, with no regrets.
We culminated our meal with a shot of Limoncello - freshly prepared using vodka, juice of the beautiful Amalfi lemon and sugar.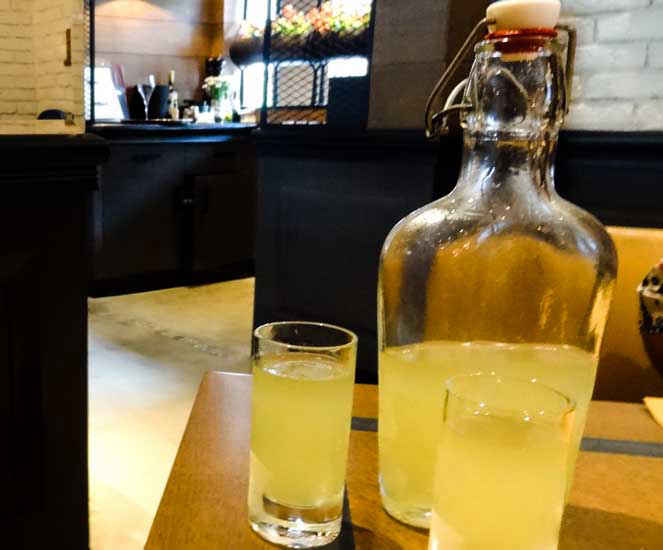 An experience at Sorrento is a must for your taste buds to witness these unique Italian flavours. 
Location | Shangri-La's Eros Hotel, 19, Ashoka Road, Connaught Place
Meal for Two | Rs 5000
Ratings | 9/10