Revisit your roots with this rustic establishment that has footed itself just down the entrance of the National Arts & Crafts Museum in Pragati Maidan. The place has a picturesque setting perfect for a casual meal, complemented well with a museum tour & light hearted shopping at the Crafts shop out front.
It is decorated charmingly, with an open air seating under a roof that is mere bamboo sticks held together with iron pillars. Circular lights hang from these pillars, while the walls are designed with mirror pieces around shapes & trees that still stand untouched. Stone tables, café style chairs and an effervescent atmosphere vibrant with classical instrumental music playing in the background ensures the place's success.
Here, you can find yourself totally immersed in the beauty of the relics & surroundings that purr authenticity with a modernized contemporary menu that takes its due from specific regions around the country. It is seasonally changing & features some offbeat dishes that can only be found through an intricate understanding of the food adoptions across various states.
Lassi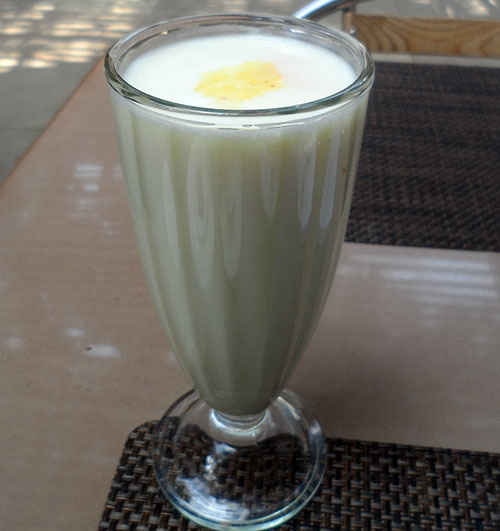 We started off with a full glass of freshly made lassi - a traditionally heavy Punjab based drink made with sugar, milk & curd. The Lassi was made impeccably, with a tingly sour taste with a balance of sweetness that energizes you completely.
The Beetroot Chop or the Bhaja Moshla Cream Cheese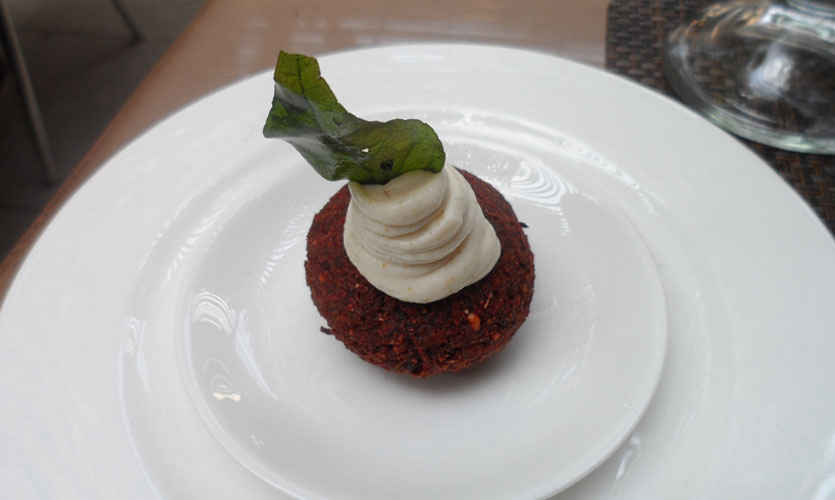 This is the café's take on the popular Kolkata Street food classic. Patties stuffed with beetroot were served along with a topping of cream cheese; the stuffing needed more grinding for a better mash with an equitable topping of cream cheese to balance the dry patties perfectly, an enjoyable dish but with huge scopes of improvement.
Bombay Keema Bao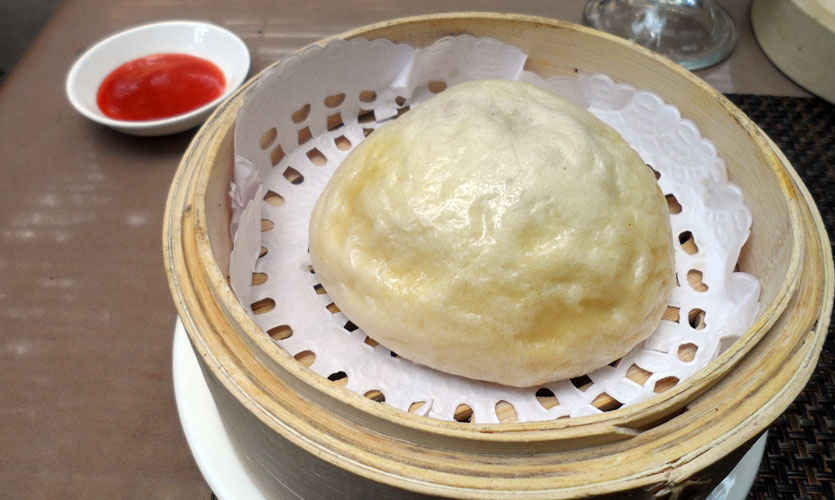 This dish is essentially a Bombay favourite and consisted of steamed pao stuffed with minced goat meat, subtly spiced and served with a Sriracha Sweet Chili Dip. Although the pao was extremely soft & steamed till a seamless point, the keema mash cushioned inside was too little and too dry, and the dip didn't help either.
The Amritsari Amaranth Machli aur Shakar Kandi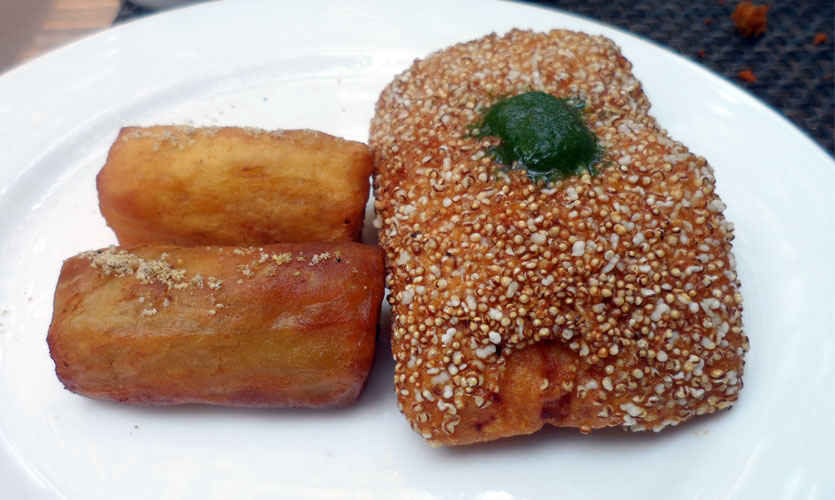 This was their version of Fish & Chips, using the popular Amritsari fish & sweet potatoes in place of regular ones, making the dish distinctive in sorts. The fish fillets were crusted with popped amaranth grains, providing the dish with a crunchy texture exterior to a soft cooked fish that lacked a bit in flavour; but was revived by the green chutney served as a side. The sweet potato fries on the other hand were an absolute treat that would charm you to your very wits, with a brown golden crust that is not only brittle but also immaculately flavourful.
The Chicken Ghee Roast

This turned out to be a disappointment though, boneless chicken morsels stir-fried with curry leaves served inside a ragi appam. There was no questioning this dish when it came to a succulent tangy & spicy flavour that was hard to beat, but the stringiness of the chicken made it almost inedible. A little more attention to detail could have saved this dish. Nevertheless, we moved onto our final course with high hopes.
Kerala Vegetable Stew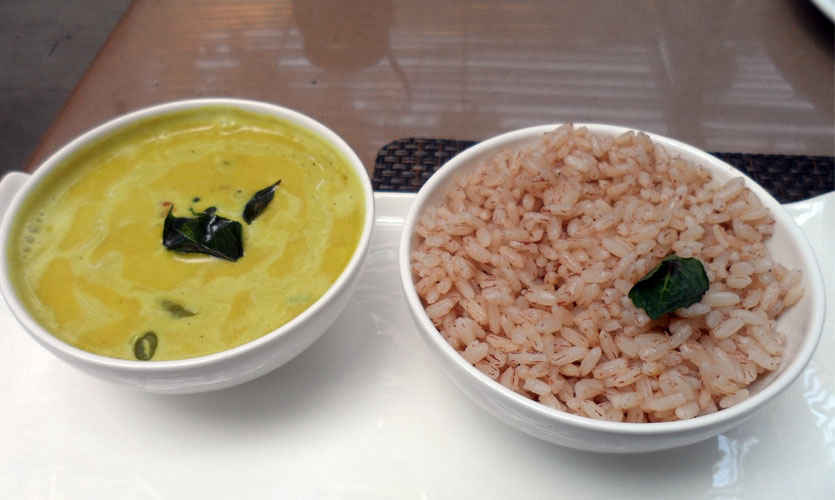 The assortment of veggies was floating in tempered coconut milk, served alongside Matta Red Rice. The stew was impressive; it managed to entice us fully with its well flavoured understated gravy that had strong hints of coconut, with equally well complemented short grain red rice that proved to be a charming combination.
Bhapa Doi Cheesecake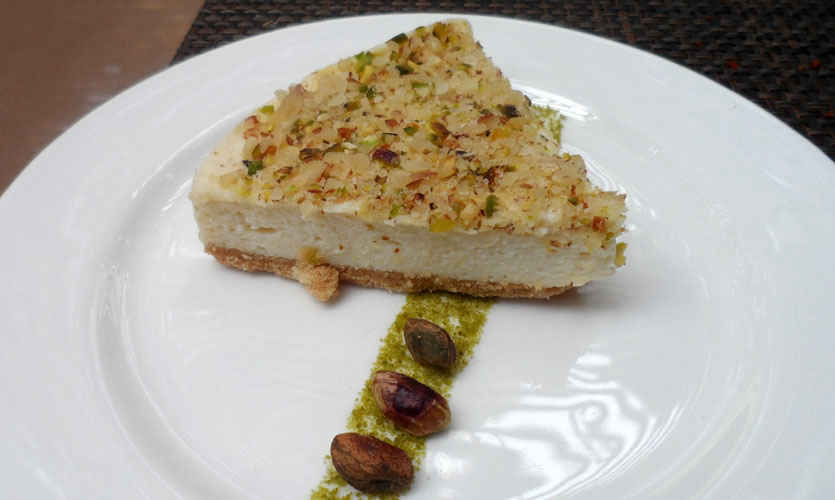 For desserts, there aren't many options; only two present out of which we ordered the Bhapa Doi Cheesecake, sweetened steamed yoghurt served on a crunchy biscuit base with a topping of almonds and pistachios. It was a heavenly delight, with a creamy amalgamation that doesn't make you miss mascarpone at all, with an almond pistachio dressing that gives it a relentless Indian touch, something one would definitely come back for.
Flowery Broken Orange Pekoe

Before leaving, we did help ourselves with a steaming cup of Tea; one of their single-estate specialty teas that demonstrated a rich & opaque taste with a strong flavour that soothes you in entirety. There are other varieties of tea present here as well, all procured from the Mancotta Tea estate in Dibrugarh district of Assam; and a list of artisanal coffee blends that come from Southern India.
Palak Patta Chaat
The café had been grabbing significant attention in recent weeks with its popular chaat offerings, with hardly any other place attempting the same. A must have - this chaat had fried spinach leaves sprinkled with chaat masala & served in a bowl of sweet curd, sauces, chutneys, boiled potatoes and topped with pomegranates. It was not overhyped at all, with an emulsifying concoction that would be loved by the street-food junkies of Delhi!
Café Lota has a lot to offer with its ever changing dishes, tranquil setting and experiments with household classics that appeal to most of its clientele. If you're adventurous in your pickings & like testing out new chic places & styles, then this might just be one of your top choices.
Location | National Crafts Museum, Bhairon Marg, Pragati Maidan