Rent Ridhi Mehra, Sonam Parmar & More Labels At Affordable Rates At This Elegant Concept Store!
One of the best things about Delhi? Every season is wedding season! The big fat Indian wedding is a cliché that is celebrated with aplomb in the capital city and no stone is left unturned to create a magnificent display of grandeur and beauty. With Instagram becoming the medium of choice for the youth to converse with the world, the perfect desi outfit is now the definition of #WeddingGoals! 
If you're even remotely girly, then you're well-versed with the trials that accompany choosing a lehenga that looks equally resplendent in candid and traditional shots. Moreover, what pinches us personally the most is shelling out thousands on a new one for every occasion that ends up buried in our closet for years; sometimes it lasts even longer than the marriage does, ouch!
We know you can relate to that and so did Laveena, whose brilliant idea is the answer to all your sartorial sorrows. Rent An Attire is an elegant showroom nestled in Shahpur Jat with a simple and effective proposal – why buy when you can rent!? This is an offline and online fashion rental store currently live in Delhi, Pune & Dehradun. RAA offers you a curated designer collection of both Indian and Western wear that you can rent out at phenomenal prices (Rs 999 - Rs 12,000) without the burden of a permanent purchase. No strings attached. Pretty neat, huh?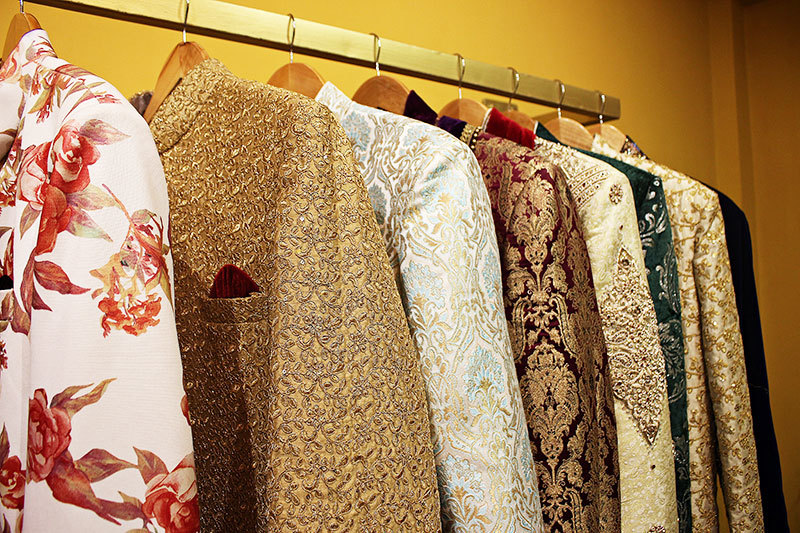 Their flagship Pune store started off with 40-50 outfits and now houses over 300 unique pieces! The Delhi store is well-stocked too - you can walk in, take your pick from the sizes available and also get it altered in-house if needed. A garment is eligible for rent for 3 days at a fixed price, post which you'll be charged a small percentage of the cost if you wish to extend the time frame.  
The concept store is pretty and minimal, they let their outfits charm your pants off! An impressive collection of lehenga-choli sets, skirts, kurtas, capes and sherwanis greets you along with Shikha, who manages the Delhi branch. They've got relatively subtler options for your cocktail parties and sangeets along with glitzy ones for when you have to turn up the glam quotient.  
Here are some of the designer labels they have in stock: 
Ridhi Mehra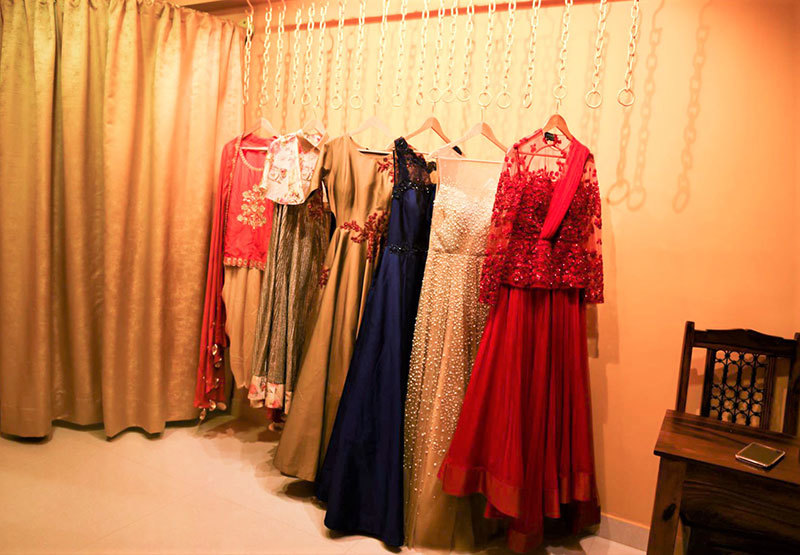 This gorgeous creation by designer Ridhi Mehra really pops out! Comprising a stylish peplum top with a flared chiffon skirt, it's decorated with delicate sequins and floral embroidery throughout. If that's too tame for you, then turn it over. The risqué keyhole detail on the back adds just the right amount of oomph to your evening!  
Price | Rs 5,999 
Sonam Parmar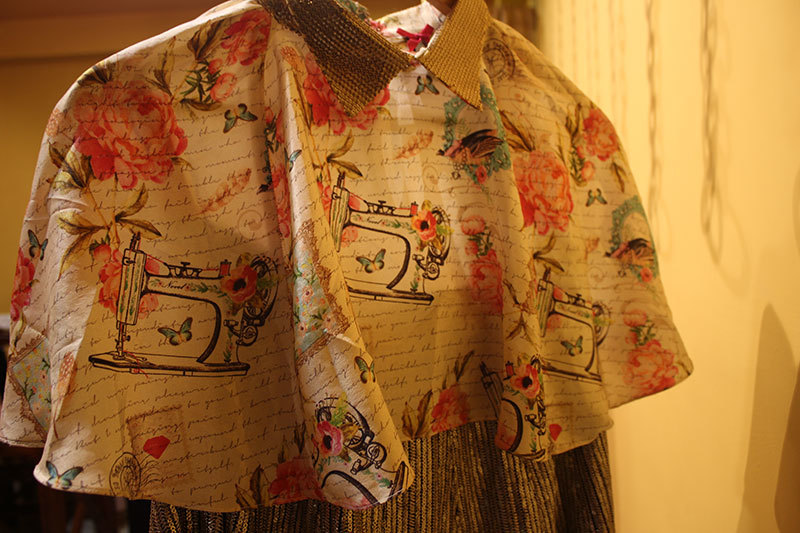 This one's for those who like to keep it light yet trendy. The steel grey sequinned skirt has a high waist and an edgy printed cape for a top. We were drawn in by its uptown Parisian vibe and also because it stood apart from the other heavily adorned garments on the rack. A great choice for a night out on the town with the bride's retinue! 
Price | Rs 2,499 
Hoor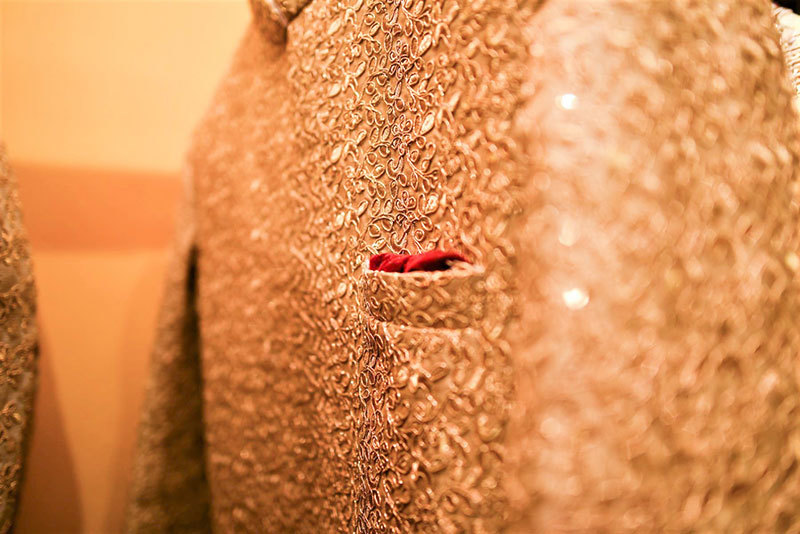 Did you think they wouldn't have anything for you handsome men out there? Well here you have this gorgeous golden threadwork embroidered sherwani has stolen our heart. It's heavy yet stylish and is sure to make an impression when you walk in donning this!
Price | Rs 2,999 
Shubh Aarambh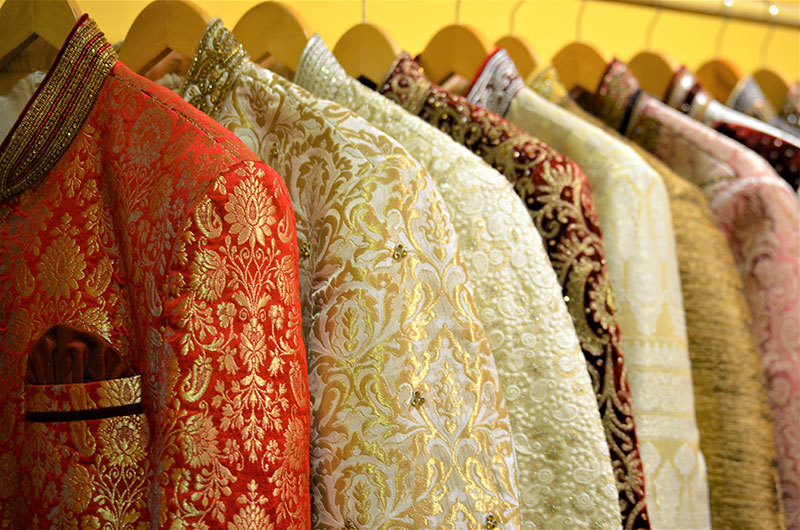 These super traditional piece for guys are a must have for any occasion and you can pick one from Rent A Closet's elaborate collection from this label. These can be worn at weddings and are a little heavy duty but worth it all the way!
Price | Rs 3,999
Men won't go away empty-handed either. RAA has got some amazing jackets and sherwanis for you from labels like Definition, Hoor, Manyavar and Kora. Right now, they only have Indian wear available but plan on adding Western options for men, a kids' range and an XL section as well. Rent An Attire - Delhi will also go online super soon, guys! You'll be able to browse away while getting that much-needed pedicure and get your products home-delivered. Bliss! 
RAA is also something worth considering if you're low on time. If the outfit fits you well, you can walk out with it immediately plus they're really quick with alterations. Needless to say, the quality is top notch. They even take pre-bookings with people usually pre-booking their outfits 2-3 months in advance. Cleanliness and hygiene is given a lot of priority, so be assured that the outfit shall be dry-cleaned before it's handed over to you! *Naice* We're starting on getting our wedding wardrobes ready already!
Location | 253, Ishwar Singh Complex, Gora Street, Shahpur Jat
Timings | 11 AM – 7:30 PM 
Ring Ring | +91 11 4985 7877, +91 9540 635 677
Rent Online Here | www.rentanattire.com