Worshipped By A Vast Slice Of The Populace, Here's A Glimpse Into Pracheen Shani Mandir, GGN
This well-known temple consists of deities of many prominent Hindu gods such as Lord Ram, Lord Lakshman and Mother Sita, Goddess Kali, Lord Shiva (Shiva Linga), Lord Ganesh, Lord Hanuman, Sai Baba and Goddess Durga. It houses an ancient Peepal tree that holds extreme significance in Hindu mythology, which can be clearly seen in the number of offerings made to it.
Standing Stalwart In The Middle Of GGN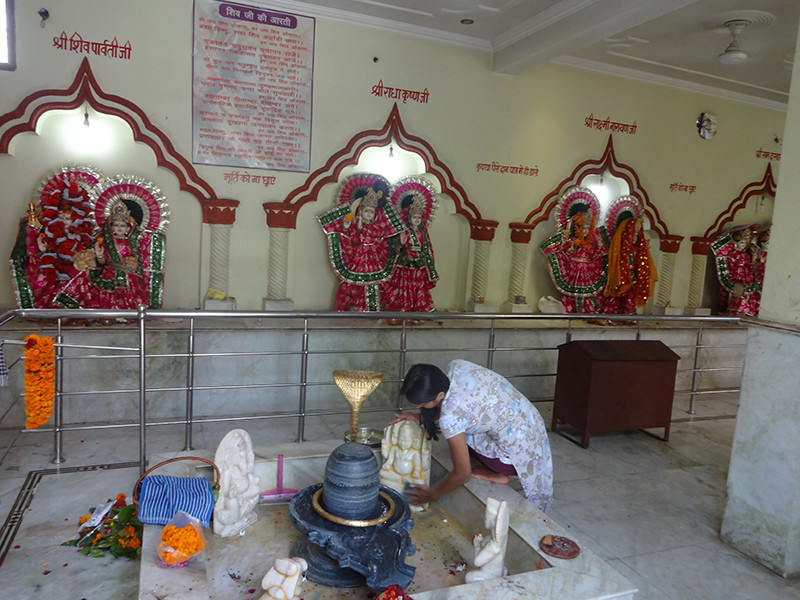 Situated in the middle of the concrete jungle of Gurgaon, in Sector 45, is the Pracheen Shani Temple which contains the personification of the planet Saturn. Worshipped by multitudes of people all over the city, this temple is said to have been established by the locals much before most of the nearby villages even came into existence. The nearest metro station is Huda City Centre.
Sun's Son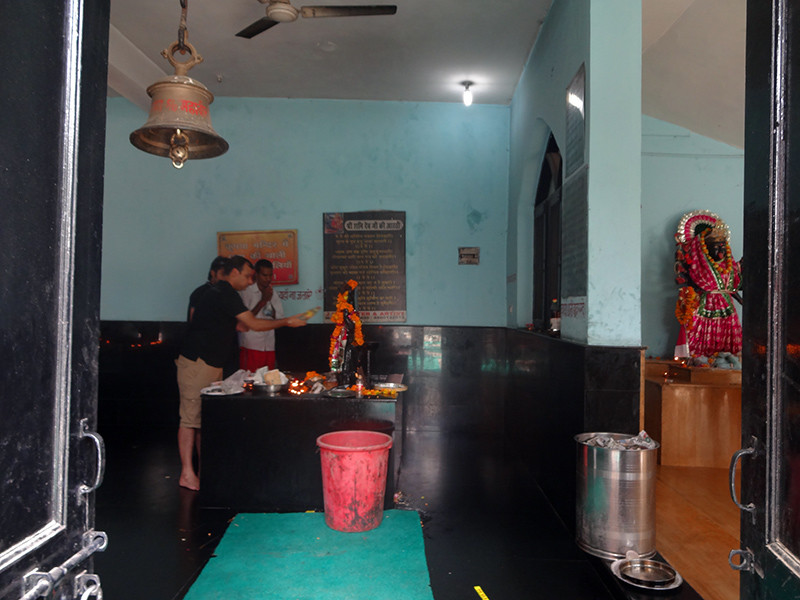 Shani is the son of Surya (sun) and Chhaya (shadow). When baby Shani opened his eyes for the first time, there was a solar eclipse, an incident which has a huge impact on Hindu astrology. It is commonly believed that many miseries in life are caused due to the displeasure of Shanidev. He is said to be the punisher of those who follow the path of evil, injustice, wrong doings and betrayal. His vaahan (vehicle) is a crow, and he himself is also depicted as clothed in black. He's not all that dark a god though, he is also said to be a well-wisher for the righteous and good doers! 
Worshipping Chhayaputra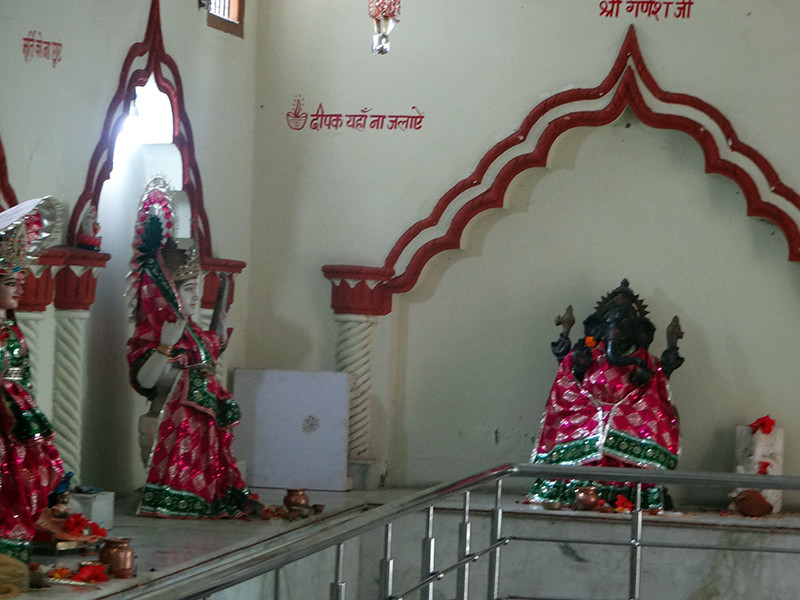 People from all over the country worship Shanidev but here in this temple, unlike most other places of worship, there are neither long queues nor a waiting period. Devotees need not wait for the priests as there aren't any. People themselves offers prayers and perform abhisheks (offerings) using sesame oil, iron nails and til. The devotee then takes a parikrama around the idol. People also light diyas (oil lamps) near the idol (there's even a separate slab for it).
Dakshinmukhi Kali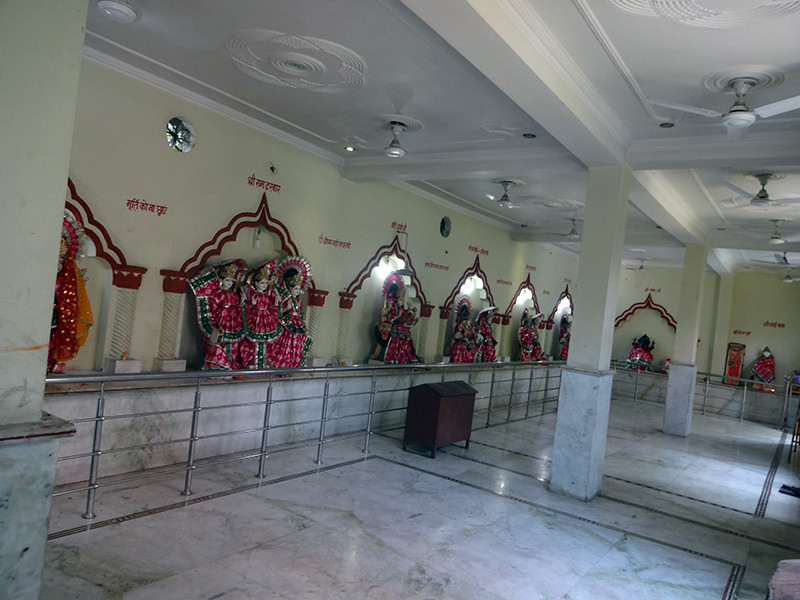 Just next to the room which hosts the idol of Shani, is the Dakshinkali temple which houses the shrine of Goddess Kali. Dakshinkali is an avatar (manifestation) of Goddess Kali whose main Peeth is located in Kathmandu, the capital of Nepal. Huge numbers of people flock in for the Saturday 'Arti' of Dakshinkali, as it is believed to be very auspicious and fruitful.
Home To Many Deities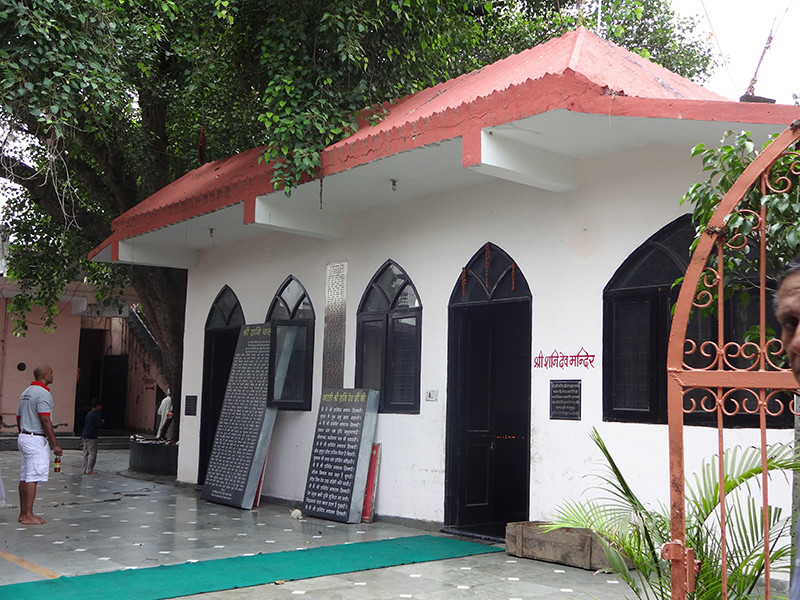 In the centre of the complex is a Hanuman temple, but you can barely see Hanumanji as he is laden with garlands and red sheets, covered almost completely. At the entrance of his temple, you are likely to find a couple of tiny, cute rabbits hopping around. Towards the left is another temple. It has a Shiva Linga at the entrance and is lined with marble statues of many gods and goddesses.
There is a line of stalls outside the temple complex that sell all kinds of religious offerings. Right behind the temples, in the same complex is an ashram where the head pujari (priest) stays. His disciples are known to stay there as well. There is a small hall there as well, where the purohit preaches.
When in the area, do give this peaceful temple a visit!