Disclaimer: Bearing in mind the current health crisis befalling the city and the world at large, we're tweaking our content policy and recommendations. Stay positive, keep hygiene levels up and don't fall prey to panic and misinformation.
Right when you thought samosas were supposed to be had with the delicious simple aloo-mattar filling, we've got you a list of the most unique samosas in the city! There's everything from chicken tikka to pasta, chowmein and even chocolate-filled samosas AND exactly where to find them - scroll away!
1. Chicken Malai Tikka Samosa @ Medley Samosa Lounge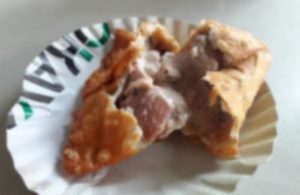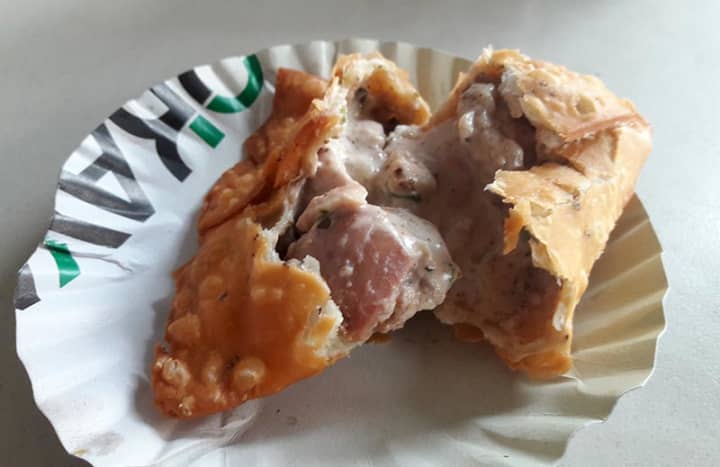 Yes, our favourite snack - chicken malai tikka is available in an all-new avatar. This samosa is as delicious as it is unique. Stuffed with the richness of cream and chunky chicken, this samosa is heavenly on the tongue! Devour this divine blend of Mughlai and street cuisine at just Rs. 50 at Medley Samosa Lounge - happy gobbling!
Price | Rs 50
Where | C-4B/308-A, Pocket 13, Janakpuri
2. Italiano White Pasta Samosa @ Kumar Samose Wala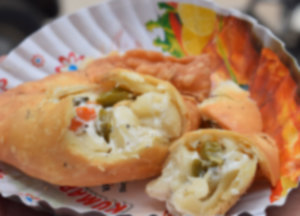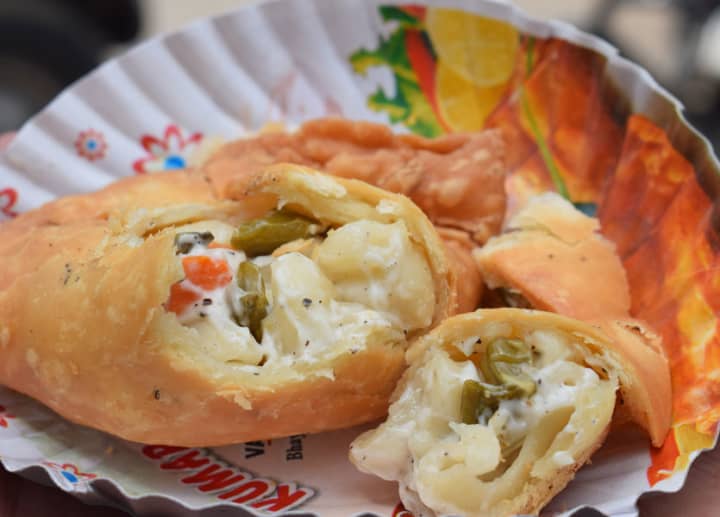 Crispy on the outside and creamy on the inside was Kumar Samose Wala's Italiano White Pasta Samosa! With capsicum, carrot and macaroni tossed in white sauce *drools* this was a thoroughly quirky samosa. A hint of oregano and loads of black pepper made it even more appetising. So if you love white sauce pasta but also wanna have a samosa, then this is a god-send for you!
Price | Rs 20
Where | 2/31, Near Milan Cinema, Phase III, New Moti Nagar
3. Chowmein Samosa @ Ram Ji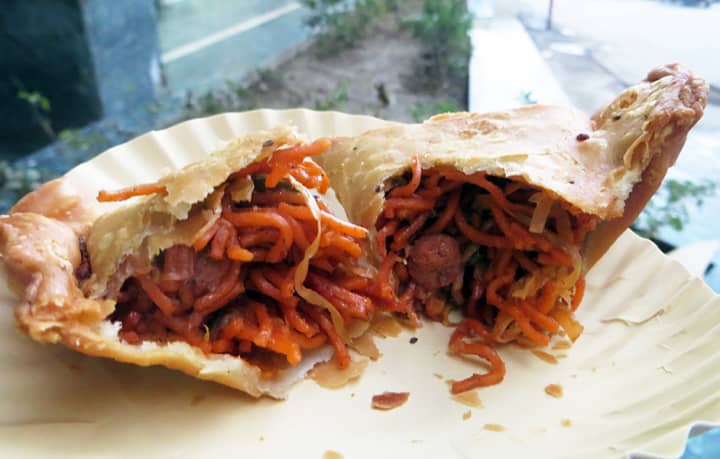 Bringing together the best of street food, Ram G has invented a lil something called Chowmein Samosa, and it's everything you junk food lovers could ever dream of! It's like deliciousness packed inside deliciousness. The quantity of chowmein stuffed inside is plenty and a single serving of this samosa can keep an individual satiated for long. Yum yum!
Price | Rs 15
Where | 20, GDITL, North X Tower, Netaji Subhash Place
4. Paan Samosa @ Aman Namkeen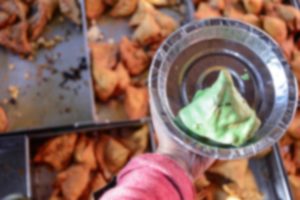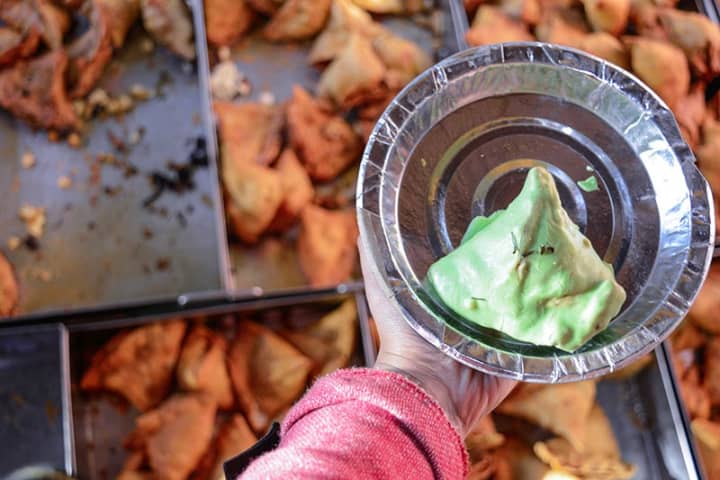 We can call this a truly desi concoction which will make its way into your hearts forever! The cool green shelled samosa, believe it or not, has the taste of a meetha paan and a medley of flavours including gulkand, cardamom and cloves, which come together beautifully; every bite is like a party in the mouth! Definitely a must try y'all!
Price | Rs 60
Where | F-4/10, Mandir Marg, Block F, Krishna Nagar
5. Pizza Samosa @ Deepak Chaat Bhandar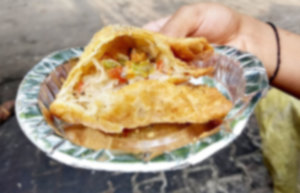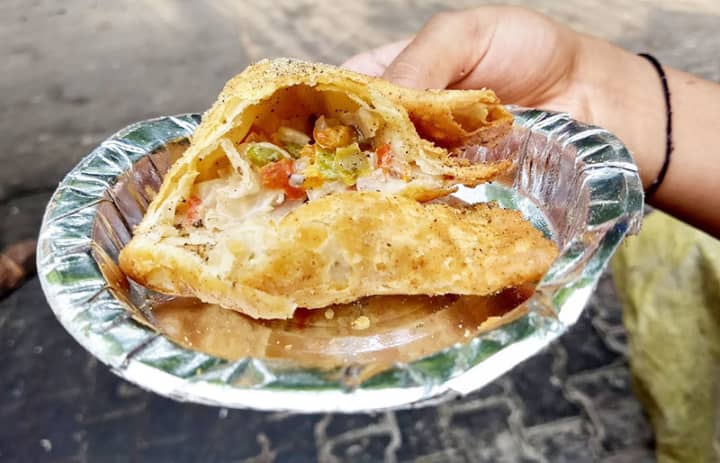 A cheesy filling of onions, capsicum and tomatoes with just the right amount of spices - all of this is enclosed in a crunchy pastry-like casing. The flavours are not exactly like a pizza, but more like the Indianised version of it. It's scrumptious with the spicy chutney they serve and you guys gotta come get a taste of this one!
Price | Rs 15
Where | Adjacent To Sector 13 DDA Market, Near Swastik Kunj Apartments, Rohini
6. Blackcurrant Samosa @ Aman Namkeen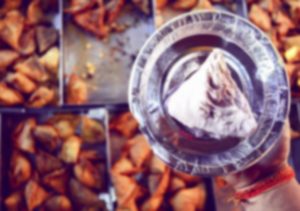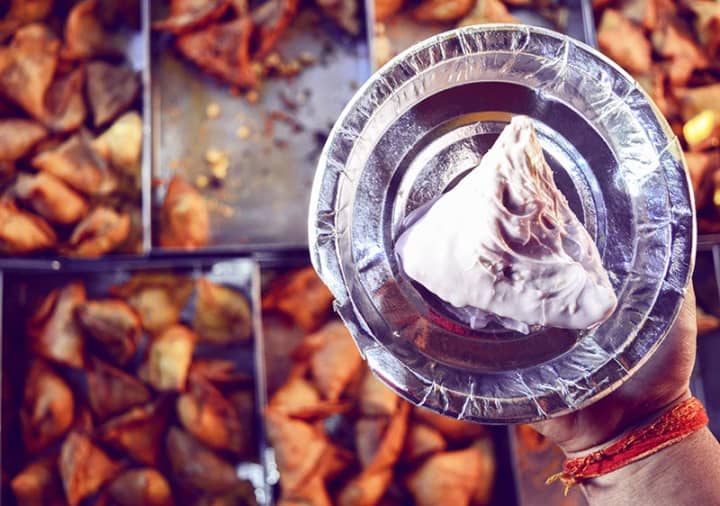 This is a supremely unique type of samosa found here and not something you'll find on any old corner of Delhi. Blackcurrant for us is associated mostly with desserts, but this concoction blew our minds away with its sweet and sour taste! The super delicious blackcurrant icing which covers the crunchy samosa is a treat we can happily eat up anytime! 
Price | Rs 60
Where |  F-4/10, Mandir Marg, Block F, Krishna Nagar
7. Chocolate Samosa @ The Great Indian Samosa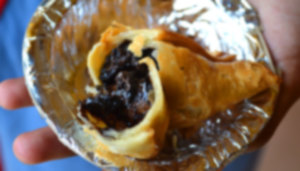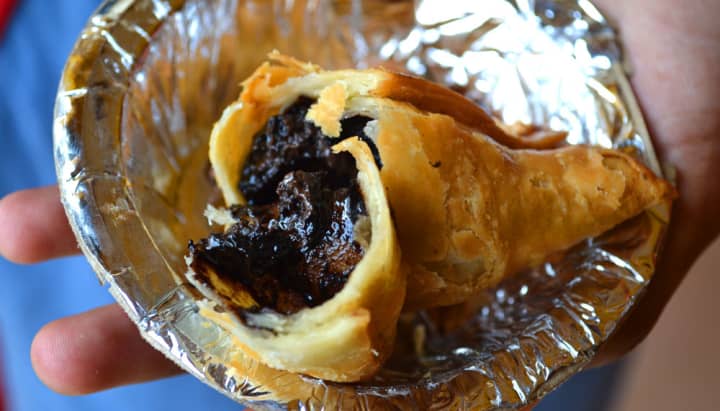 This is for those who embrace undying love for chocolate. We'll just say it straight out - this samosa is like a volcano bursting with chocolate in your mouth till the last bite. No extra trimmings, just a traditional samosa covering gooey chocolate, the crispiness making it yummier! Needless to say, this one is quite unique in taste and certainly worth a try!
Price | Rs 20
Where | C-73, Near Indian Bank, RDC, Raj Nagar, Ghaziabad
8. Meetha Samosa @ Ram G Snacks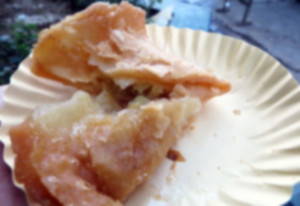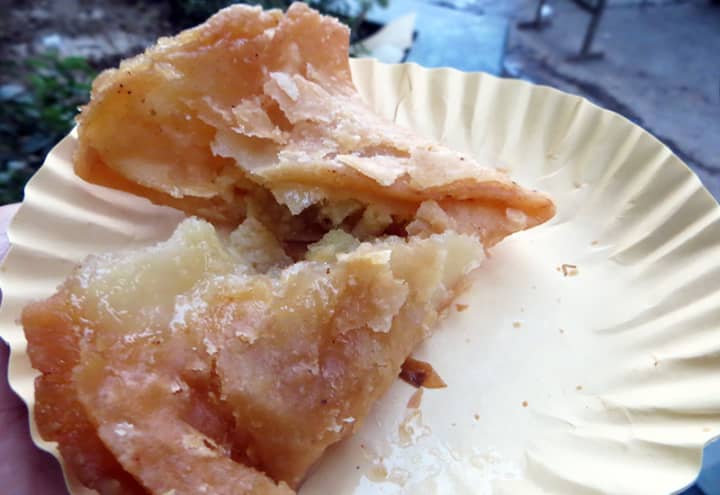 Who's to say that samosas are always savoury? Ram G Snacks knows exactly how to break all the stereotypes! We tried their Meetha Samosa, which came stuffed with mounds of khoya and dry fruit. This metamorphosis of the regular-joe samosa wasn't as absurd as we thought it would be and actually tastes super delish - come try!
Price | Rs 25
Where | 20, GDITL, North X Tower, Netaji Subhash Place
9. Japani Samosa @ Manohar Dhaba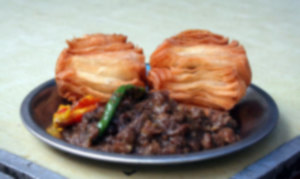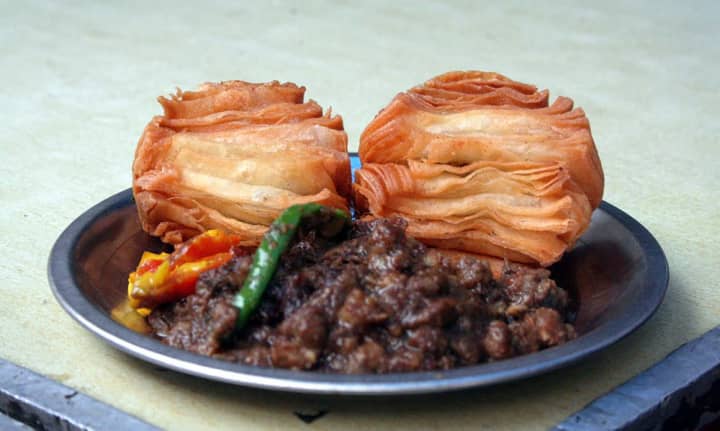 A delicacy, this samosa doesn't look like the usual triangular samosa with a potato and peas filling - instead, it's got 60 layers of flour flakes that'll remind you of patties! Even though the outer covering has changed, the filling remains the same with potatoes and peas and it's delicious. Priced at Rs 10 apiece, the samosa comes with a helping of Pindi Chole and Gajar Ka Achaar - we're drooling just think about it RN!
Price | Rs 10 
Where | Lajpat Rai Market, Old Delhi
We can't wait to make this rainy season even more special with some delicious quirky samosas right now - which ones are you going to try first?!