#PhotoEssay: All About Our Street Food Trail @ Foodie Hub Central Market In Lajpat Nagar!
Central Market, Lajpat Nagar a.k.a the hub of cheap food, clothes and everything South Delhi is also a paradise for street food lovers. And this time we bring to you exactly what your desi taste buds desire - spicy, delicious and authentic street food that you've probably missed out while engrossed in one of your many shopping sprees! Take a look:
Bombay Dabeli @ Finger LickerZ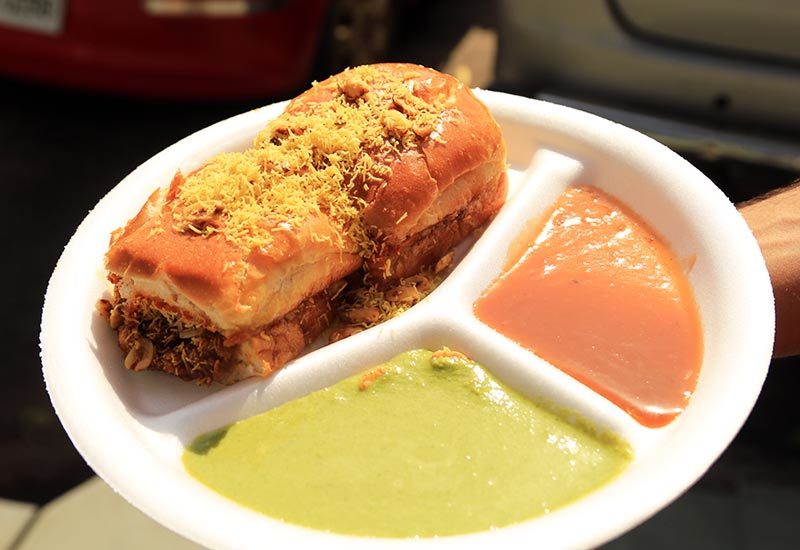 Right at the starting of Central Market is this brightly-decorated food stall offering a contrast to the well known Punjabi cuisine through its Bombay-style food menu. It offers the quintessential Mumbai taste through its many dishes including Vada Pav, Cutting Chai and Cheese Dabeli but the clear winner is the Bombay Dabeli. With a stuffing of vada style aloos with peanuts, and infused with a unique sweet and sour sauce, topped with well baked buns and a sprinkling of kurmure, their Bombay Dabeli ought to be on your must-try list!
Price | Rs 80    
Aloo Tikki @ Shivam Shuresh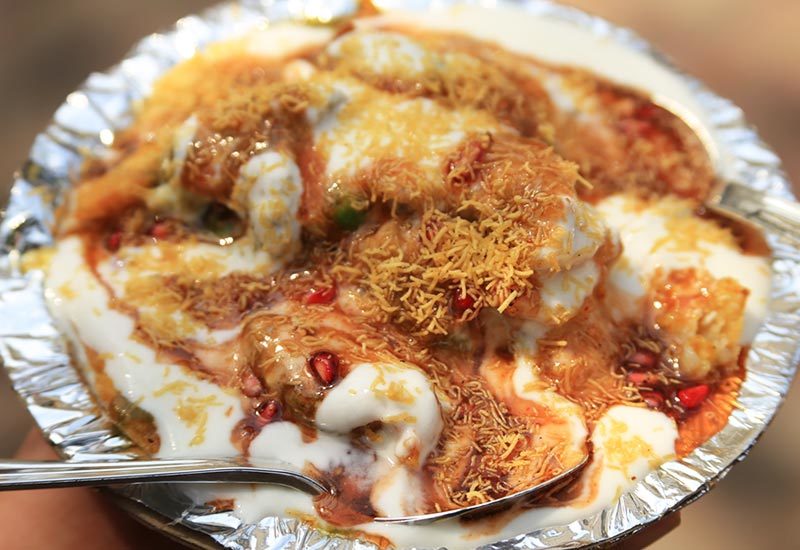 A very old and renowned cornerstone of Central Market's street food, Shivam Shuresh lies at starting of the street while entering the market. Always crowded and packed with people, it offers a wide range of choices, all authentically Punjabi and at pocket-friendly rates, including Gol Gappe, Raj Kachori, Samosa Chaat and of course, Chole Bhature. But the most ordered dish here is their Aloo Tikki Chaat. A perfect blend of curd, assorted chutneys and the welcoming taste of seasoned aloo tikki, our craving for zesty chaat was thoroughly satiated here! 
Price | Rs 60
Pav Bhaji @ Shivam Shuresh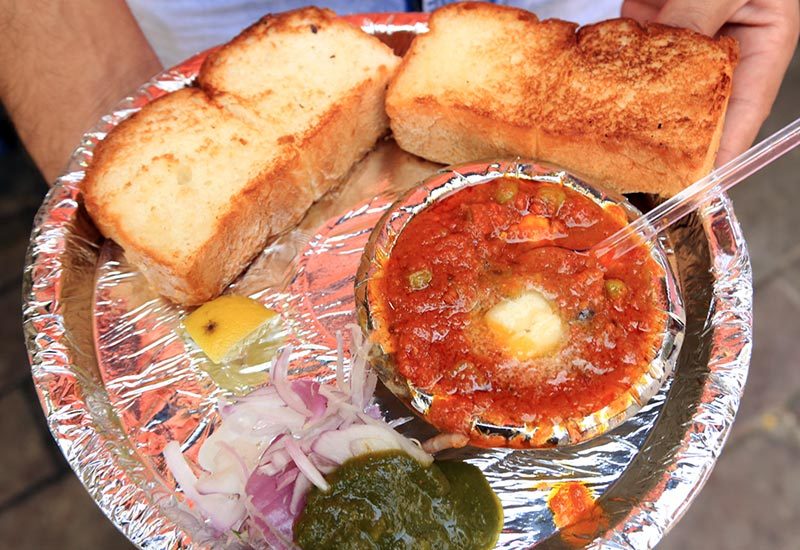 Pav bhaji being almost the staple food for us Delhiites is also one of the specialities of Shivam Suresh's stall. With the tawa brimming with bubbling hot bhaji and tikkis, it dishes up our favourite delicacy with the bhaji as a bowl full of spices mixed with perfect blend of tomato puree along with peas and pav with an indulgent ounce of butter. Do you need any more incentive to try? We didn't think so!
Price | Rs 70
Paneer Cheela @ Delhi-6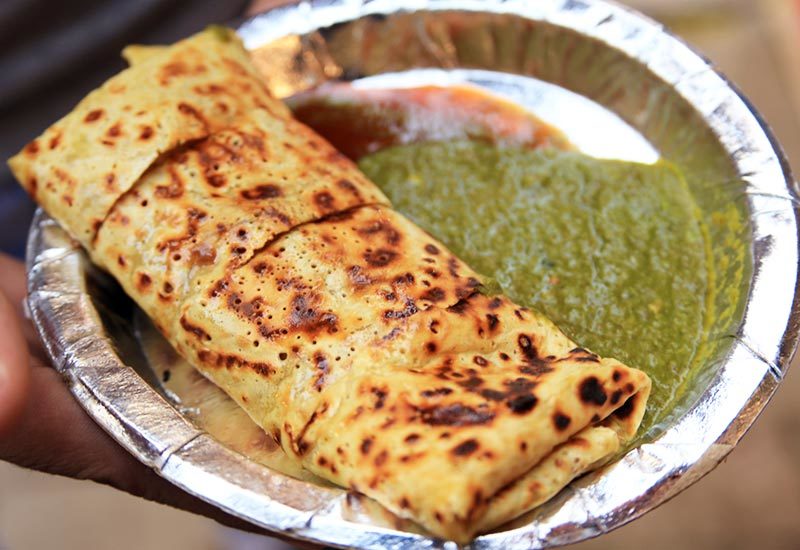 Right at the centre of the overpowering expanse of shops and the throngs of people stands a small shop and the smell of tummy rumbling street food overtook us! This place offers a variety of finger licking Sev Puri, Ram Ladoos and Prem Ladoo, and is particularly patronized for its crowd-pleaser Paneer Cheela! With a base of cheela, it's got a stuffing of paneer, spicy masala and onions wrapped around the delicious cheela. Served with pudina and imli chutney, it's the perfect blend of sweet and spicy!
Price | Rs 50
Chur Chur Aloo Naan @ Vaishnu Naan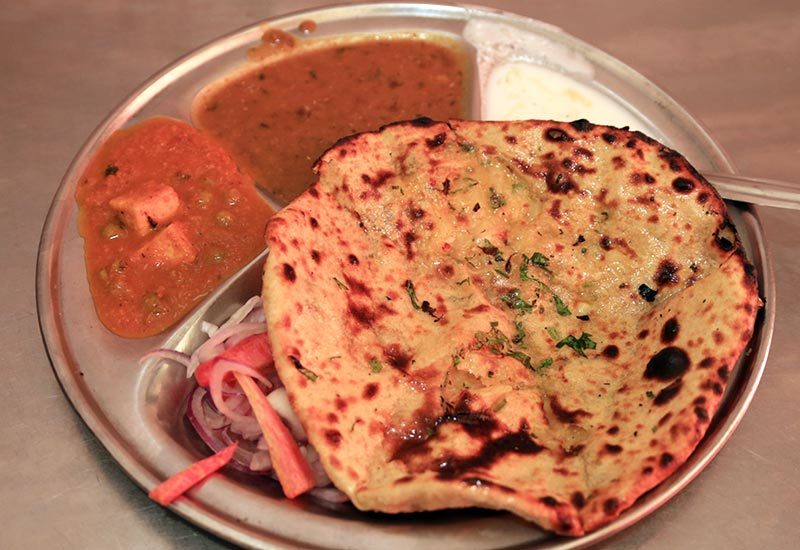 Our appetite for street food not yet fully quenched, we headed over to another well know place offering us the promise of chur chur naans. They provide you with heaping Chur Chur Naan Thalis to fully satisfy all your hunger pangs, including Butter Naan, Paneer Naan, Mixed Naan and lots more. But this place is especially known for their Chur Chur Aloo Naan presented like a thali inclusive of Daal Makhni fully blended with butter and masala and Matar Paneer; the chur chur naan is filled with the stuffing of spicy aloo and onions and served with salad. Nom nom! 
Price | Rs 50
Bread Roll & Lassi @ Vinod Snacks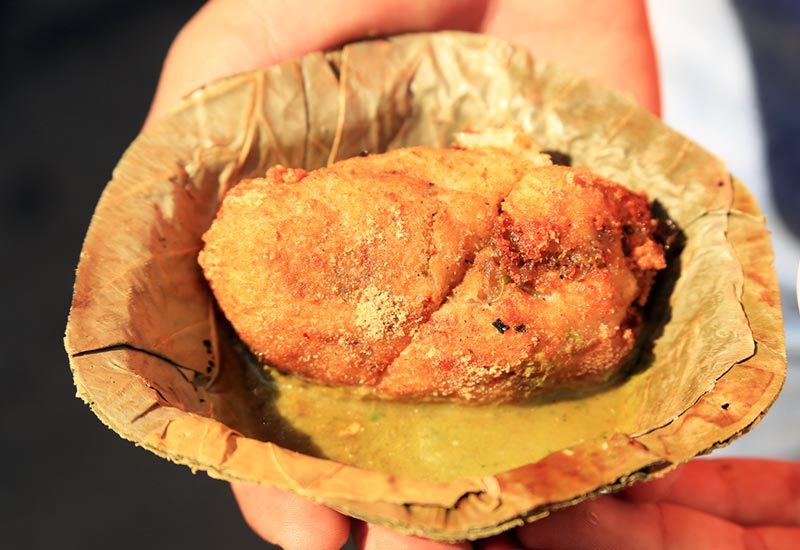 To cool off and refresh our tastebuds, we went on to an old town favourite of Lajpat, Vinod Snacks which has been a crown jewel of the market since 40 years! They offer all-time favourites like Bread Pakodas, Samosas and Tikkis along with refreshing namkeen and mithi Lassis. We tried the unique combo of Bread Roll and Namkeen Lassi, the bread roll having a stuffing of aloo, spices and a covering of fried bread, making it a wonderful roll to nibble at, with the Lassi offering the perfect contrast!
Price | Rs 20 (Lassi) & Rs 20 (Bread Roll)
Now that the foodie in you is calling out, don't ignore it and head down to Central Market where your street food bonanza awaits *happy grins*!  
  
These images have been clicked and contributed by Mehtab Luthra for So Delhi.