Parked Right Outside Amity's Parking Lot, We Give You Top 5 Dishes To Devour @ Jabrawn
It's a well established fact that where a University is located, food and culture hubs are bound to follow! North Campus has Kamla Nagar, South Campus has Satya Niketan and Amity University has not one but at least FIVE such food hubs in and around it, catering to the thousands of hungry students who throng its campus every single day.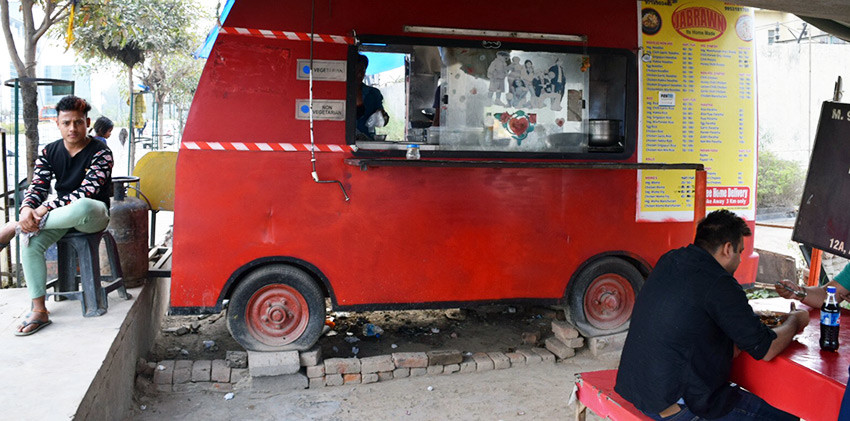 Jabrawn, a blazing red Chinese van permanently stationed right in front of the new Amity parking area is taking this part of NCR by storm! In the age of street food being more famous than fine-dining and locally called 'Chindian' or even 'Chinjabi' food (mix of Oriental with Indian touches) tantalizing the taste buds of students and office-goers alike, we decided to finally go and snoop around the famous Jabrawn ourselves! On a happy note, we did not return a disappointed team. So here we list out our favourite 5 top things to try at Jabrawn:
1.Honey Chilli Potato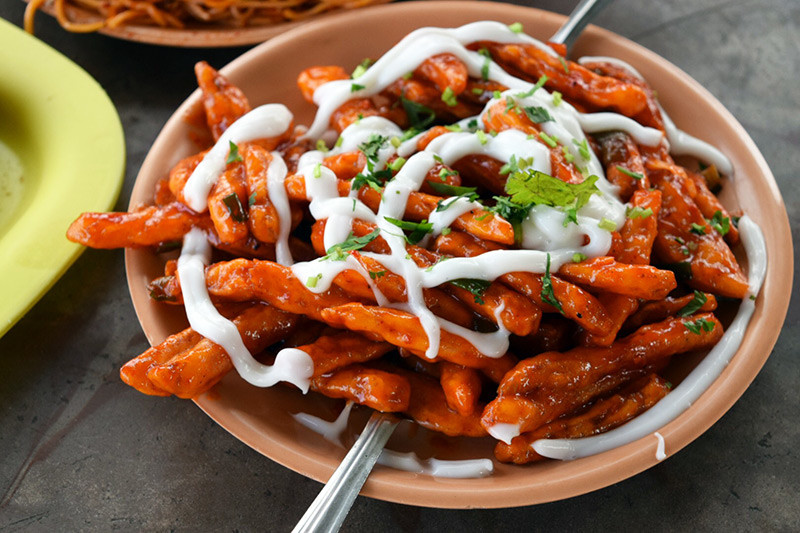 This by far is the best selling item on their menu, and during the hour we spent there, the lip smacking plate of Honey Chilli Potato was ordered at least  20 times (no, seriously)! The crunch on the potatoes, the sweet and salty flavour and the topping of mayo that Jabrawn generously slathers on, makes it a must order when you land up here.
2. Chilli Paneer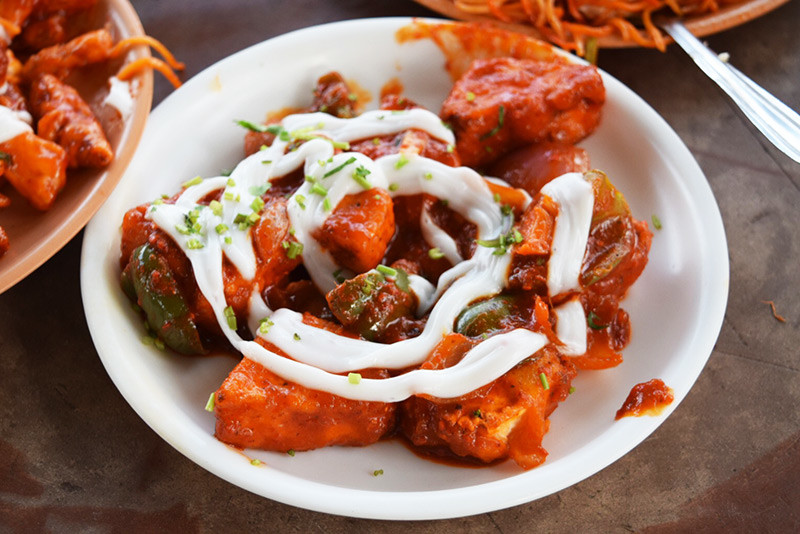 If you're one of those who hate the concept of honey chilli potatoes, then fret not! They have an alternative by the name of Chilli Paneer and how! Huge chunks of paneer are sauteed in their patent sauce and tossed with diced onions and capsicum. If you thought that this was it, then you wait till they finish the garnishing with cut coriander and a huge pile of mayo on top!
3. Spring Rolls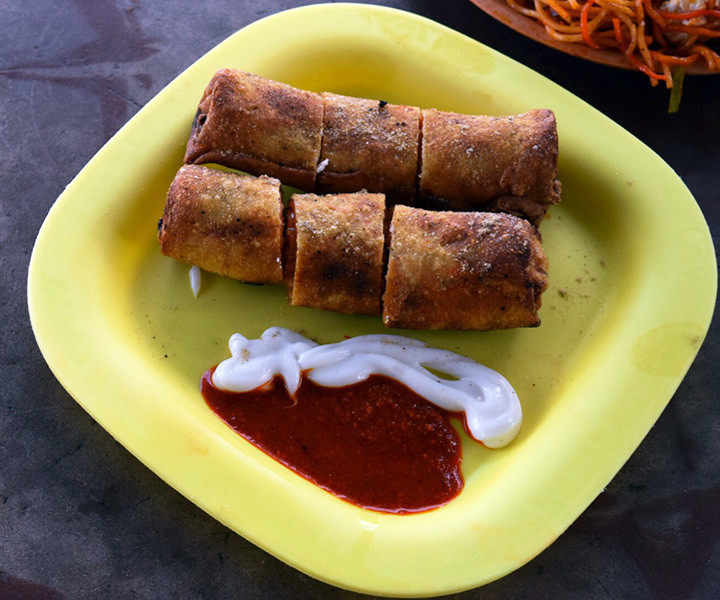 We were suggested by our server that their Spring Rolls are also quite famous amongst the college crowd and we could totally see why! The Spring Rolls are crispy fried to perfection with a stuffing of such flavourful noodles that you wouldn't mind eating the entire plate yourself. The rolls are again served with mayo and a red spicy chutney which completely complements the entire serving. We recommend you try this as a starter!
4. Singaporean Noodles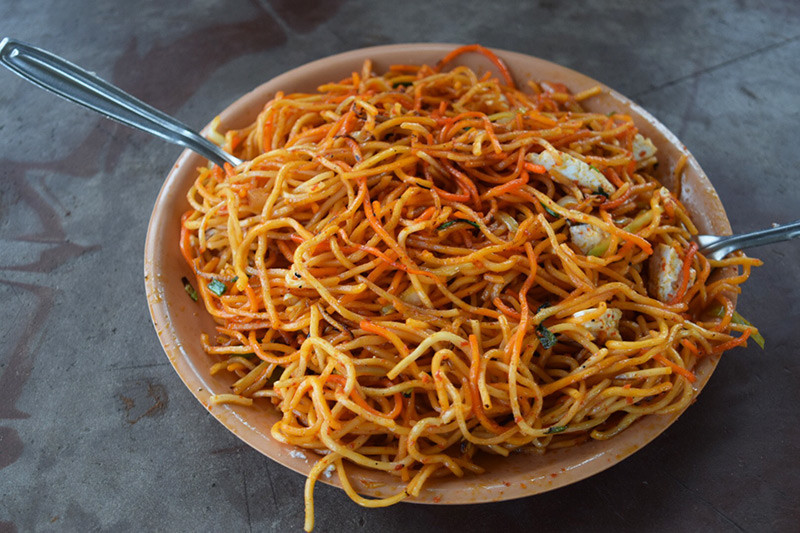 We have no clue as to its origin and why it's been named so, it's a huge hit amongst the crowd and we saw lots of people devouring it! We ordered a plate for ourselves and were blown away by the amazing quantity that Jabrawn provides even for noodles and that's economical at the same time. 
The noodles had been cooked perfectly and one can even enjoy small, bite-sized paneer cubes after every bite in these Singaporean Noodles. Although the extra red colour on the noodles do make you question their quality and style of preparation. But you won't hear us complaining!
5. Chilli Chicken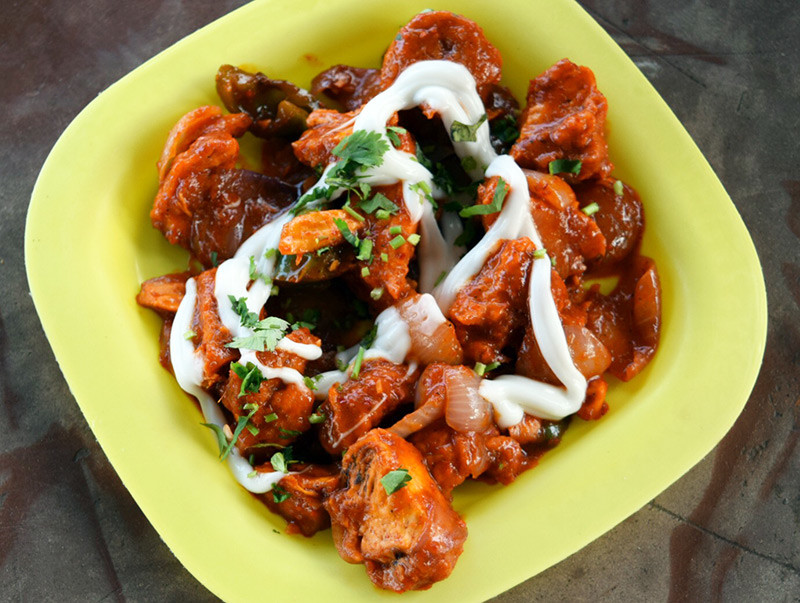 While trying one of their chicken dishes, we stuck to the safe bet of Chilli Chicken, but this was one dish that was a bit of a let down. There was no chilli to it, and there was hardly any crunch - the extra mayonnaise that had been added to every dish till now put us off! We told the people at Jabrawn to prepare the dish again and they politely obliged. The next preparation was better and did justice to the reputation they created with the first four dishes. 
Overall, we'll say that the food here was delicious, well-cooked and seriously light on the pocket - just like a Chinese van should be. We envy Amitians for their easy reach to these yummies and implore y'all to come try 'em out!
Meal For Two | Rs 500
Location | Opposite New Amity Parking, Amity University, Sector 125