6 Dishes From Bread Pakoda To Matka Kulfi That We Tried @ Khandani Pakode Wala In Sarojini
Just near the hustle and bustle of Sarojini stands this Mecca of street food a.k.a Khandani Pakode Wala having the feel of your everyday hangout adda and dishes up mounds upon mounds of Delhi's almost staple meal i.e pakodas! Having been a part of Sarojini since 1962, it stands true to its name and status till now as having one of the best pakodas in town. We took the liberty of trying out their very best pakodas and giving you a curated list to choose from - read on! 
1. Paneer Pakoda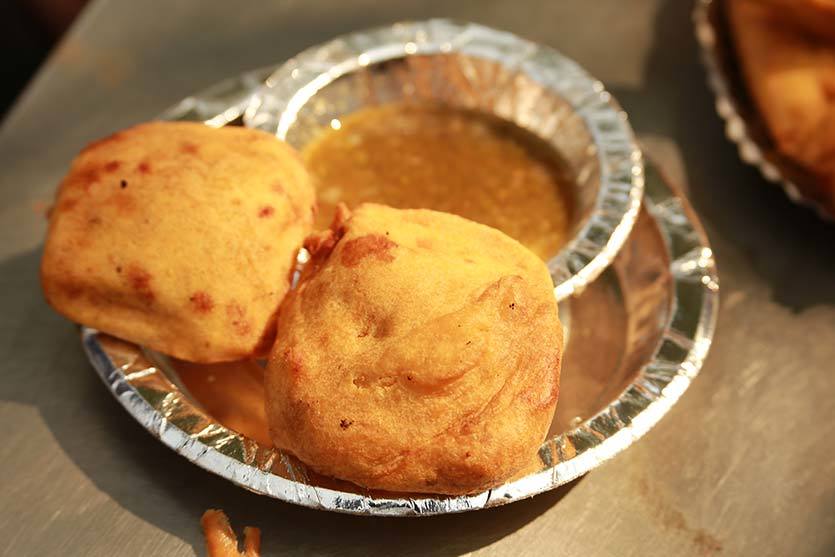 With the stuffing of fresh and rich paneer and the perfect blend of masala, the Paneer Pakoda was a classic at its best! It was served with a generous dollop of their in-house chutney which acted as the refreshingly perfect duo to the hot pakodas and was an amalgamation of pudina, onions, imli and coriander.
Price Per Plate | Rs 30 
2. Gobi Pakoda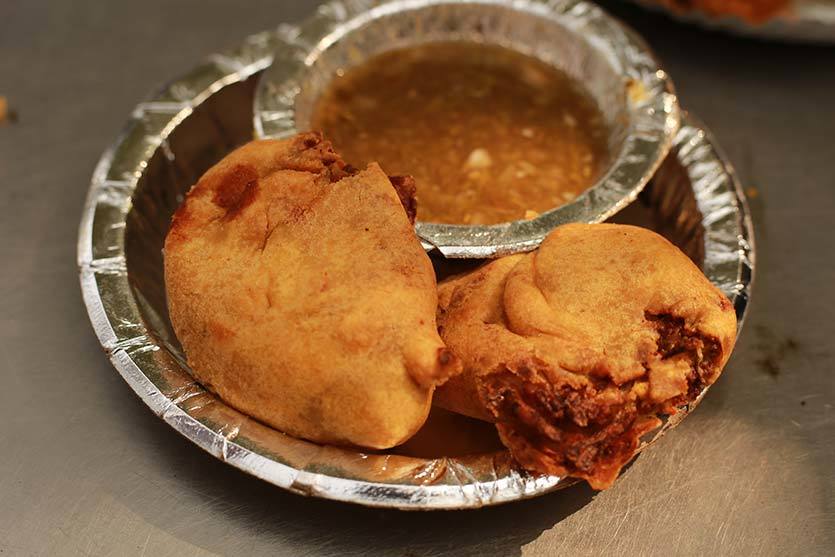 Now these yummy balls of happiness had the stuffing of huge chunks of perfectly cooked gobi with just the right amount of spices to go with the outer layer of the pakoda, and was offered with the same in-house chutney, giving a welcoming contrast to our taste buds. Nom nom!
Price Per Plate | Rs 24
3. Pyaaz Pakoda
We were nowhere near the end of our pakoda journey, and were handed over another plate of sizzling hot pakodas and this time they were Pyaaz Pakodas. The stuffing of the pakoda was of crunchy and juicy onions sauteed with all kinds of spices and desi masalas, giving it a unique flavour which we thoroughly relished!
Price Per Plate | Rs 24
4. Bread Pakoda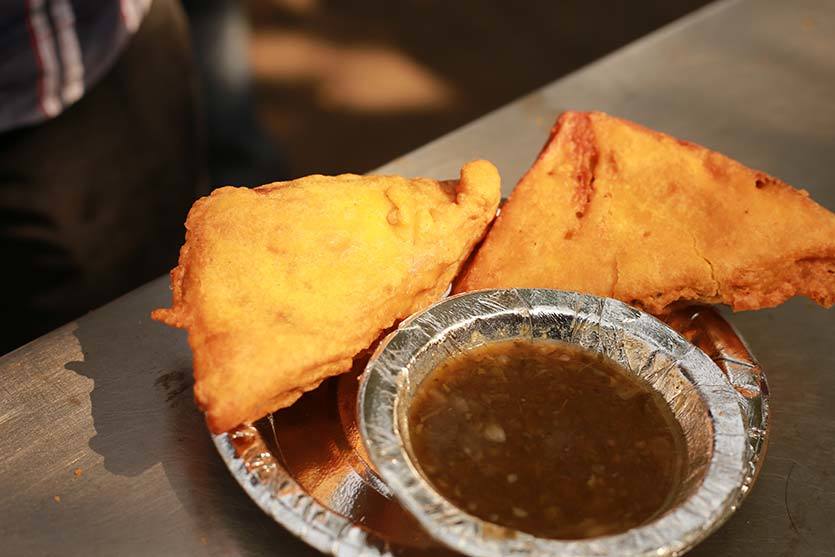 You can't think of pakodas without picturing everyone's favourite - the bread pakoda, and the Bread Pakodas here at Khandani Pakode Wala would most certainly become a craving of yours. Stuffed with a generous filling of paneer, perfectly seasoned and mashed aloo along with dhaniya and a mixture of spices, this bread pakoda is to die for and we mean it, 'Bread Pakode Ki Kasam'!
Price Per Plate | Rs 24
5. Mirch Pakoda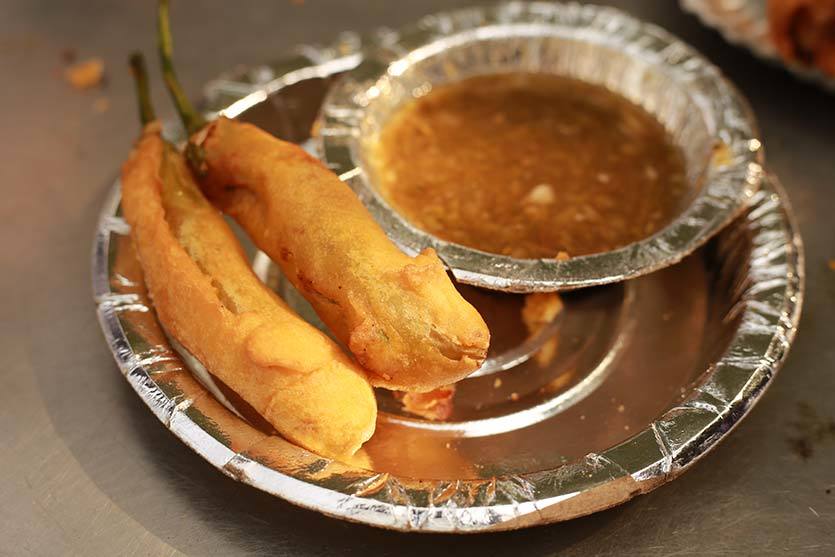 Our desire for pakodas not quite satiated yet, we went ahead to have their famous Mirch Pakoda. As the name suggests, it was nicely spicy through and through, containing the stuffing of large green chilies cooked with oodles of masala *still drooling over this beauty*! For all you spicy food lovers out there, this pakoda beckons you over.
Price Per Plate | Rs 8 
6. Matka Kulfi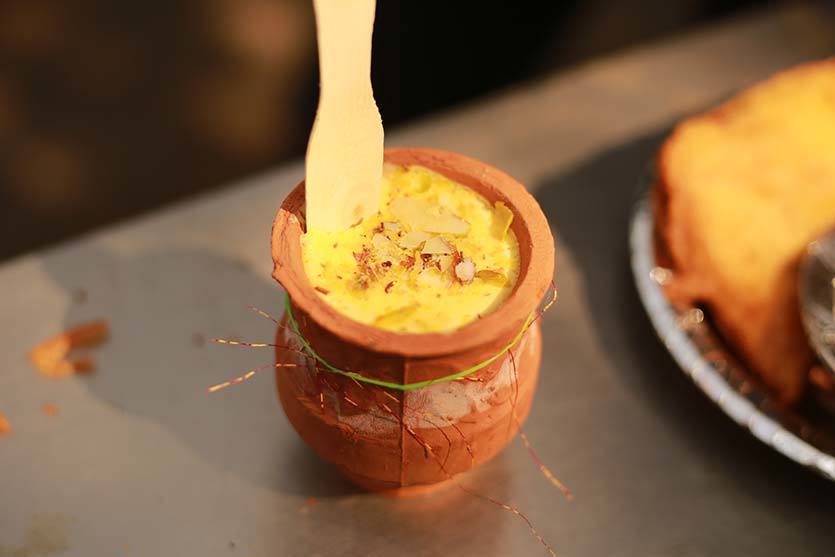 To slake the heat generated from the Mirch Pakoda, we went on to order the cool and refreshing Matka Kulfi. It was kesar flavoured kulfi with a sprinkling of crushed cashews and a matka full of rich sweetness which can never be found in the bottom of any Baskin Robin's cup! All we'll say is just one cup of this kulfi won't do justice - you'll keep eating more and more.
Price | Rs 40
Since we've tempted your taste buds enough, it's now your humble duty to march right ahead and claim these delicacies for yourselves! Come on by y'all. 
Location | Khandani Pakode Wala - Ring Road Market, Nauroji Nagar, Near Sarojini Nagar
Check Out Their FB Page | https://www.facebook.com/khandanipakodewala/
These images have been clicked and contributed by Mehtab Luthra for So Delhi.