Palak Moti, Kadi Patta Jheenga & More: 6 Sumptuous Dishes We Devoured @ Masala House
On a wintry evening, we landed in Masala House in Sunder Nagar to sample their brand-spanking new menu. The place had been on our bucket list of places to eat at for quite sometime owing to the buzz it has generated around the innovative Indian dishes it serves, which are equal parts delicious and oh-so-pretty! 
The extensive tasting menu filled us to the brim and we were serenaded by a never ending trail of food replete with amazing mocktails and drool-worthy desserts. Although picking our favourite dishes was not at all easy, we bring to you a list of the ones that lingered on our memories way after we ended that gluttonous affair!
1. Basil And Cucumber Cooler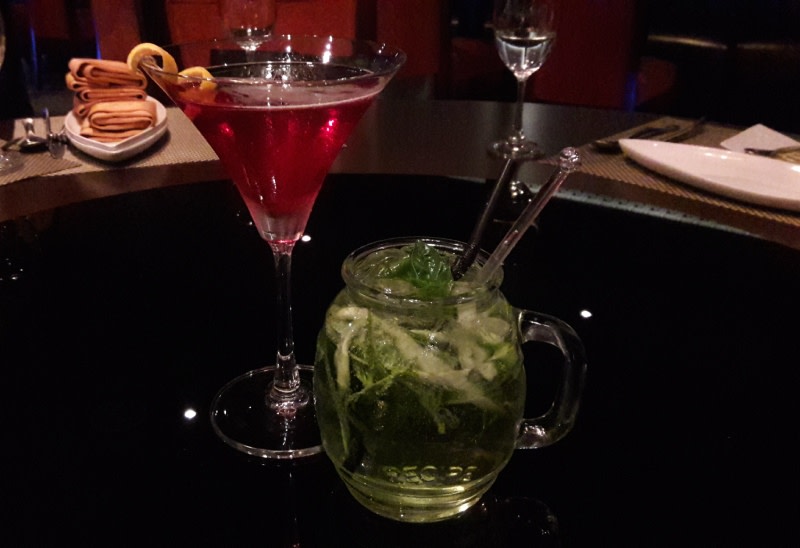 We never imagined the simple cucumber to be the star of this delish mocktail! It was really refreshing and was perfect to pair with the masala-laden fare that we ordered for dinner. Rest assured, we can now never go back to our good 'ol mojito without a pinch of salt and defo will never underestimate the taste potential of cucumbers. *Heart eyed*!
Price | Rs 400
2. Asparagus Paddu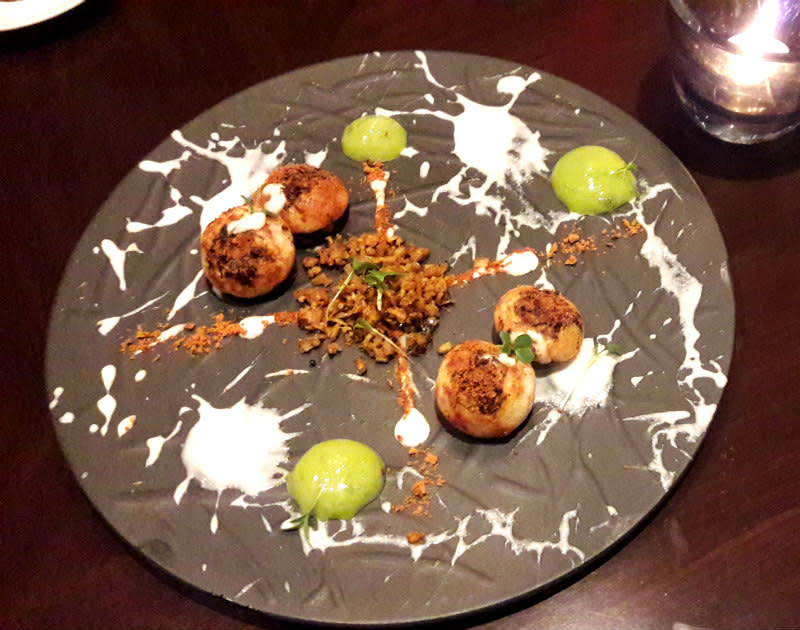 Ever imagined a South Indian staple dish with the humble asparagus? We hadn't either! But this starter proved us wrong in so many ways. The quintessential South Indian essence was intact with generous helpings of gun powder and mint foam in this one, and even before tasting the dish, we fell in love with the awesome presentation and of course, it tasted just as good as it looked!
Price | Rs 545
3. Kadi Patta Jheenga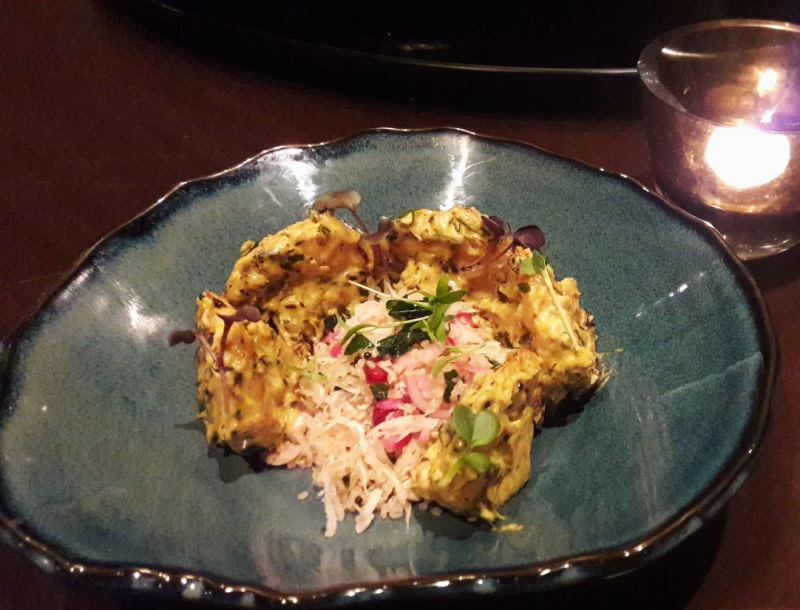 Finding some good sea-food in Delhi is always a struggle. And we were delighted to taste some really fresh shrimp in creamy gravy here at Masala House! Of course, the fusion of curry leaves, an Indian staple, with a fresh quinoa salad kicked this dish up a few notches. We were left licking our plates clean, with happy grins!
Price | Rs 895
4. Pota Kaleji Shiitake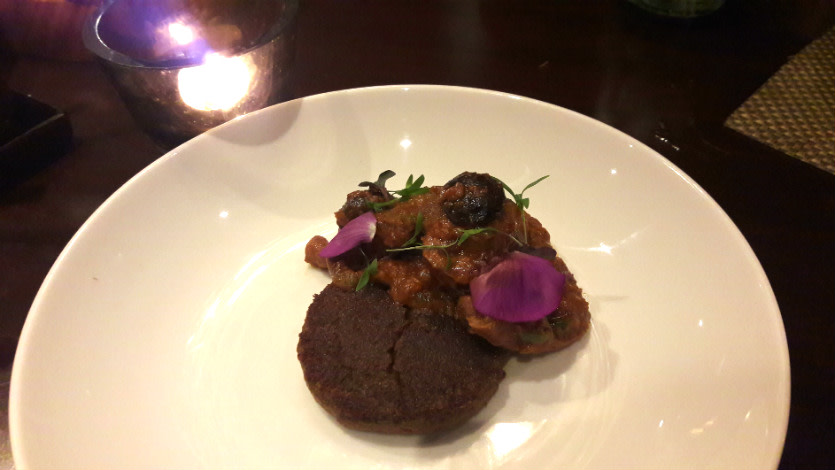 We loved the unusual pairing of Mutton Kaleji with shiitake mushrooms. The perfect blend of spices made this old Indian favourite a really awesome dish. Never had we imagined Kaleji could be made even better, but the creative peeps over at Masala House proved us wrong!
Price | Rs 595
5. Palak Moti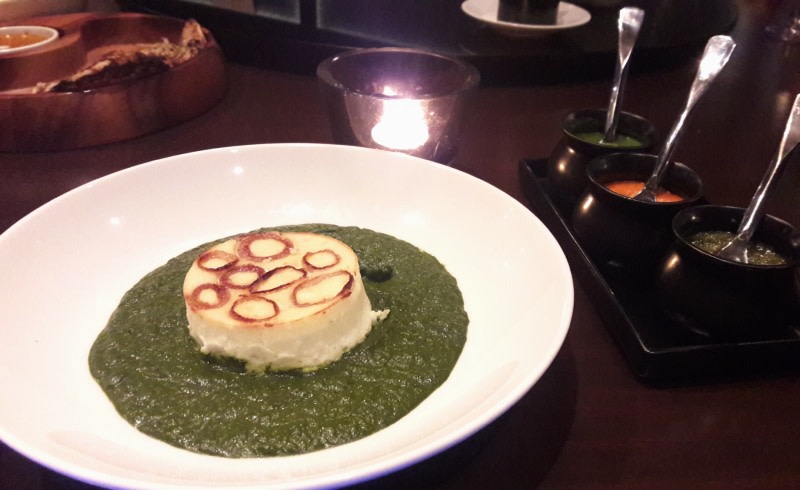 Trust Masala House to take another age-old favourite and turn it into a world-class modern dish. The common household staple Palak Paneer got a makeover as we enjoyed a mousse of paneer and mascarpone cheese, sitting on a tasty palak gravy (hence the name). And boy, was it delightful!
Price | Rs 495
6. Saffron Pear Malai Chaap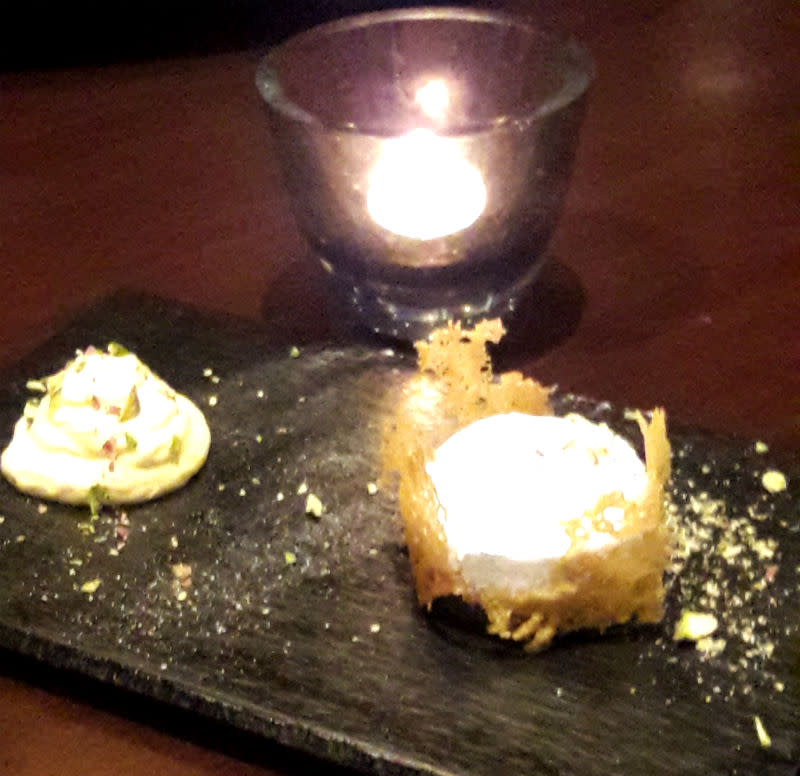 The desserts after the lavish starters and main course ended the day on a perfect note. The highlight among all the desserts we sampled that day was the Saffron Pear Malai Chaap. Layers of juicy pear and thick flavoured malai, topped with loads and loads of nuts and crisps, left us mesmerized. We couldn't have asked for a better ending *still drooling*! 
Price | Rs 345
Everything about Masala House left us highly impressed. Apart from all the food we devoured that day, we also loved their impeccable service. The place has taken some exquisite Indian flavours and added some impressive touches to deliver really unique dishes. We're definitely heading there again soon, how 'bout you?!
Location | Masala House - 4, Sunder Nagar
Here's Their FB Page | https://www.facebook.com/MasalaHouseInd/